11 key things Buhari said at the launch of his campaign for 2nd term
- President Buhari launched his campaign for 2019 re-election on Sunday, November 18
- The president gave a speech at the event stating what his administration has done and what he plans to do more if re-elected in 2019
- Legit.ng highlights 11 key points from the speech; five key things the administration is currently doing and six major things it plans to implement if re-elected
As the campaigns for presidential and National Assembly elections started on Sunday, November 18, according to the Independent National Electoral Commission (INEC)'s timetable, President Muhammadu Buhari has kick-started his campaign for the second term bid.
President Buhari, the ruling All Progressives Congress (APC)'s presidential, opened the campaign floor on Sunday, November 18 with the launch of a "campaign manual/next level document".
With the theme, 'Next Level', Buhari unveiled his achievements, as well as his plans for Nigeria if he secures a second term as president of the country.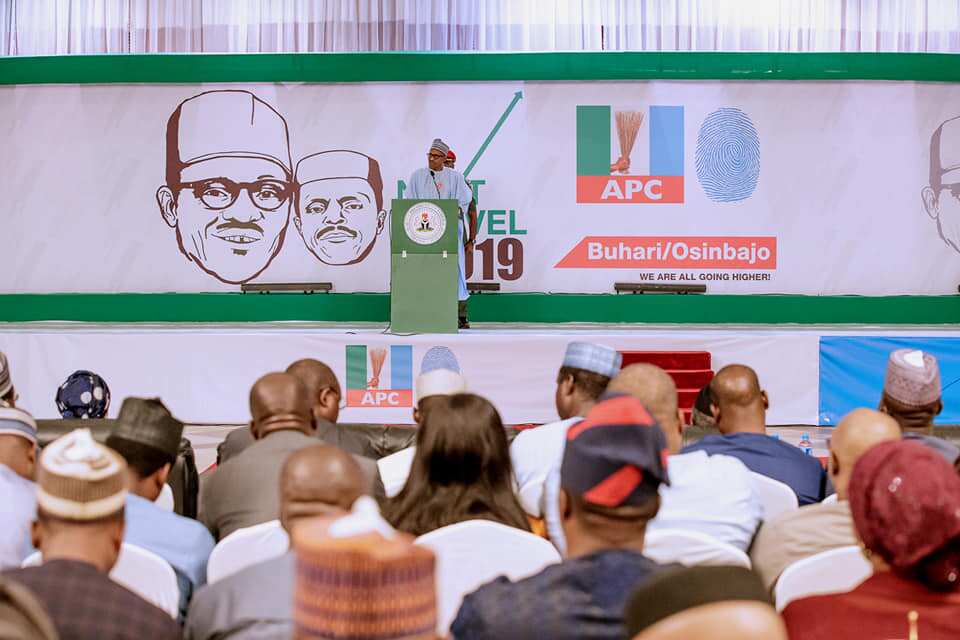 Legit.ng highlights 11 key things the president said in his address at the launch of the campaign.
READ ALSO: APC will make positive impact in Kwara in 2019 - Lai Mohammed
The Achievements:
1. Foundational work
President Buhari said that the last three and a half years of his administration has been dedicated to erecting foundations upon which the development of the country will be built. He said even though "the foundational work is not often visible, neither is it glamorous – but it is vital to achieving the kind of country we desire."
2. Security/Insurgency
The president further stated that his administration has delivered its promise on addressing insecurities in the country. He said his administration has liberated 17 local government arrears from the grip of Boko Haram insurgency and brokered and sustained peace in the Niger Delta.
3. Economy
President Buhari said despite the dwindling oil revenues, his administration has put in place policies that ensure economic development. He cited examples in the agricultural sector, investment in capital projects (e.g. transport (rail), bailout funds given to state governments to pay workers' salaries
4. Corruption
The president added that through the Treasury Single Account (TSA), his administration "has made it more difficult for ministries, departments and agencies to exercise the unrestrained liberties that helped foster a climate conducive to corruption."
5. Social Investment Programme
President Buhari said his administration has also ensured that there is a fairer and more equitable society by implementing "Africa's biggest social investment programme".
He said his administration through the social programme is providing direct support to over 13 million Nigerians who need it by giving relief and assistance to unemployed youth, children, the weak and vulnerable as well as small and medium businesses.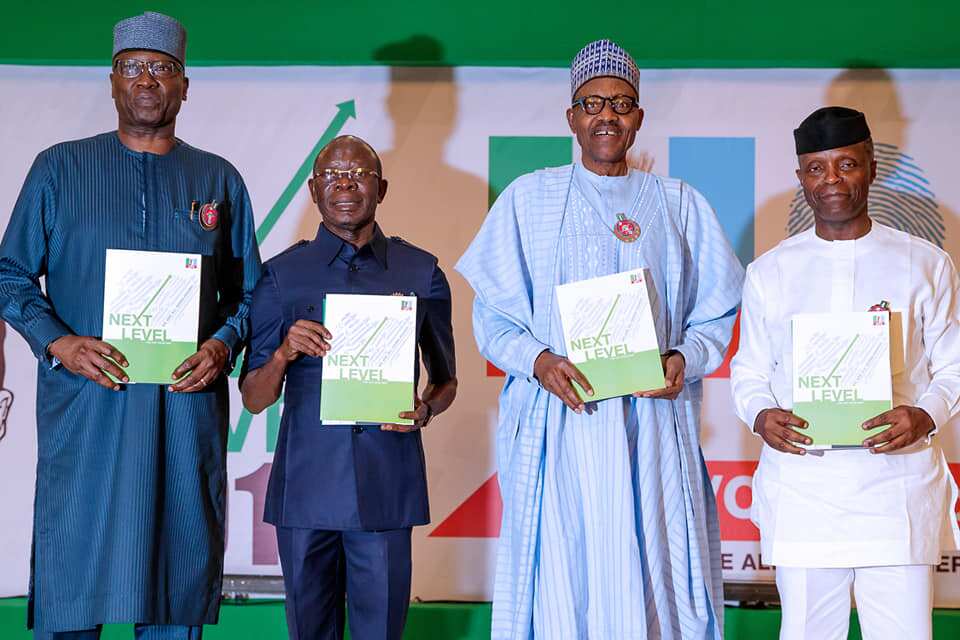 The Next Level Plans
President Buhari admitted that, despite its administration's achievement, there is still much to do. He, therefore, listed what his administration will focus on if re-elected for the second term bid.
6. Job creation (Over 15 million jobs)/ Poverty eradication
President Buhari promised over 15 million jobs. He listed job creation across various sector as his number one focus if re-elected in 2019.
He promised to enlarge the N-Power programme, invest in technology and creative sector jobs, agriculture and revolutionise access to credit for entrepreneurs and artisans.
President Buhari added that Nigerians who are still below the poverty line will be rescued through the administration's expanded National Social Investment Programme.
7. Economic diversification
President Buhari also promised to continue the plan to move Nigeria away from being an oil dependent country. He said he will create 6 Industrial Parks in each of the nation's geopolitical zones and 109 Special Production and Processing Centres (SPPCs) across each senatorial district, our incremental move away from oil dependence is assured.
The president also promised to develop Special Economic Zones to facilitate the admnistration's Made in Nigeria for Export (MINE) plan.
8. Agriculture/Food production
President Buhari also promised a more developed agricultural sector. He said through mechanisation policy for agriculture, he will make tractors and processors easily accessible and available for farmers across Nigeria.
He also promised a wide scale training policy, prioritising technology for the youths.
9. Farmers/Herdsmen conflict
The president also promised to implement a policy his administration has drafted to bring an end to the perennial conflict between farmers and herders. He said his administration is "implementing a blend of measures that ensures that justice, order, modernisation and new economic paradigms emerge."
10. Education
President Buhari also promised an overhaul of the education sector. With the policy recently launched, Every Child Counts, the president promised to do "whatever it takes to prepare our teachers, curriculum and classrooms to attain the right educational goals that grow our country."
Specifically, he promised to remodel 10,000 schools every year and retrain teachers.
11. Anti-corruption fight
President Buhari noted that for Nigeria to succeed, moral integrity and conscience must continue to form the dominant character of the country and its leadership. Thus, he promised to continue the anti-corruption fight if re-elected in 2019.
Meanwhile, Legit.ng previously reported that the director general of the Atiku Campaign Organisation, Otunba Gbenga Daniel, said President Buhari had failed to deliver his contract of job creation to Nigerians.
The former Ogun state governor said this during his appearance on Sunday, November 18, in a popular political programme on Channels Television.
He said the president during the 2015 campaigns, had promised to provide about three million jobs but failed to do so.
According to him, President Buhari at the time, said if he failed to fulfill the promise, then Nigerians were at liberty to choose another leader.
NAIJ.com (naija.ng) -> Legit.ng. We have upgraded to serve you better.
Nigeria Latest News: Father Mbaka On Buhari, Atiku In Nigeria Election 2019 | Legit TV
Source: Legit.ng