How to prepare sandwich: recipe you will adore
Do you know how to prepare sandwich Nigerian style? If not, then let us share with you a very delicious club sandwich recipe that will impress your guests. Find out how to make this tasty snack that is so perfect for casual meetings with friends, breakfasts and even parties!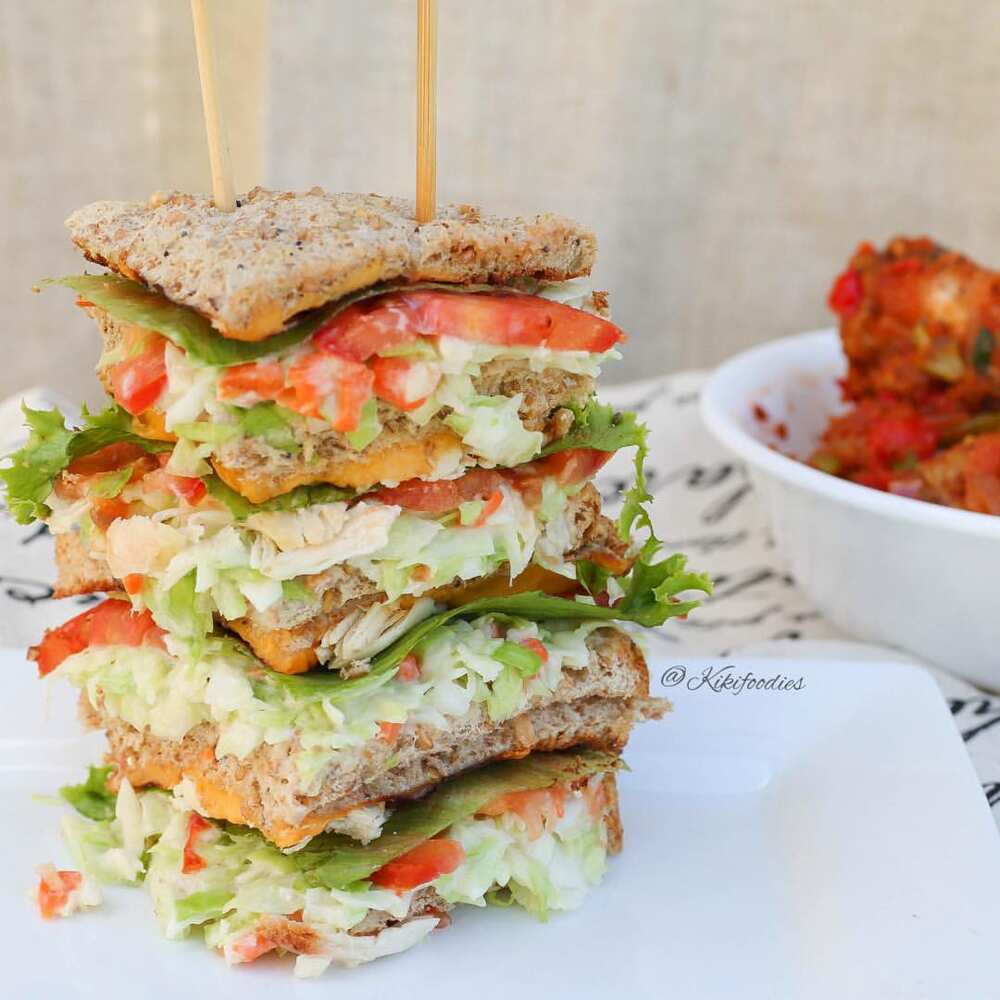 Photo: pickbear.xyz
You might be thinking: what could be so hard about making a sandwich that you would need a recipe for it? Well, of course, it is usually a very simple meal with plenty of room for imagination, but you have to spend quite some time tinkering with ingredients to get that perfect combination. To save you the time, we want to offer you a recipe for making Nigerian salad sandwich that has been approved by many chefs! So why not give it a try? We promise you will love it.
Sandwich ingredients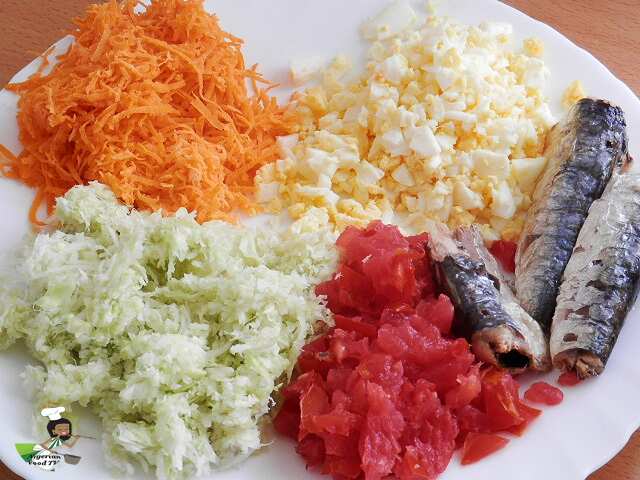 Photo: nigerianfoodtv.com
READ ALSO: Nigerian lunch ideas for work
For this yummy club sandwich, you are going to need:
8 slices of toast bread (preferably white);
3 eggs;
1/2 of a small onion;
2 lettuce leaves;
1 big tomato;
2 medium-sized carrots;
1/2 of a small cabbage;
1 small cucumber;
Meat/fish filling of your choice;
3 tbsp. of mayonnaise;
1 tbsp. of ketchup;
Cherry tomatoes for garnish.
Depending on what you like, you can choose what to put in the sandwich: 4 pieces of canned sardine, half a can of tuna/smoked mackerel or 2 tbsp. of corned beef. No matter what you choose, it is going to taste great. You can also replace mayo and ketchup with some salad cream.
Once you decide on the ingredients, it is time to learn how to prepare a sandwich Nigerian way.
How to make sandwich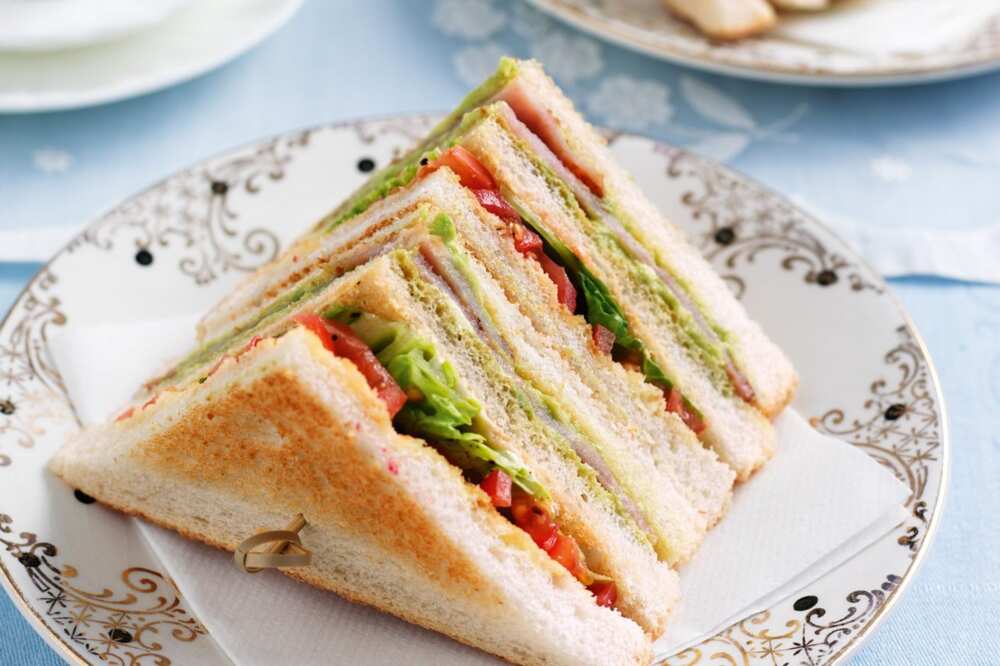 Photo: guardian.ng
READ ALSO: How to toast bread without a toaster
As we have mentioned before, there is nothing too complicated about making a sandwich, but it is still nice to have some tips about what to do. So if you feel slightly lost, follow these simple steps to make your sandwich:
The first thing you want to do is cook the eggs. You can go with hard-boiled or scrambled eggs for this recipe, so it is up to you to decide which one you crave more at that moment.
Wash up your vegetables and prepare them for the sandwich. Cut it up into small pieces, finely grate the cabbage, carrots and half of a cucumber. Leave the lettuce to dry a bit before using it for the sandwich. You can also cut it to better fit the size and shape of your bread.
During this preparatory stage, you should also cut off the crusts from the bread. This makes the sandwich taste so much better. You can use the crust later to make croutons or breadcrumbs.
In a bowl, mix together the vegetables and eggs. Add the mayo/salad cream and mix well until you get a nice and (more or less) even paste.
In a different bowl, mash your meat/fish with a fork, add the salad cream or the mayo+ketchup combo and combine until it is smooth. If you are using fish that came in oil, you might want to keep that oil to add to stews or to stir-fry food on it.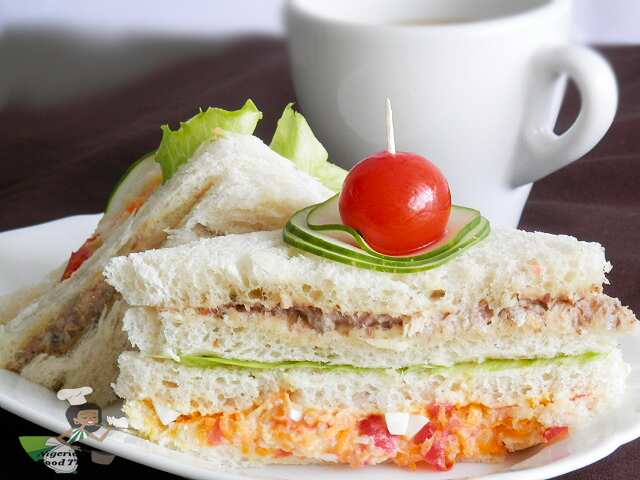 Photo: nigerianfood.tv
READ ALSO: Nigerian dishes and snacks everyone should taste
Now to the interesting part: assembling your sandwich. Take one piece of bread and cover it with the mixture from the first bowl. Put another piece of bread on top, then a slice of lettuce, then another piece of bread covered with the mixture from the second bowl. Cover your growing sandwich tower with yet another piece of bread.
Repeat the same process for the remainder of your ingredients. You should end up with two neat stacks of bread and filling. Once you do, take a sharp knife (the sharper the better) and cut the sandwiches into triangles. If the knife is too dull, you will just end up squeezing the filling from the sandwich.
Grab the leftover half of the cucumber and cut it into thin slices. Take a few toothpicks, add a few cucumber slices and a cherry tomato on top of each one and stick them into your sandwich triangles. Ta-da! Your dish is ready to be served to your most esteemed guests along with some beverages.
And that is how to make sandwiches. Obviously, it is not the only way you can make a Nigerian sandwich. After all, every cook has their secrets. So try this recipe out, tweak it to your liking and share your delicious creations with the ones you love :)
READ ALSO: How to make shawarma?
Source: Legit.ng