Center part hairstyles with bangs
Some might say that the center part hairstyles have gone out of fashion. We think it is quite the opposite! Take a look at these stunning hairdos that we have prepared for you and find a perfect look for yourself. Your hair is going to look so fabulous that you will have a have a hard time looking away from the mirror.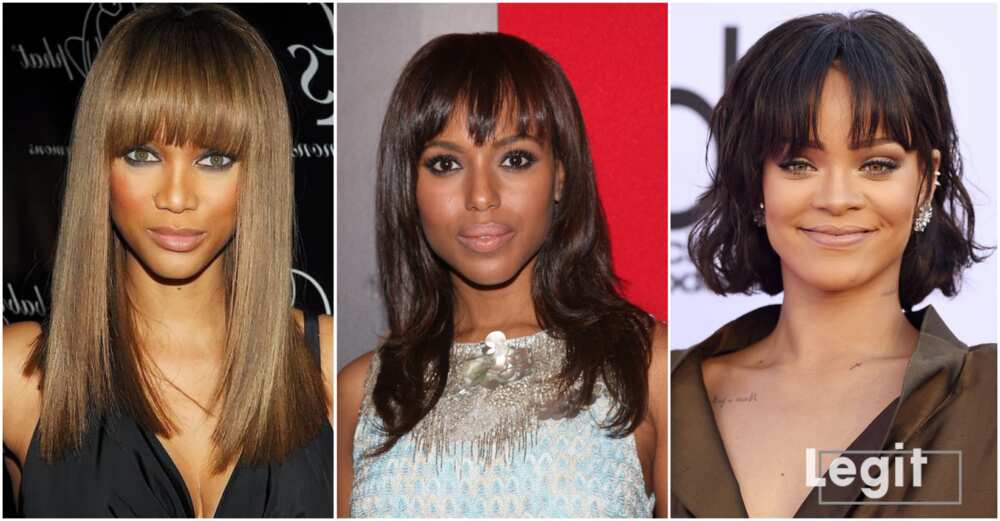 If you have seen our other articles on style, you probably know that we love structure here. Therefore, our picks are divided into different categories. While the two of them are rather standard, we have prepared a little surprise for our third section, so stick around to see what it is! With that said, let's get to our hairstyles!
Middle part hairstyles for long hair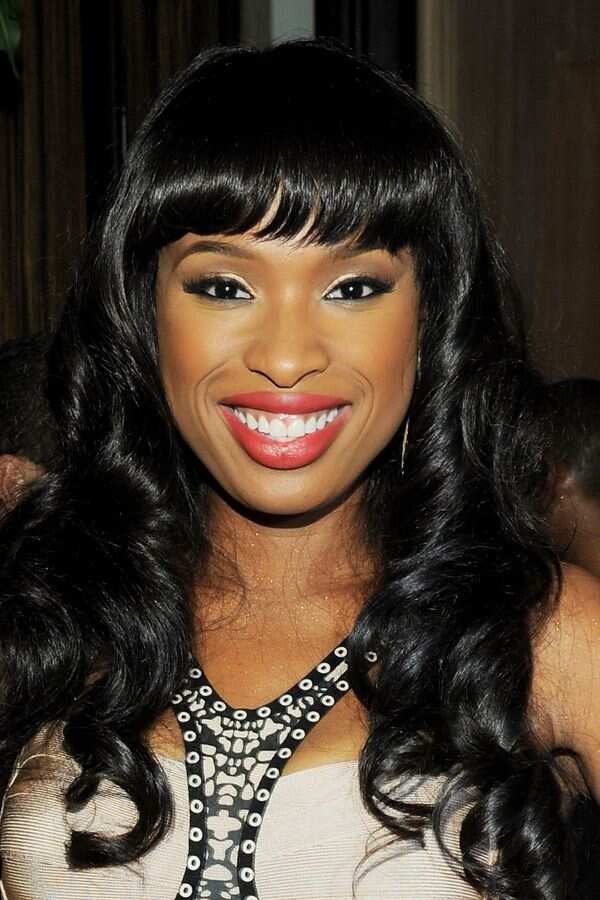 Photo: africanamericanhairstyling.com
We want to open this article with this lovely fringe hairstyle with soft curls. Even though there is a centre parting, you can still have a slight swoop to your bangs. They also blend beautifully into the rest of the hair, so it does not look like they are attached. This kind of look is great for all occasions, particularly casual outings.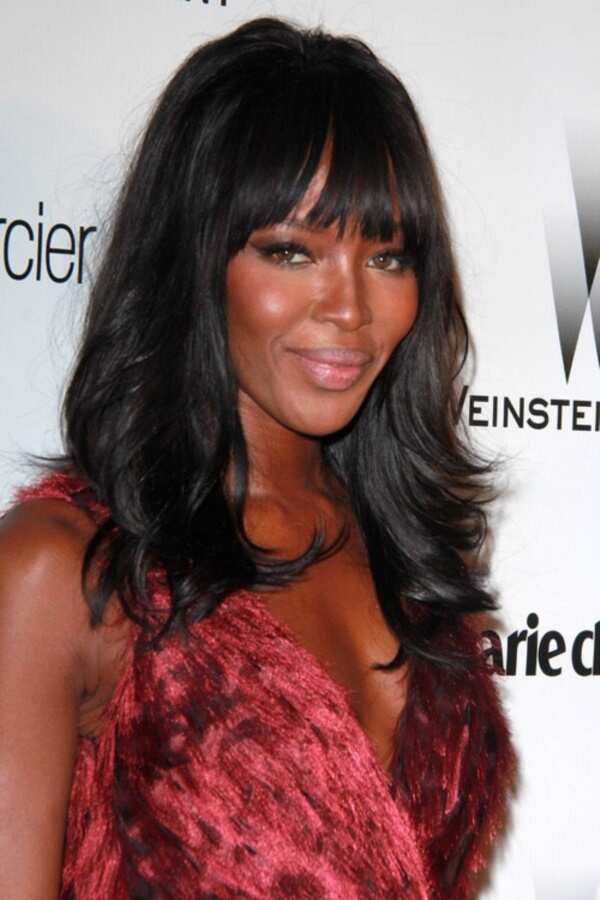 Photo: creemmagazine.com
READ ALSO: Latest female hairstyles in 2018
Here we have supermodel Naomi Campbell with her long, almost lash-grazing bangs. Paired with feathery long hair, they create a seemingly effortless hairstyle that probably has taken a few hours and a few pairs of deft hands. It looks soft and airy, and you can wear such a style to any event.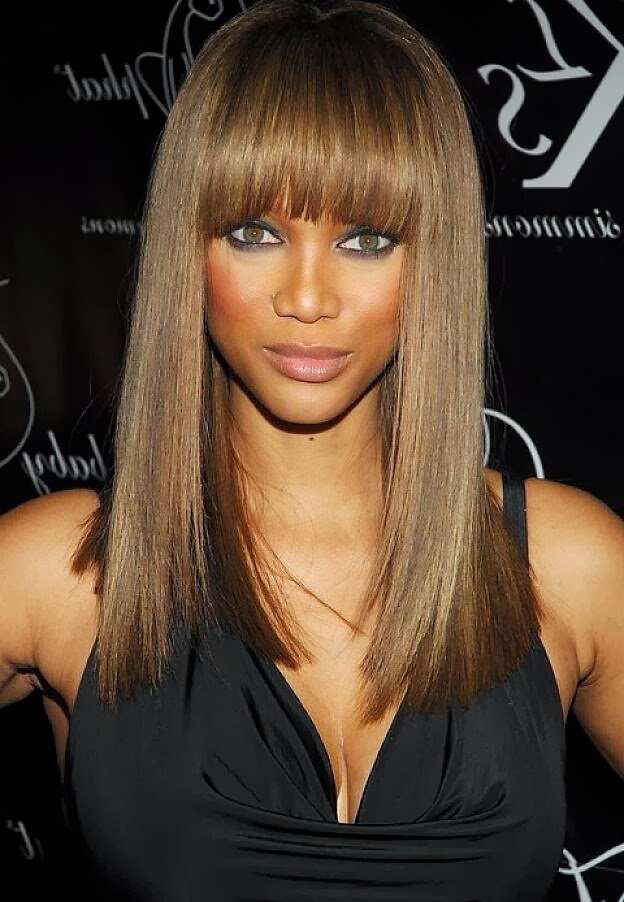 Photo: foto-baza.com
Here is another supermodel (we sense a trend here), the legendary Tyra Banks. She also has a lash-grazing bang, but her hair is straight instead of feathery, and such a detail makes all the difference. Well, her hair is also a different colour, but that is beside the point. While the previous style was light, this one appears more strict and serious, so everyone knows you mean business when your hair is like that.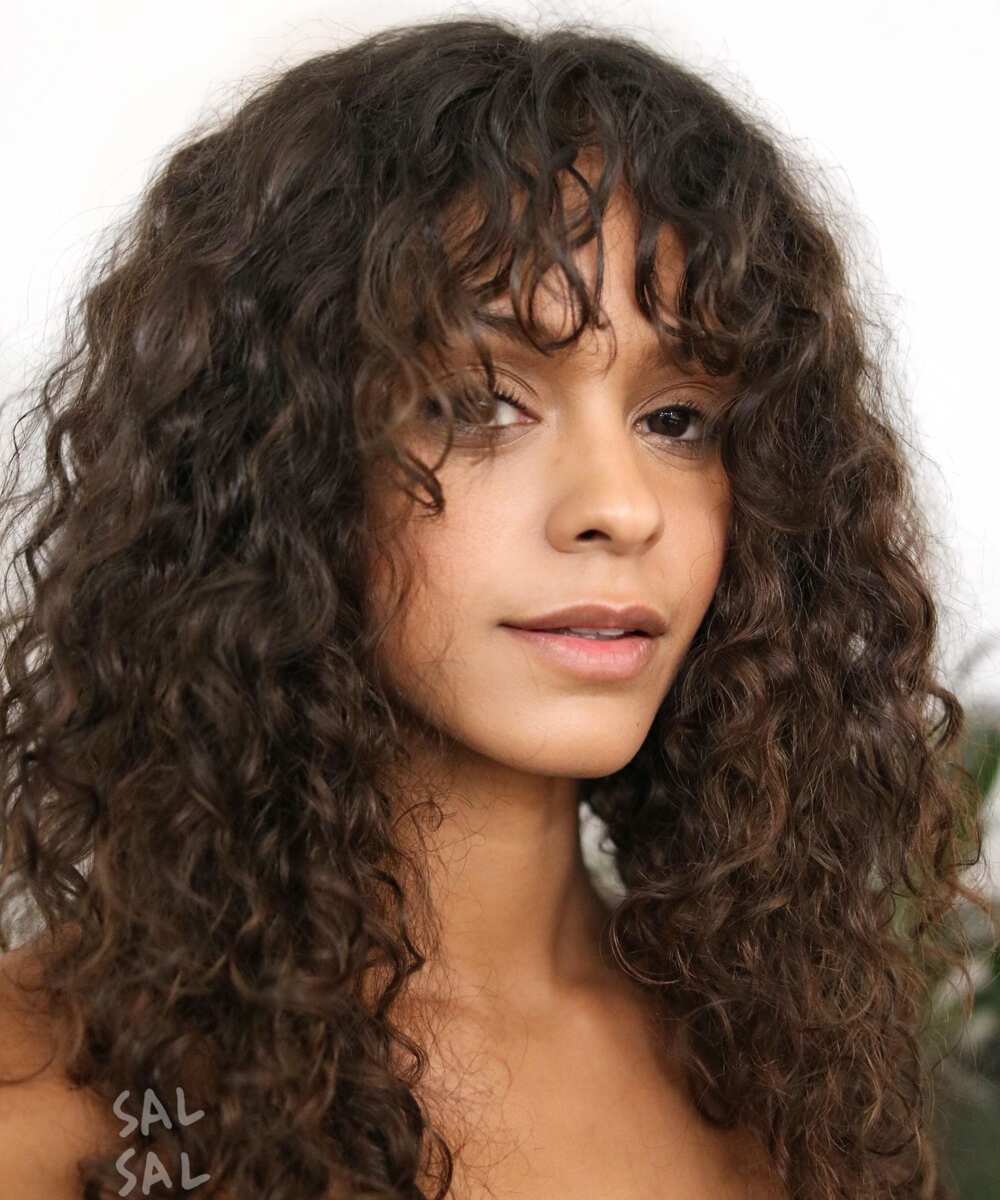 Photo: refinery29.com
We have also not forgotten about the curly people out there who would love to try on some bangs. Here is a great example of how you can style your hair without torturing it with straighteners and what not. However, make sure your hairstylist knows what they are doing, as it is twice as hard to cut bangs on someone curly than it is on someone with straight hair.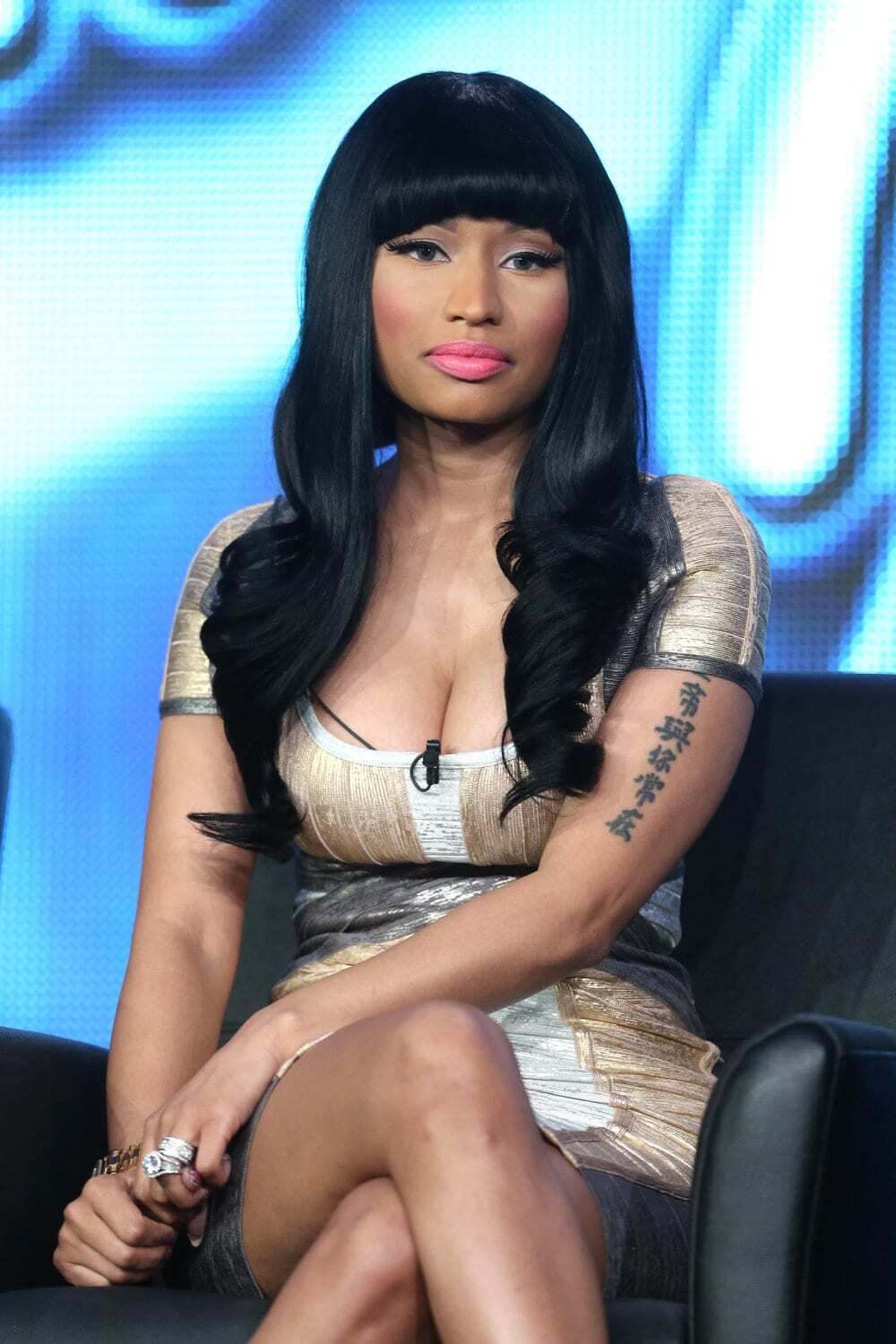 Photo: toofab.com
Queen Nicki used to love a thick blunt fringe back in the day, and it looked very good on her. We are sure it can look good on you, too, especially if your facial shape is similar to hers. A nice long rounded bang paired with big loose curls can create an unforgettable look that is great for special occasions. So give this hairstyle a try for your next date night.
Middle part short hairstyles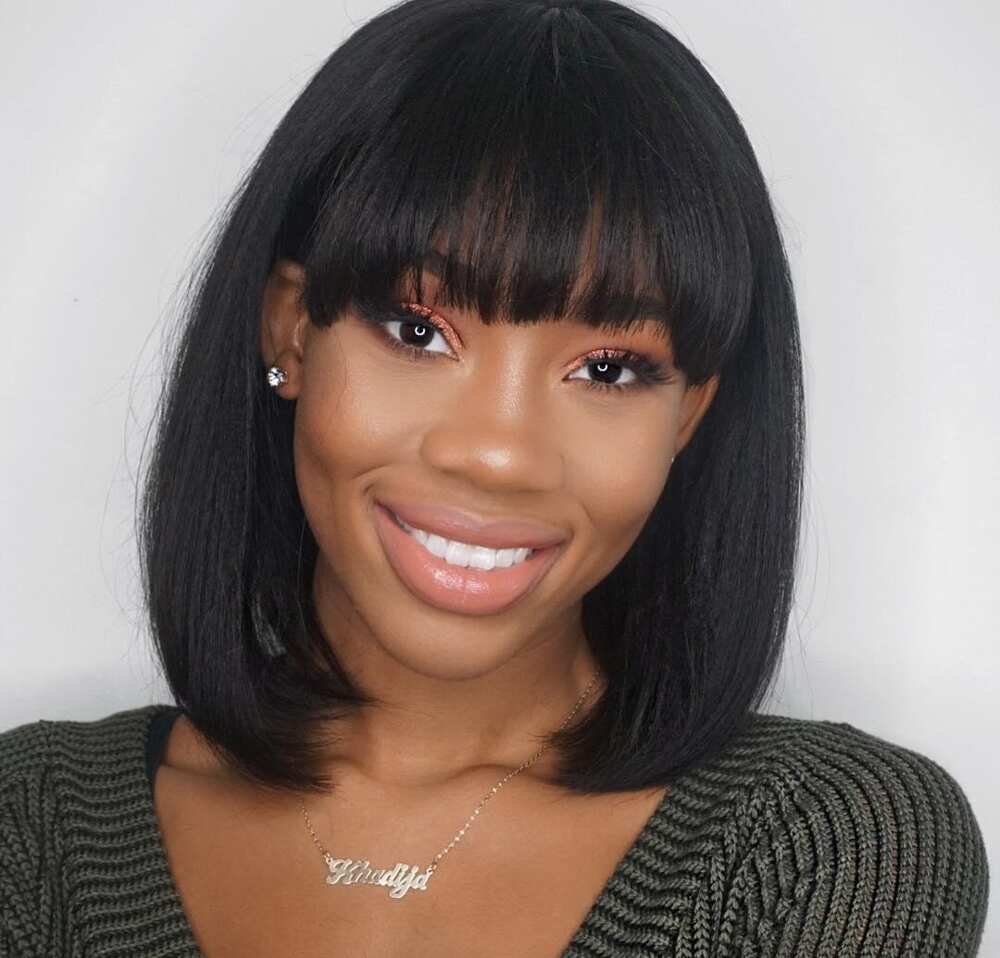 Photo: dhgate.com
READ ALSO: Quick short natural hairstyles for Nigerian ladies
Now that we have talked about different hairstyles for long hair, let's give some love for short hair as well, starting with this cute rounded bob and blunt lash-grazing bangs. This look is great for someone who enjoys looking youthful and coy, as it can make your face appear rounder and even cuter than it already is.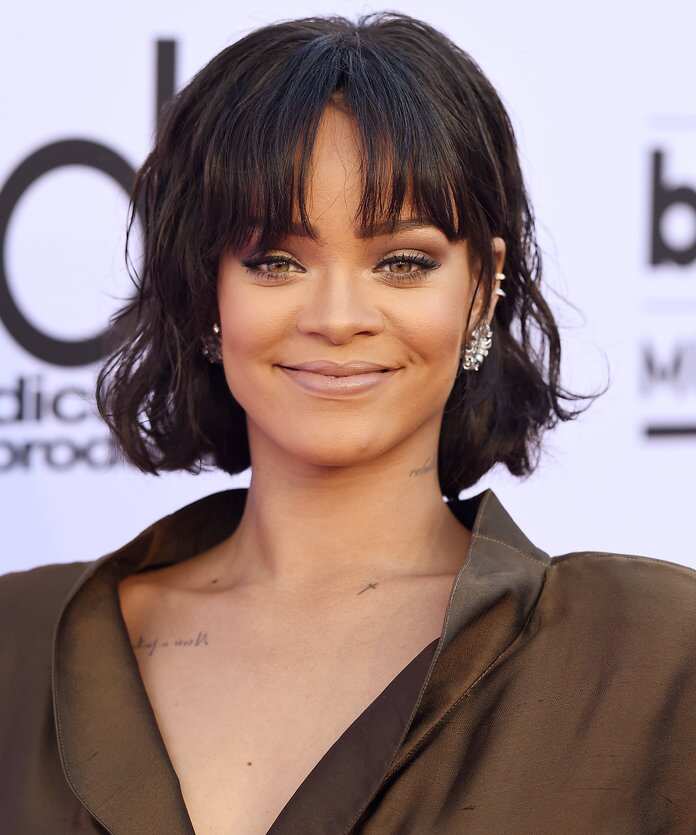 Photo: instyle.com
Rihanna is known for her great taste in hair, and her short hairstyles deserve a separate gallery. That said, this one has to be our absolute favourite. Not only is the hair parted in the middle, but the bangs are parted as well. The soft waves and slight texture of the hair add the air of effortlessness to the look, so if you want to look simple yet elegant, natural yet well put together, this is the way to go.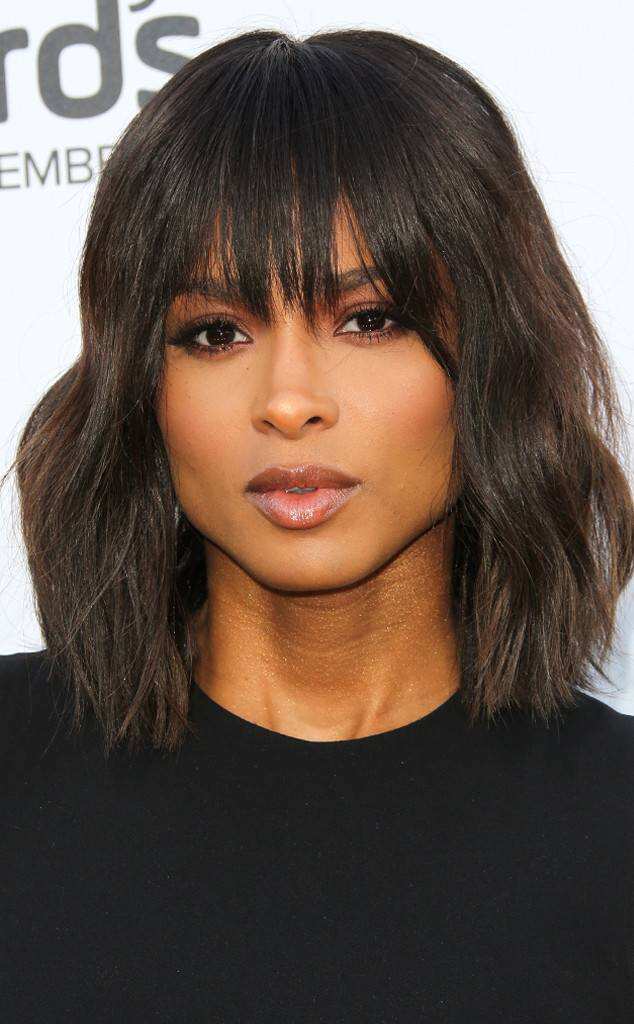 Photo: madsociety.com
If parted bangs are not exactly your thing, you can follow Ciara's example. She is sporting the lovely wispy choppy bangs along with a blunt-cut bob with some beachy waves. It is a great looking hairstyle, however, it might not be the most convenient, as the fringe might get in your eyes, and you might get a mouthful of your hair every now and again. So go for this only if you are willing to commit.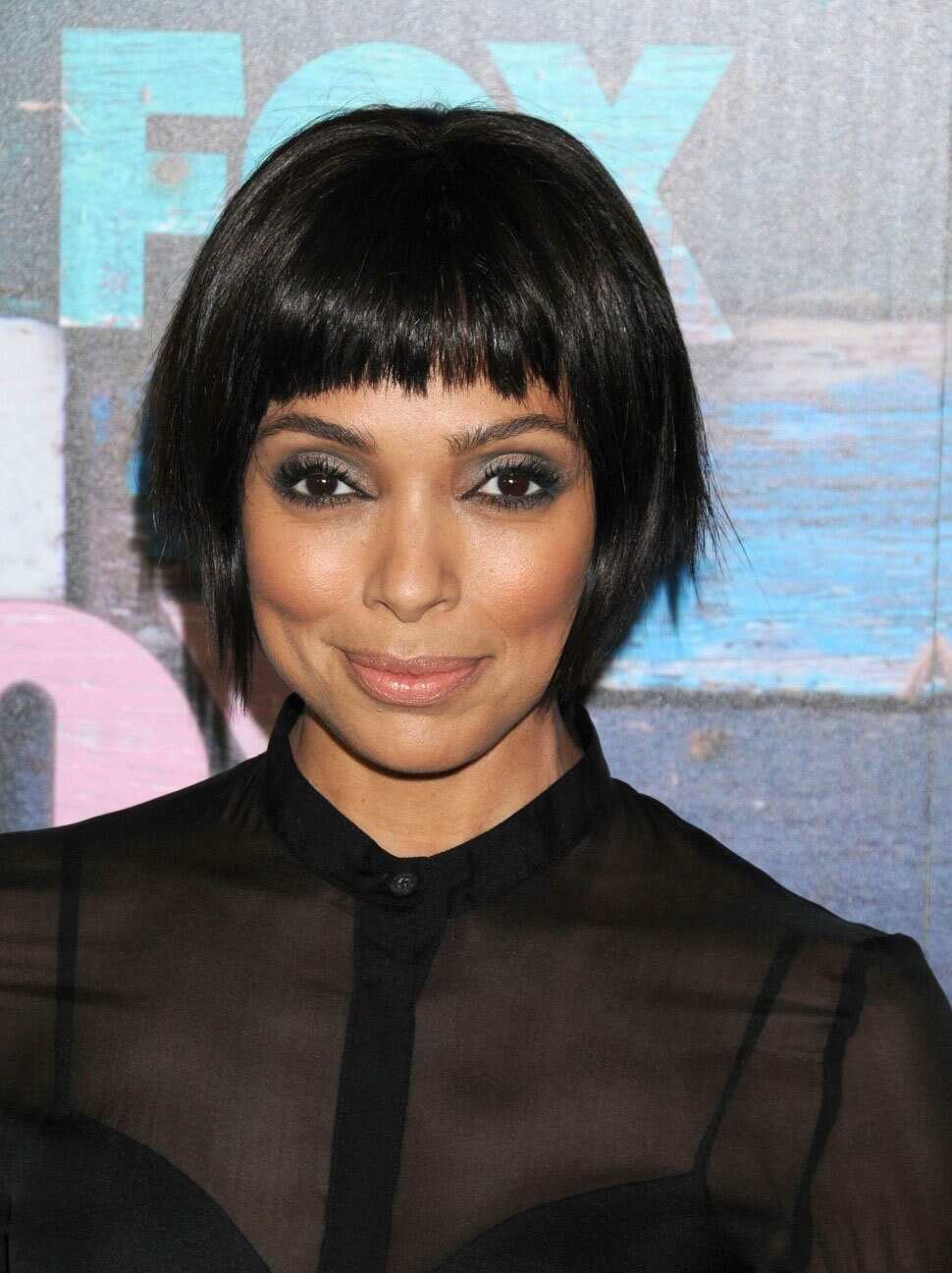 Photo: easyhairstyler.com
Short bobs do not get nearly enough love as they deserve, in our opinion, which is why we have decided to add this Tamara Taylor hairstyle to our list. Paired with some short choppy bangs, such bob allows you to change the shape of your face dramatically and attract more attention to your eyes. This means that you need to go all in with your eye makeup, as it definitely is going to be on display.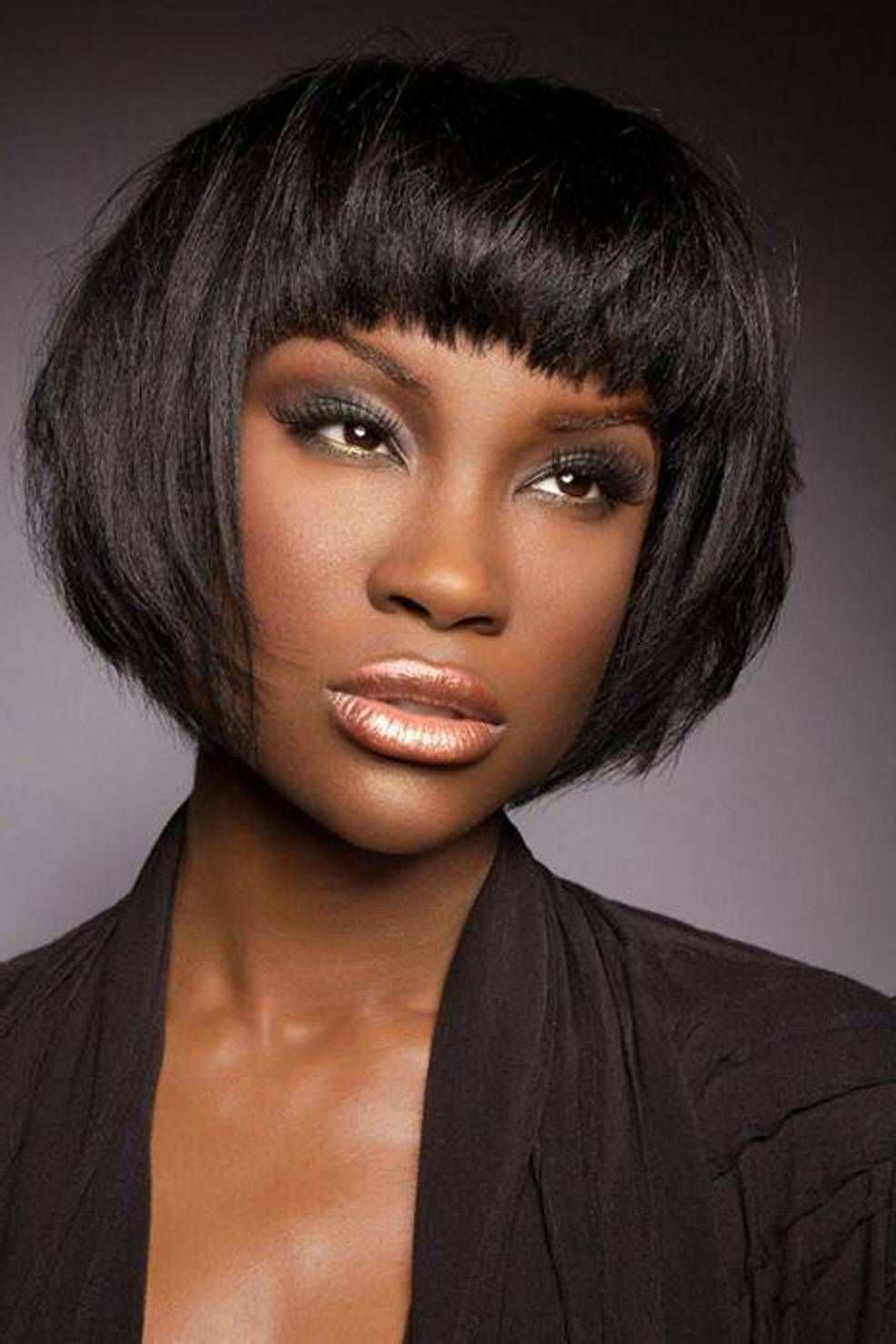 Photo: topsimages.com
Here is another way you can go with a short bob. It is quite similar to the previous style, but here, the bangs look like they are a part of the hair and not just an accessory. The hair is also close to the face, perfectly framing it and giving it a new shape.
Kerry Washington – the queen of hairstyles with bangs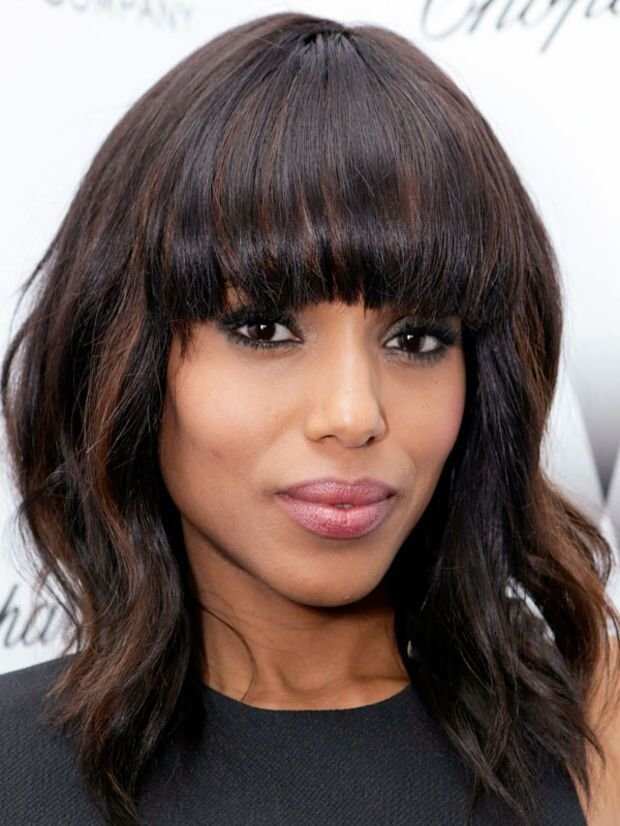 Photo: aabadv.org
READ ALSO: Hairstyles for oval faces in 2018
Remember we have mentioned that we have a surprise for you? Well, it is an entire section dedicated to Kerry Washington hairstyles, because the woman can really pull off a middle part with fringe. For instance, here she is, with her bangs reaching her eyelashes and curving ever so slightly to meet the rest of the hair, which is, by the way, styled in lovely soft waves. This is a classic look of hers that suits her perfectly.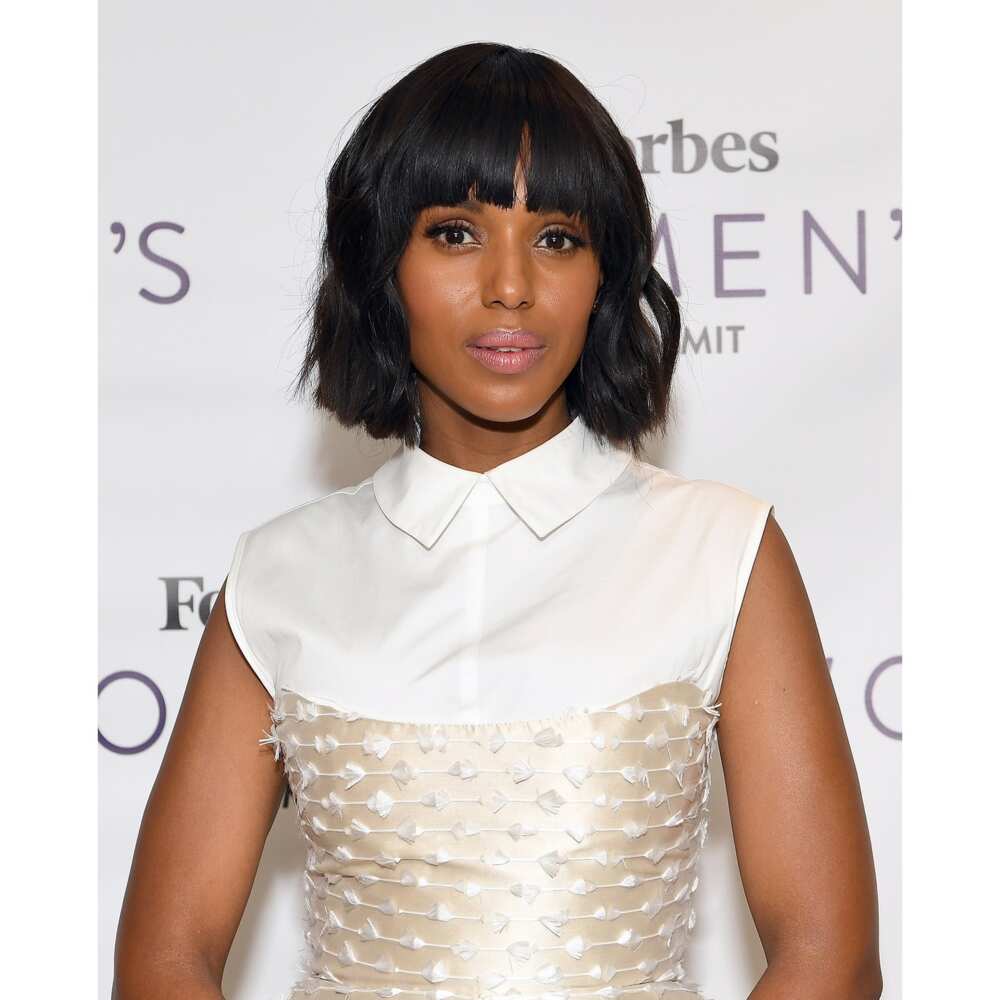 Photo: allure.com
When longer hair and rounded bangs do not work, why not chop it all off in a rough cut? Depending on how much hair you have to begin with (in terms of both length and volume), you can choose the more appropriate out of these two hairstyles if you are looking for something simple, classic and relatively low-maintenance.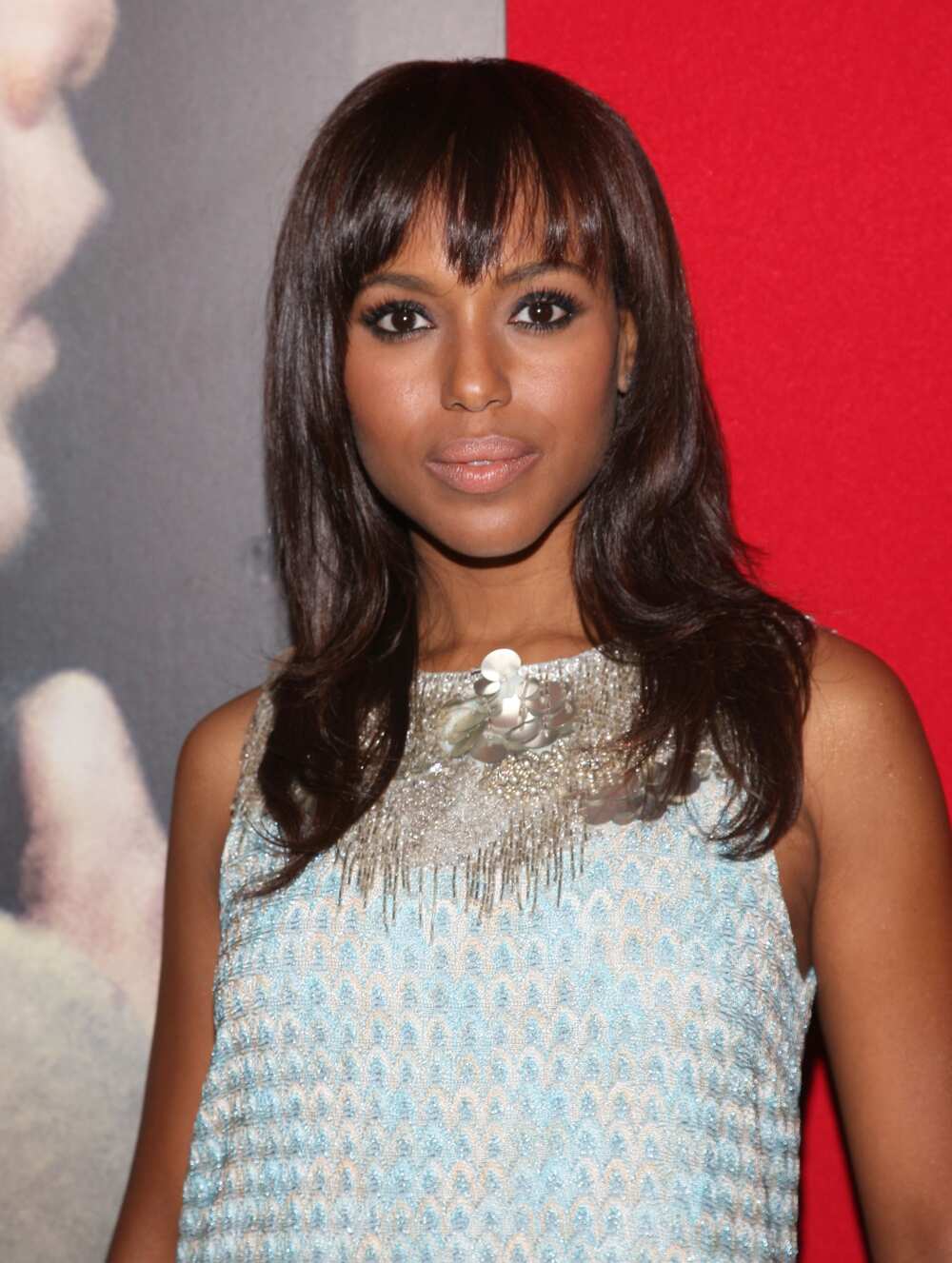 Photo: now.ruelala.com
It seems like Kerry can pull off a fringe like nobody else, as no matter how she wears her hair, she looks incredible. Even with these choppy wispy bangs and lazy, almost natural waves, she looks absolutely stunning. This particular hairstyle requires barely any effort, provided the hair you have to work with is nearly straight and untangled. There is no complicated styling involved, so this is perfect for all the simple queens out there.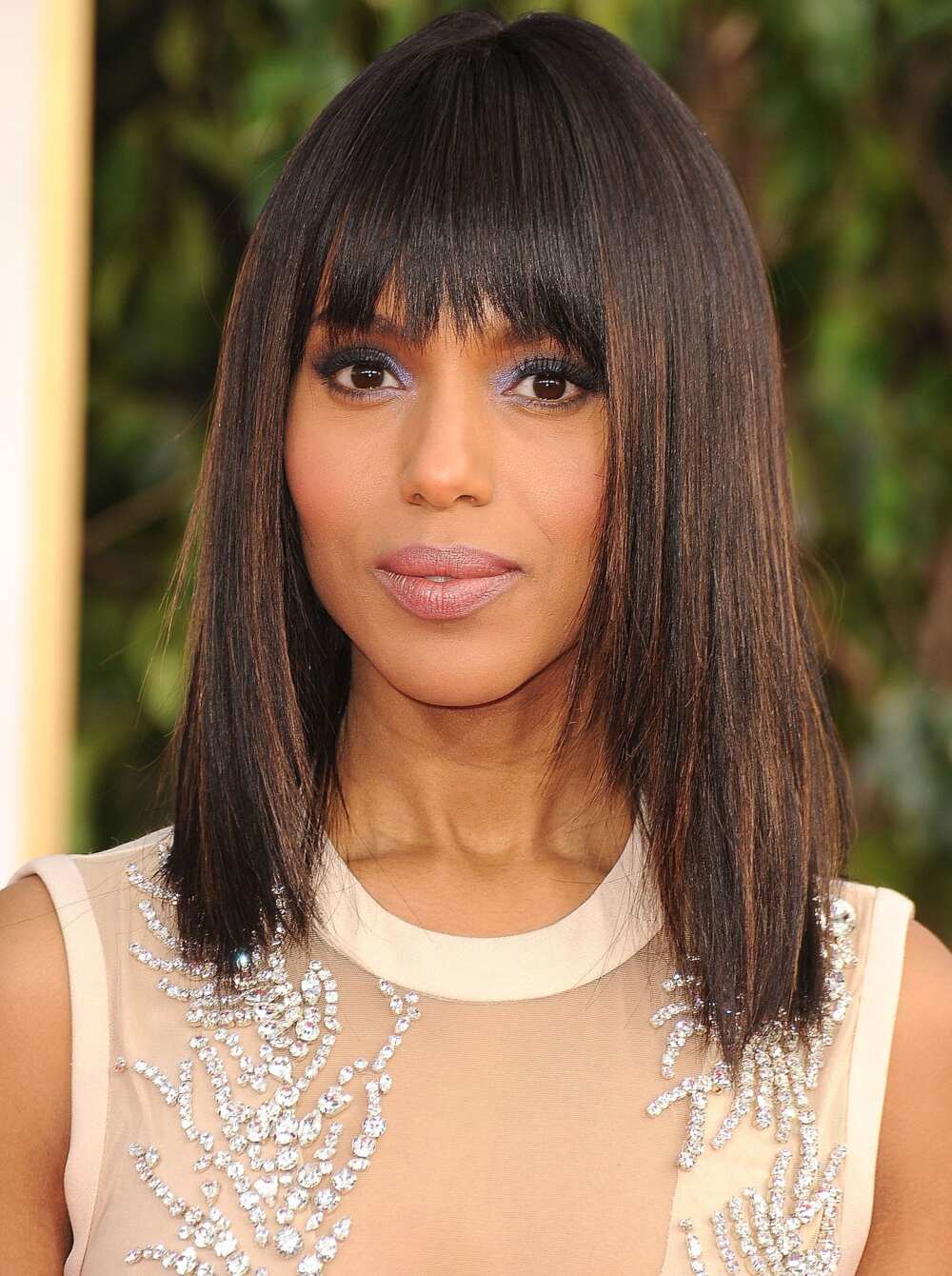 Photo: pinterest.com
The straightened hair might not be quite as popular nowadays as it was even a few years ago, but you can still turn out a fierce look with it. With somewhat shaggy fringe and similarly cut hair, you can add a little something special to your look and make everyone turn heads. However, it is important to remember about proportions: too little hair with too much face or vice versa will not look good on anyone.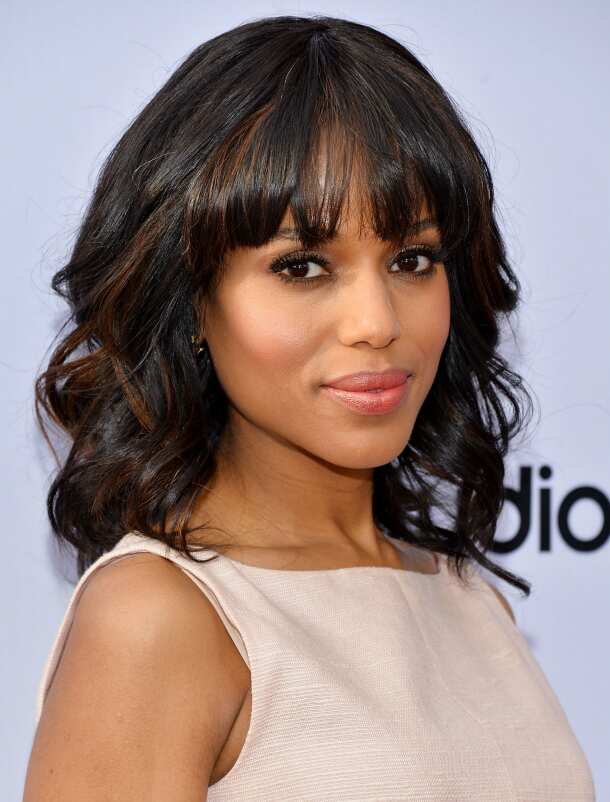 Photo: stylecaster.com
Last, but certainly not least, we want to show you one of the loveliest hairstyles Kerry has worn over the years. It is this long fringe with soft curls that makes us think of her whenever we see it on anyone else. That said, if you do not want to be compared to her too often, you can always change some details here and there and bring something of your own to this stunning hairstyle.
Those were our top 15 hairstyles that feature a middle part and a fringe. Tell us in the comments which ones you like best and maybe share some photos of you sporting any of these hairstyles. Have a wonderful day!
READ ALSO: Short fixing hairstyles in Nigeria
Source: Legit.ng