Happy birthday wishes for sister she will adore
Have you ever lacked words when trying to compose happy birthday wishes for sister? If you want to be out of the ordinary and make your wish special and memorable, you should make use of these great birthday wishes that your sibling will definitely adore.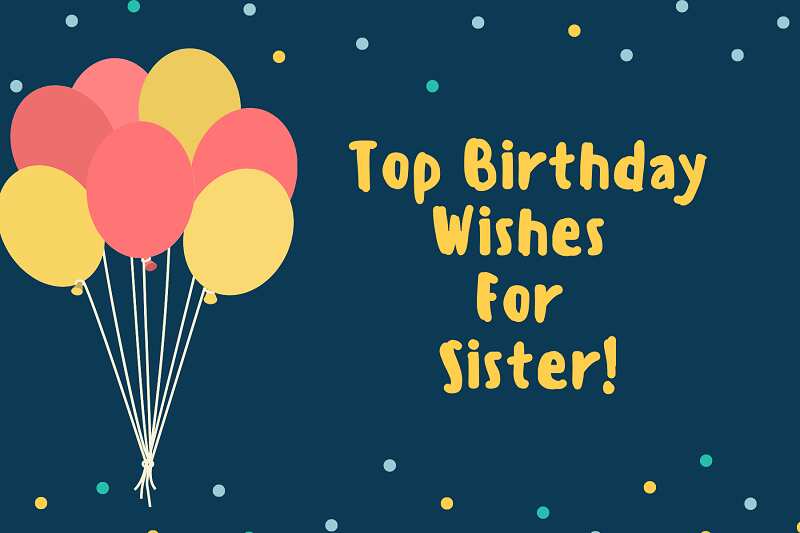 What should I write to my sister? Do you want to know the different types of happy birthday sister messages you can write to your sister on her special day?
The messages below are perfect words to tell your sister on her big day.
Inspirational birthday wishes for sister
How do you make your sister feel special? You can never go wrong with inspirational birthday messages. You can post these messages on her social media pages and yours too. You can also send them in an e-card to her.
Here are some of the best inspirational birthday wishes your sister will love:
Age is supposed to be like fine wine, the more the years, the better its quality, and the more valuable it becomes. Happy birthday sis, you are the perfect example of fine wine.
It's your day golden girl! Being the first child in the family is an opportunity and a privilege to be an example to a generation. Being the first child and a daughter is like a calling to serve. You are a priceless treasure.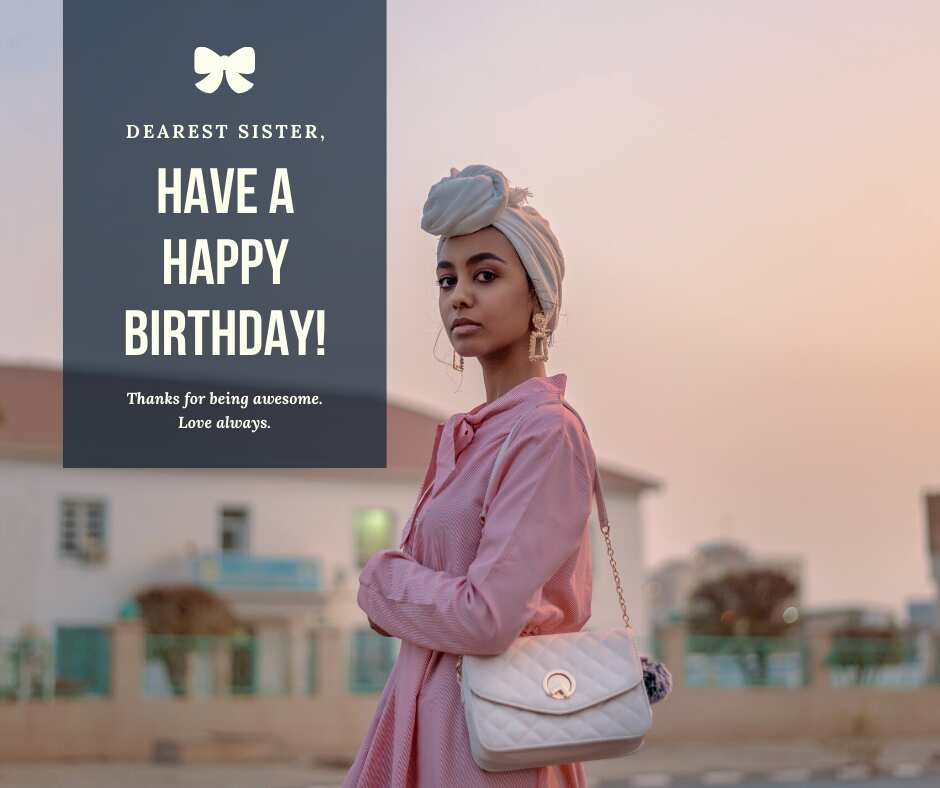 My beloved sibling, you have been more than a sibling to me. You have been a friend, a mentor, and a mother to me. Happy birthday sister.
Hey sis, congratulations on stepping into another year, please know that there are good and bad days in a year; do not regret any day, good days bring you happiness and bad days bring experience. Live your best life!
You are the definition of sunshine; you bring brightness into everyone's life. Happy birthday to my sister.
What are siblings for if they cannot joke together? Inspirational messages are cool and spirit-lifting, but, you know your sister will surely receive tons of inspirational messages on her day, and you may want to do something different for her. You should try funny WhatsApp happy birthday messages.
WhatsApp status birthday wishes for sister
Post a funny photo of both of you together or when you were younger, then write your wishes for her along with the photo. This will certainly make her smile.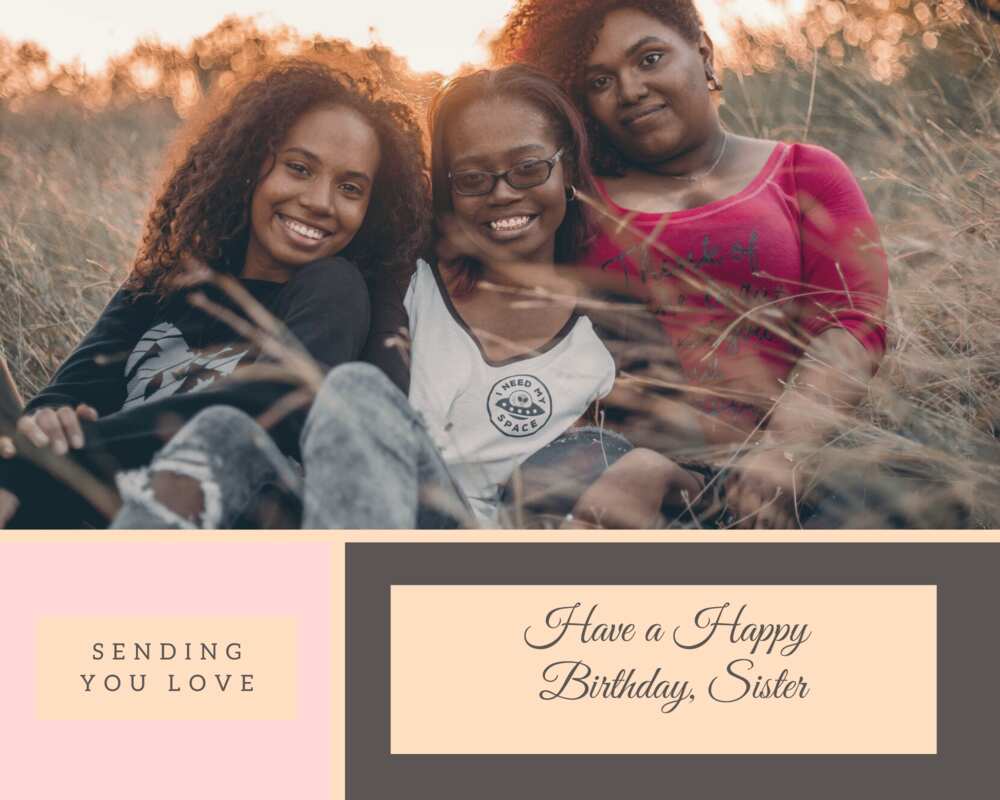 Here are some of the top funny birthday wishes for your sister:
"Beautiful", "intelligent", "caring", and "outgoing" are all words to describe you! But, hey, "funny" wasn't the first word I put on that list, right? Happy birthday, funny sis!
It's freezing today, and it's so good that your birthday cake, with all the candles, brings much more warmth than the fireplace!
On your big day, I wish that your failures be as few as the teeth of our grandfather!
When celebrating birthdays, kids wish to be older, adults – to be younger. My wish for you today is that you will never lose the childlike joy and excitement in life!
On this your special day, I wish you to be as lucky as a mosquito in a nudist colony.
Happy birthday, sis. Enjoy another 365 days of an all-expense-paid trip around the sun.
Usually, wisdom comes along with age. It looks like you haven't reached that age yet, so celebrate your special day as crazy as it is possible! Enjoy your day dearest sis.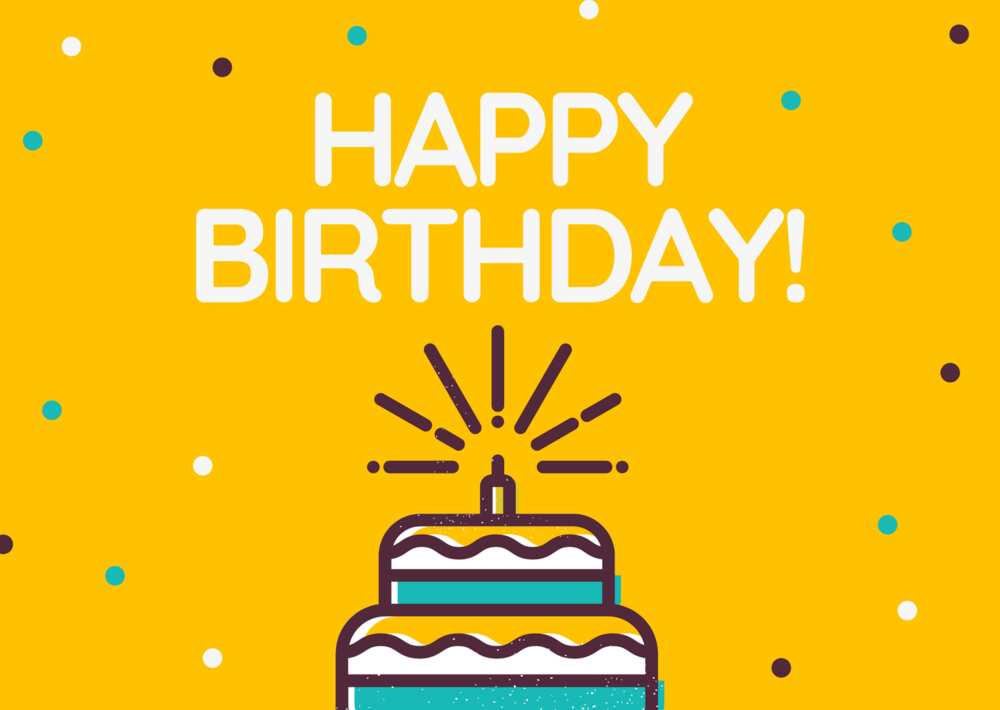 A simple task for you: Put your right hand on your left shoulder and the left hand on the right. Now shout joyously – you just received a big birthday hug from me! I love you, sis!
On your special day, as a present, I want to give you joy, love, friendship, wisdom and lots of other things that cost nothing! I mean… priceless! I love you more than fishes love water!
I was going to give you something awesome for your special day, but they wouldn't let me courier myself to you. Sis, I celebrate the day you were born!
Take two pieces of cake, one in each hand and you'll be on a balanced diet. I wish you always be happy and skinny, my lovely beautiful sis!
You are my dear S: Sweet, I: Incomparable, T: Tender, E: Elegant, R: Rocking, SISTER, happy birthday lovely sis!
Happy birthday, sis! You are my only and my favourite sister! But if you weren't my only sister, I'd surely have more options!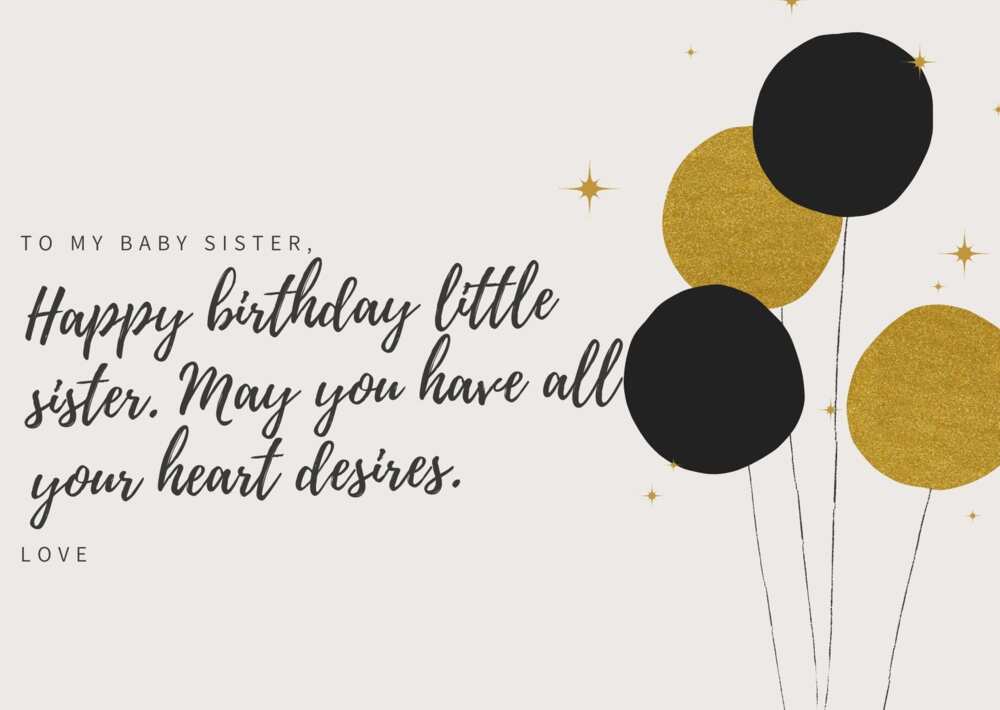 Birthday wishes for younger sister
The following messages are meaningful and fun wishes that you can send to your baby sister on her special day:
Did you know that when you were born, you were so surprised that you didn't talk to me for more than a year? I wish you crazy and good surprises in your life! Best wishes to you, little sis!
Happy birthday little sister. May you have all your heart desires.
Dearest sis, I have given my heart and soul to loving you since the day you saw the light of this world and you have enjoyed it ever since. Now, could you be unselfish enough to give me your age and I give you mine? You mean the world to me baby sis, enjoy your new age!
Hey sis, please stop being younger than me every year! It isn't fair! Best wishes to you on your special day. May you live in beauty and wisdom forever!
You look like a monkey, and you belong in a zoo! There ya go, little sis. I hope your birthday is absolutely bananas!
Fortunately, you will always be younger than me! Happy birthday little sister!
I can't believe that someone so annoying and immature grew up to be someone I love dearly and consider one of my best friends! Happy birthday to my wonderful, beautiful, and intelligent sister!
Although I never really enjoyed sharing my things with you, I have always enjoyed sharing our childhood and love for each other. You're most precious to me. It was such a great experience to grow up with a crazy and fun girl like you. I cherish all our sweet and exciting childhood memories. To me, you will always be that adorable little sister, happy birthday!
If you were chosen to represent our district in the Hunger Games, I would definitely not take your place, but I would send you those little packages full of surprises. I love you too much to want to take the joy that comes at the end from you. Happy birthday little sister!
Seasons may fail, others may flee, but I will always be there for you! Best wishes, sis!
Thank you for all those pillow fights and late-night chats! It's so great to have someone else that is the product of our crazy upbringing! Happy B-day to one very special girl who I am honoured to call my sis and best friend!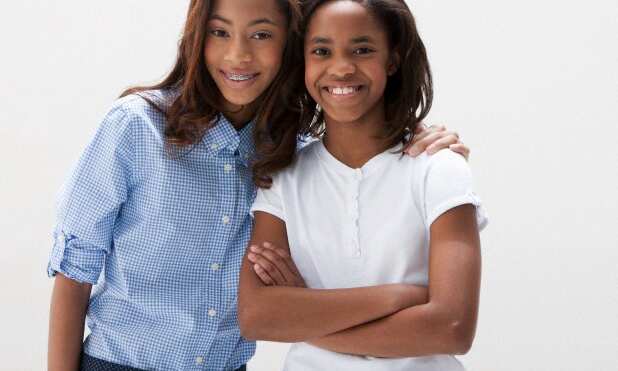 Thank you for all the arguments, fights, friendship, dances, and late-night talks! It's so great to have another person in my life that is way better than I am. Brightest wishes to a very special girl I am beyond blessed to have as a sibling!
Birthday wishes for elder sister
Your elder sister will love these birthday wishes because they will make her laugh and fill her heart with happiness:
Birthdays are good for your health – the more of them you celebrate, the longer you live. Best wishes to you today, big sis!
Happy birthday to my sister! Congratulations on having survived another year with me as your younger sister! May this year be your best year yet!
Dear sister, at times you could be the thorn in my side and the noise in my ears, but I know you will never be the Judas in my life. Because through thick and thin, you have stood by my side! Happy birthday to someone generous, beautiful, and hilarious. I love you more!
Happy birthday, sister! I love you enough to remind you that you became a year older today, However, mum said adulthood is not as exciting as everyone makes it look. As you continue to grow older, please do not say I didn't warn you.
Happy birthday big sister, my partner, protector, and advisor in all childhood crimes. Thanks for being with me always.
Other happy birthday sister quotes
Your sister will surely adore these beautiful quotes:
You are more than a human, you are a special gift sent directly from heaven to make my life easier. Enjoy the anniversary of the day you were born, baby sis.
May you have all that your heart desires today and throughout the year. May the best riches of this world be yours to enjoy.
God made us sisters, but a shared love of wine and Game of Thrones has made us the best of friends. Happy birthday to my sister!
Did God put too much kindness, love, empathy, forgiveness, generosity, beauty, and charm in the ingredients he made you? Because you are the most amazing human ever. Have fun today!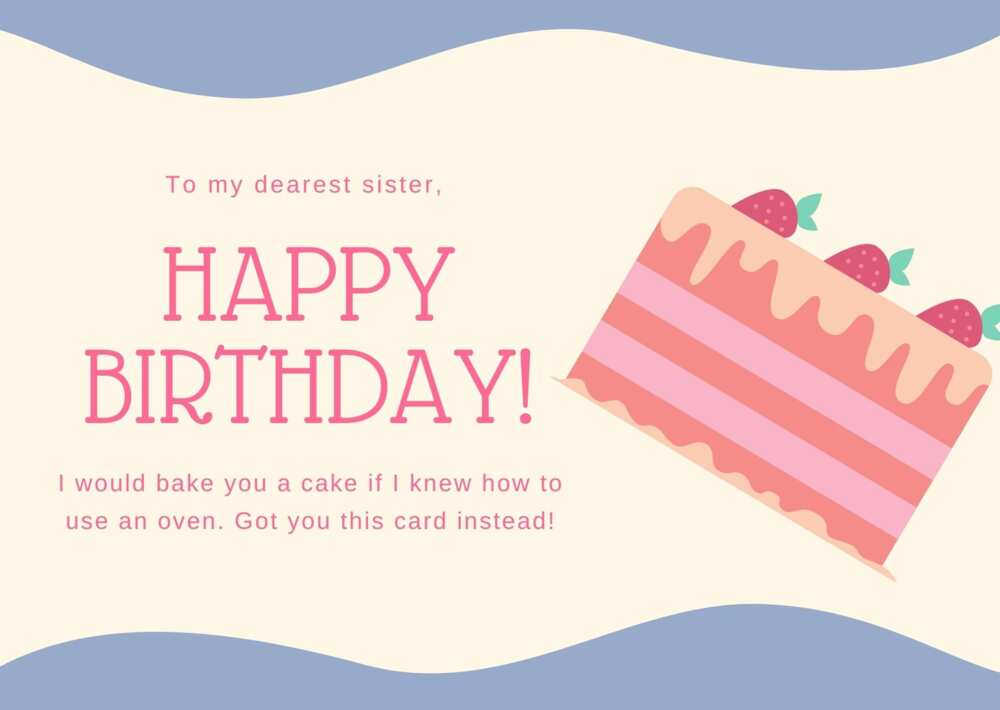 You shine brighter than the stars, you are cooler than the moon, and you are hotter than the sun. All I simply want to say is that there is no one like you. I love you, I appreciate you, and I wish special blessings to you on this glorious day!
Our parents made us siblings, we became friends on our own. Happy birthday, sis.
What is the best message for birthday?
The best birthday messages are the ones that come from your hear. Also, you should send messages that suit your sibling's personality.
If she does not like funny messages, then sending funny messages may not be the best idea in that situation. Another thing you should ensure is that you use words that perfectly express your feelings.
Birthday wishes for sister may vary, but because this is a sibling who means a lot to you, do not mince your words; pour out your love and prayers for them in your messages.
Source: Legit.ng