Top twist hairstyles for natural hair
Are you tired of wearing your natural hair in a wavy or curly way? Perhaps you are searching for something brand new and fresh? Then, this would be the right time to think about twists! There is a large chance that twist braids will be just what you need. See this list of twist hairstyles for natural hair and select the one that fits your personality and preferences the most!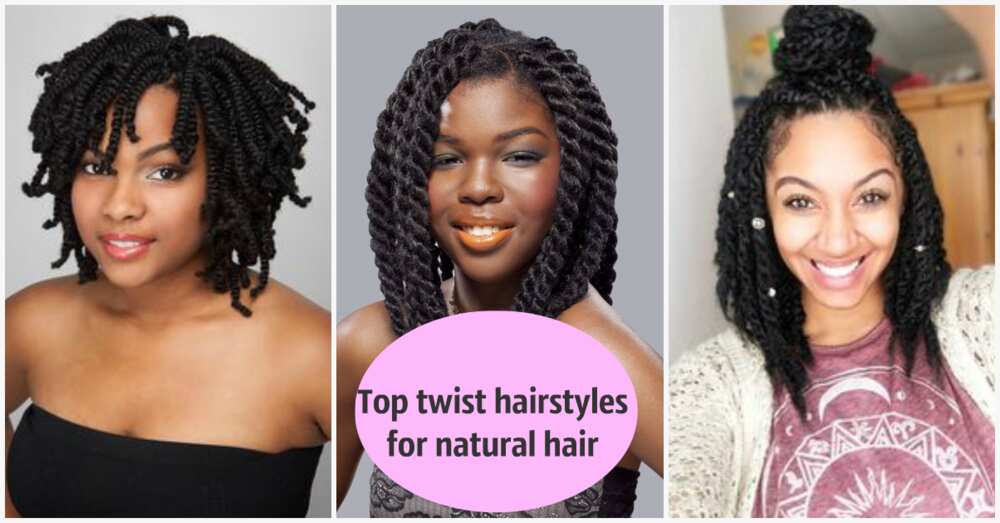 Easy twist hairstyles for natural hair
Twist hairstyles are an excellent alternative to the African braids. In comparison to braided hair, twisted braids hairstyles for natural hair have one very obvious benefit – they are much faster and way easier to create. For those beginners who just started their way in hair styling, twists would be the greatest way to start.
Twists are one of the most popular hairstyles for natural hair, and they provide a whole lot of merits: protectiveness towards your natural hair, the length retention, and a perfect base for many versatile hair options. Twist hairstyles are very different in their type and caliber (for instance, there are loose twists compared to flat twists, which are plaited very closet to the scalp in cornrows fashion). There are a lot of other types of twists: Havana twists, Senegalese twists, kinky twists, and Marley twists.
So, which type and size would you want to choose? And how would you like to style them? We believe that you will find definite answers to these questions after you read our article and see the pictures of all these different twist styles for natural hair.
1. Chunky flat twist bun
If you want to opt for the updo style, which is convenient and charming at the same time, you can choose this bun. Except looking good and refreshing, it will also protect your hair strands from damaging heat and the common problem of over-styling. If you want an extra feature, you can try weaving in the hair extensions which will be of a different color from your natural one. Or you can dye some of your hair strands. This way, you will highlight the parts of your hair and make your hairstyle more unique and outstanding.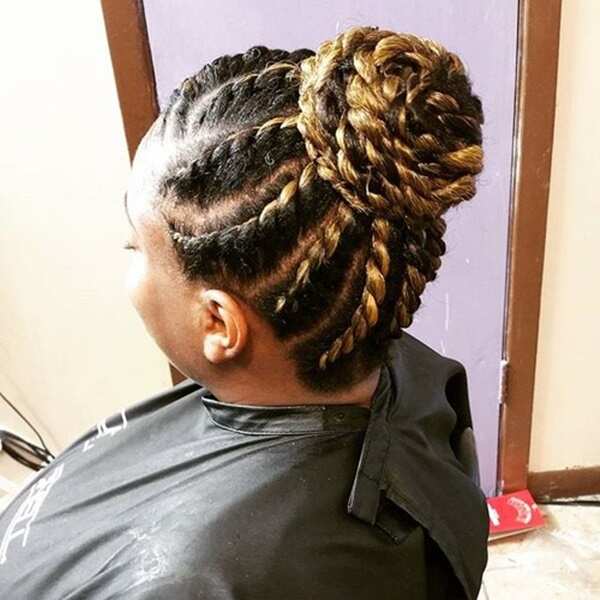 2. Versatile twists with braids
We have mentioned that twists and braids are completely different choices, but this does not mean you can not combine them. Braids will help you elevate your look and make it modern, cool, and fierce. Cornrows will be a perfect choice for those people who would like a hairstyle that lasts long. Besides, the long twists are very versatile for different kinds of hair options, such as updos, Mohawks, and buns.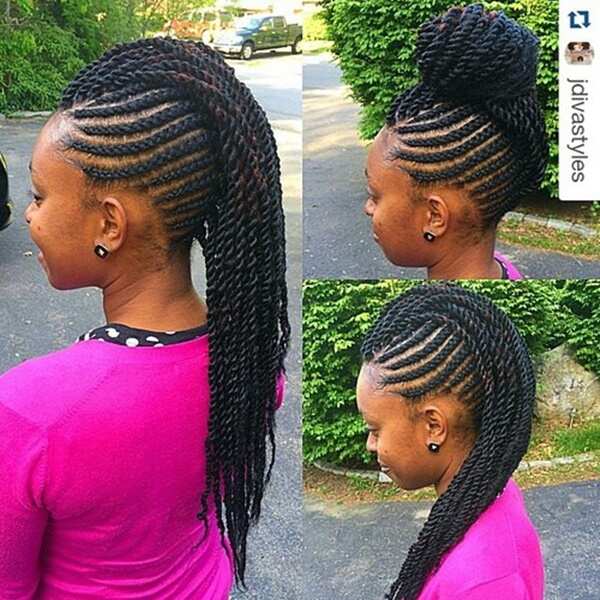 3. Flat-twists with bangs
A lot of African ladies choose braids and twists because these hairstyles are protective and positive for hair care. It is really important that your hairstyle is not only good-looking but also versatile and not posing any damage to your hair. The protective hairstyles usually do not have bangs because it does not go with their structure, but if you truly want something unique, you can try the flat twists with bangs. The thinner braids which are right above the forehead could be used for creating bangs. This way, you will add some diversity and flirt to your hairdo.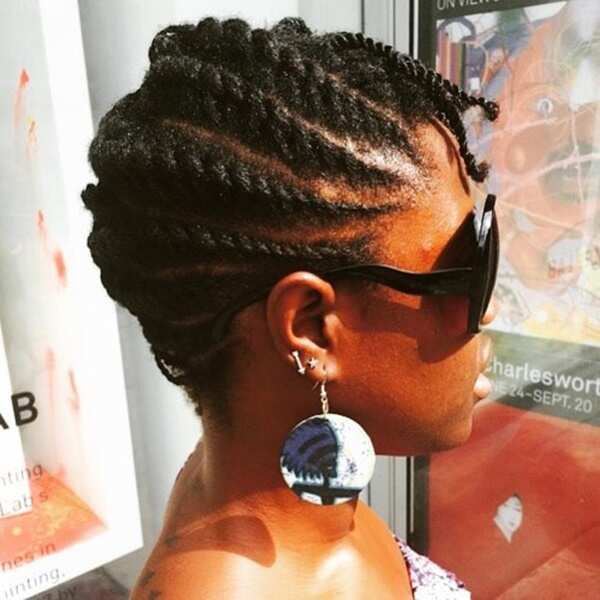 4. Half updo with shoulder-length twists
This is quite a popular hairstyle among young cheerful people who enjoy life. If you are searching for something fun and innovative, you can try to create this half updo with the hair twists. If you would like to make a statement, you can add some cute beaded accessories – they are extremely trendy together with the twists. These sweet beads also help to make emphasis on your beautiful smile.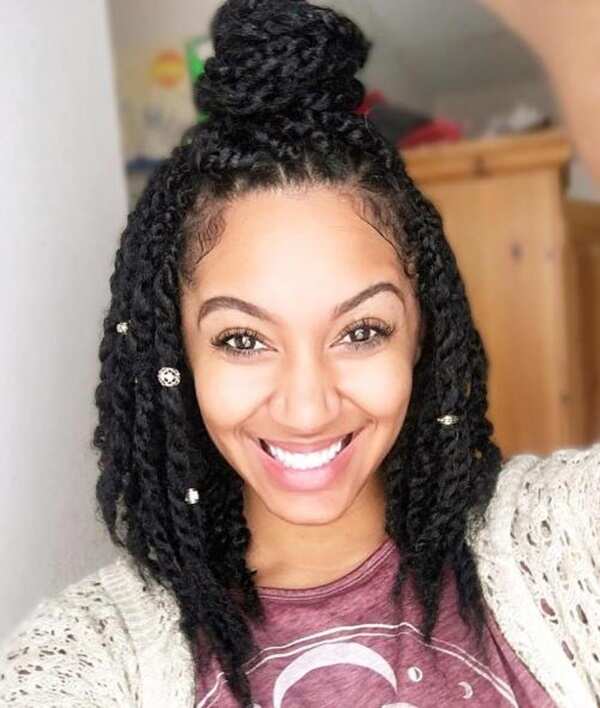 5. Flat twist updo
We are pretty sure that when you hear about the twisted hairstyles, your first assumption is the numerous thin twists. However, this is not the only way to style the twists. The large twisted options are also a thing, and you can truly outshine all the ladies with thin twists by wearing this hairstyle. This twist is widely called "flat twist", and is a simple, elegant, and very protective hair option. Besides, it is not very difficult to do – if you have barely any time in the morning, you can spend it on making a flat twist.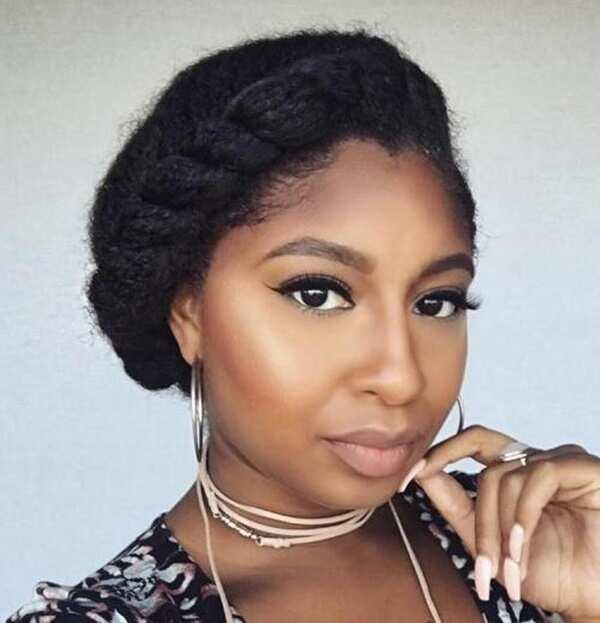 6. Black and brown twists
As classic as one-colored twisted hairdo is, sometimes we all need originality and refreshing. That is why a lot of people aim for the colored twists. Of course, when we say "colored twists", the multicolored rainbow shades are the first thing that comes up in our minds.
However, if you are not a big fan of these, you do not have to choose these shades. This twist option combines the natural hair colors – black and brown, and as we can see, they work out amazingly together. You can wow everyone with this classy look by adding some accessories, like beads and earrings.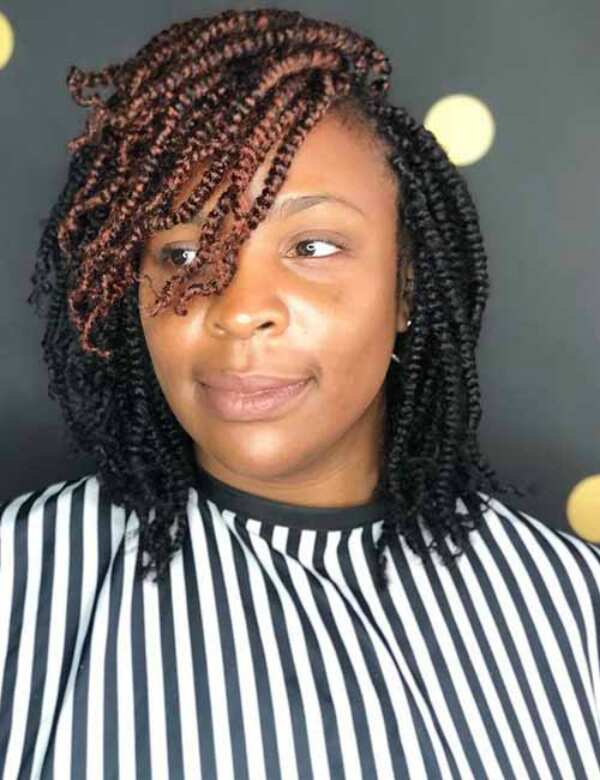 7. Flat twist updo
Do you want to style your braids in a way that is classic, but will still capture everyone's attention instantly? Then, you should try out this look. Firstly, it has a very cute position of the braids on the back of the head. The curved twists then turned into the longer single twisted braids. Then, they are scooped towards the top of your head and wrapped into a classic bun. There seems to be nothing special about this look, but it will really be a winning hair option for you.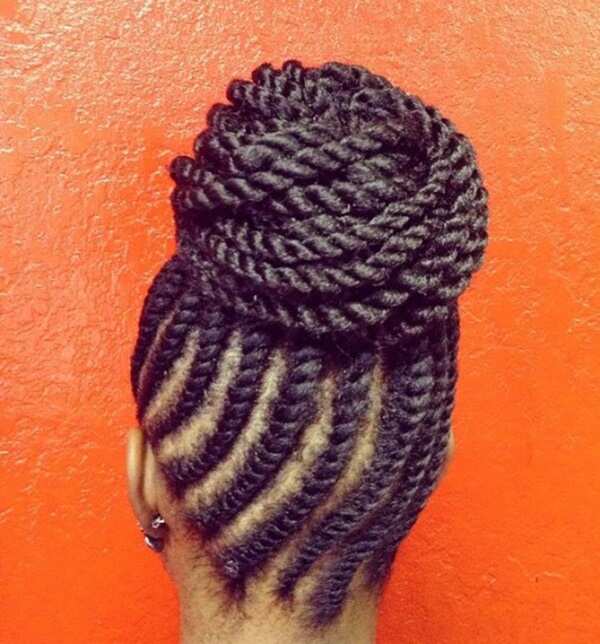 8. Brown twists
If you love the color brown and the textured hairstyles which will show your impressive locks, this one is definitely for you. First of all, these twists masterfully combine black, blonde and brown. Second of all, the curls, which are a nice addition to your already cute strands of hair, will make a long-lasting statement. And here is the best benefit of this hairstyle which will convince you, especially if you struggle with the problem of hair getting in your face all the time: this hairstyle is not just lovely, but convenient.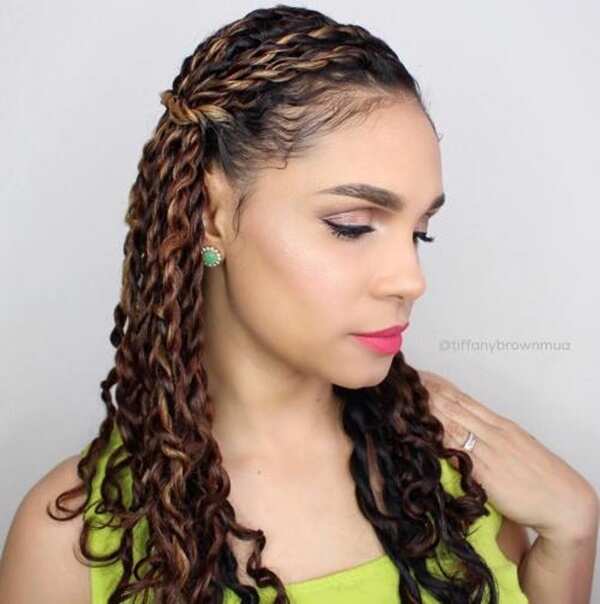 READ ALSO: Latest twisting braids hairstyles
9. Pompadour twists with the beads
The twisted hairstyles can be very easily converted into the wonderful sculptural updo hair styling.
The final touch to this unusual hairdo would be the golden beads, which will make it extra shiny and attractive. You can also add some nice makeup and large earrings, to look like Cleopatra.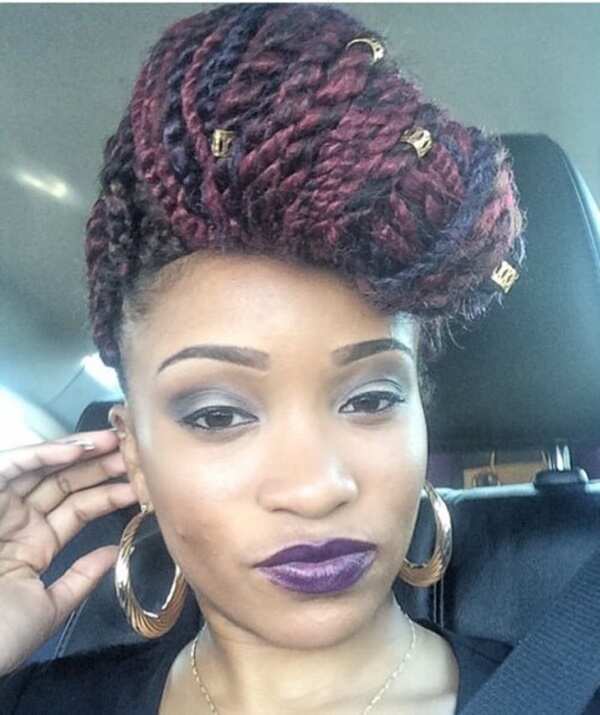 10. Sweeping twisted faux-hawk
In case you are a fan of faux-hawks, this twisted hairstyle is exactly what you need. Fauxhawk is widely considered one of the best twist hairstyles for short natural hair. The medium-sized cornrows will be extended into the twists, which will then form a bold twisted fauxhawk. This is the look for edgy women, who are brave and rebellious but also want to seem gentle from time to time. Basically, this version of fauxhawk is a "light" version, as compared to some versions of the same hairstyle which are truly punk-rock.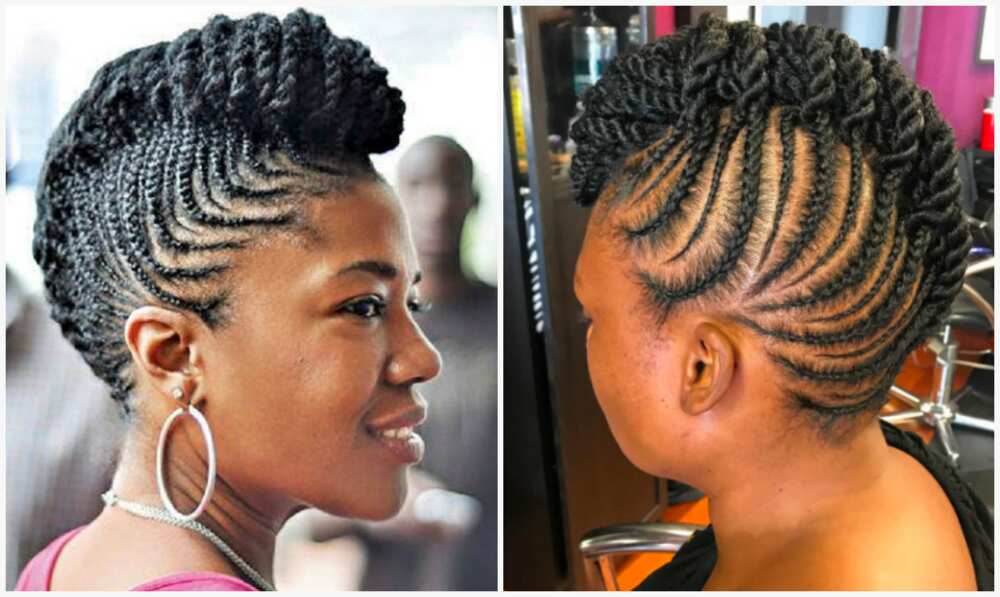 READ ALSO: Short fixing hairstyles in Nigeria
11. Low twisted bun
While the thick and huge twists may look grand and appealing, there is one thing about thin twists that makes them more beneficial: they are very flexible and allow you to try out the huge variety of hair options. Basically, they are almost like the regular strands of hair, because they are so gentle and thin. The nice opportunity that you can use is creating a low bun with the help of thin twists. This is a very classy and polished hairstyle, which can work well at any occasion, no matter if it is a barbecue with friends or a luxurious wedding ceremony.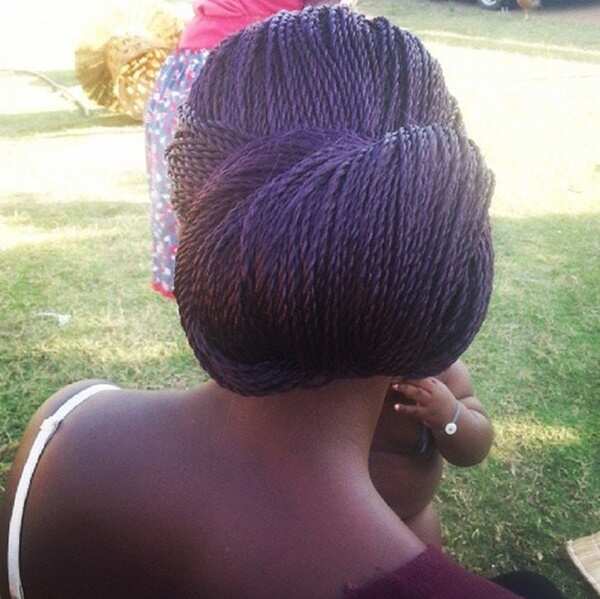 12. Updo with a swirl
If you have a lot of hair but also have no idea where to place it when it becomes problematic to let it loose, here is a solution for you. This hairstyle is a good alternative to the usual Mohawk or the high ponytail. It is cute and quirky, as well as bold and trendy. You can try to put your hair into a swirl in order to look cool and make sure that it will not be a bother for you anymore. Besides, this hairstyle can be both professional and fashionable for an outing.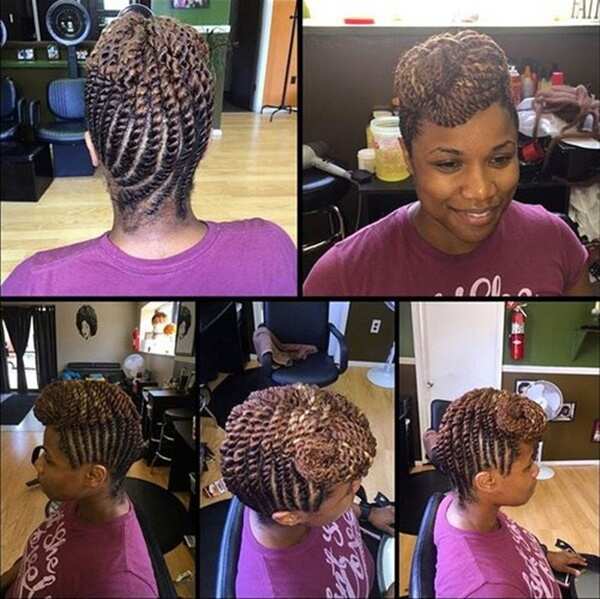 13. Cinnamon twists
We all enjoy how cinnamon hairstyle looks, so why not recreate it, but this time with the twists? We guarantee that this hair option will never put you in the shadows. If you have thin twists, you can definitely try to make versatile and sweet cinnamon jumbo buns.
READ ALSO: Quick short natural hairstyles for Nigerian ladies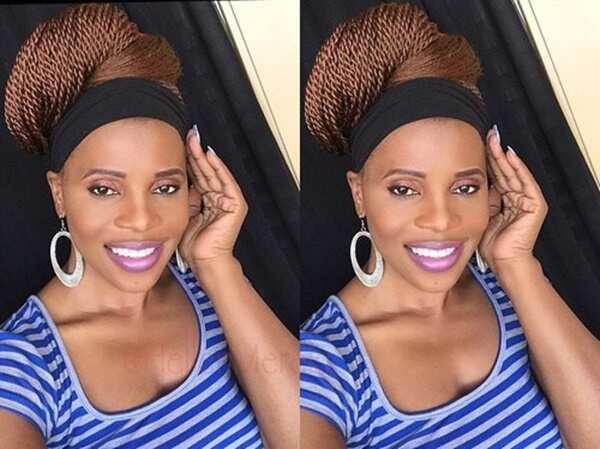 14. Jumbo-twisted pigtails
These refined pigtails are perfect for every occasion, no matter if it is a casual outing or some important event that you are attending. They carry the brightest spirit of Africa and make you look like a princess. You will probably need help from the hair stylists, but it is quite possible to create jumbo-twisted pigtails on your own if you have had some experience with hair styling. Add some elegant clothes, cute accessories, and simplistic makeup, and you will feel like a whole different person.
15. Double rope-twist buns with Golden cuffs
This is a quirky hairstyle which can define you as a person who is not afraid of public opinions and has a huge and interesting inner world. You can add some beads to this fancy hair option which will make it stand out even more. This one is for the bold girls who have a huge heart and are different from others. There is a huge chance to inspire others and make a fashion statement if you choose this option. In addition, it is very convenient and protective for your hair.
16. Twisted side-parted lob
This is a hairstyle for those who like simplicity and natural charm. With it, you will automatically become appealing. It will showcase your beautiful eyes and glowing skin. People who wear these twists usually recommend to wear them together with some beads and no jewelry, because there is something special in the natural look. Also, the makeup and clothes should be very minimalist.
17. Cornrow-to-twists updo
With this twisted updo, you will achieve the look of a lady who means her business and never hesitates before the important decisions. This is a fierce and at the same time enchanting option that no one will be able to take their eyes off. You can add some bright make-up to ensure that you will totally slay this look. Adding some cute earrings would be a nice option too, mainly because they are visible when your hair is gathered into an updo.
18. Crown-wrapped twists with blue highlights
What about the hairstyle which is worth the queen? If you are going somewhere special or having a photo shoot, you can experiment with the crown made of twists, and even put some flowers in your hair. In addition, the bright blue highlights on your dark hair will be a very curious and adventurous twist in your image. Blue goes very well with the dark skin, so there is no doubt that this combination will make you look like a real royalty member.
19. Itty-bitty little twists
It takes quite a long time to make really thin little twists, but in their defense, they will have a protective effect on your hair, and they also look very cute and simple. These twists gather into small curls on the bottom, which makes you look very cheerful. Add a sweet smile, and you will definitely steal the hearts of many people.
20. Protective flat twists
If you are aiming for something very simple and not too difficult to make, but at the same time playful and full of personality, this is the hairstyle for you. First of all, it will make you look younger, because the braided pigtails always give a very youthful and sweet vibe. Second of all, you will be able to get to your business without distractions, because this hairstyle is extremely convenient. This one will also showcase you as a beautiful and proud African woman. You can add large earrings to complete the look.
These are the top-20 of amazing natural hairstyles with a twist! Which number did you like most of all? Feel free to implement these ideas. We hope that these hair options will inspire you to create something truly outstanding, amazing and yours!
All the photos were taken from therighthairstyles.com website and Instagram.
READ ALSO: Protective hairstyles for short natural hair
Source: Legit.ng