Latest office wears for ladies
Today, there is an impressive choice of latest office wear for women. This gives every busy lady an opportunity to meet the requirements of office dress code and look gorgeous and stunning simultaneously. We want to introduce to your attention some of the best options, from which you will be able to choose the most suitable just for you.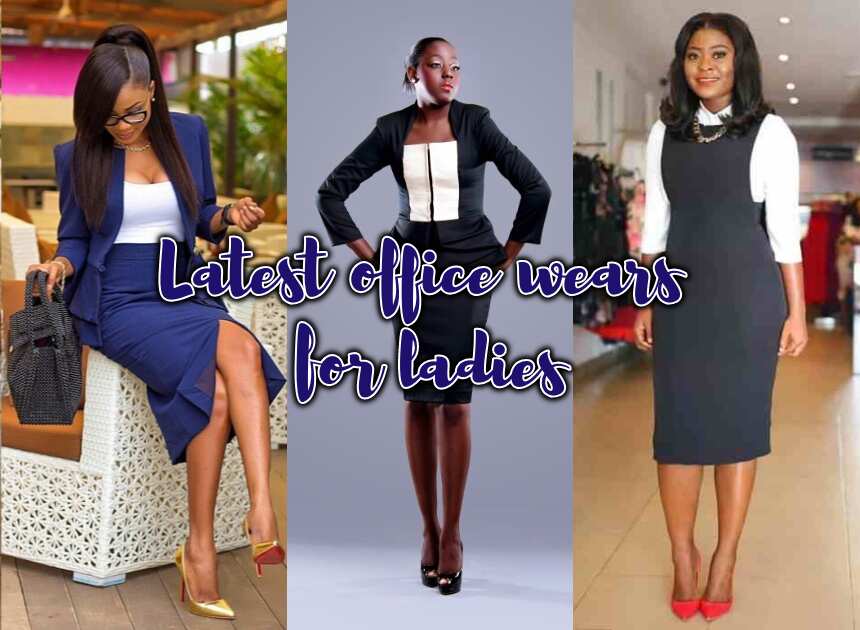 How to choose proper office wear for women
Today, a lot of modern companies requires appropriate office clothing to wear, which suggests you maintaining the office wear styles for ladies. And we are here to help you choose the latest office wear and give some tips for it. When it comes to office wear for women in Nigeria, the independence in preference is not about wearing anything you like. There are still some rules you should follow.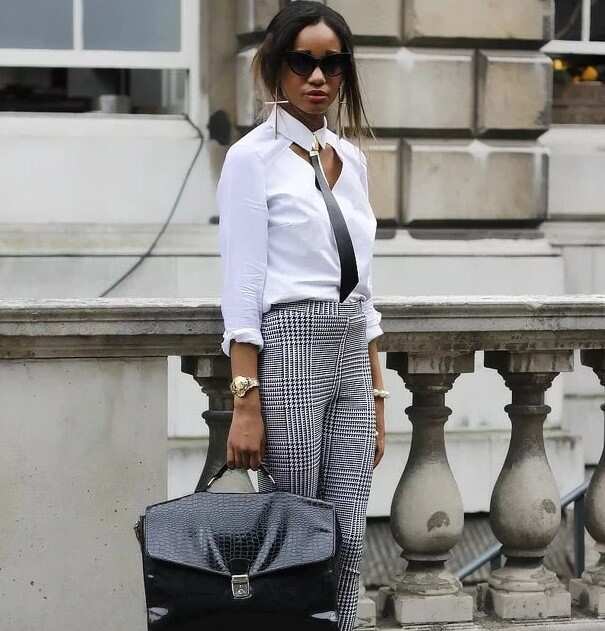 Photo: blog.jiji.ng
READ ALSO: Corporate gowns styles in 2018
We will try to help in the difficult choice to everyone who is forced to abide by the office wear styles for women but wants to look attractive and feminine anyway.
Therefore, it is essential to learn how to create a variety and diversity of outfits. In office wear styles for ladies one can always find an option that would not go beyond the bounds of decency. Fashion trends in office wear styles for women have some prominent features such as high-waist trousers or skirt, laconic silhouettes, high necklines, pencil-style skirts.
Best office wear for ladies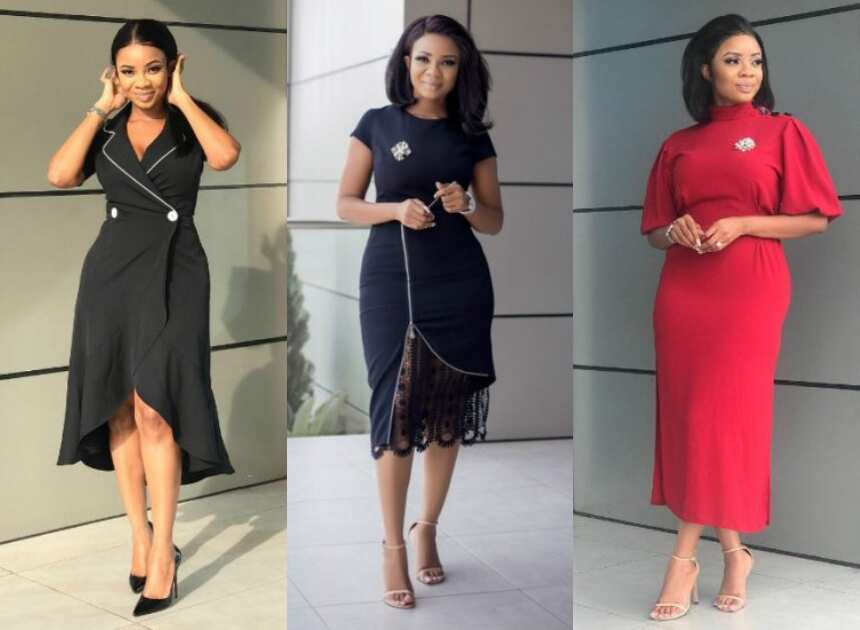 The most reliable option of office wear for women is a combination of two contrasting colors. It will be useful if you don't have enough skill in combining several colors. Black and white mix well almost with any different colors, mainly blue, red, and gray.
The classic gray color, which is perfect for a trendy office wear for ladies, can be complemented with a satin blouse. The satin fabric itself looks interesting, adds a trendy note, and might be of spectacular colors. In such office wear styles for women, you will always look relevant, but not defiant.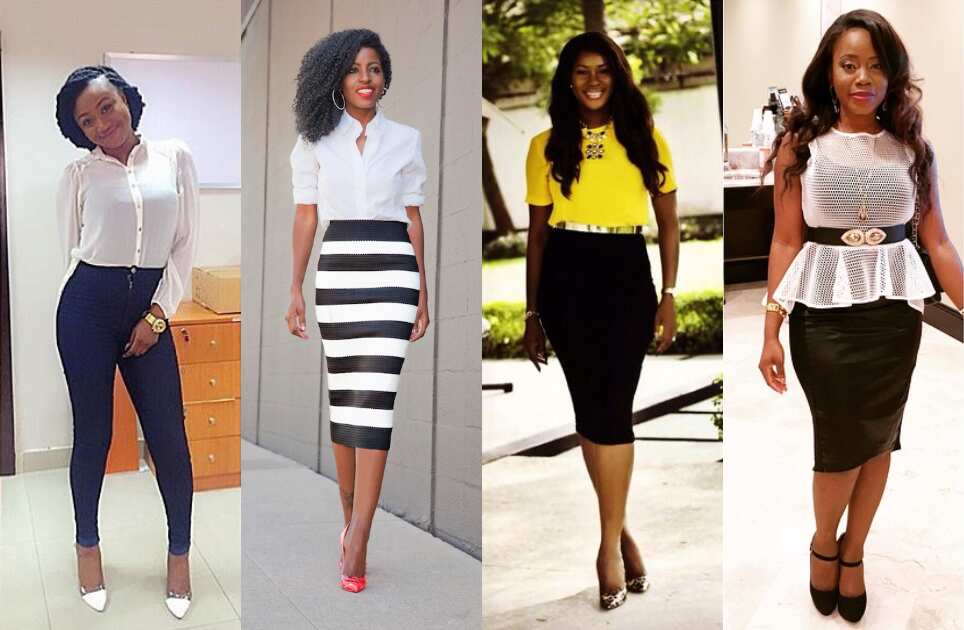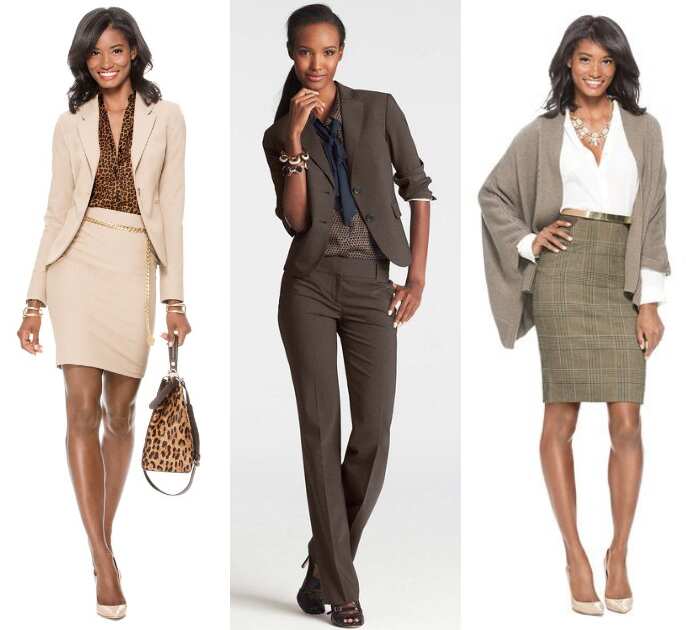 The color you should be cautious about while styling your office wears is brown. Although it's considered to be one of the natural hues, it doesn't mix well with other colors, and even if it appears to match, for example, with gold or bubble pink, it may occur not appropriate color option for office wear styles for women.
It's of no surprise that office wear for women may seem somewhat dull, primarily because you are restricted in color choice. An alternative to enliven your office wears, following all the dress code requirements, is supplementing an extraordinary accessory item or clothes detail.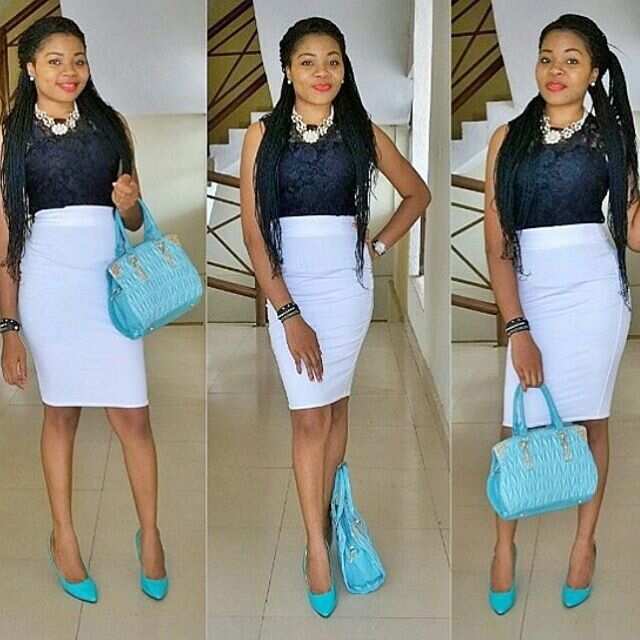 Photo: dabonke.com
READ ALSO: Corporate gowns for office - Best styles
There are numbers of options for you to consolidate color into office wear for ladies in Nigeria. As a variant, you can put on a jacket of bright color over a dark-colored gown. Also, you can combine your outfit with a belt or scarf in contrasting hues. Bright-colored bag or large necklace can double as an emphasizing element as well.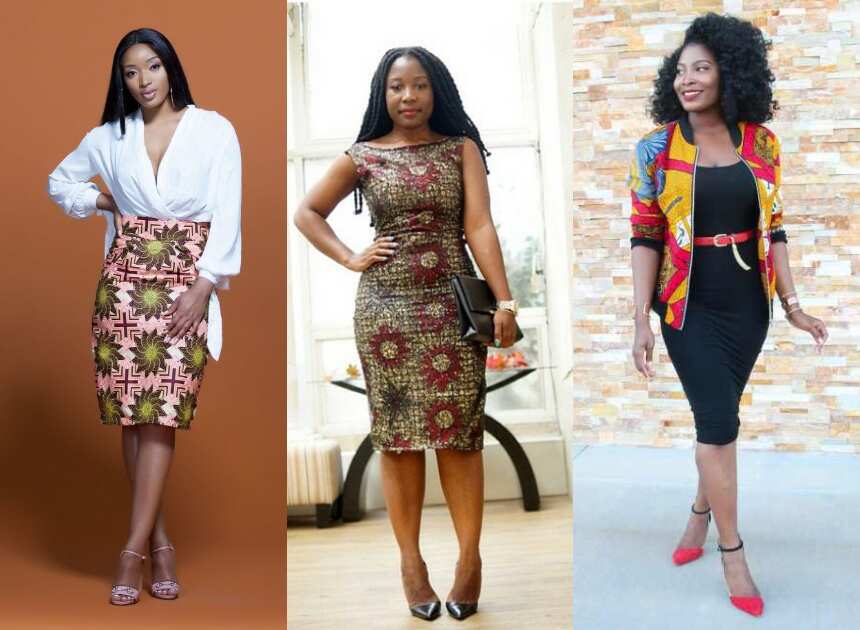 The most popular Ankara office wear for ladies in Nigeria is, obviously dresses, which can be of several cuts and lengths types. Nevertheless, pants, pants suits, shirts, and skirts made of Ankara material are very stylish among the latest office wear styles for women in Nigeria.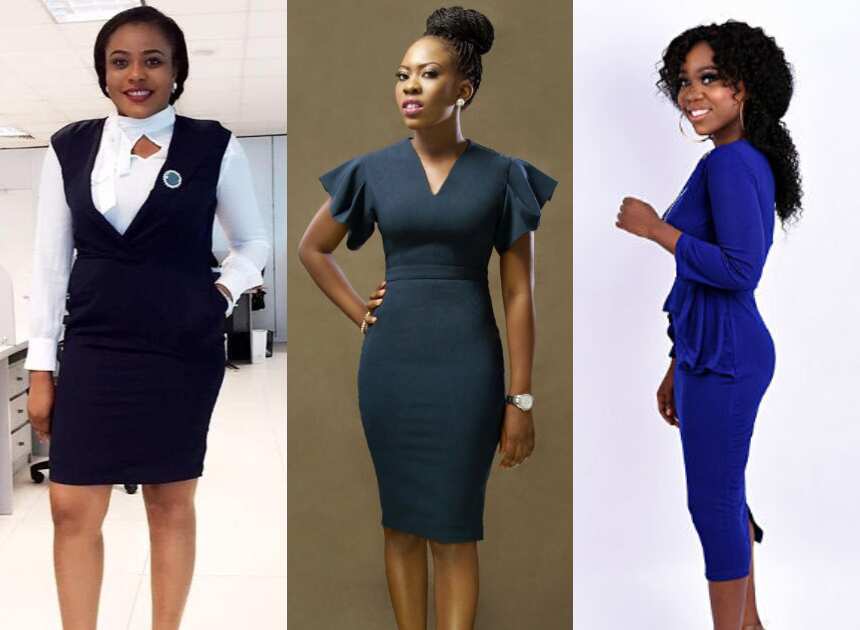 The essential rule is that office wear for ladies should not be excessively revealing.. If you fancy making your look more stylish than you can add some jewelry. Whatever the current trends in office wear for ladies in Nigeria, its main ideas is formal and simple look.
READ ALSO: Stylish outfits for Nigerian women who work in offices
Source: Legit.ng