Short African dresses - best designs for real fashionistas
Short African dresses are always fashionable and almost never lose their relevance. This is quite understandable, they perfectly emphasize all the charm of a female figure and are bright and eye-catchy. The beautiful half of humanity feels in African dresses of short length like a fish in water, comfortable and relaxed. Well, let's look at the best designs of trendy African short dresses any fashionista must have in her wardrobe.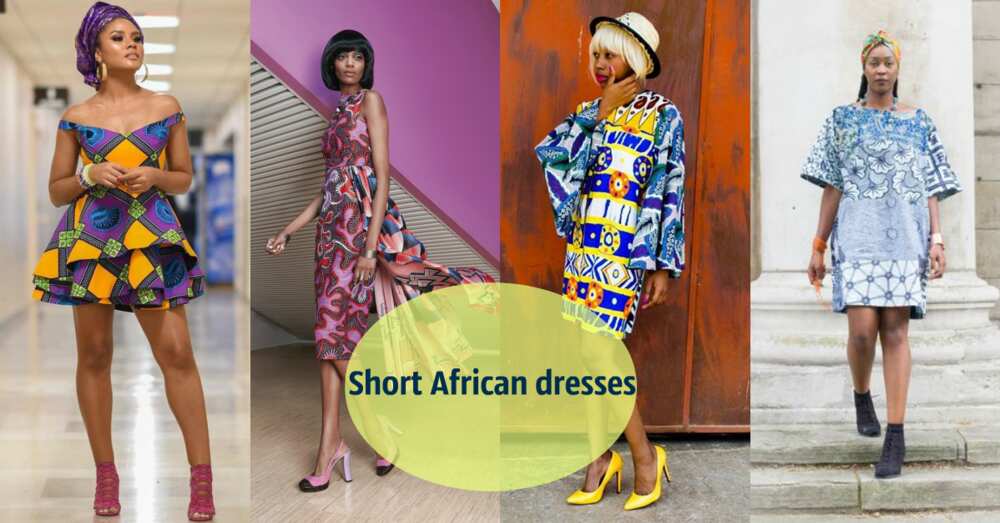 So do you want to find the suitable style of a short dress that will favorably emphasize your figure features and look incredible in short bright dress? We will try to help you with this at first sight challenging task.
Latest African short dresses designs
The universal style of short dresses was preferred by the world famous French fashion designer Coco Chanel. Such models can be worn as independent elements of clothing, as well as with the addition in the form of a fitted shortened jacket, which can be made in different colors, create a contrast to the dress or harmonize with its basic tone.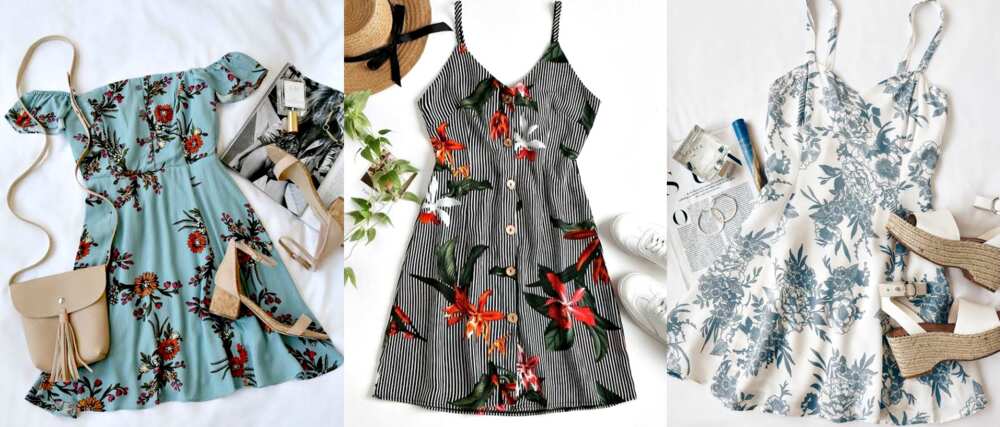 READ ALSO: Trendy ankara jackets for real fashionistas
In summer, sun or half-sun-flared dresses with a narrowed bodice are quite popular. Undoubtedly, they are most suitable for young ladies.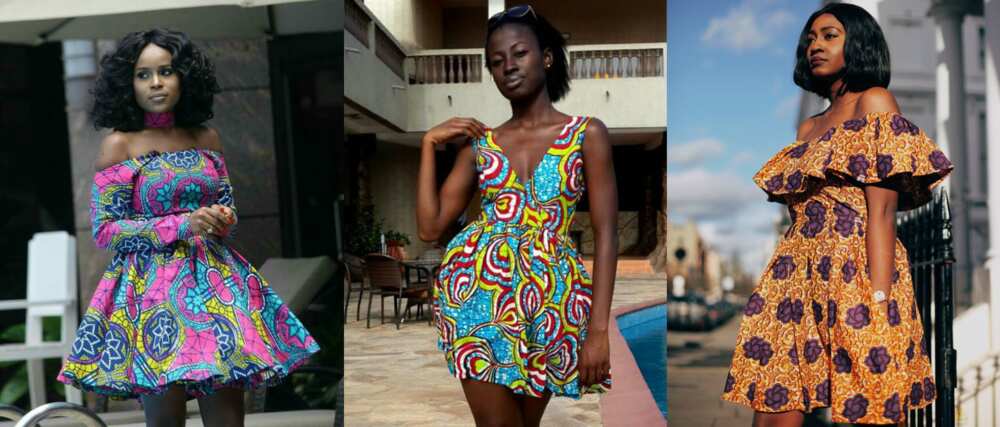 Dress-shirts
Dress-shirts has again become the hit of the season. They are so adored by many fashionistas of the world. They are convenient and practical. But their main feature is that they look perfect on all shapes ans sizes.
Slender ladies can emphasize the beauty of the figure with the help of wide belts, and women with extra pounds can hide excess weight by putting on a short jacket.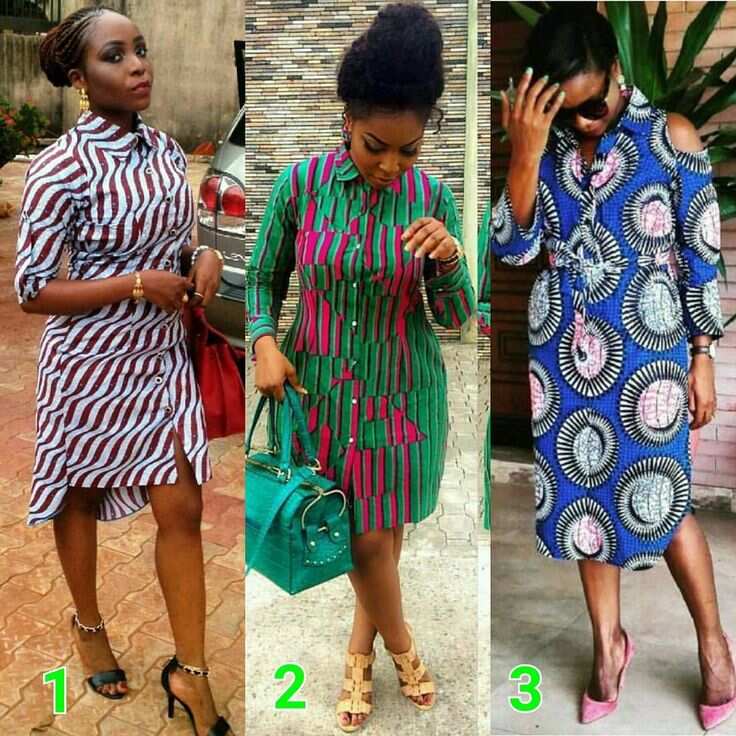 Photo: www.davinadiaries.com
The combination of different colours and patterns
Short African dresses 2018 are not just very bright, they combine several colors and patterns at once. Besides, there will be relevant shades of blue, coral, red, turquoise, mother of pearl, chocolate, black and white colors of short dresses. At the peak of popularity are large drawings, ethnic ornaments, flowers, and other patterns.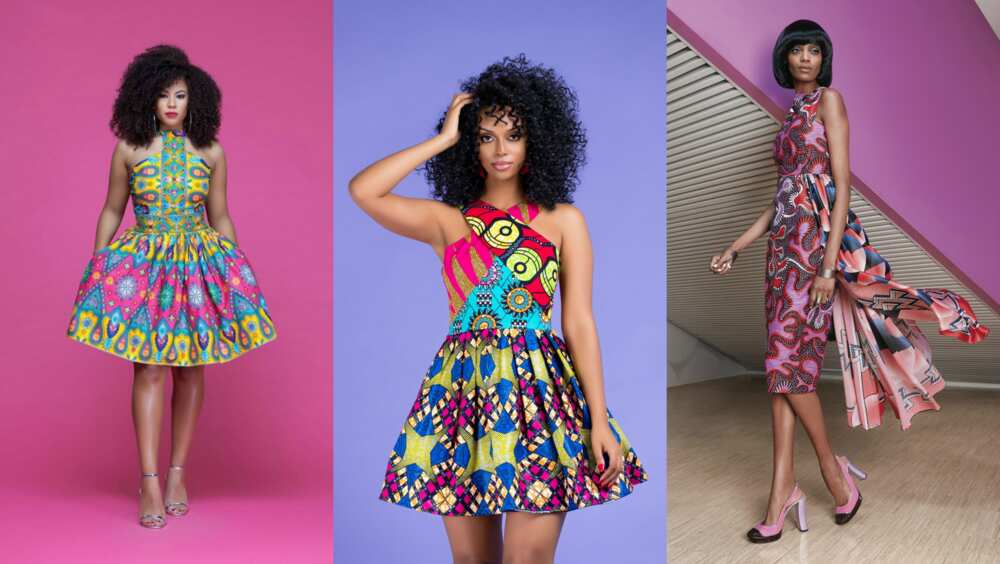 Short tunic dresses
A short tunic dress will be in fashion in the autumn of 2018. It can be supplemented with leggings or mini shorts. This kit will look great on a walk along the beach and is suitable for outdoor activities. Pink, yellow, orange, blue and green summer short dresses will be the most popular this season.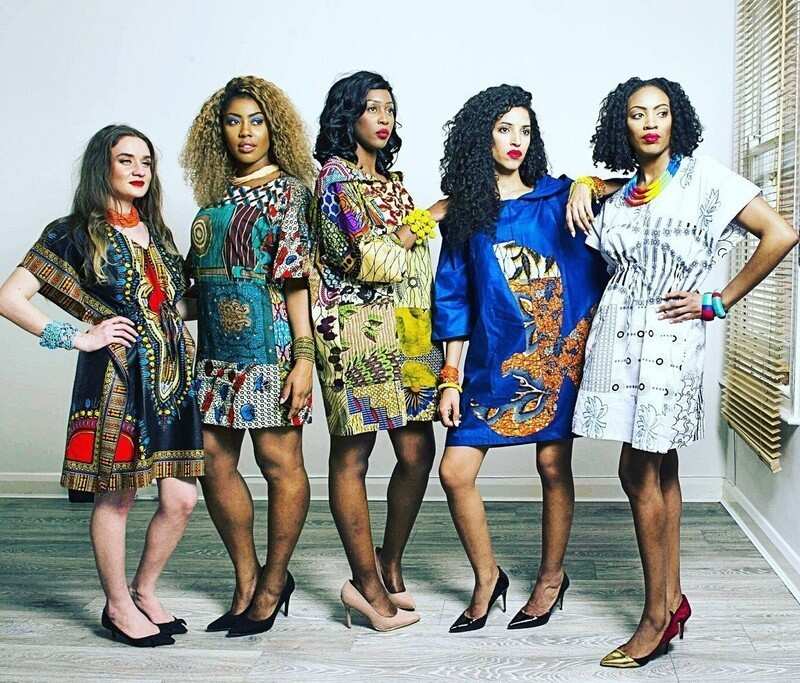 Photo: www.afrikrea.com
A-line dresses
The most fashionable styles of short African dresses are also very comfortable. Wearing an A-line dress, you will immediately forget about it and your worries about your appearance. In such a dress, is not hot, it gives a feeling of lightness and freedom.
For a short African dress of such style, fit both neat little and massive large jewelry. The main thing is not to overdo.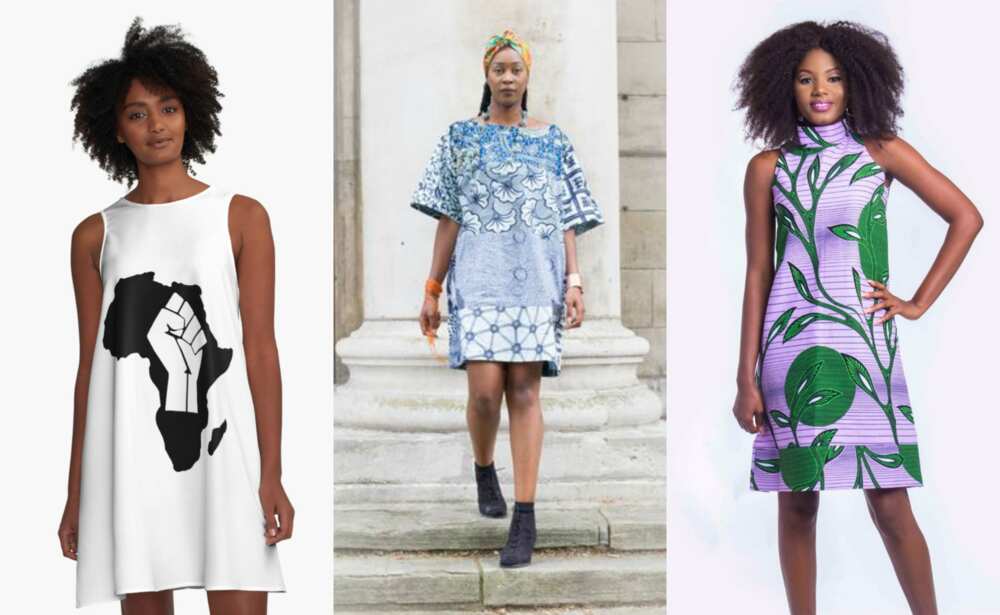 Beautiful short African dresses with sleeves
Sleeves in a short dress can be severely strict or express the very understatement that men love so much. Lace sleeves on a short dress look especially attractive and charming. And if you want to show more originality, you can wear a dress with one sleeve.
Summer short dress with lantern sleeves and a thin belt will create the perfect proportions for a lady whose shoulders are too narrow. In addition to fitted styles, trapezium dresses with long sleeves with wide cuffs are in fashion.
A dress with sleeves should sit perfectly. Otherwise, any inappropriate folds and sagging will spoil the look. To make simple styles more interesting, choose styles from, high-quality material.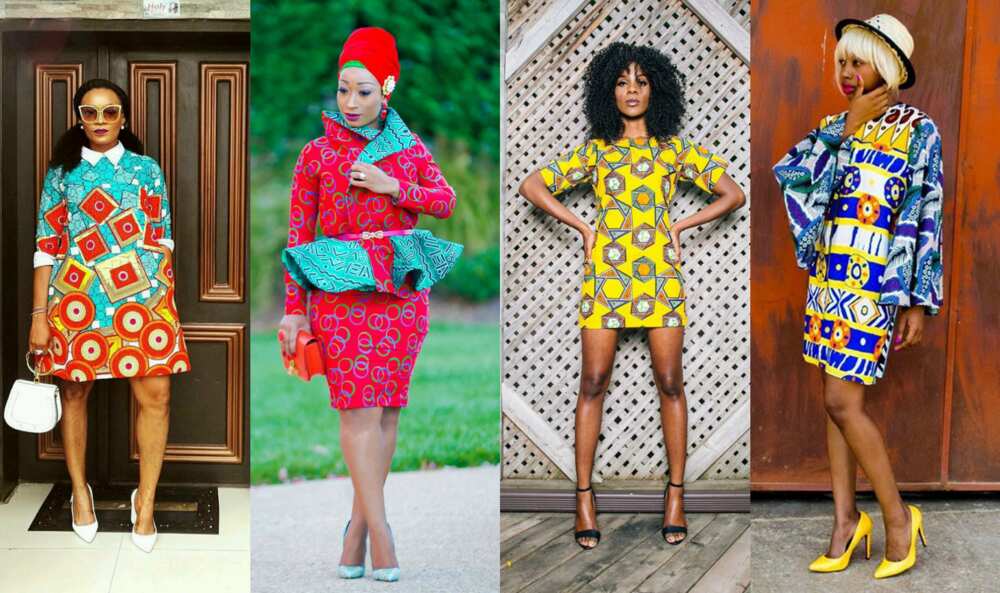 READ ALSO: Ankara styles for skinny ladies to rock in 2018
Short African party dresses
It is difficult to forget the girl who came to the party in a short dress with a bouffant skirt. Time had a good effect on the appearance of this dress. Starting from the 50s of the last century, it became brighter and more pompous, turning the young lady into a real queen. Most models of dresses with a short fluffy skirt are made up of styles with a corset top and a pleated skirt, a skirt with ruffles, fringed, from the buds of artificial roses, or with a bell skirt.
The pleats allow wearing a voluminous skirt to a woman with large hips, as the vertical lines visually stretch the silhouette. A skirt consisting of a multitude of transparent layers looks light and perky. Placing ruffles in random order, the designers achieve a stunning and natural effect.
The artistic mess on the skirt creates the impression of unlimited freedom and complete self-expression.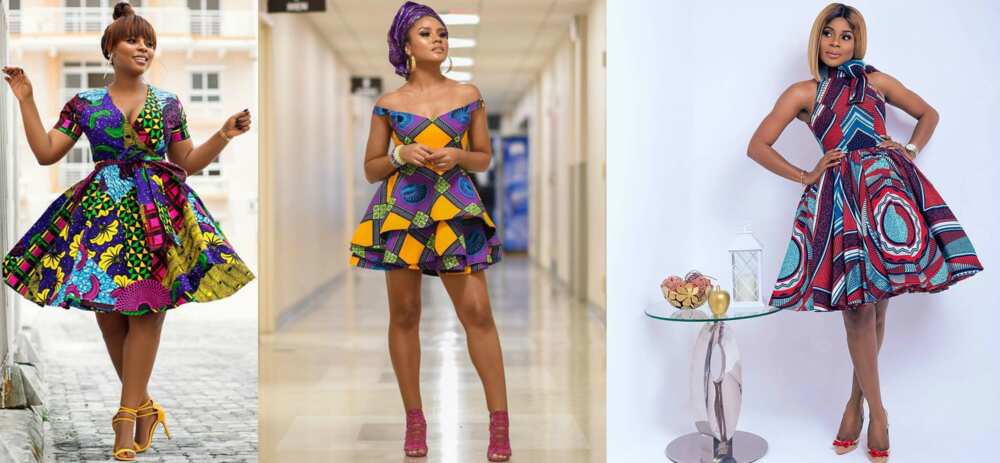 A short bouffant dress with an American skirt looks very naughty and cute. Both monophonic versions and models embroidered with rhinestones look beautiful. A white dress with a multi-layered chiffon skirt or a skirt with feathers will become the personification of innocence and tenderness. Among the styles, most noticeable is the bustier dress, with straps or with one decorative strap, with a "boat" neckline, decorated with lace, rhinestones or stones.
The popularity of many styles of short evening dresses of the past season has been preserved this year. For example, still in favorites of retro style are A-line type, dresses without sleeves, and those ones, where skirt length is to the knees. Dress styles with a corset and bouffant skirt are also at the height of glory.
Designers draw more attention to the hips in the recent collections. To do this, wear a peplum dress with ruffles on the hips. The dress in a restrained style is suitable for lunch in a restaurant, date or party. Brighter models are good to wear to the club. Various picturesque patterns, applications and rhinestones, flounces and large bows on the hips area look very beautiful and unusual.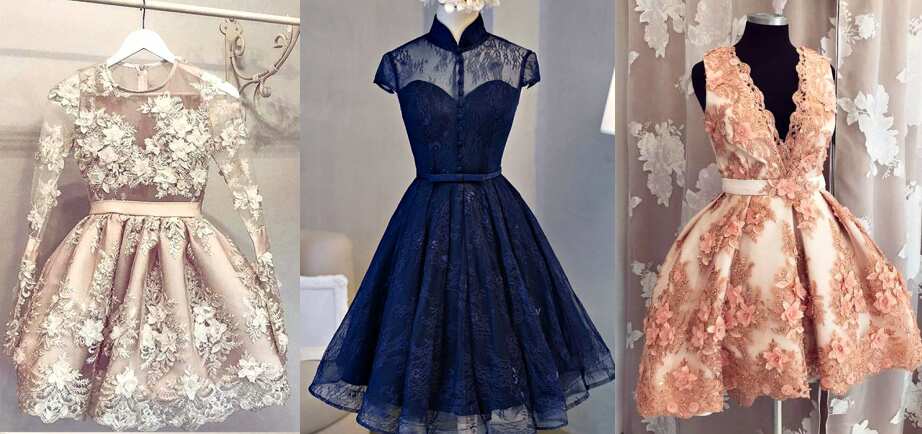 Short ankara gowns
Each style of short Ankara dresses has its colors, which help to present the outfit in the most favorable light. For example, a short dress with ruffles tends to give extra volume to the figure, so black colour will be not only fashionable but also a necessary condition for such a dress.
Ankara short dress is a wardrobe item that works well both for slim ladies who want to add volume to their hips and breast, and plus size women. If you choose the right style, it is possible to create the perfect silhouette.
Particularly noteworthy styles have one sleeve or collar-loop. Also, it should be noted that the short dress looks good, with the presence of contrast lines. You will be impressed, but the dress with the contrast lines can be appropriate both in the office and for the atmosphere inherent in any party. Just add jewelry, makeup, and right shoes. Voila! A perfect look is created.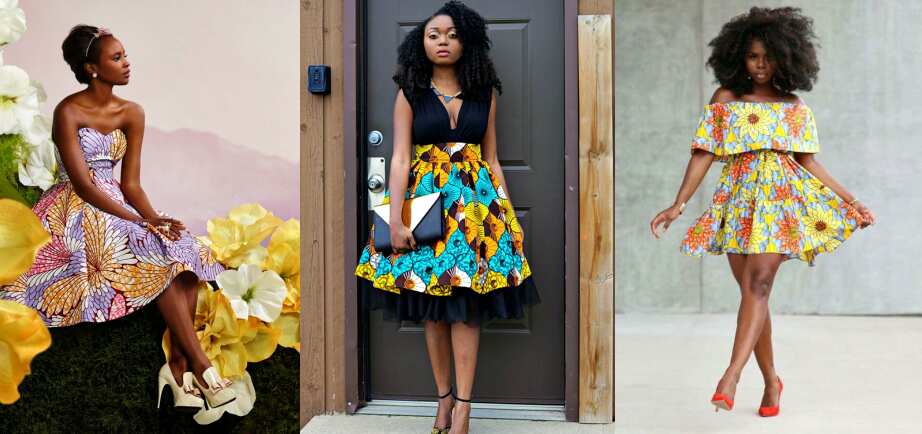 Short Ankara pencil dress has clear lines and the ability to maintain shape. For many ladies, this style is the most desirable. Visually, such a dress leads to the alignment of the shape parameters.
Now pencil dresses are included in the collections of almost all famous designers. Such short dresses are combined well with the most different shoes. If you want to create an irresistible look you should remember that the dress length should be above the knee, have an unusual neckline and collar. One more cool thing about ankara pencil dress that is suitable for ladies of different ages and complexion.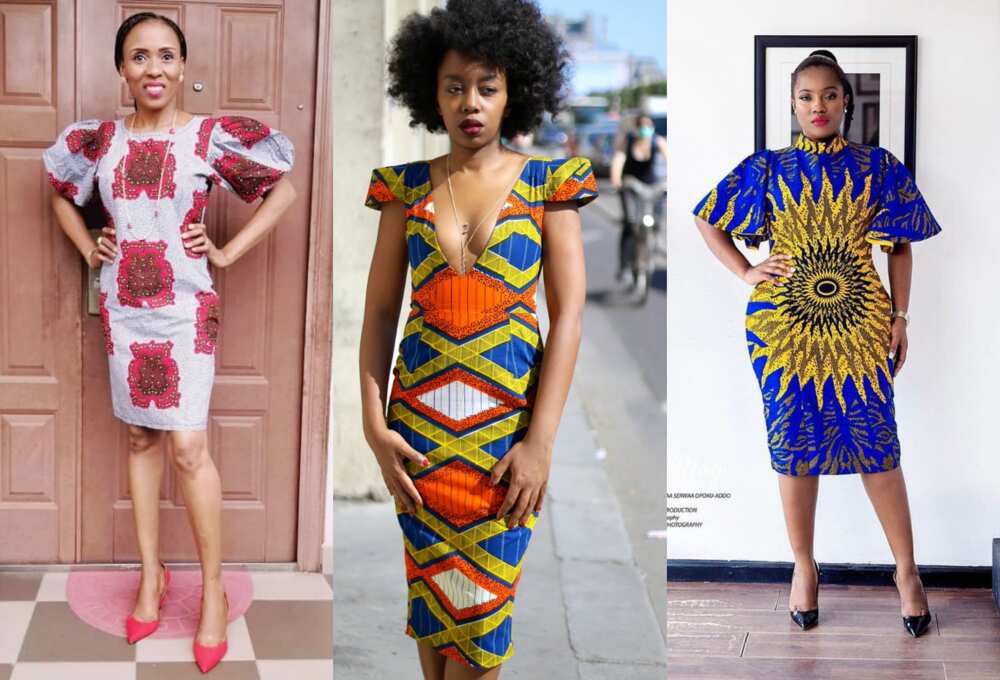 A short tight fitting Ankara dress belongs to the category of must-have of the season. Such dresses will never lose their popularity because the classic in fashion will die only after the disappearance of the last woman on earth. This dress will perfectly emphasize all the virtues of the figure, make it attractive and delightful.
As for the colours, that are trendy now in ankara dresses, they are the following:
The white colour is not practical, too labeled, but is incredibly popular. Many girls with angelic appearance want to wear such a refreshing outfit. Solemn outfit combines white and gold or silver. A short white Ankara dress can be decorated with rhinestones, stones, and lace. It never looks vulgar, as white in itself is a very noble color. The simpler the style of a short white dress, the more contrasting the accessories can be. Pick up a black female handbag, wear a wide bracelet and large earrings to make bright accents on the back-ground of snow-white dress.
A short red Ankara dress is a favorite theme of many fashion designers. Besides, the tone of red and the texture of the dress must match the aesthetics of the event where you are going to. Bright red Ankara can be worn at a party, in the office, it is better to wear a dress of dark wine shade length just above the knees.
A short blue Ankara dress is an unnatural thing. If you choose the wrong shade, you can spoil the whole impression of the image. So, give preference to noble shades of blue.
It is much easier to choose a short pink dress. The all shades, especially pastel tones, of pink colour do not leave the leading positions among other trendy colours. This color can be worn, in particular, almost by all women.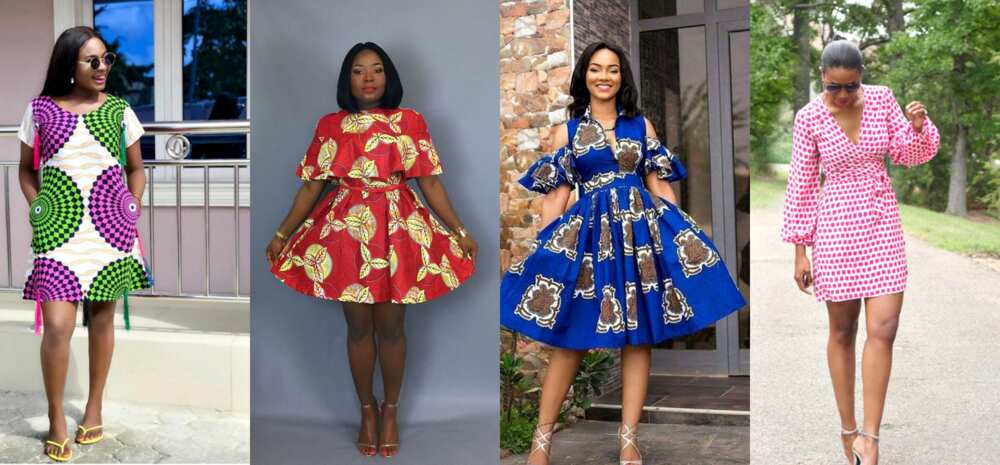 To compete with a short dress is very difficult. An African short dress is a shock dose of temptation, and it is difficult not to succumb to the temptation to wear this dress, knowing how gorgeous it is. To choose the most beautiful short dress that fits you ideally means to solve a popular style problem. There are so many short African dresses of various designs and with different patterns, that sometimes it is difficult to stop on only one dress. So, we hope that our post has eased the task and has inspired you to find your ideal short dress.
READ ALSO: Best fashion designer in Nigeria - Top 5
Source: Legit.ng