6 months pregnant: symptoms
One of the most prominent 6 months pregnant symptoms is thinking that you've been and will be pregnant forever. It's a strange feeling and quite soon it will be gone because it's already the last trimester and soon you will be cooing over your baby. Still, let's take a look at some natural symptoms and define whether what you feel is okay.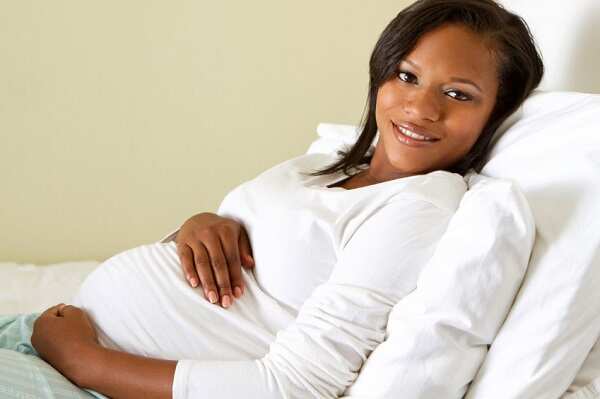 Image source: gettyimages.com
6 months pregnant: major symptoms
There's a range of symptoms each mother goes through when already 6 months gone with the pregnancy. You need to know them just to stay calm when some of them start to show up and avoid worrying too much. Of course, you may not experience all of them, you may not even experience a single one. However, they should not be too complicated even if they are; otherwise, you need to see a doctor immediately.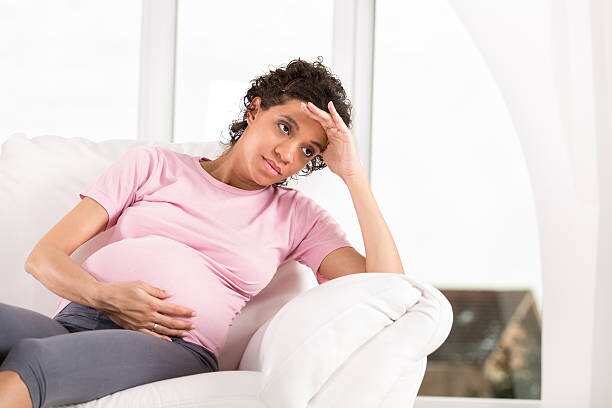 Image source: gettyimages.com
READ ALSO: Best sleeping positions during pregnancy first 3 months with pictures
So, the regular symptoms a woman has being 6 months pregnant are:
Heartburn and indigestion – that's because your uterus grows and lifts your stomach, squeezing it
Swelling – you may notice it on feet and ankles in the first turn, and then on your hands. That's because your body stores liquid
Feeling unsteady when standing on your feet – that's because your body is changing very rapidly and you need to get used to the shifted weight center
Skin itching – it's due to the stretching and the itching is especially hard on the belly, hips, and breasts
Backache – it appears due to the shifted weight center and the unusual load the spine now bears
Constipation – it tortures pregnant women because their bowels are shifted severely and because their body stores liquid in immense quantities. Constipations often lead to hemorrhoids and bleeding, which stops after the delivery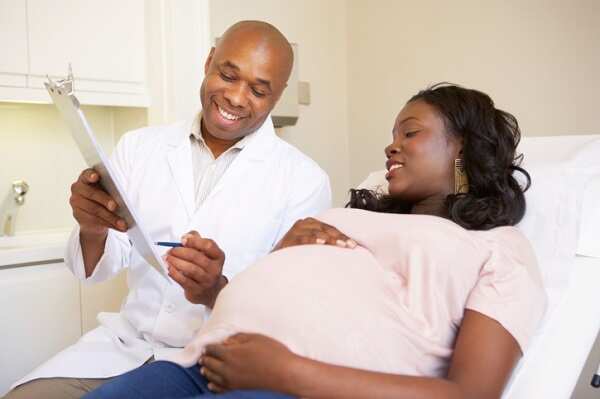 Image source: depositphotos.com
Increased appetite – it's simple: the baby needs more and the body commands the women to eat more in order to prevent withdrawal of her own microelements and nutrition. However, to prevent obesity and extra load on the spine and heart, it's enough to increase the amount of eaten calories by only 300 per day
Dizziness – this condition is connected to the changes of blood pressure the woman experiences, and to many other factors, just like another symptom – insomnia
Varicosity – this unpleasant symptom shows up due to the increased amount of blood and to the stretching of tissues, including that of blood vessels
Leg cramps – this happens due to both the change of the woman's weight and manner of walking and the lack of microelements the woman may experience during the third trimester of pregnancy
6 months pregnancy weight gain and belly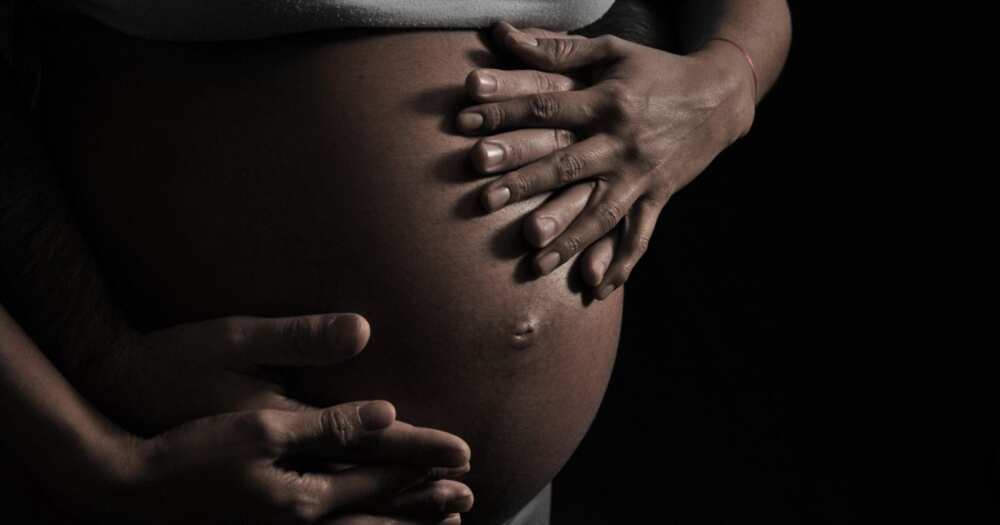 Image source: shutterstock.com
READ ALSO: Causes of teenage pregnancy
The question of weight gain is always acute for pregnant women. Gaining too much means spoiling the body and giving an additional load to the heart and other inner organs. However, doctors insist on gaining weight because it's an additional protection for the belly and deposits of nutrition for future lactation.
What's more, low weight gain during the last months may cause to the insufficient production of vital hormones. The lack of these hormones may cause premature birth or miscarriage. The point is that the fat tissues produce vital estrogens and the lack of fat may cause the lack of estrogens.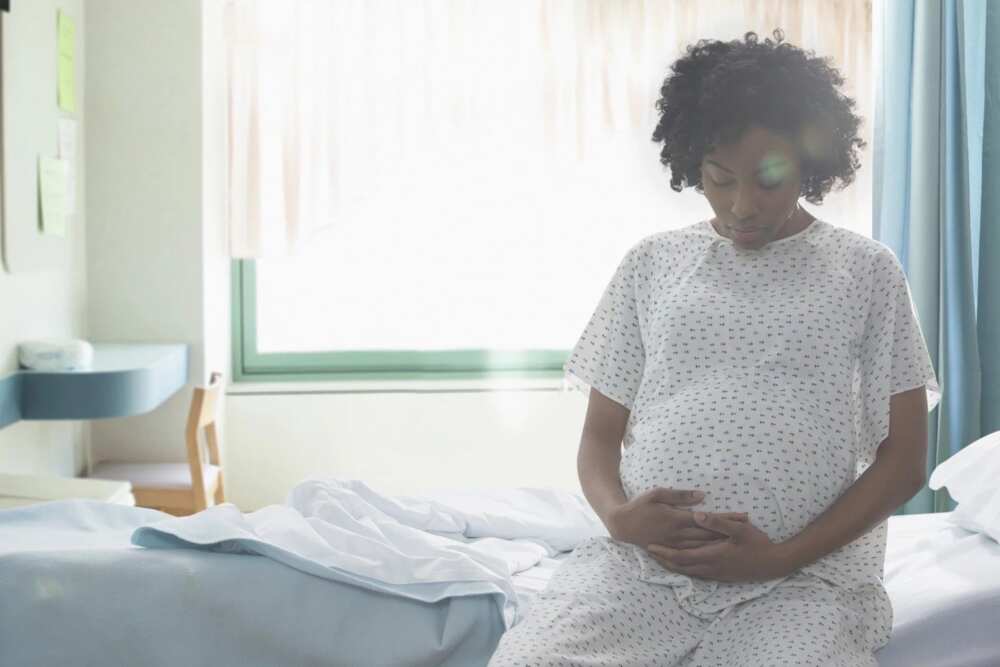 Image source: blogspot.com
See a doctor regularly to find out whether you are gaining weight normally. The doctor will also measure your belly, count the movements of the baby and see whether your uterus is not too tense. It's the right time to start applying skin moisturizing oils, lotions, and creams onto the quickly stretching belly.
6 months pregnancy: baby development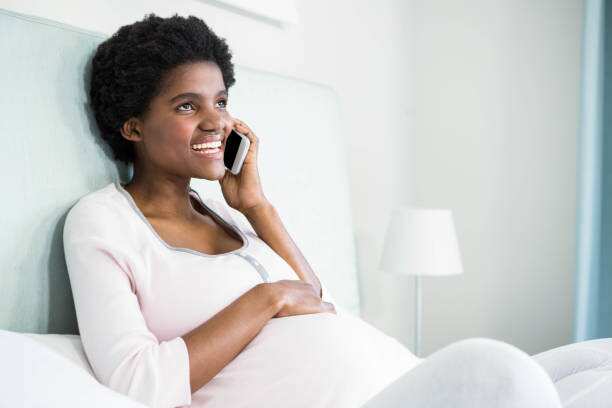 Image source: istockphotos.com
At this time, the baby looks like a real tiny human with a proportional head. This is the time when the heartbeat can be heard not only through a stethoscope but also by just placing an ear against the pregnant belly. The baby's face will develop all the features within the sixth month, including eyelashes and even taste buds on the tongue. They will help the baby determine what taste you are eating via the amniotic liquid. This is how you can feel the baby moving more actively after eating something spicy.
The baby kicks all the time now, and you can count about 10 movements per hour. The baby can distinguish the light now and respond to loud noises. As a rule, the sixth month is the time when mothers discover the gender of their future baby with the help of an ultrasound examination.
6 months pregnant: dangerous symptoms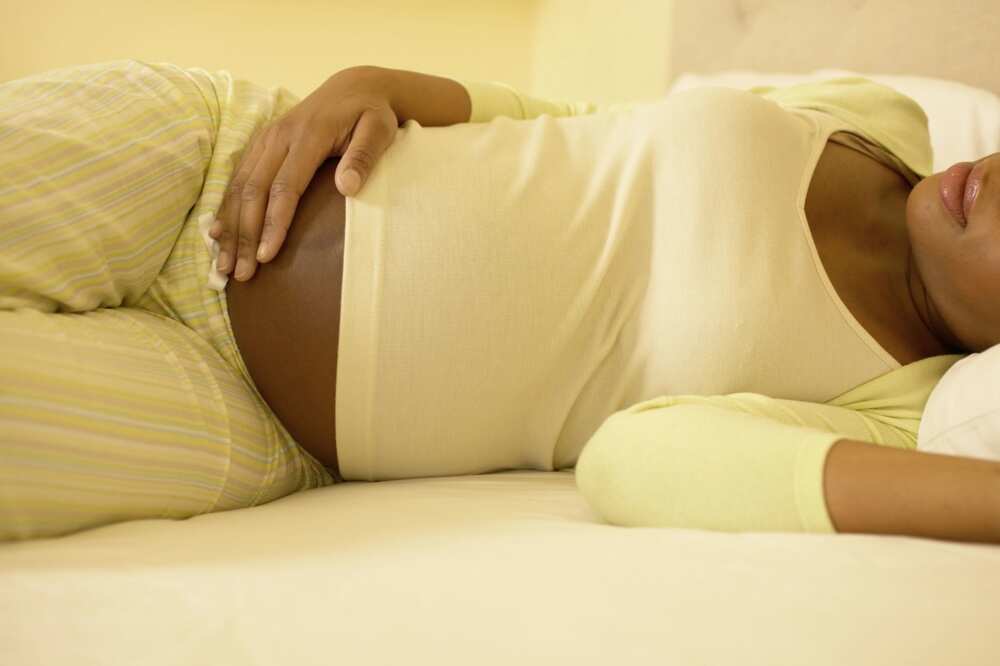 Image source: alamy.com
While there are quite normal symptoms that happen to all women during their pregnancy, there's a range of symptoms that should be a reason to see a doctor immediately, without waiting for the things to get worse. Remember that any of these conditions can cause a danger to the life of your baby.
Bleeding and pains in the abdomen – when occurring during the third trimester, bleeding can denote the abruption of placenta and pre-term delivery. While the baby is not developed enough to survive outside the mother's body, this condition puts the baby's life at a great risk. If you are bleeding from your private parts, see a doctor immediately
Untamed vomiting – this is called late toxicosis and this condition is not only tormenting but also dangerous for the baby. If you experience vomiting every couple of hours, it's a reason to see a doctor immediately. You will receive medications that will stop the nausea and vomiting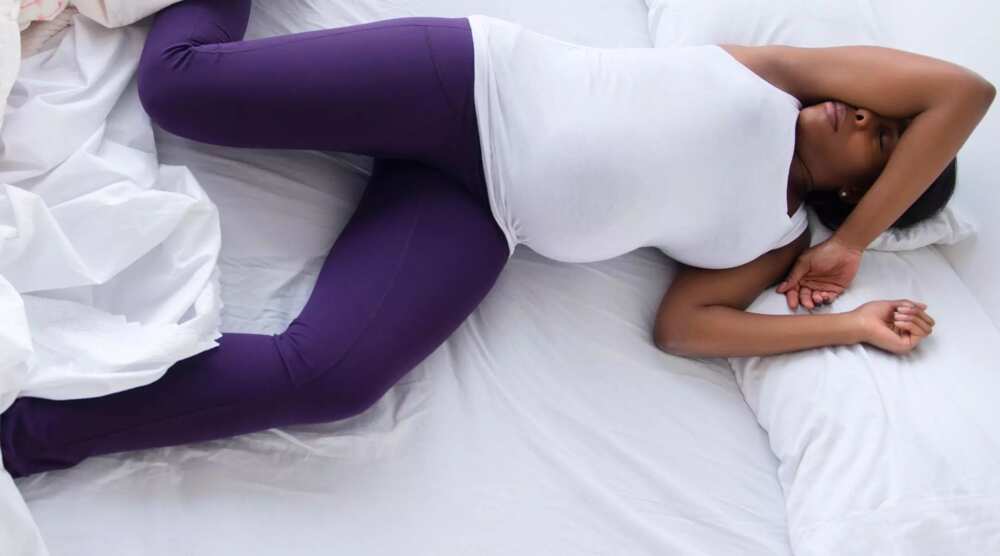 Image source: blogspot.com
Decrease in baby activity – you are the one who knows best of all others how your baby moves inside you. You are the one who knows whether the baby's moving more or less actively. In case you are only starting to notice these things, establish a baseline of, say, 10 kicks within a couple of hours. If the baby produces significantly fewer kicks than this number, see a doctor
Real contractions – the sixth month is a time when women start feeling false contractions. They are normal and irregular, and their goal is to train the uterus before the delivery time. However, if you feel that they are getting stronger and don't stop after an hour or so but increase in their intensity, it may be that you are experiencing pre-term delivery. Call for emergency right now!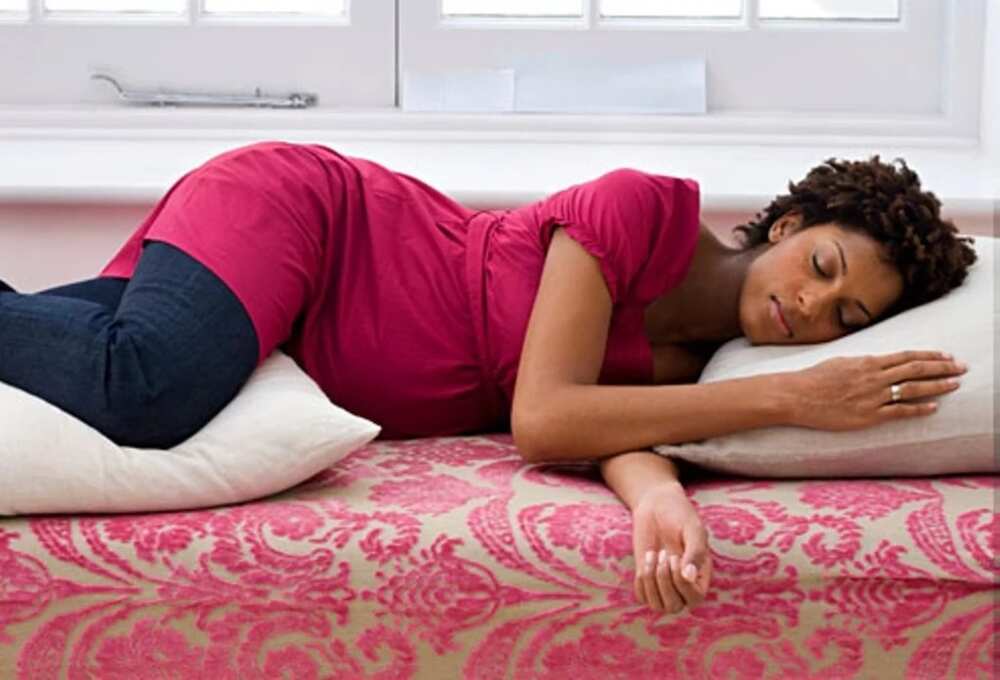 Image source: depositphotos.com
Waters are leaking – sometimes the growing uterus causes such a pressure on the bladder that women can't control their urination. This is why they can feel some fluid now and then. However, if the gush of liquid is more dramatic and doesn't stop after you empty your bladder, you need an emergency because your waters have broken
Severe headaches, dizziness, and visual disturbance – these unpleasant symptoms may show that you experience preeclampsia. This is a severe, potentially fatal condition that should be treated very early. If you experience any of these, get in touch with a doctor immediately and have your blood pressure tested
Useful tips for 6 months pregnant women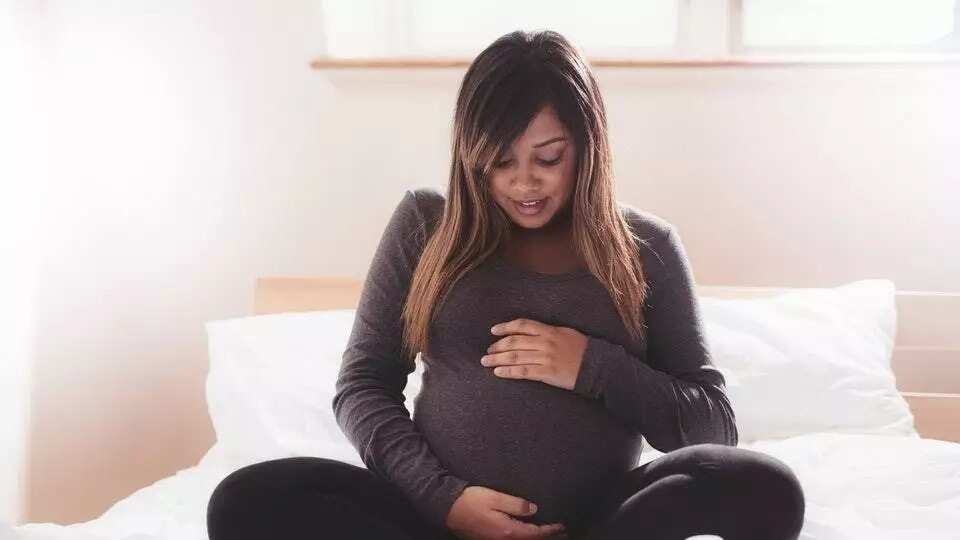 Image source: alamy.com
Check out these handy tips that will save your health and help you survive the hardships easily.
Get a proper night sleep and day naps whenever you feel that you need it
Sleep on the side with the help of pillows that will reduce pains and help distribute the load
Lift your feet and hands whenever and wherever you can to reduce the swelling and pains
Don't neglect physical exercise that will give you satisfaction (and your baby, too) and train your body
Keep a relaxed positive mood for your own sake. Negative thoughts will reflect on your physical condition and affect your child, too. Any worries and fears should be pushed away. Do what you like, relax, and enjoy yourself as much as possible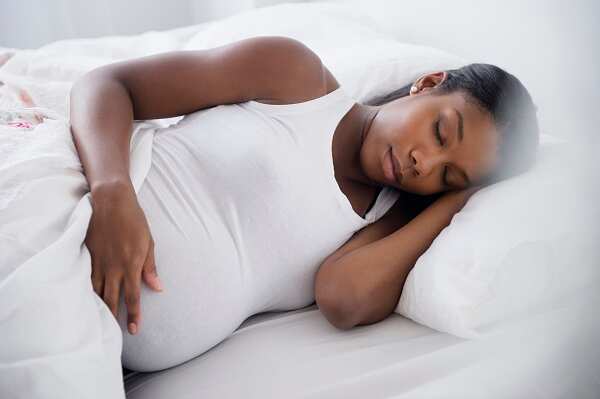 Image source: depositphotos.com
These simple tips will help you get through the toughest times when hormones will cause a quick change of your moods or when you will get upset due to a poor health condition. Try to convince yourself that everything will be okay and so it will be in reality!
READ ALSO: Early signs of labour you should know about
Source: Legit.ng