Twist braids styles for wedding - Top 5 ideas
There are various ways to make twist braids styles for a wedding. And each of them is obviously worth taking into consideration because these hairstyles will definitely look gorgeous and classy. They will give you an unusual and rememberable look, which you always can enrich with different accessories. Today, we have picked the best of them for you to choose.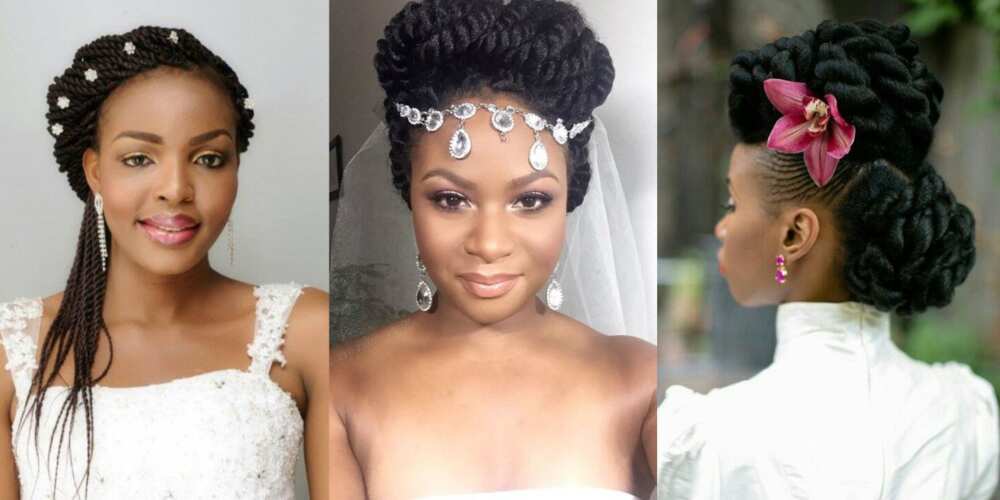 Twist braids styles for wedding
We can imagine your enthusiasm and passion for looking formidable on this important celebration. It is essential to choose a proper wedding hairdo, which will fit your wedding attire and your wholesome mood.
Every girl has her personal fondnesses, preferences, unique hair structure and of different length. Fortunately, there are numerous charming marriage hairdos. So it definitely won't be a problem to pick a hairstyle that will correspond all your demands and preferences.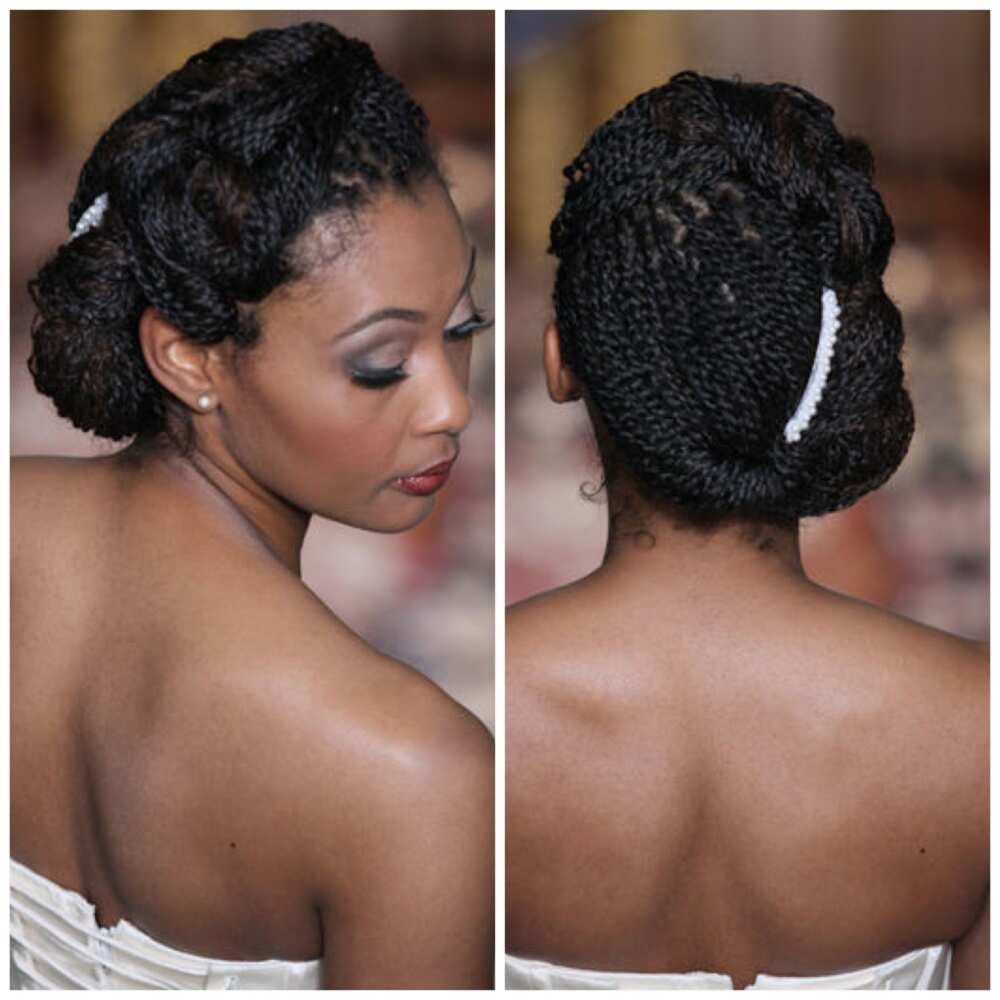 Photo: pinterest.com
READ ALSO: Best Nigerian white wedding hairstyles in 2018
Twist braids styles for the wedding has high popularity among Nigerian ladies. These hairdos give you a big deal of opportunities to vary and modify them. By the way, twist braids are much easier to plait than regular braids. And of course such hairdo can be done on the hair of any length, whether it is short, medium length or short.
Indeed, there are a lot of ways to perform this hairdo. And it can give you so many different looks. You can be classy and graceful, childlike and dreamy, sensual and captivating, eccentric and unconventional. Consider also whether you fancy an updo or down, half up and half down, and so on. Putting your hair up, you expose your look and make your face the key feature of your look. If you have thick or short hair, consider that you can use weaved hair extensions.
Top braided hairdos for wedding
We have picked up top-5 twist braids hairstyles for a wedding just for you.
#1 Long twisted braid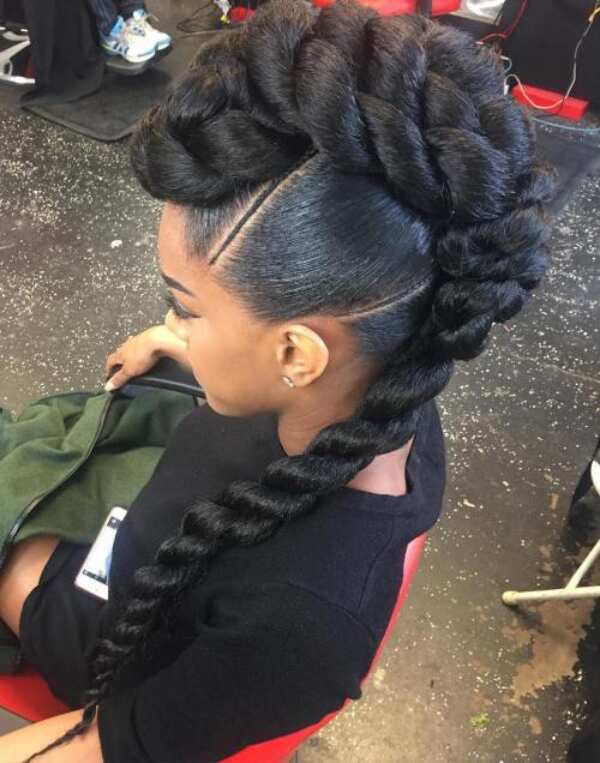 Photo: therighthairstyles.com
The majority of women, who are preparing for their wedding, put primary emphasizes on the dressing, make-up or accessory item. We bet you, making your hairdo the prominent element of your entire look. As you can see in the following picture, this mohawk-style twisted braid with the super smooth fascinating on the sides can give you fantastic and incredible look.
#2 Twist braids downward pin-up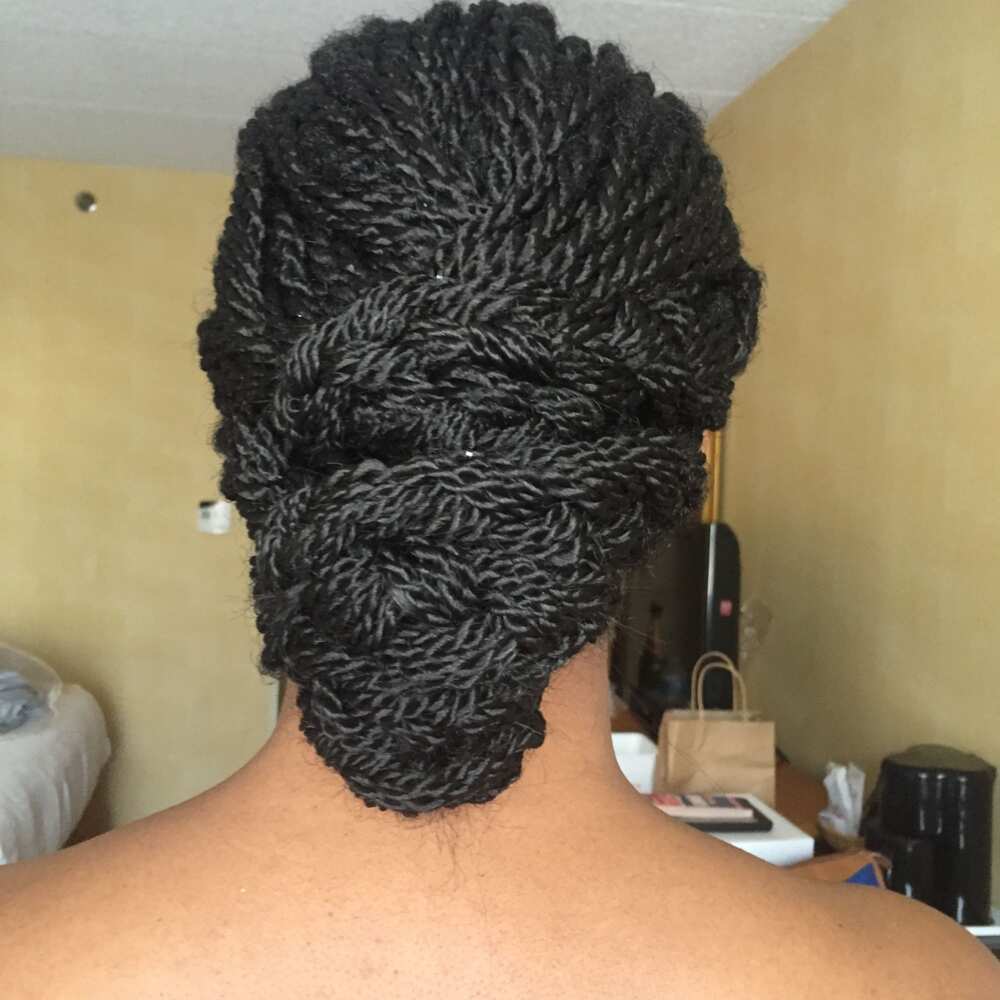 Photo: pinterest.com
READ ALSO: Nigerian hairstyles: braiding styles in 2018
The downside twist braids hairdo is another excellent solution for your wedding hairstyle choice. The only subtlety that might occur is actually the position of the braids. They are usually hidden from view behind your head. In order to avoid this and make your hair look more voluminous, you can try to style it thicker, so it will be noticeable from the front view. In any way, this hairstyle will look gorgeous from the side.
#3 Wedding hairstyle with rows of twist braids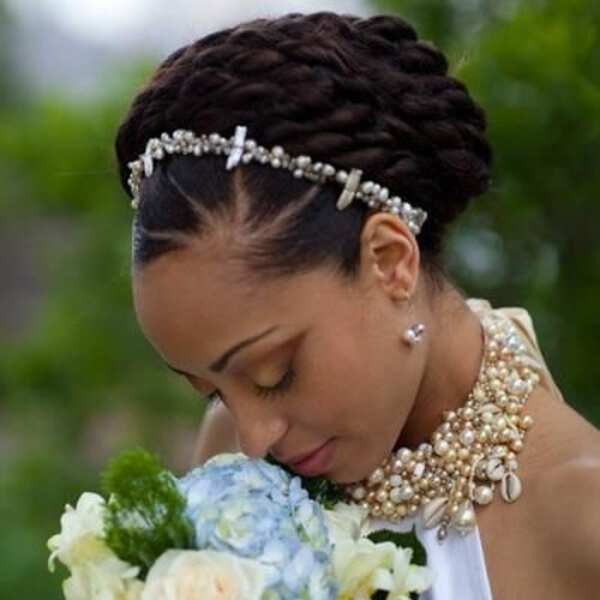 Photo: therighthairstyles.com
Wedding hairstyle combining twist braids and regular ones can look extremely fabulous. This hairdo has a compacted look, but the braids seem stocky and overflowing. The star-like division may double as a wow-factor element for this hairstyle. Such twist braids hairdo also can be complemented with different accessories and make it even more marvelous.
#4 Contrasted twist braids hairdo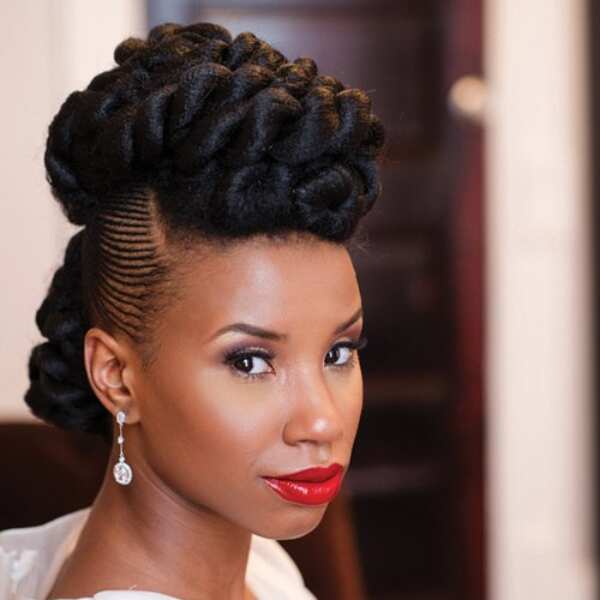 Photo: therighthairstyles.com
Another way to make people remember your fantastic hairstyle for the rest of their lives is to create contrast types of twist braids. Combining small braids with bigger ones can give you an opportunity to get an unusual and beautiful look. As we can see in the picture, smaller twist braids on sides perfectly match the thicker braids on top. And each element highlights another one, giving you special charm.
#5 Twist braids bun with a floral tiara
Putting accessories into your hair is always a great way to give your look some extra charm point and highlight your face and make-up. You can pick any color you prefer. It may be classic white or bright and vibrant yellow or pink.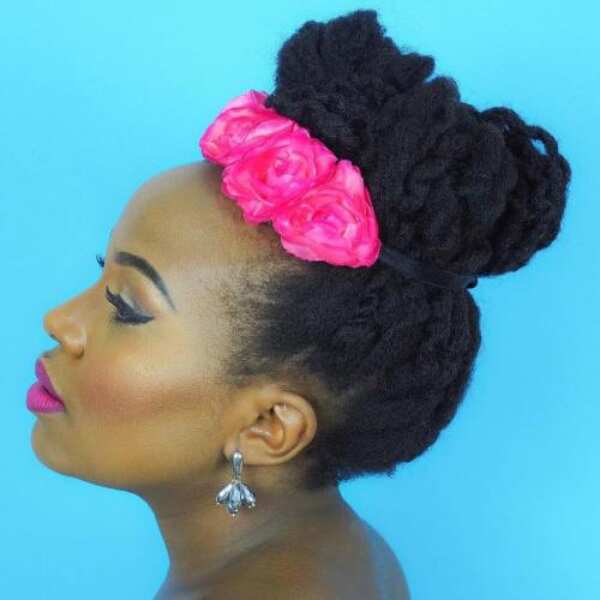 Photo: therighthairstyles.com
It all depends on the accents of your make-up, dress elements, and other accessories. Just weave your hair into twist braids, make a high bun of them and decorate it with you floral tiara. And here it is, your beautiful hairdo is ready to excite everyone around.
READ ALSO: Latest twisting braids hairstyles
Source: Legit.ng