Reception dresses for brides in Nigeria to rock in 2018-2019
For several decades, the concept of reception dresses for brides in Nigeria has changed and acquired a new meaning. Now it is the second bridal outfit. Keep reading if you want to know more and get inspired to choose the best reception dress ever.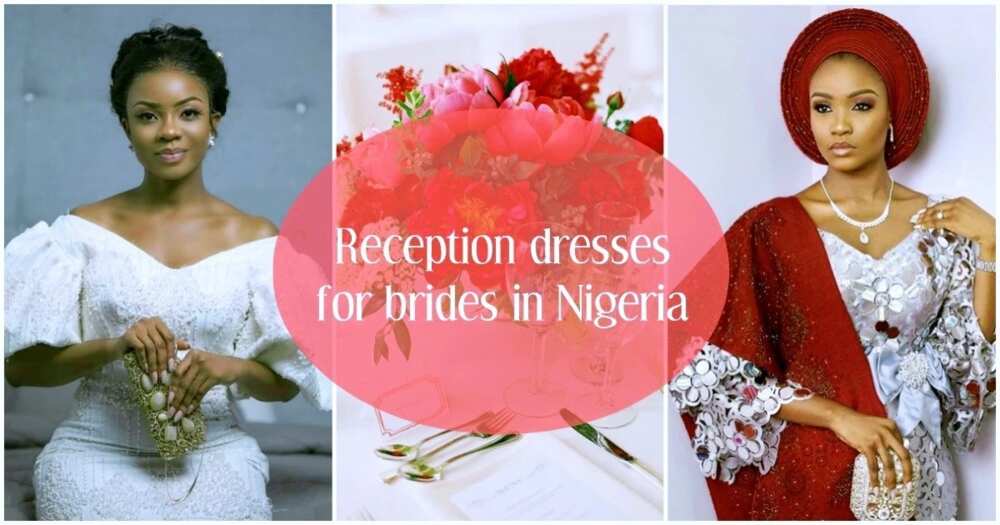 Wedding reception gowns may seem to be a rather new trend in the wedding fashion, but in fact, the tradition of dressing up in a more comfortable outfit originated in the 20th century in America. Then the brides would change their outfit before the finale of the wedding - the solemn departure for the honeymoon, and their dress, as a rule, was an elegant suit with a skirt.
In modern Nigerian wedding fashion, a reception dress is usually a more convenient dress, but still, it is no less beautiful and festive outfit. A reception dress of a bride is a wonderful place for imagination, there are no strict rules for the dress.
This is also another reason to surprise the guests and try two completely different images in one wedding day. If you still doubt whether this dress is necessary for you, we have prepared 5 reasons after learning which you will no longer have any doubts.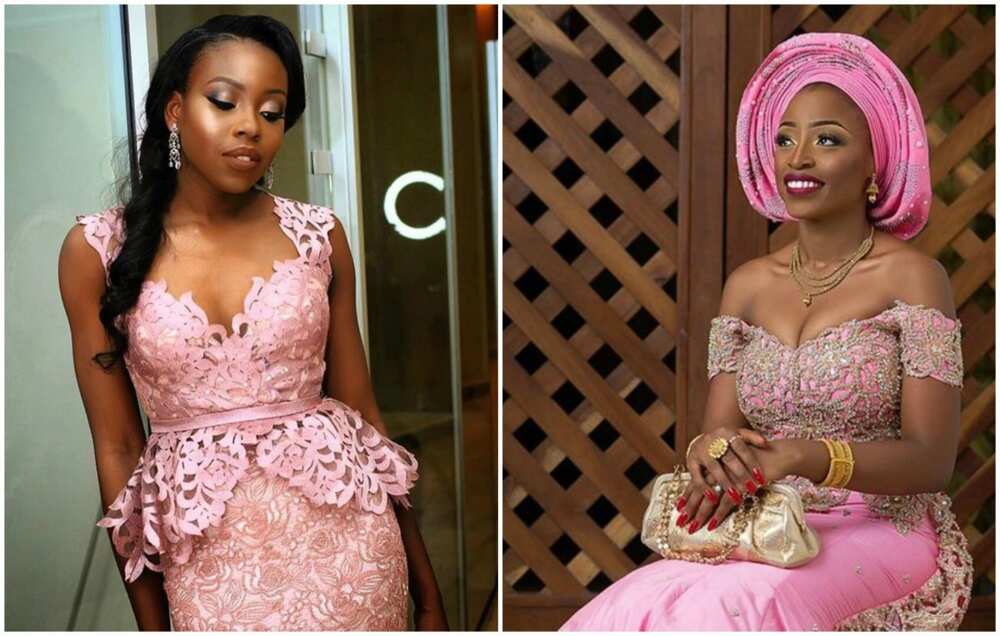 READ ALSO: Latest bridal train styles in Nigeria
5 reasons to buy a reception dress for the wedding
Convenience. Perhaps one of the most strong reasons, especially if you chose a classic princess dress with a full skirt for the official part. Choose a beautiful dress, but in a style in which you will feel more comfortable on the dance floor, and your head will not be busy thinking about how not to step on the train or skirt.
Change the look to a more daring. If your wedding will be held in a fairly traditional format, which merely obliges you to choose a classic look, you can choose a reception dress in a completely different style. Let all the guests see you in a traditional or white gorgeous dress at the ceremony, and at the end of the evening, you will be able to try on a more daring look that you have always dreamed of.
Wedding photo shoot. During a walk, there is always a chance to stain the train of the dress (especially if the wedding takes place in rainy weather) and you don't want to appear at the ceremony in an already dirty dress! In this case, it is better to wear a reception dress but not to spoil the impression of the first meeting on the day of the celebration.
If you just find it difficult to stop at one thing. An elegant mermaid dress and a light, flying, airy dress suit you; you like both classic white and powder pink. Your wedding concept allows for both a romantic and more informal look. Can't you choose between two amazing options? Treat yourself and buy both! After all, a wedding is a celebration that happens only once in a lifetime, and may all your dreams come true!
Just in case. Cosmetics, food, rain, wine - not a single bride is insured from stains on a dress. It is for this reason that it is good to have a reception dress, your fallback option, to look great, no matter what can happen.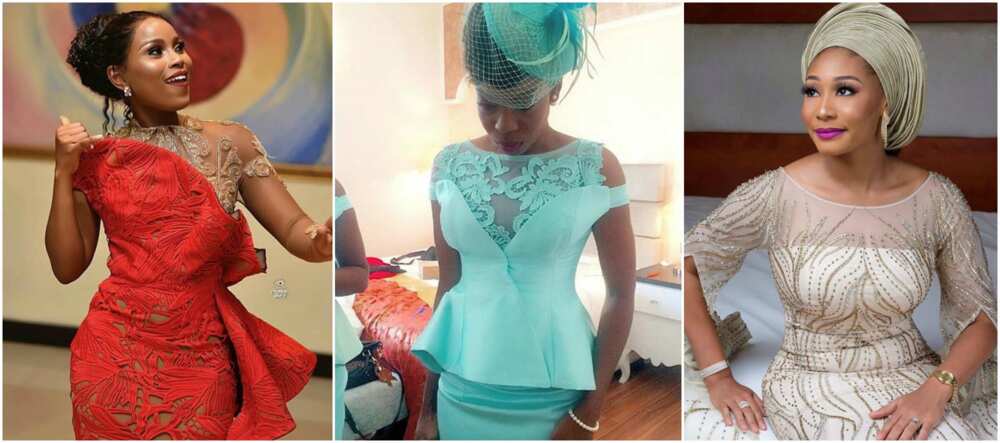 Traditional wedding reception dresses for brides in Nigeria
Flounces can be called a real trend of the season. Dresses with flounces have their advantages. They can visually give volume to desired places, and make the outfit truly festive. They look lovely on slender ladies and usually are located on the sleeves, shoulders, train. Flounces on a skirt look gentle and romantic regardless of the bride's age. But, to look really stylish, you need to choose the right accessories along with this, refusing volumetric jewelry, massive bracelets, and bags. Instead of shoes on the platform, it is better to wear pumps with a narrowed toe.
Also, you should remember that dresses with flounces are not suitable for everyone. If there is a problem of excess weight, flounces can add volume in some parts. For plus size ladies, it is better to pick up a dress to the floor, or an ordinary straight dress, decorated with one or two flounces.
One of the trendiest colors this season is gray. Just take a look at the adorable reception dresses below.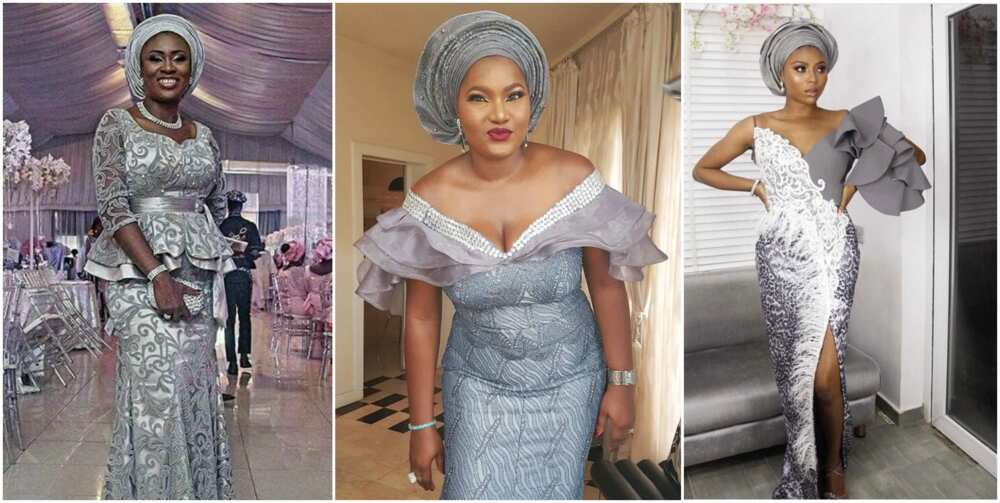 Reception dresses with a cape is a completely new trend in wedding fashion. Evening dress, where the role of a jacket is performed by a cape made of lace or chiffon and strewn with flowers or decorated with pearls or stones is more suitable for evenings or cool summer nights. Beautiful dresses with capes of midi and maxi length are adored both by young girls and ladies a bit older.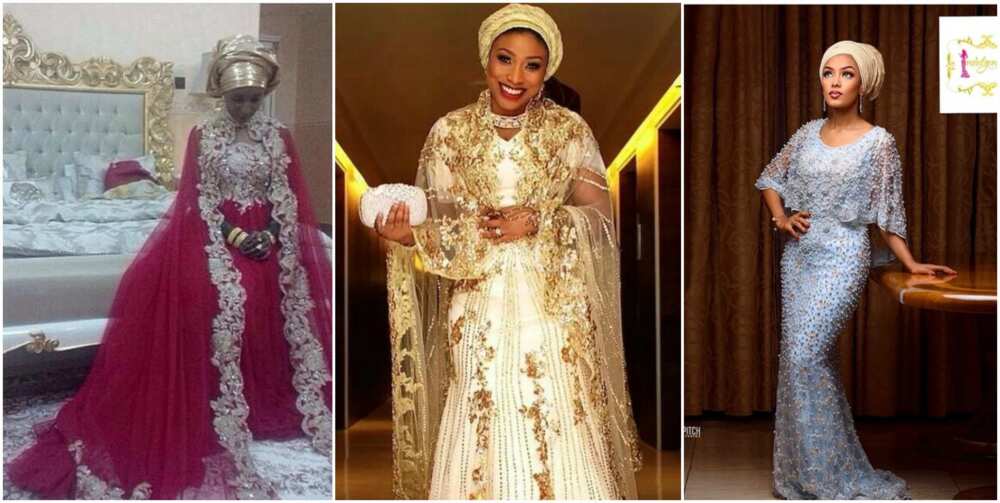 Many brides-fashionistas choose this season ankara multi-tiered dresses of one shoulder or off shoulder designs. This hot trend of wedding fashion in 2018 is suitable not only for very slim ladies. The style of multi-tiered dresses keeps its leading position in wedding fashion thanks to unusual lines of silhouette, contrasting trim of layers decorated with sequins, lace, ruffles, and frill. Especially lovely are mermaid dresses in ankara style.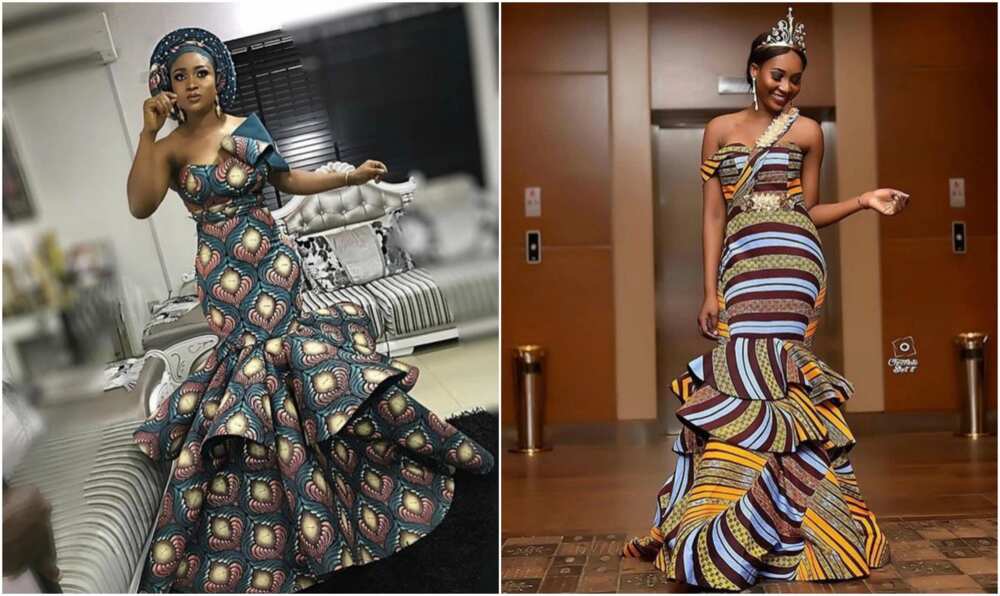 READ ALSO: Nigerian lace styles for wedding in 2018
Along with very fashionable flounces this season, wedding collections of world designers are presented with ruffles of different sizes and in different areas of location - at the waist, along with the train, in the form of a bracelet.
This branded decor element adds a touch of retro charm to the festive wedding look and reminds you that the raid of vintage in reception dresses for bridal is still relevant.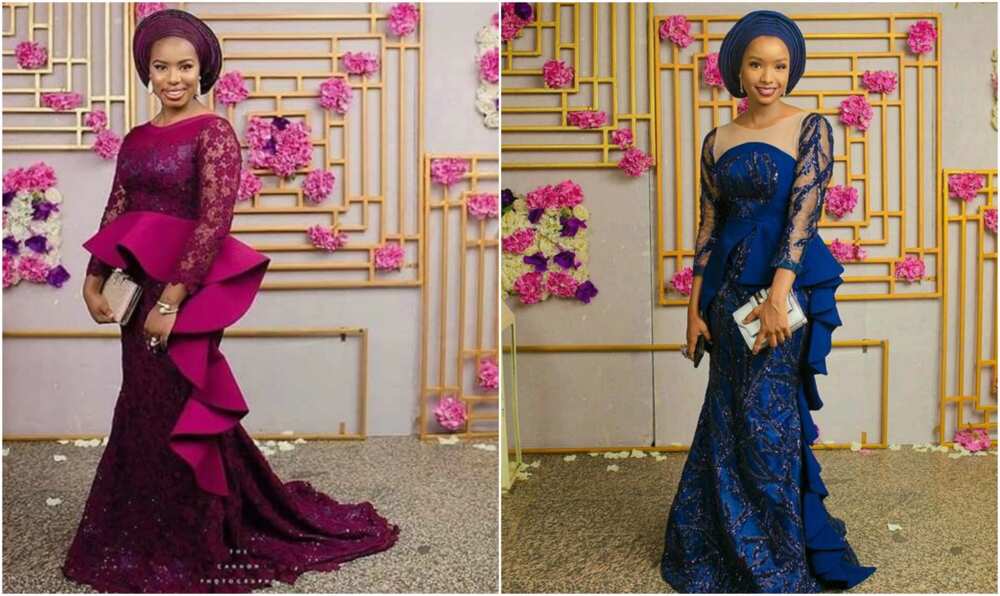 Reception dresses made of light fabrics of pastel colors will be in favor this season. They will appeal to lovers of the romantic style. The color range is the most diverse. An airy dress in the color of powder is perfect for a wedding. Dresses of creamy, violet, pearl, pale pink are in high demand. Stylish pastel outfits and a minimum of decor - this is quite enough to declare your femininity. Dresses of soft color from very light fabric are not less relevant.
This style favorably hides the flaws of the female figure and emphasizes its merits. In such a dress, any girl will feel like a real princess.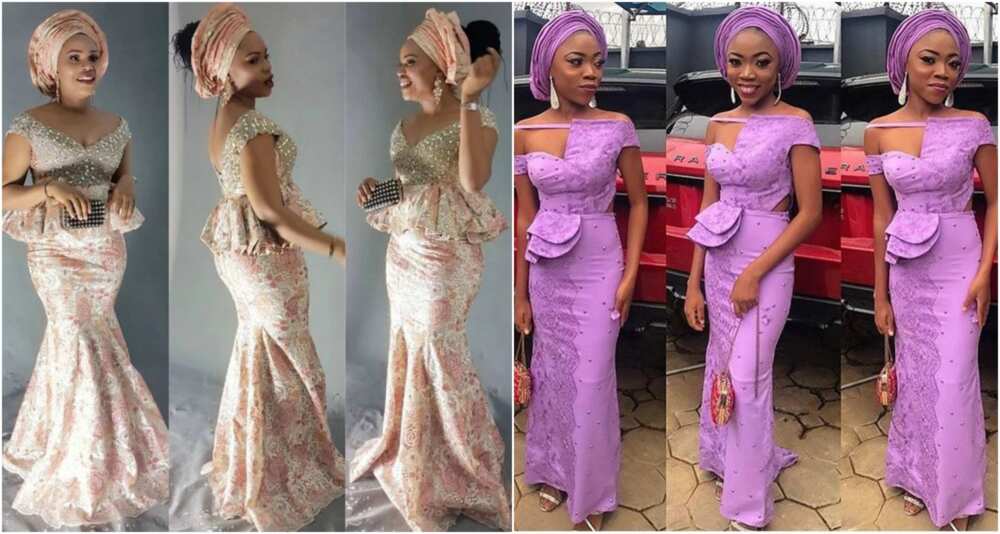 It is not the first season that the leaders are wedding reception dresses made up entirely of lace. Some outfits have small lace inserts. The dress can be bunk, and consist of solid lace, worn over the overlying little dress.
Lace is considered to be the most sophisticated material for wedding dresses. Lace reception dresses have forever won the hearts of fashionistas, no matter what style they profess. For example, emerald lace dresses will look very fashionable. Modest girls prefer blue lace outfits.
Present designers like to combine openwork weaving with fabrics, mainly, with satin, silk.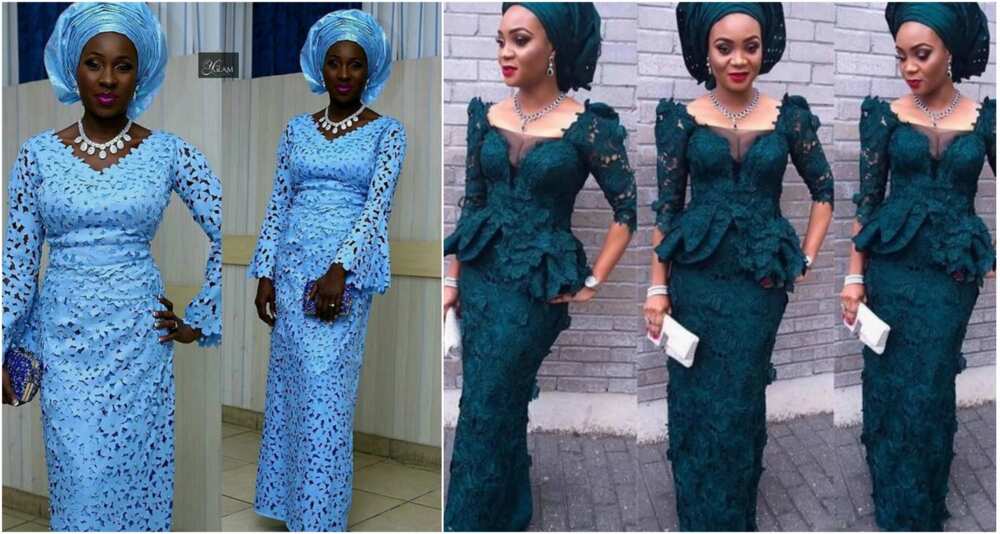 Reception dresses for Nigerian brides
Many fashionistas prefer reception dresses in the mermaid style. This style is called the "mermaid," as it resembles the shape of the tail of a famous fairy-tale character. Long wedding dresses of such a silhouette have already become a classic. The stars of Nollywood shine in them both at weddings and on the red carpet of film festivals. It is not difficult to guess that every woman who has a beautiful figure wants to wear a long wedding dress of this style.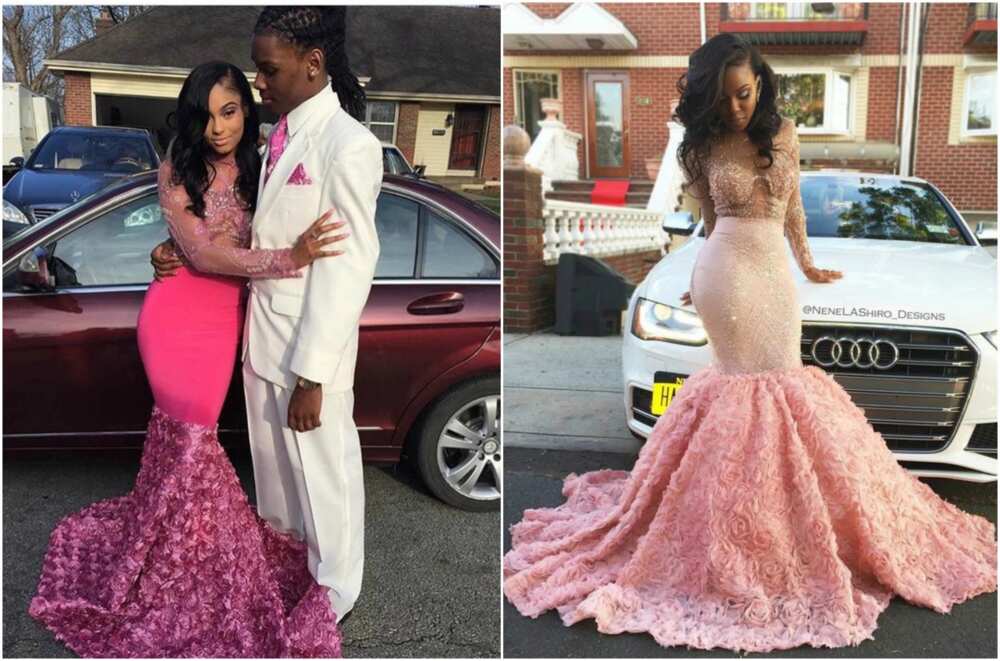 READ ALSO: Lace wedding gowns with sleeves in Nigeria
Transparent reception dresses and made of mesh fabrics with embroidery and applique are still relevant. Such styles are very popular among young brides.
And, though, designers are guided by the demand on such wedding dresses, there is a high probability that such styles will eventually go only into the fashion of red carpets.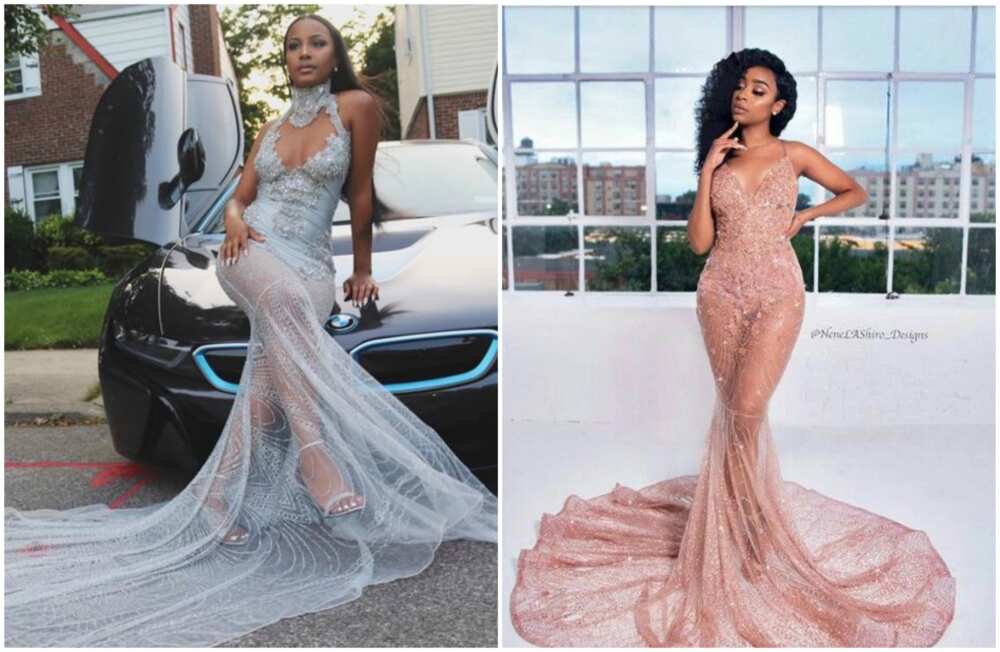 Also, a reception dress with a deep neckline always looks fashionable and attractive. Therefore, women are happy to include it in their wedding wardrobe, not being afraid to look too frank. But to make a deep decollete a sensation, it is very important to care for the breast area and select accessories that will complement the bride who has an excellent taste.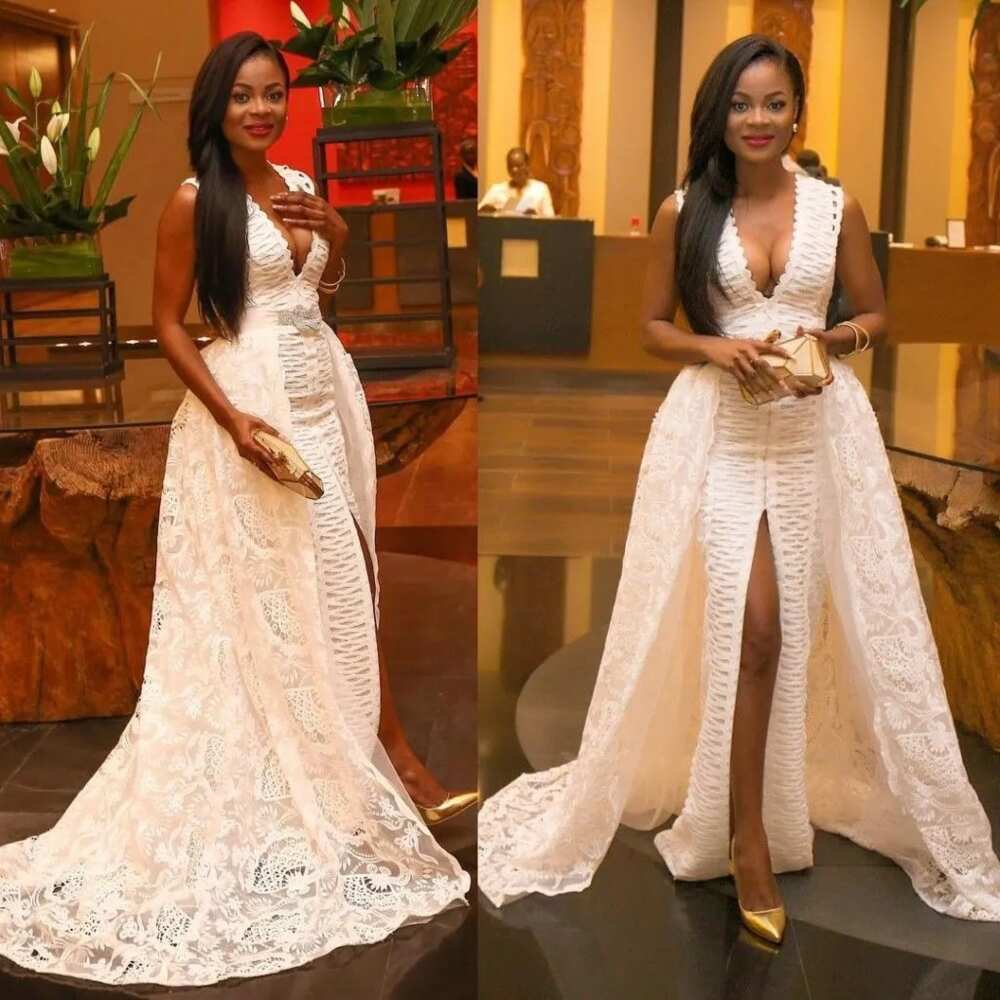 Photo: pinterest.com
READ ALSO: Beautiful mermaid wedding dresses in Nigeria
Reception dress, worn over trousers, is back on the world wedding catwalks again! At first glance, these two pieces of clothing are absolutely incompatible. But, if you creatively approach this problem, you can get a stylish look. Besides, it is not necessary to pick up a dress with pants in color. Fabrics also can have different textures. The main thing is to create a complete image of a self-confident and romantic-minded woman. Be bold, experiment with your wedding look and do not be afraid to show your beauty.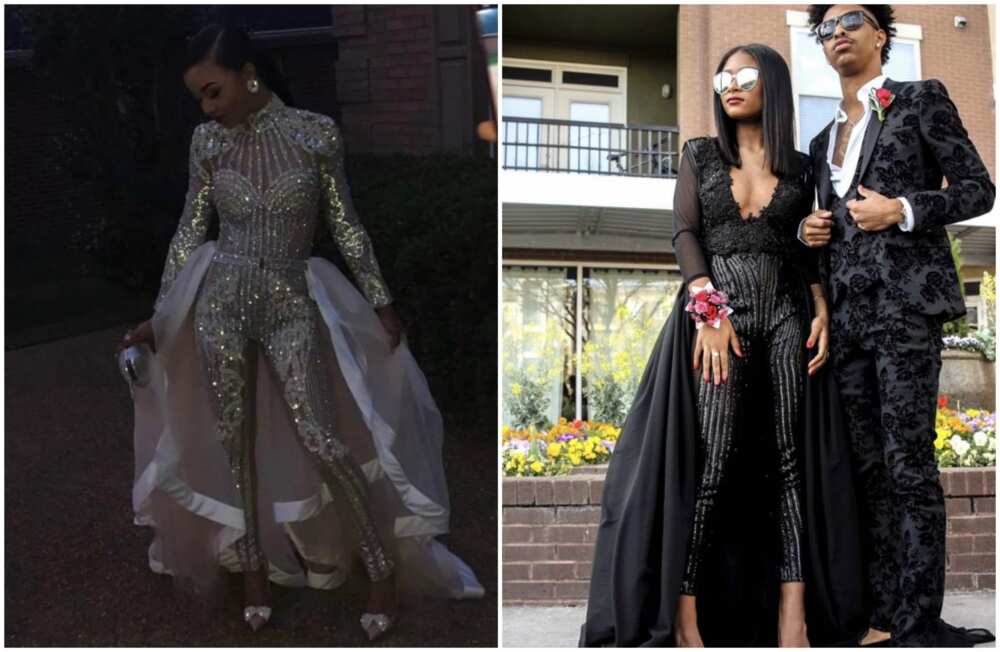 Our recommendations for choosing reception dress
The question of the reception dress should be decided at the beginning of preparation when planning the budget so that its purchase does not take you by surprise.
Hairstyle, makeup, and accessories should be combined with both outfits. Particular attention should be paid to the choice of underwear so that it is ideally suited for different dresses.
It is worth preparing two pairs of shoes. Exquisite high-heeled shoes will be suitable for the official part and photo shoot, and for a banquet and dancing it is better to choose comfortable wedge shoes.
An excellent alternative to the reception dress, which will help you to save money and at the same time realize two different images - these are transforming dresses, which are becoming more and more popular this season. In this dress top, fluffy and long, a skirt (or train) can be unfastened.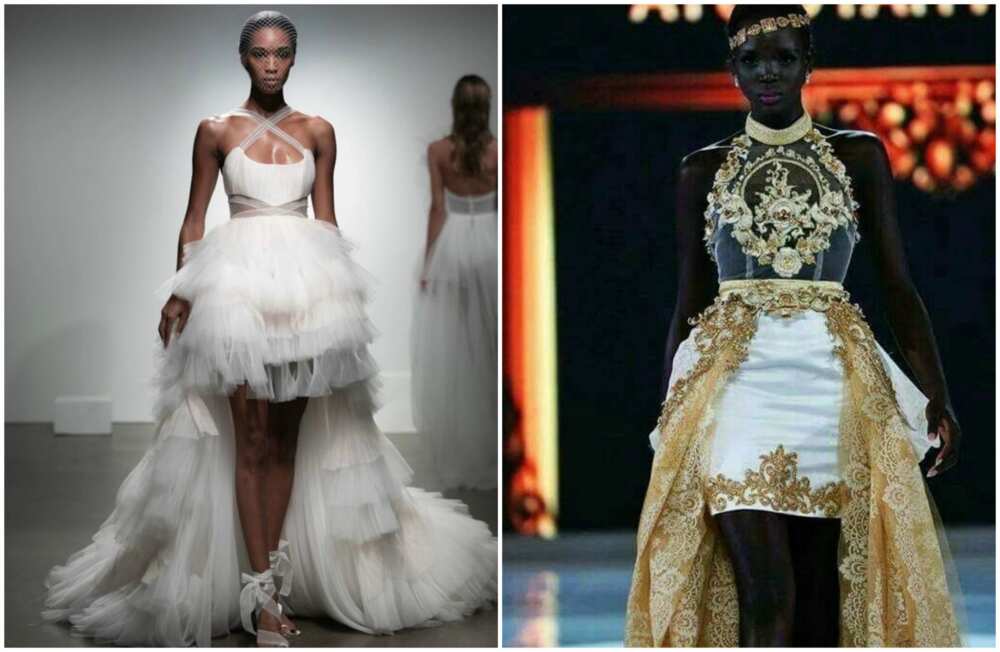 It is not necessary to look for reception dress at the wedding salon, especially if you want a dress of an unusual style. In this case, finding the right dress in regular stores or showrooms will be much easier.
Do not buy as a second dress, one that will be very similar to your bridesmaids' dresses.
Your reception dress may not be as festive as the first, but do not forget that this is your wedding, and even wearing the second dress you should also look like a queen of this evening! If all the guests are in black tie and wearing evening dresses and you come out to them in a too simple dress, you will feel uncomfortable.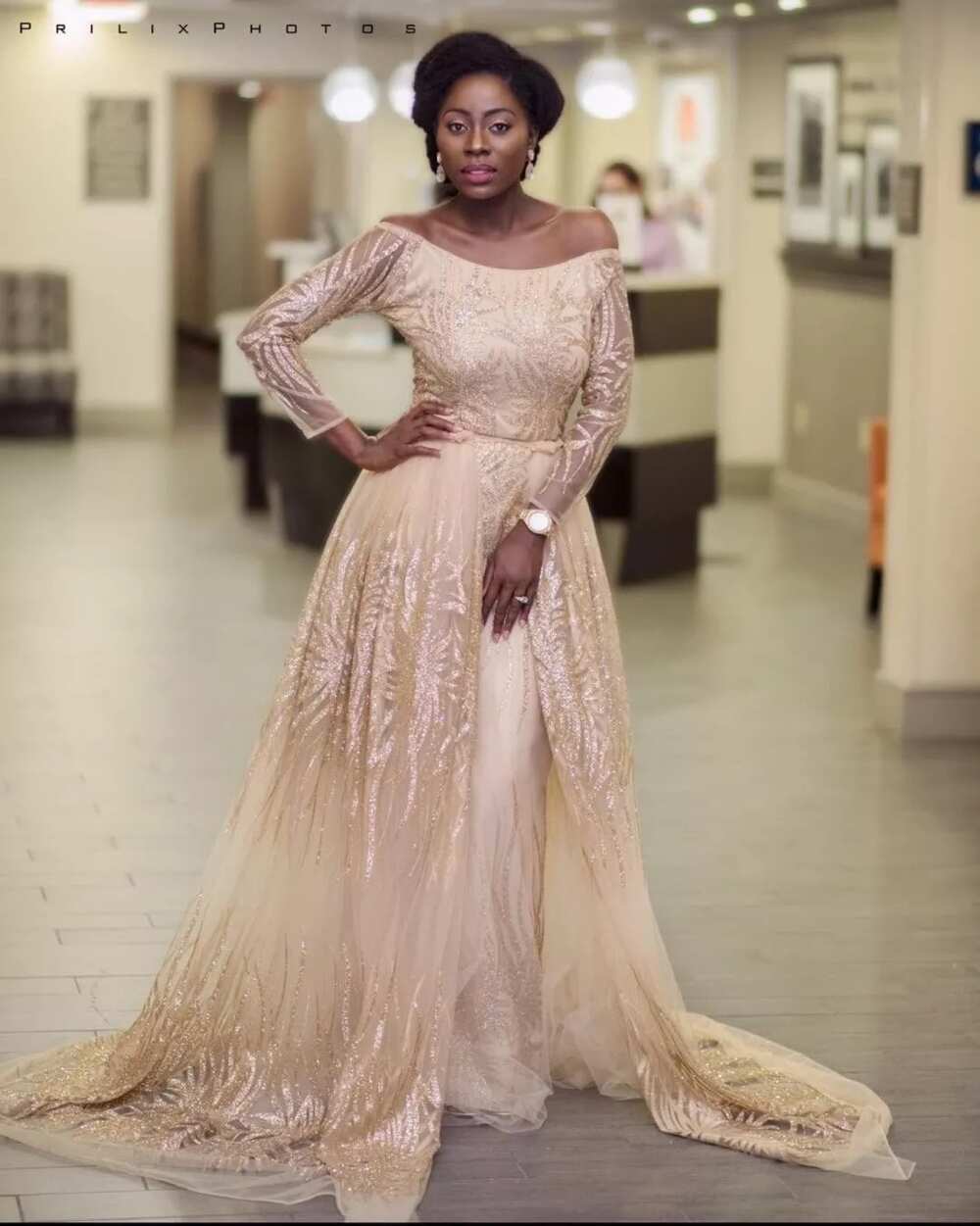 Photo: AdeLove.com
The trend of preparing several outfits for one wedding is firmly in fashion. Many brides ask themselves the question: is it necessary to have a second dress, is it an optional attribute of the holiday? We advise brides not to give up the pleasure of displaying different looks in one day. This is an excellent opportunity to please yourself and surprise guests. Reception dresses 2018-2019 are the most important detail of women's wedding wardrobe. A well-chosen dress can turn an ordinary woman into a real goddess.
READ ALSO: Simple wedding hall decoration ideas in Nigeria
Source: Legit.ng