Latest ankara short gown: fresh looks for the new season
If you want to be a trendy fashionista this season, here are the latest ankara short gown 2019 just for you! Short dresses always combine the sense of playfulness and elegance, providing the lady with the best look and charm. We have chosen the best ankara dresses designs, so every beauty can pick one, which will suit her unique taste.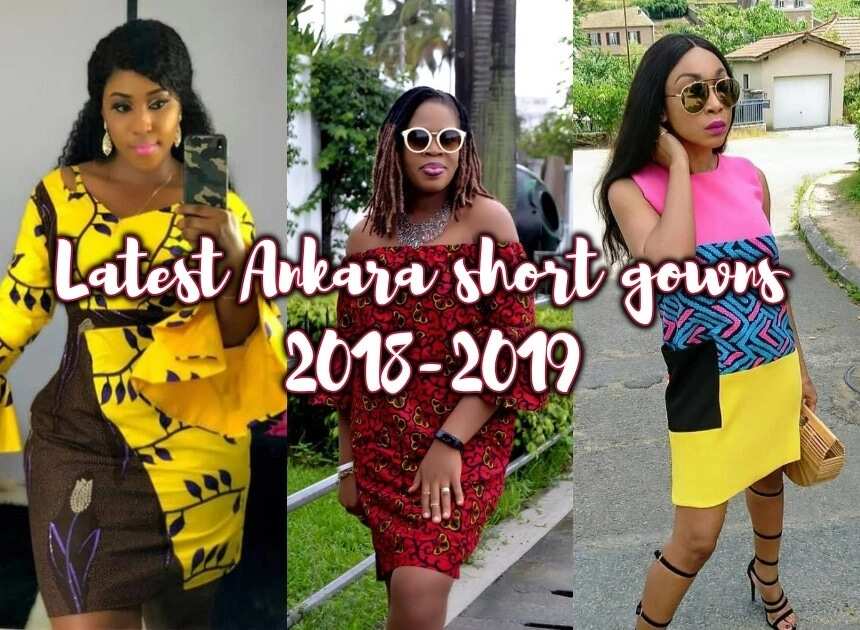 Best ankara short gown designs
Short dresses are a great idea for ladies who want to show off their beautiful figure, attractive and feminine forms, and also show off their fashionable and elegant outfit.
Modern ankara short dresses are excellent for creating exquisite evening outfits for special celebrations and festive events, as well as concise everyday and street-style outfits.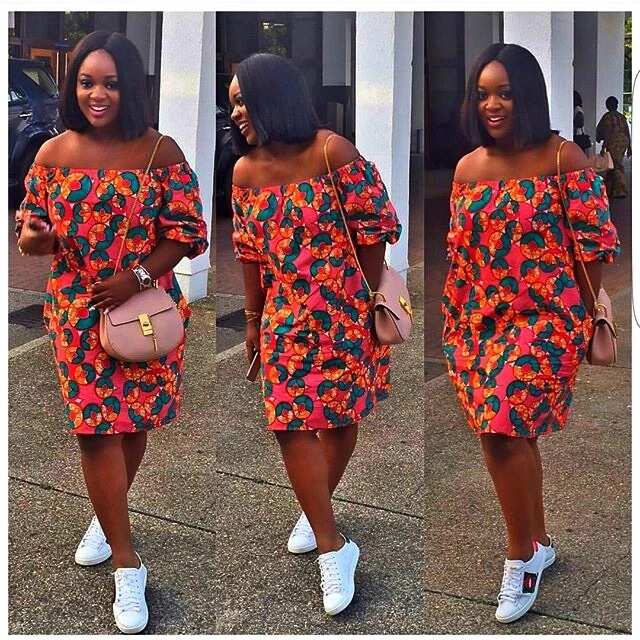 Photo: dezangozone.com
Ankara short dress of 2019 looks beautiful and luxurious, especially if decorations harmoniously complement it.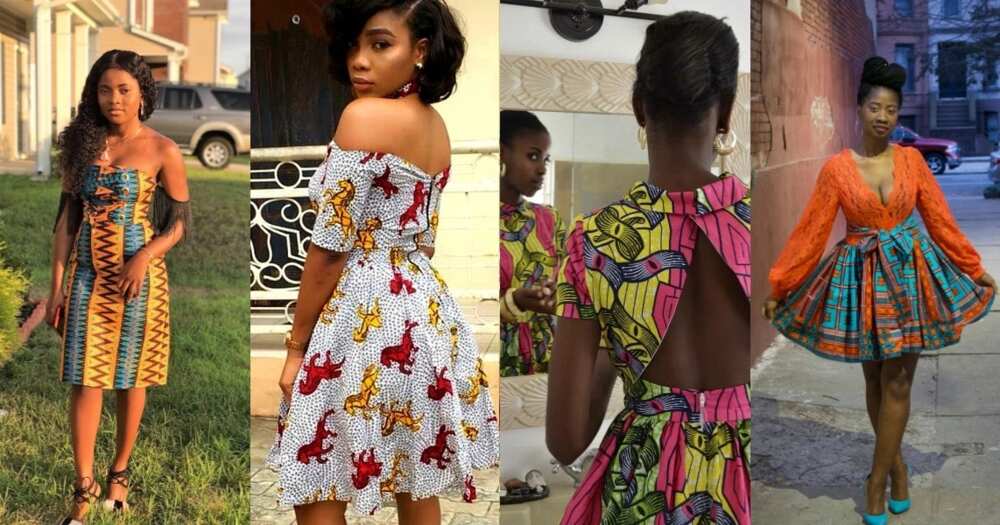 The best ankara short dresses 2019 are with an open back, with short and long sleeves, either without sleeves, or straight skirt. Also, ankara short dresses can be supplemented with plunging neckline, cuts and original inserts of fabrics.
Top ankara short gown styles
Ankara short dresses for true ladies of 2019 a presented with a mini-dresses, as well as with styles like short knee dresses, short bustier dresses, and short sheath dresses. Also one of the attractive designs of the year 2019 is ankara short dresses with an open back.
Short backless dresses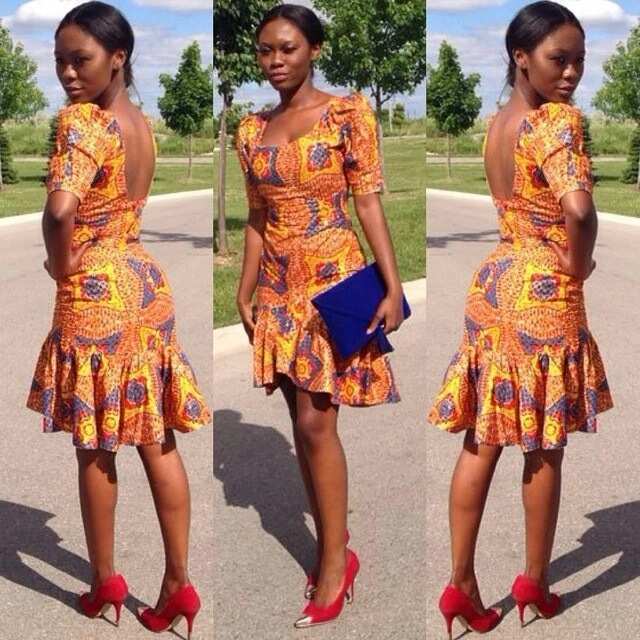 Photo: afrocosmopolitan.com
Delightful short gowns, which are demonstrated this season, are, first of all, beautiful short dresses with an open back. Such short dresses with an open back can be both with a fully open back and with lace covering the back, which looks very gentle and charming.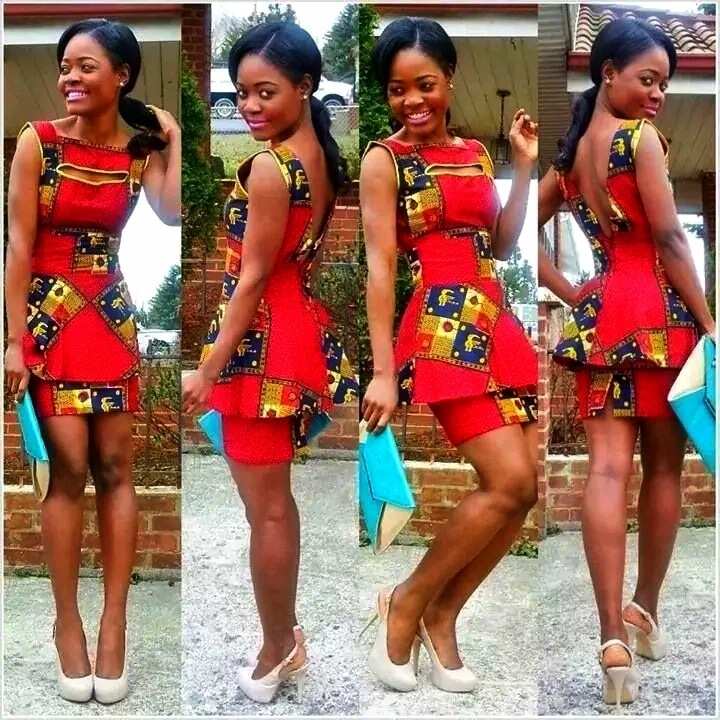 Photo: naji.com
A short dress is a universal style that will suit a woman of any height and age. Short dresses are also worn at celebration evenings and receptions. However, they have become quite common in everyday life. In this dress, you can go, for example, on a date or in a restaurant.
Romantic short bustier dresses
Ankara short bustier dresses beautifully open the plunging neckline and back, emphasizing the neck and collarbone, allowing you to create fantastic evening looks for special occasions.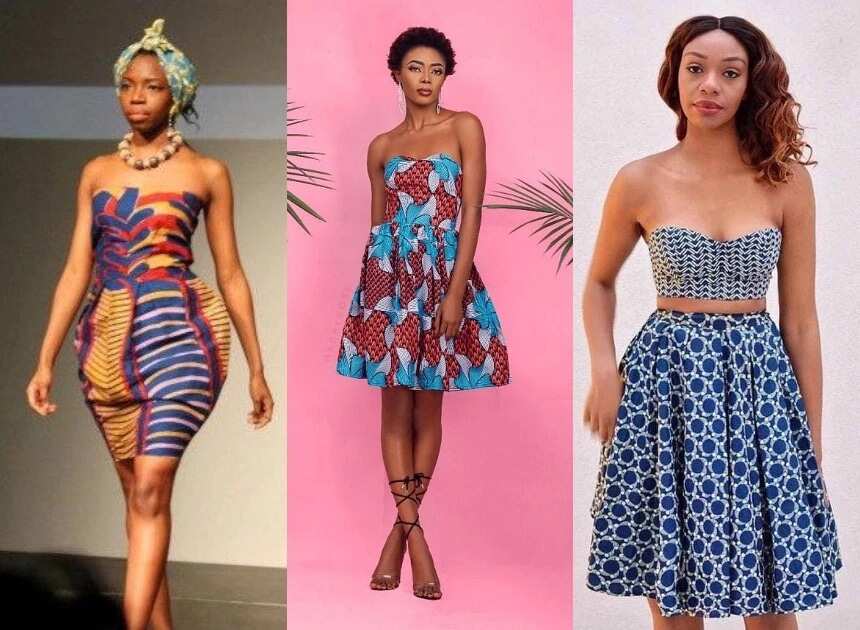 The bustier dress often has a slightly open plunging neckline, so it is rightfully considered one of the sensual items of a woman's wardrobe. It can fit a figure and can have a bouffant skirt, but the top always remains as open as possible. All attention is focused on the shoulders, chest, arms, and neck. Therefore, when you put on a similar outfit, you need to be sure that this area looks flawless. There different designs for these dresses:
Clinging dress. The dress repeating contours of a figure looks unusually attractive.
Peplum dress. Today ankara peplum dresses are at the peak of popularity. This decorative element gives the image a bit of coquetry. In addition, the peplum dress perfectly hides your tummy.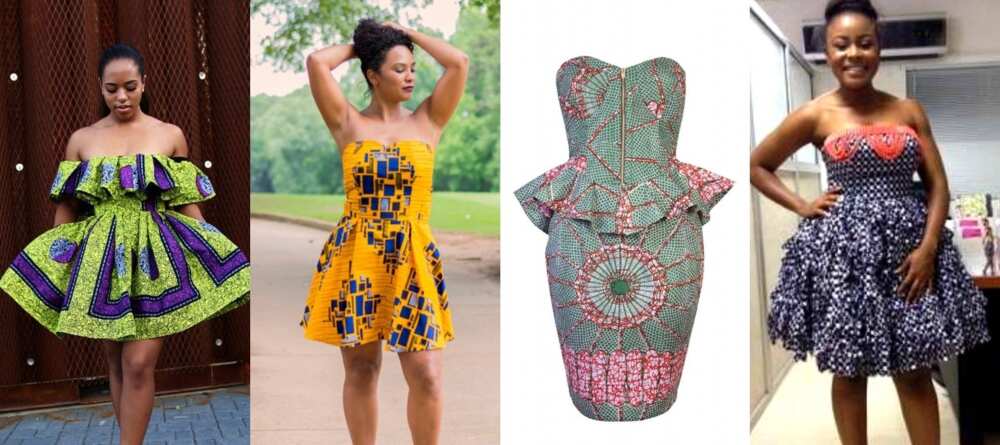 With a bouffant skirt. The ankara dress with a clinging top and a bouffant skirt makes the girl look like a graceful flower. Especially good this style looks on petite ladies.
Wrap dress. Ankara warp dresses sit on different types of figure equally well. Therefore both curvy and skinny ladies can reliably wear them. The wrap is an inconspicuous and elegant detail, which successfully enlivens the image.
Elegant and delicate short A-line dresses
One of the most sophisticated and stylish models of Ankara short dresses for 2019 are short A-line dresses, which perfectly accentuate the waist, and emphasize it. This style of dress is great to hide the slightest flaws of your figure if there are any and highlight its advantages.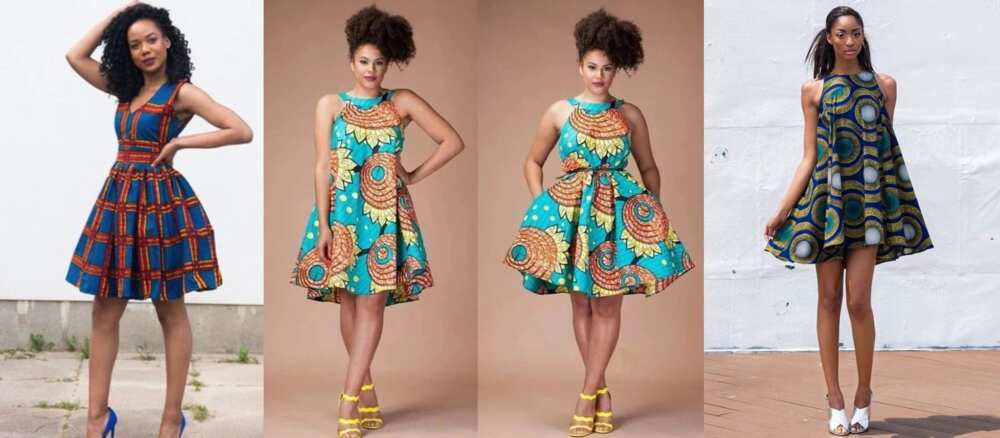 Today, short dresses are a trend. Curvy ladies are happy to wear A-shaped dresses, as they can hide the extra centimeters of waist and hips. And petite ladies in a short dress look more elegant and even prettier. Short bright dresses are perfect both for walks and solemn events.
Concise and elegant short sheath dresses
One of the undoubted advantages of an Ankara sheath dress is that it looks good on all kinds of ladies. Such gown has no strict restrictions regarding age and bodily constitution. Slim ladies and curvaceous cuties, young girls and respectable dames - they all certainly have to get a pencil dress.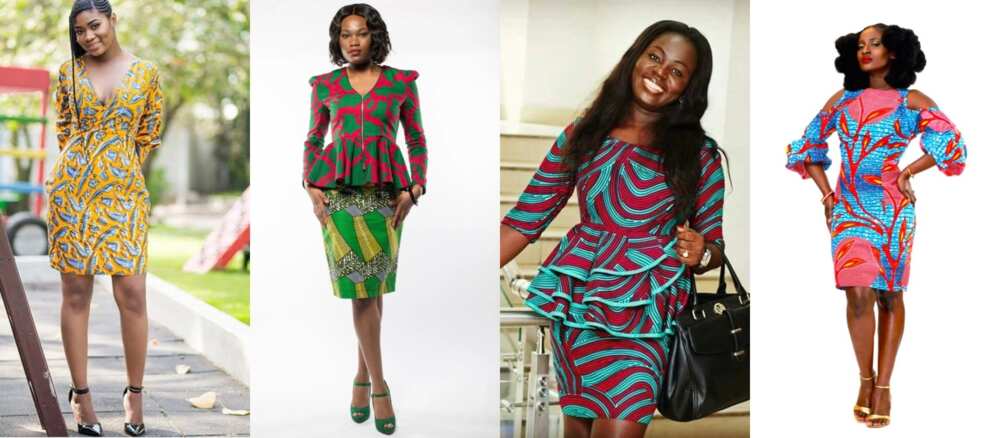 This style will emphasize your beautiful figure and femininity, creating a uniquely delicate and at the same time strong image. A short dress usually ends in the middle of the thigh, and in rare cases slightly higher. This option is suitable for petite girls. This is a great party outfit. Especially in combination with high heels and ornaments.
Source: Legit.ng