How to prepare vegetable salad at home
Today we are going to tell you how to prepare a vegetable salad. This dish is the basics of each person diet and really easy to cook. Vegetable salad is very healthy, it can be both a quick meal and a full square meal, everything is depends on the choice of ingredients.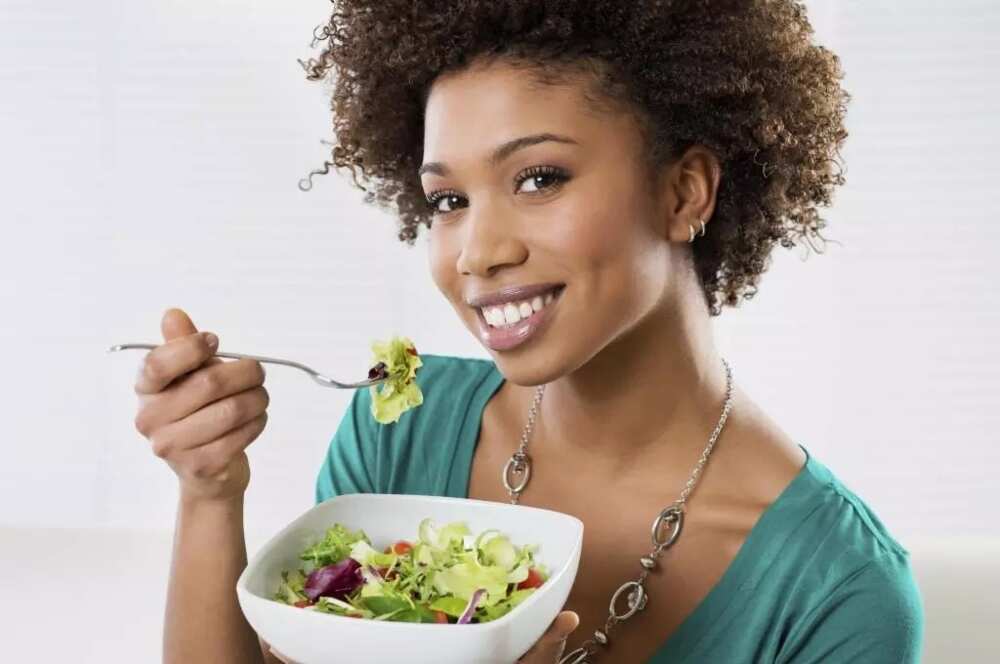 Photo: globalgrind.cassiuslife.com
How to prepare an easy and healthy salad
Vegetable salads are a source of vitamins and minerals. But besides this, these salads are delicious and varied. Vegetable salads are simply essential for lack of vitamins and a bad mood. After all, there are so many necessary vitamins and various useful elements needed for the body to maintain youth, strength and immunity. Fresh vegetable salads contain a relatively large amount of fiber, which is known to help cleanse the body. Here you can begin to dive into the wilds of healthy lifestyles, but we will not, back to the recipe for the vegetable salad.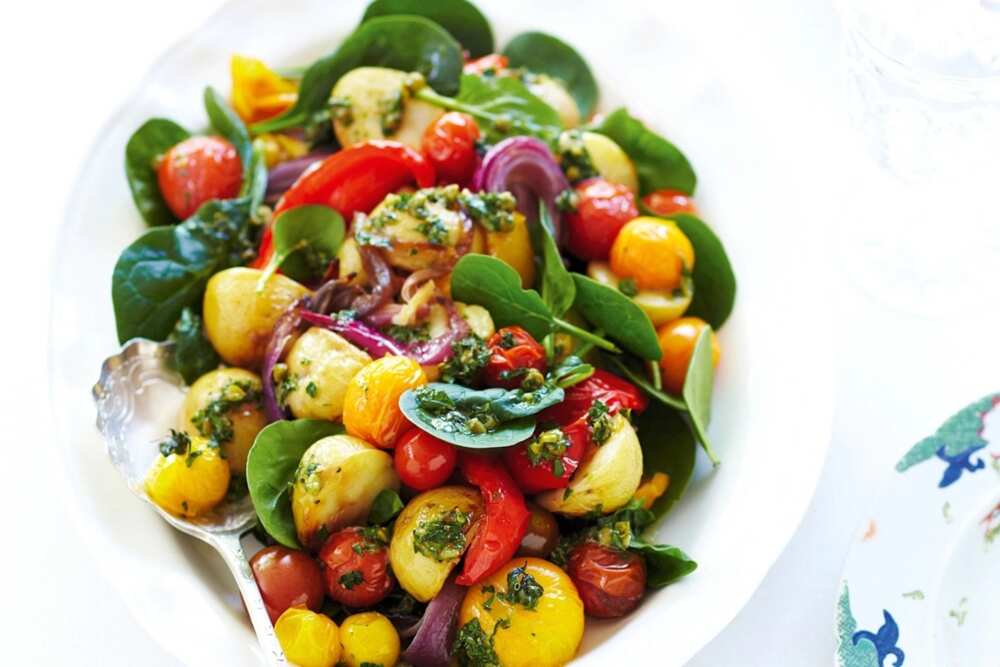 Photo: taste.com.au
Today we are going to review some top light recipes of vegetable salads. So, let's get this show on the road.
#1 Easy vegetable salad
Ingredients:
tomatoes - 180 g;
cucumbers - 150 g;
cabbage - 100 g;
carrot - 40 g;
olive oil (or any other oil) - 2 tbsp.;
apple cider vinegar - 1/2 tbsp.;
lemon juice - 1 tbsp.;
salt;
First of all, wash all the vegetables thoroughly before use.
Now, remove the leaves from the cabbage, remove the hard stalk and cut the cabbage into thin, long straws. Put in a bowl, sprinkle with salt and gently shake the cabbage so that it gives juice slightly.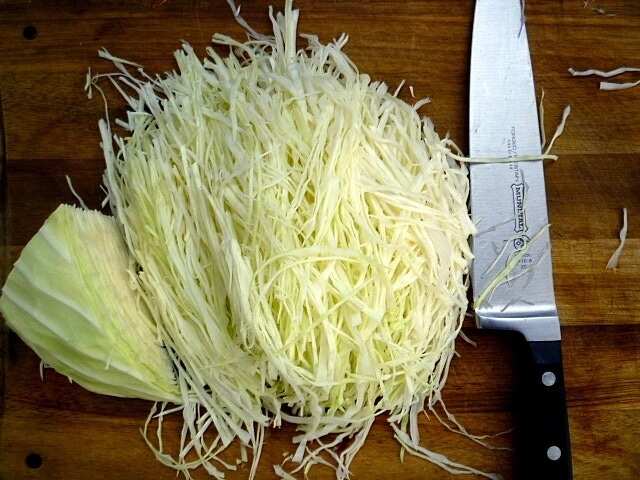 Photo: drbarak.com
READ ALSO: How to make vegetable salad at home for weight loss
Now you need to get the same thin long straw form carrot. To do this, you can use a special grater for Korean carrots. If you don't need one, you can rub it on a regular large grater. When the carrot is ready, add it to the bowl with cabbage.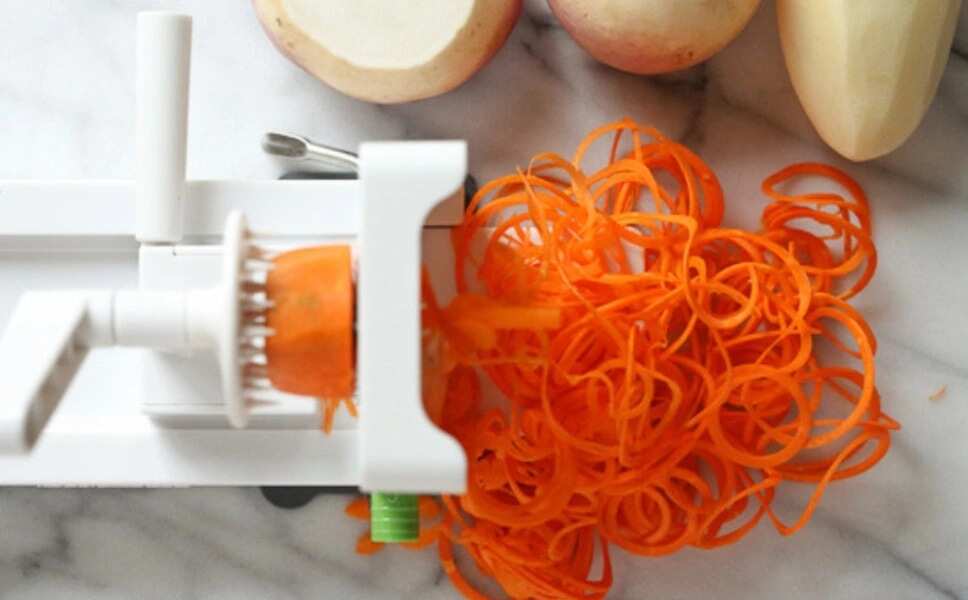 Photo: skinnytaste.com
All the ingredients in the salad should be in harmony with each other, so cut cucumbers like all other vegetables, in thin straws. Cut the tomatoes in the same way. Mix all the ingredients in a bowl, add some salt to taste and proceed to the dressing.
Mix olive oil, lemon juice, and apple vinegar in a separate container. And now you can get the dressing into your salad. Add as much as you prefer. By the way, you can fill the salad with natural yogurt. It is also a nice option.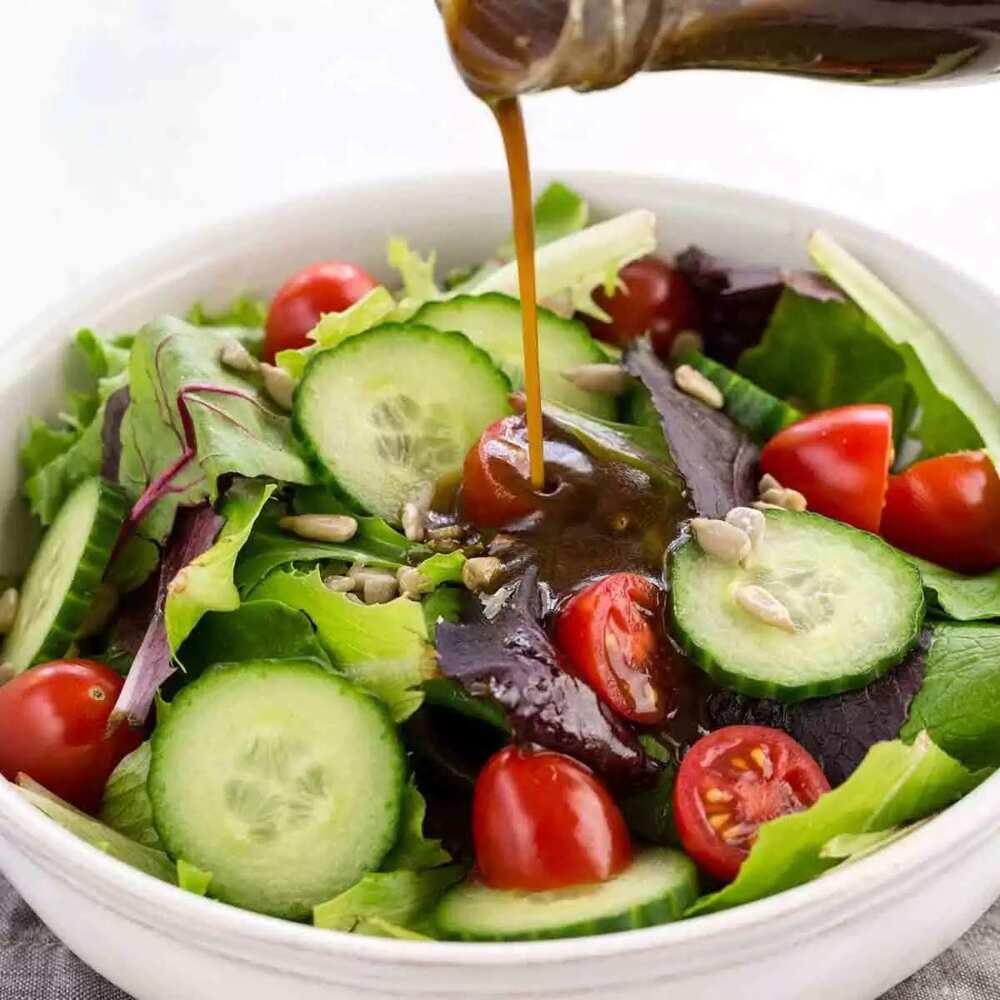 Photo: jessicagavin.com
#2 Warm Nigerian vegetable salad
There are such salads, which in themselves are a full-fledged dish and not just a snack. Warm vegetable salad with creamy onion sauce is one of them. It is nourishing and tasty.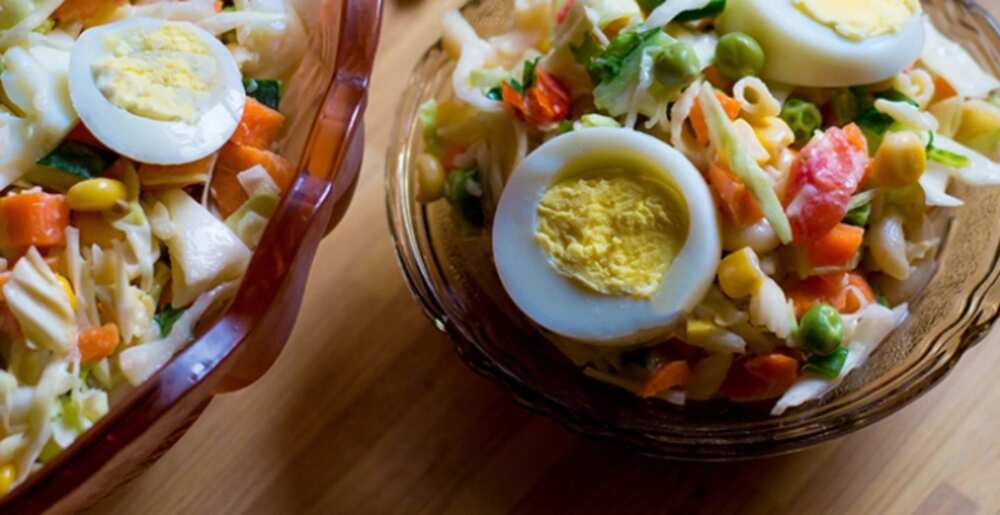 Photo: dobbyssignature.com
Now we want to introduce to your attention the recipe for Nigerian salad. For this salad you will need:
green beans - 100 g
tomatoes - 1 pcs.;
lettuce salad - 1 bunch;
potatoes - 3 pcs.;
onions - 1 pcs.;
milk cream (10%) - 200 ml;
wheat flour - 1.5 tbsp.;
salt;
garlic - 1 slice;
First, chop green beans and fry them with some vegetable oil. Now, tear up lettuce leaves with hands. Cut tomatoes into half rings.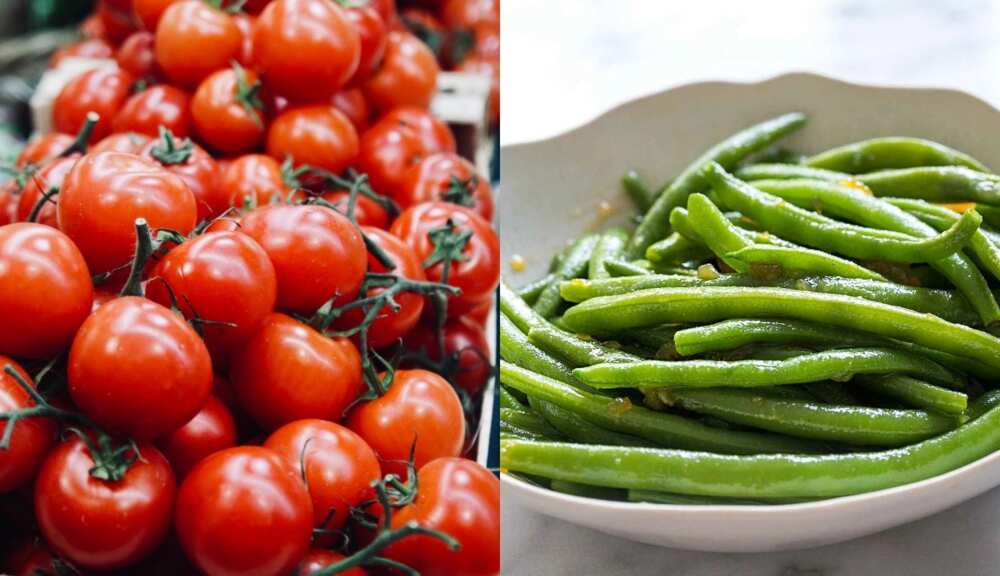 Wash potatoes, put them into the saucepan. Pour some water to cover the potato and add salt. Boil until ready, get the potatoes out of the water and peel them. Cut potatoes into half rings as well.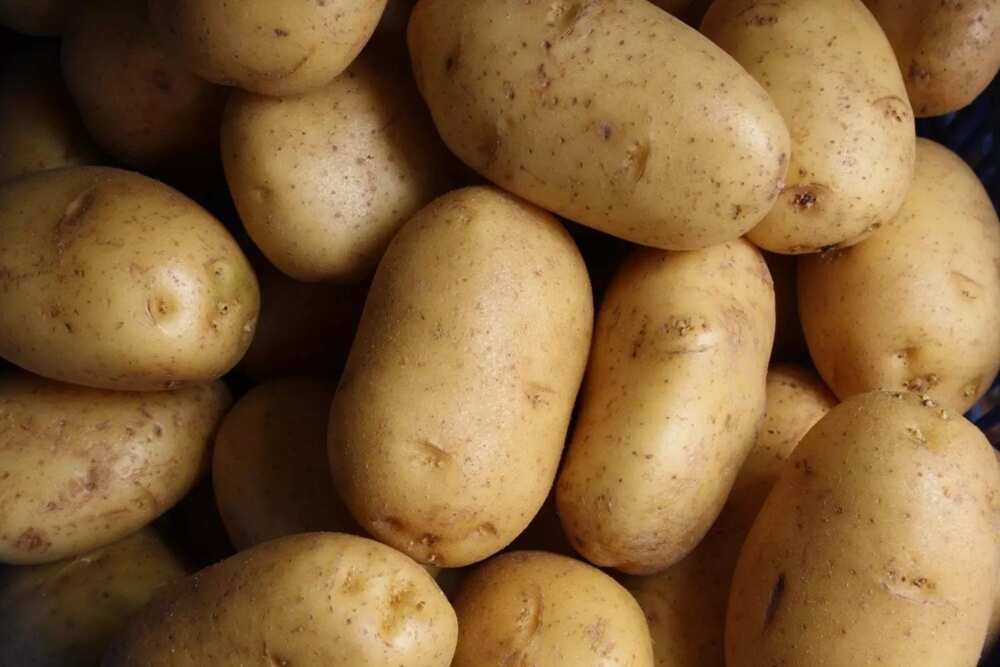 Photo: unsplash.com
Now, let's get to our sauce.
Take a small onion and one slice of garlic. Cut them very small. And then fry with vegetable oil. Take 100 g of the cream, mix it with wheat flour. Pour it into the pan with onions and garlic. Also, add some salt and seasoning if you prefer. As soon as the sauce thickens, remove from heat and allow to cool slightly. After it has cooled, whip it thoroughly with blender or whisk.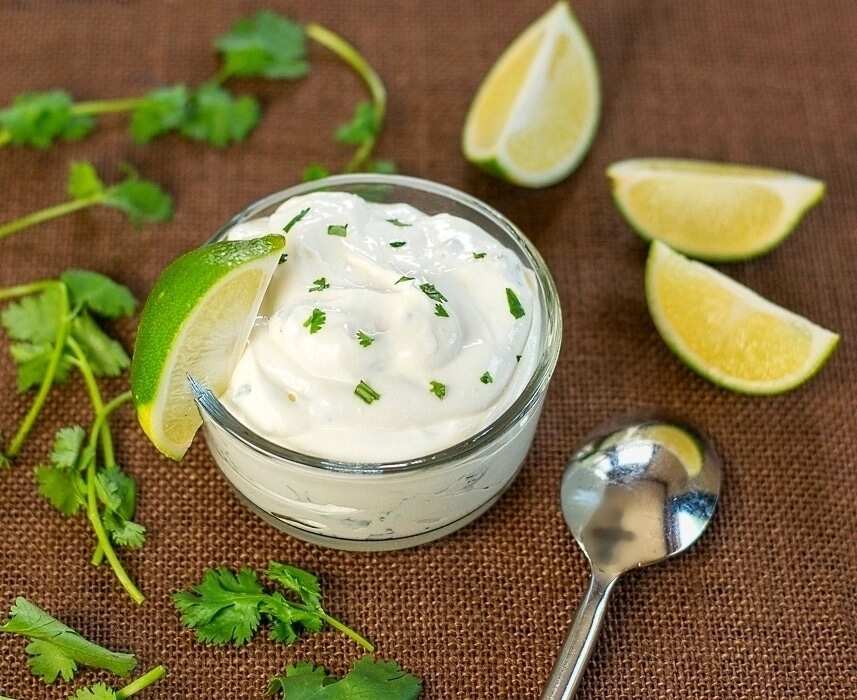 Photo: mastercook.com
READ ALSO: Nigerian vegetable soup recipe
Combine all the ingredients of the salad, and mix everything gently. You can also decorate your salad with some boiled eggs, cut in halves. After you have mixed everything, pour over the sauce.
#3 Vegetable salad with shrimps
Here is another very easy and straightforward vegetable salad to prepare. We are just going to get a little bit extra and add some shrimps to it. Thanks to fresh vegetables, shrimps and cheese, you get a tasty dish that has excellent taste, low-calorie content and most importantly contains a lot of micronutrients and vitamins.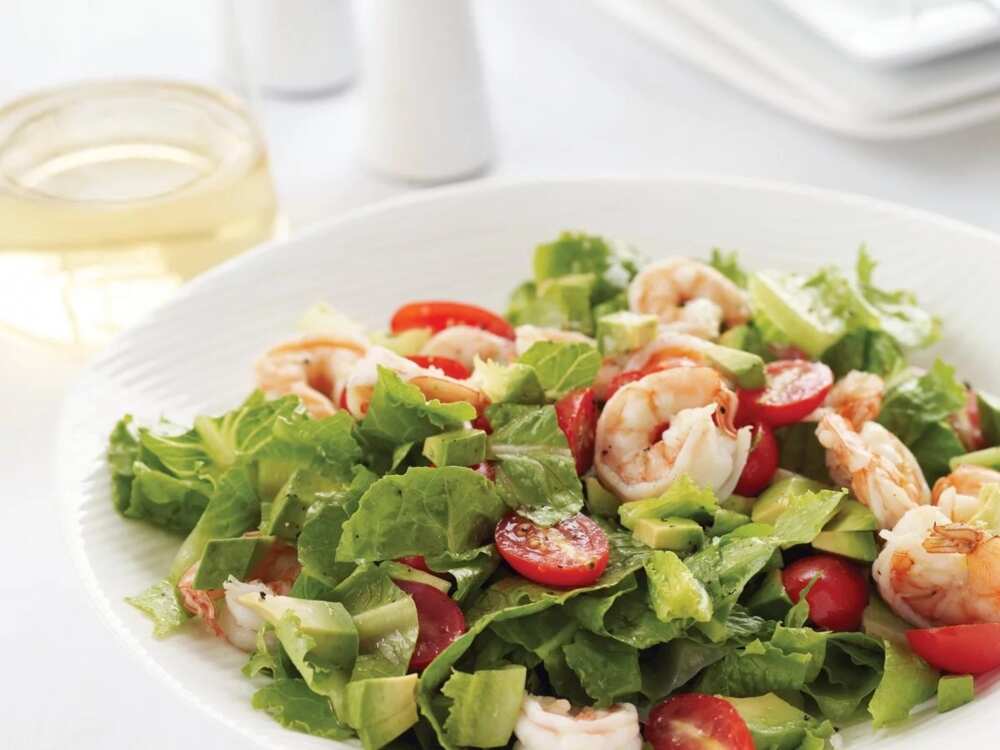 Photo: foodandwine.com
For this salad you will need:
peeled shrimps - 120 g;
tomatoes - 130 g;
cucumbers - 130 g;
sweet pepper - 60 g;
Mozzarella cheese - 100 g;
iceberg lettuce - 100 g;
cilantro - 40 g;
salt;
olive oil;
balsamic vinegar;
Prepare all the necessary ingredients for the salad. Carefully wash vegetables and greens. If you use unpeeled shrimps, multiply the number by two. The head and chitin of shrimp have a decent weight.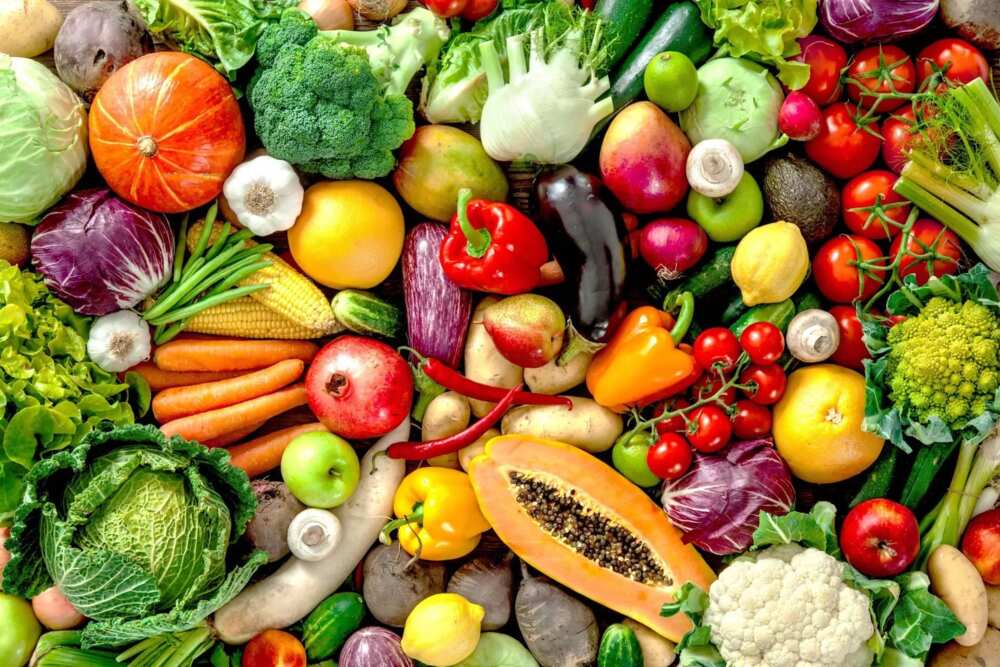 Photo: kdeq.org
Dip shrimps in salted boiling water and boil them. Shrimps that have previously been cooked and then frozen (these are most often sold in stores and are light pink), cook for 3-5 minutes. Previously unprocessed shrimps (gray) cook for 10 minutes.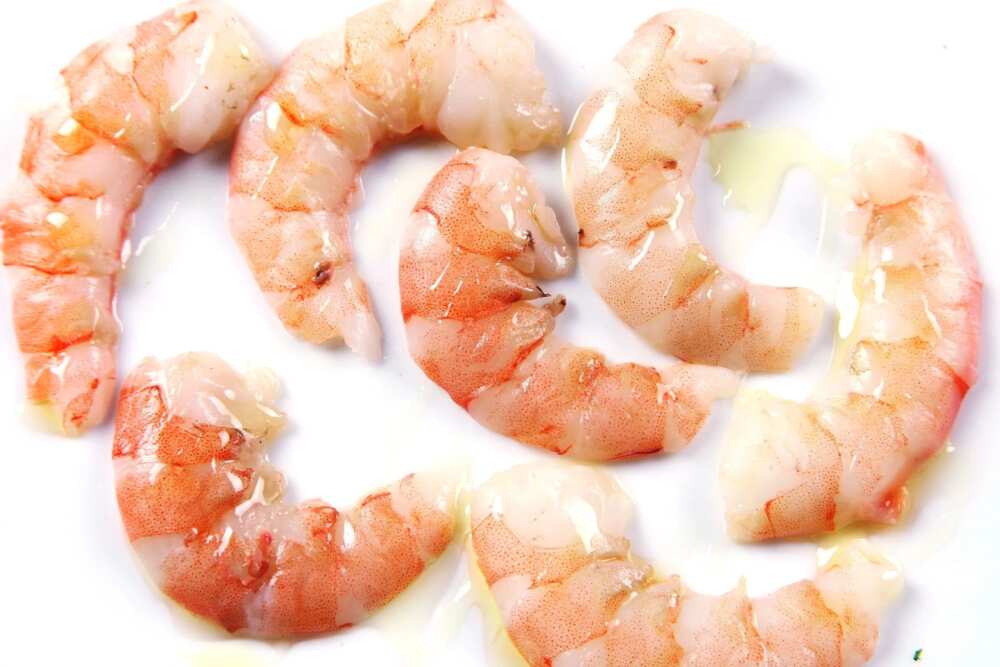 Photo: recipes.anovaculinary.com
Separate the leaves of cilantro from the stems. We will use the leaves. Cut cucumbers, tomatoes, and peppers into small cubes of the same size. Put them in a large bowl. Cut the cheese into cubes of the same size and add it to the vegetables.
Add cilantro and medium-sized pieces of lettuce to vegetables and cheese. It is better not to cut the salad with a knife, but simply to tear the hands into the desired pieces.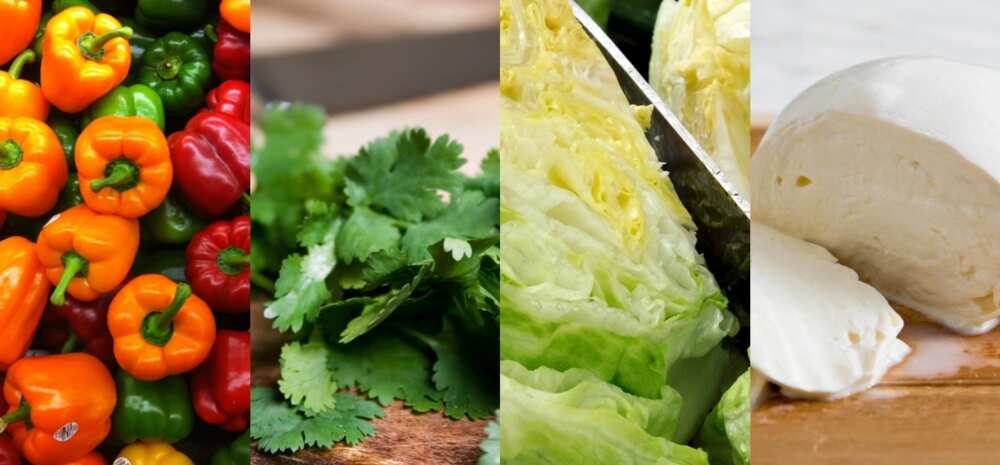 Now let's assemble our salad. First, put the contents of the bowl (vegetables, cheese, greens) on a plate, add the shrimps and season the salad with olive oil and balsamic vinegar. Alternatively, you can use natural yogurt as a dressing.
And the vegetable salad with shrimps is ready. Enjoy your meal!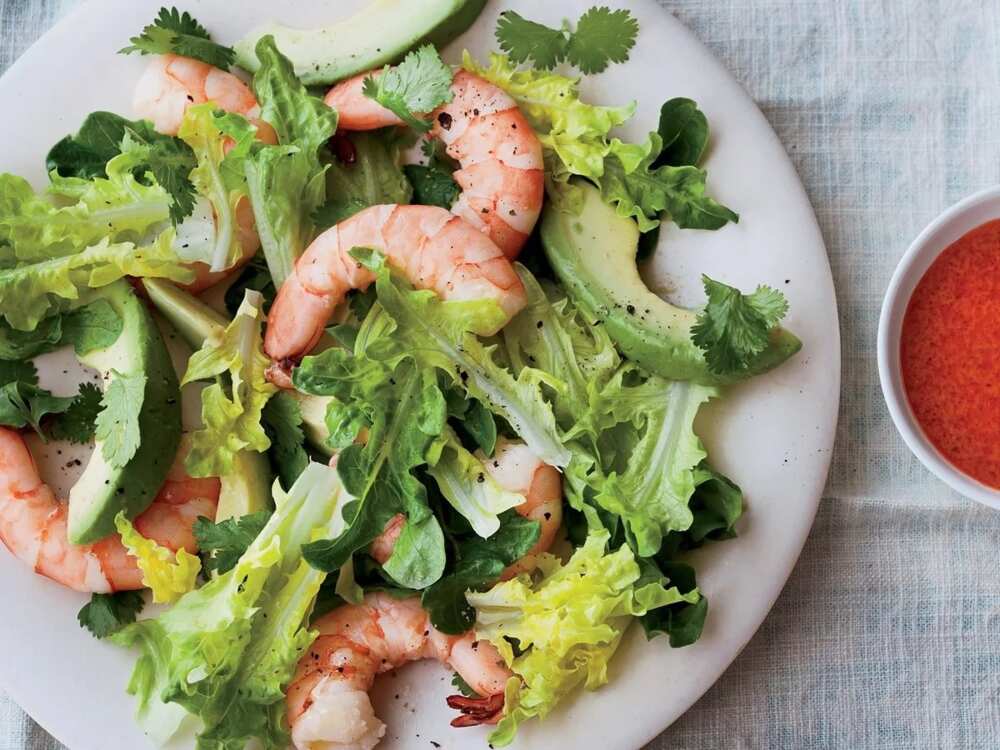 Photo: foodandwine.com
Vegetable salads are a storehouse of vitamins and minerals. Vegetable salads are light and healthy. They are perfectly combined with meat and fish dishes. Therefore, we recommend you to make a little effort to diversify your diet. And, we bet you, you will be delighted with the result.
Nigerian mixed vegetable salad
Traditional Nigerian vegetable salad is also called "Nigerian mixed vegetable salad" due to a variety of ingredients included. It consists of more than five types of vegetables. Also, it has beans and tasty cream.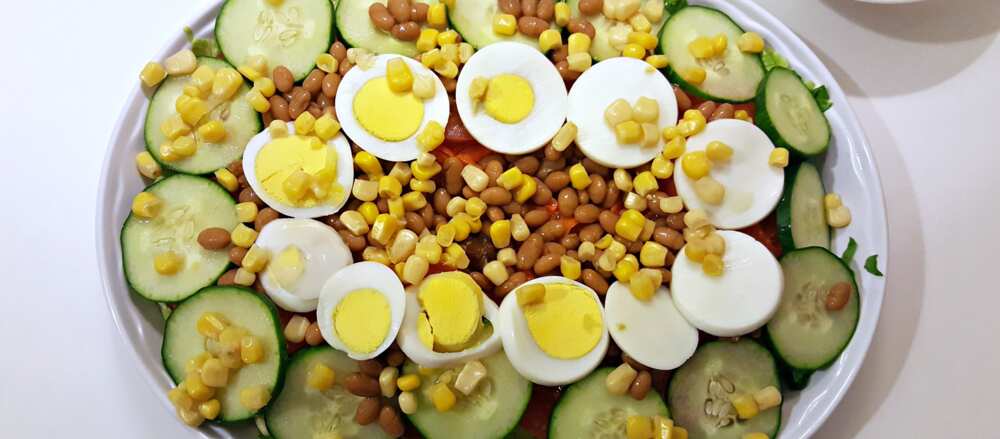 Photo: naijachef.com
So, for this salad you will need:
medium-sized carrots - 5 pcs;
lettuce salad - 1 bunch;
medium cabbage - 1 pcs;
green peas - 4 tbsp;
medium-sized tomatoes -4 pcs;
Irish potatoes - 3 pcs;
cucumber - 2 pcs;
eggs - 4 pcs;
1 tin of baked beans in tomato sauce (usually it is 400 g);
sweet corn - 300g;
bottle of salad cream or mayonnaise;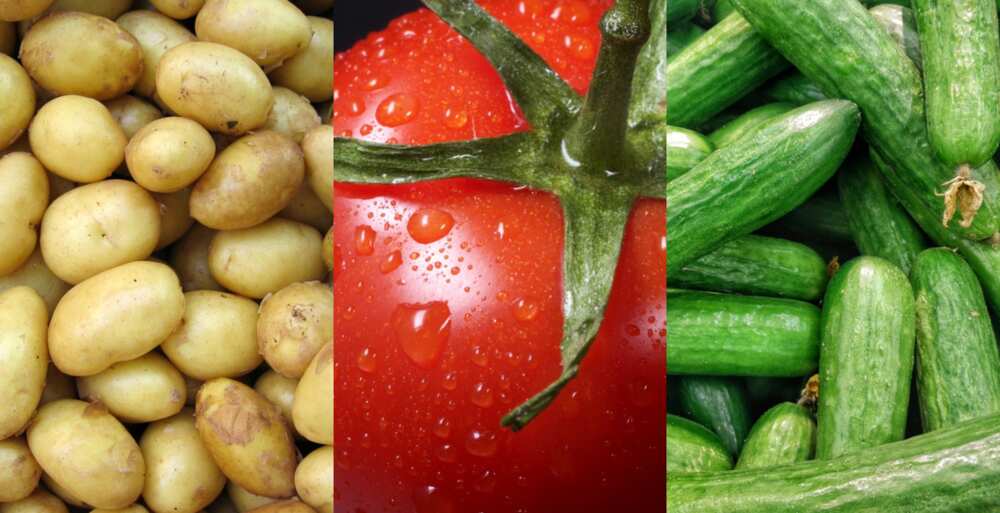 First of all, wash all the vegetables thoroughly in a bowl with water. It is recommended to add a bit of vinegar, baking soda or lemon juice to the water to help remove dangerous bacteria. Then, rinse vegetables with clean water.
Now, when the ingredients are ready to be prepared, boil the green peas for 2 minutes. Then, cook eggs and potatoes in the same pot until they are ready. Notice, that eggs need to be hard boiled.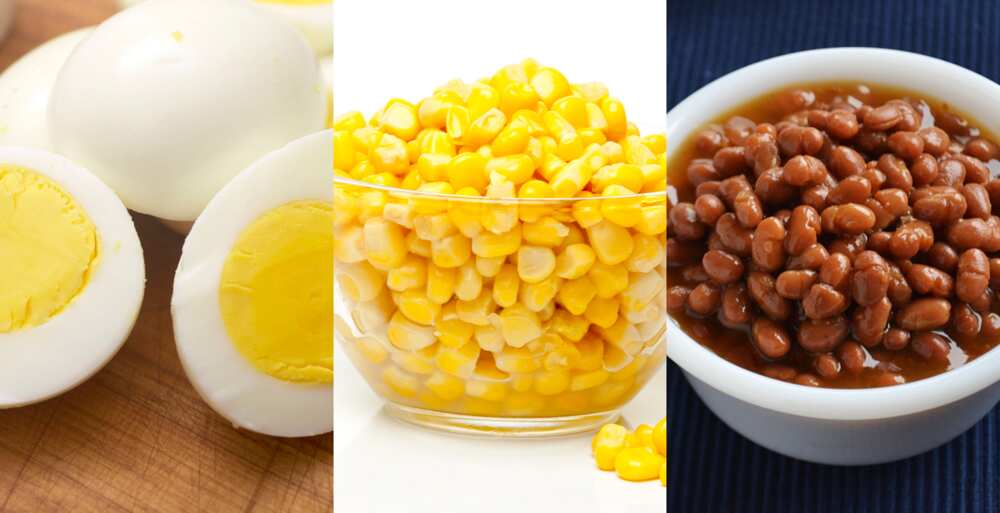 Next, cut eggs into thin slices, and potatoes need to be cut into small cubes. Slice the cabbage into tiny stripes, then rewash it with water and remove extra water. Now, cut the lettuce also into thin shreds. Peel the carrots and shred it with a grater. Also, peel cucumbers, and cut them into cubes. Tomatoes also need to be cut into cubes.
Now it is time to mix all the ingredients. First, combine all the vegetables, then add eggs and baked beans. Leave it to cool in a fridge for a while. Finally, serve your salad with cream or mayonnaise. And enjoy your meal.
READ ALSO: Nigerian breakfast timetable
Source: Nigerian Salad Recipe
Source: Legit.ng