Latest Atiku styles in 2018
When you take a look at these Latest Atiku styles, you will fall in love with them. Below, you will find options for both men and women and all will be extremely lovely. You will just need to choose the options you like best of all and take them to your tailor!
Image source: pinterest.com
What are the Atiku styles?
Atiku is a type of a traditional Nigerian cloth that's loved by both men and women. For men, Atiku outfits usually come in the form of a shirt and a pair of pants while women can wear it in the shape of a dress or even a skirt and a blouse. Let's take a look at them closely and determine what's so attractive and lovely about this garment for its wearers.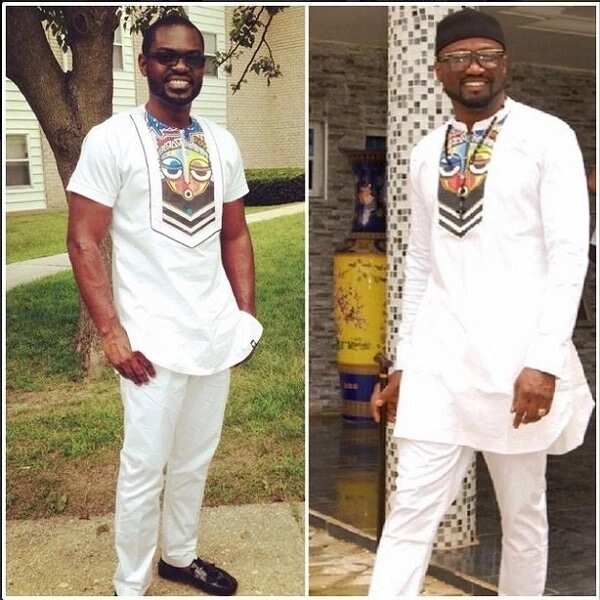 Image source: pinterest.com
READ ALSO: Top 10 unique ankara dresses 2018
First let's stop at the most fashionable Atiku styles 2018 meant for men. First of all, the style of such garments is determined by the peculiarity of the Atiku fabric itself. While Ankara cloth is bright and vibrant and always bears a certain pattern on it, the Atiku fabric is always of a solid color, whatever it is. This is why it's so often used for garments meant for formal occasions and that's why it's so perfectly combined with Ankara and other materials.
Another characteristic feature of Atiku is its firmness. It's almost as coarse as the so-called dry lace but without those large holes that make the dry lace so see-through. Some sorts of Atiku are finer and some are thicker but in all cases this fabric perfectly holds its shape and thus is used for garments of geometric shapes.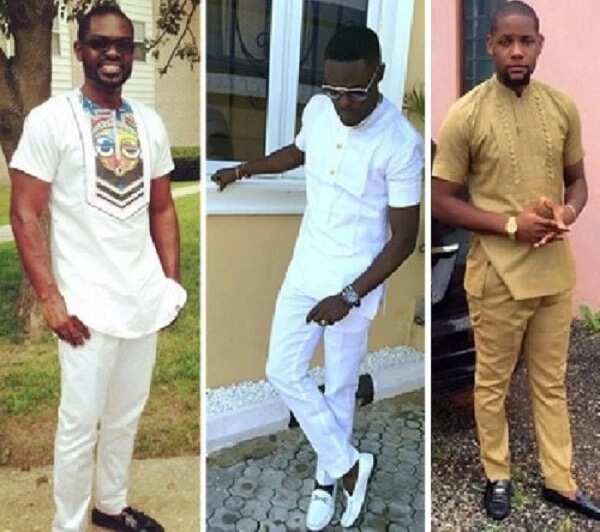 Image source: pinterest.com
The styles one can create using this fabric are endless, starting with something like an Agbada outfit and ending with a regular shirt and pants. Since the fabric is plain and has one solid color, the point is in the decorative elements you manage to attach to it and choose to suit the garment.
If you are making an Agbada outfit for a formal occasion, search for a lovely embroidery piece that will decorate the chest area richly. If you are the groom, make sure that your decorations are the richest and most stylish among the party of your friends. You are free to choose the colors that blend with the color of the Atiku fabric (white on white, blue on blue, etc.) or the ones that create a contrast (golden on blue, red on black, and so on).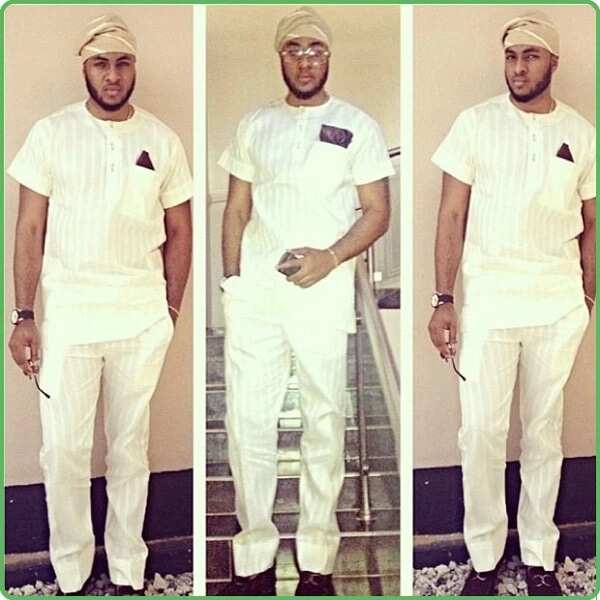 Image source: pinterest.com
When it comes to the creation of shirts, the best decorations may come in the form of a chest pocket with a bright handkerchief in it. If the shirt is meant for a party or any other festive occasion, a string of traditional Nigerian beads will be right in its proper place against the background of the solid color shirt.
Regarding the pants sewn from the Atiku cloth, they can be of any type you like. Of course, in most cases they will look as usual Nigerian traditional pants with narrow leg openings, especially if they are meant to be worn as a part of Agbada. Take note that pants are usually not decorated with embroidery and other stuff.
What are the most popular Atiku styles for women, let's see! In general, Atiku for women is a kind of new trend but it has already acquired several precise shapes.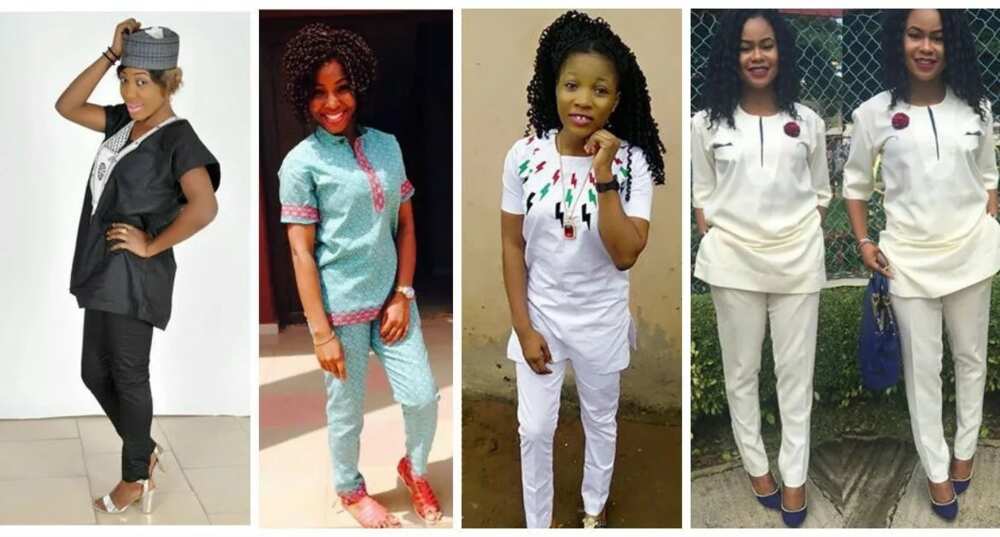 Image source: pinterest.com
READ ALSO: Latest chiffon gown styles in Nigeria
The first and foremost of them is similar to that, which men wear. It consists out of a shirt and a part of narrow pants. Sometimes, women wear something like a gently shaped female Agbada
Shirts worn by women usually look different from the ones worn by men. They are more like fashion blouses with rich decorations in the chest area and, probably, decorative draping and other elements. Since the colors, in which the Atiku fabric usually comes, are quite monotonous and rarely bright, women usually decorate their Atiku outfits brighter than men do.
The next style chosen by women when it comes to the Atiku fabric is a gown. Being quite firm and stiff, this cloth looks especially good when used to create a formal dress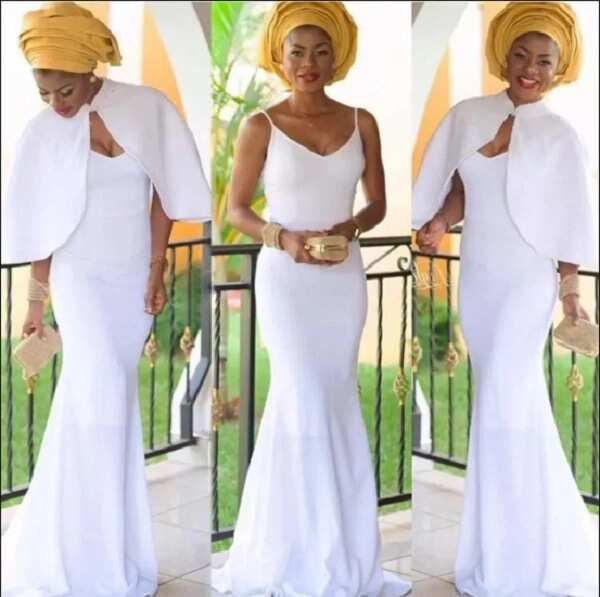 Image source: pinterest.com
Dresses made out of Atiku usually retain a perfect precise shape. This is why if you have decided to use this fabric for a dress, make sure that the style of this dress will allow you to reveal the beauty of the fabric. Such dresses look great in two ways: when they are pencil-shaped with strict lines and when they have voluminous parts like a puffy skirt. Long straight and loose maxi dresses also look good.
Atiku skirts and blouses are the third most chosen option when it comes to sewing something feminine from a piece of Atiku fabric
Since the cloth is firm enough, it looks great when it's used for a blouse with straight lines. Quite often, such blouses are paired with wrappers or skirts as a wedding Aso Ebi. Indeed, making an Aso Ebi out of this fabric is a great idea: the lovely pale colors allow attaching any decorations and the comfortable fabric allows giving the ensemble a great shape.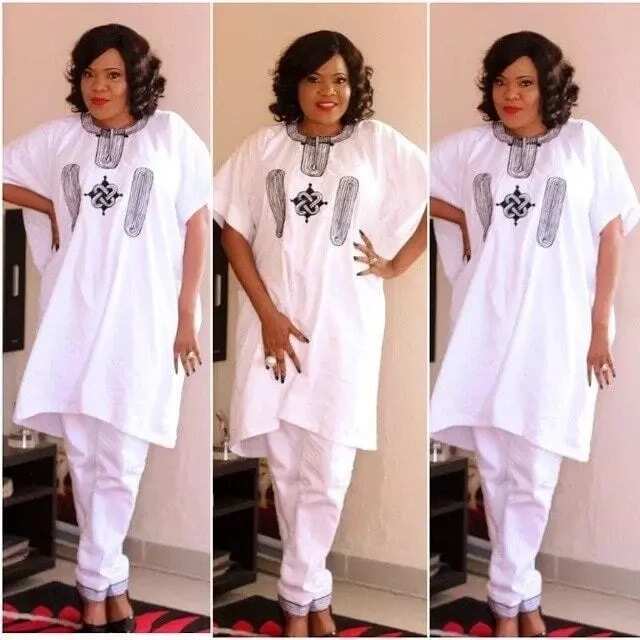 Image source: pinterest.com
Speaking about the latest Atiku designs for men and women, it's necessary to say that the most recent trends demand from these garments to match the gender of their wearers exactly. That is, an outfit for a woman should emphasize her feminity while a men's garment should represent masculine features and, of course, such clothes should be authentic.
READ ALSO: Latest Nigerian fashion lace styles
Source: Legit.ng