Alaafin of Oyo welcomes yet another set of twins with one of his young wives
It's celebration galore in the household of Alaafin of Oyo, Oba Lamidi Olayiwola Adeyemi III, who recently welcomed yet another set of twins; a boy and a girl, with one of his seven wives.
It seemed like just mere coincidence when two of the king's wives welcomed sets of twins a week apart and the monarch joined his wives in celebrating the additional blessing to his family. It appears, it's more than just coincidence and the king might have found favour in the eyes of baby-making angels. Just recently, one of his wives also put to bed and surprisingly also welcomed a set of twins, a bouncing baby boy and girl.
There's no debating that the gods are truly with the first class king, who at 80, is still welcoming double blessings in his family. The latest mother in town, Queen Aanu wasted no time and shared the photo of her babies. The new mum expressed joy that her bundles of joy have arrived and many social media users seem to be happy for her.
It's however interesting that the king and his wives seem to be on a twin-producing exercise and frankly, it might be admirable. Everyone considers children a blessing, with such magnitude of blessedness visiting the king's palace and his wives, one can guess that love and peace abides.
READ ALSO: Flavour visits the mother of his adopted blind son Semah (video)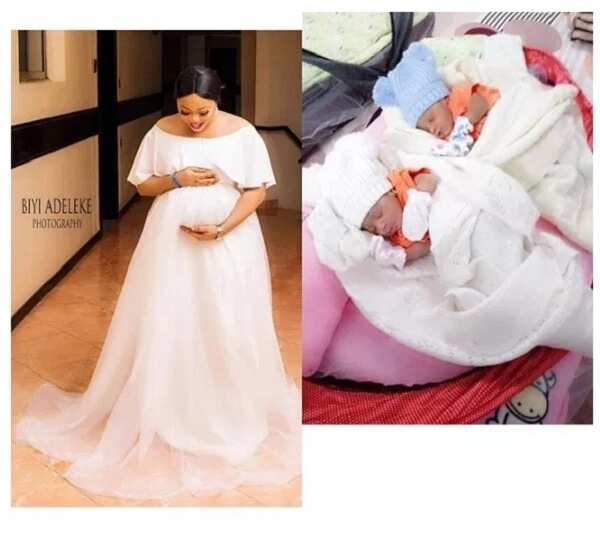 The queen shared photos of the new born babies on her Instagram page and captioned it: "Oh Lord! Who am I that you are mindful of, your love is unconditional, I praise your name baba, for it is not by my power nor by might but by your grace. I can't contain this happiness , thank you Lord for your faithfulness. Welcome my Prince and Princess. Wonderful bundles of joy, I still can't believe that I'm now a mother. Thank you Lord for this blessings. I pray that may the peace of God dwell with us. Pls join me to thank this gracious God. #Iamnowamother #Mothertoaboyandagirl#Isaboyandagirl #PrinceandPrincess #Iyaibeji #bundlesofjoy"
Congratulations to the family!
PAY ATTENTION: Read best news on Nigeria's #1 news app
Igbo ora, the home of Twins on Legit.ng TV:
Source: Legit Newspaper