After wedding dresses in Nigeria
See the best looks with after wedding dresses in Nigeria! When choosing clothes for the second part of the wedding reception, it is important to remember not only the aesthetic component but also comfort, because this celebrations usually involve lots activities. However, your look should be comfortable and gorgeous. This is your day, and you should be the queen of your wedding day.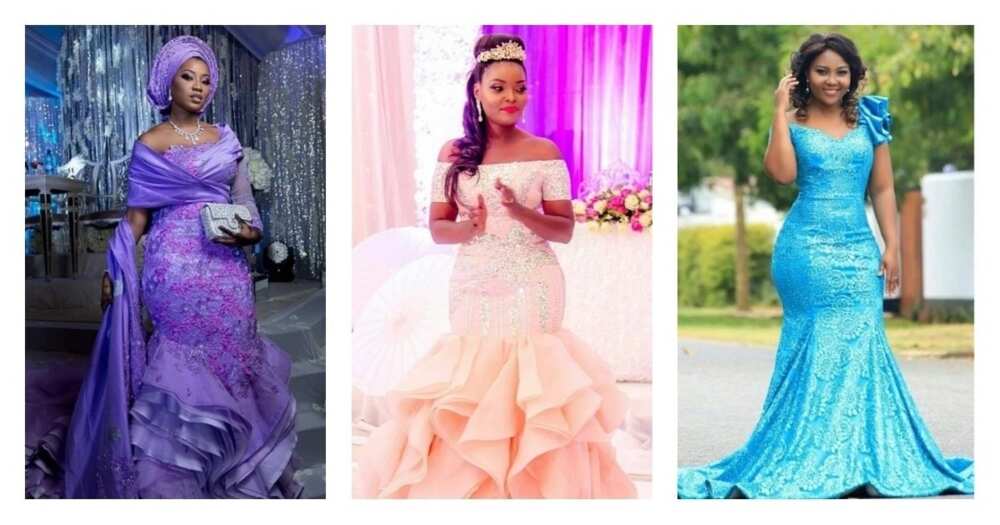 The custom of 'white wedding' and 'traditional wedding' celebrating with the bridal outfits changing remains popular among Nigerians. In this case, the bride changes her attire several times during the wedding day. And for replacing of classic white or ivory dress, Nigerian bride can wear a gown of any style and color.
The after wedding reception allows the bride to realize her dreams, which she cannot make true during the solemn wedding ceremony. It may be a shorter length of the dress, the use of contrasting tones or bright colors, etc.
READ ALSO: Top Ankara styles for wedding occasion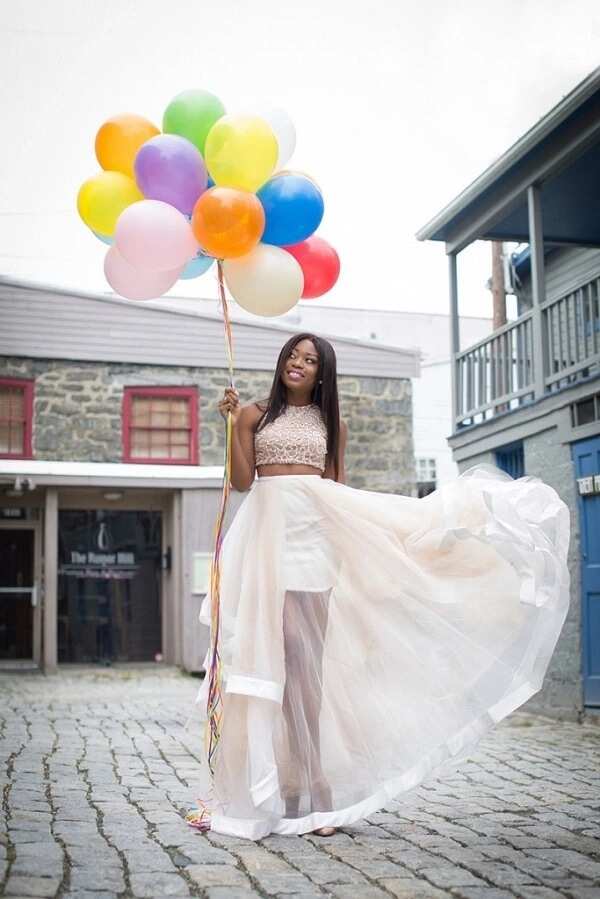 Photo: www.madivasmag.com
What look should a bride have? What outfit is best suited for the enchanting appearance on the second part of the celebration? We have picked the brightest ideas and fashion trends of beautiful Nigerian gowns 2018 for you. They can help not only for choosing a bride's dress but also to create an incredible wedding look.
Let's find out what kind of wedding dresses are in trend now. We want to learn what styles and colors of after wedding dress it's better to choose.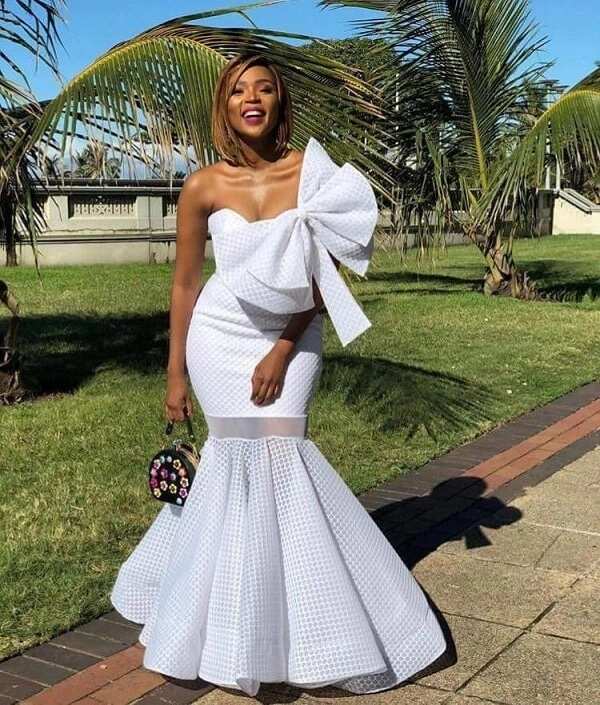 Photo: ankarafashion.com.ng
After wedding dresses in Nigeria
On the next part of the wedding ceremony, the appearance of the newlyweds is an important detail too. Choosing something else of Nigerian fashion is necessary. A lot of brides prefer wearing an evening or a cocktail dress on the second stage of the wedding.
In addition to the fact, that after wedding dress should be beautiful; it must suit the bride, her style and sense of self. With a competent and careful selection, an after wedding dress looks stylish. And you can express your individuality. However, the outfit should not constrain movement.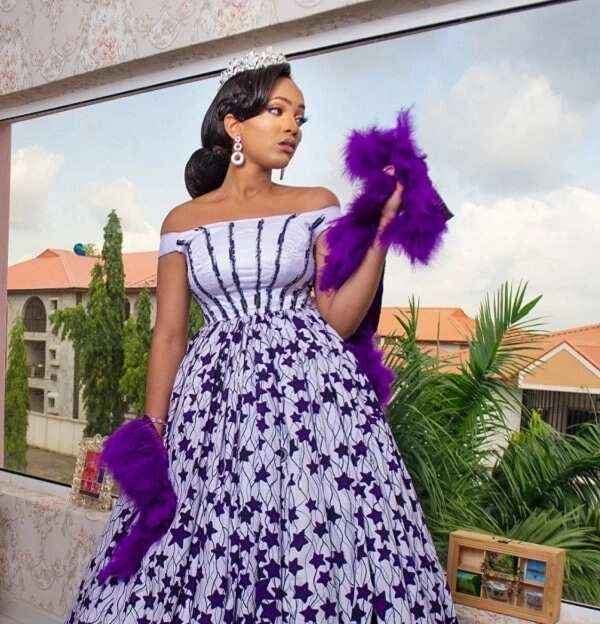 Picture: ankarafashion.com.ng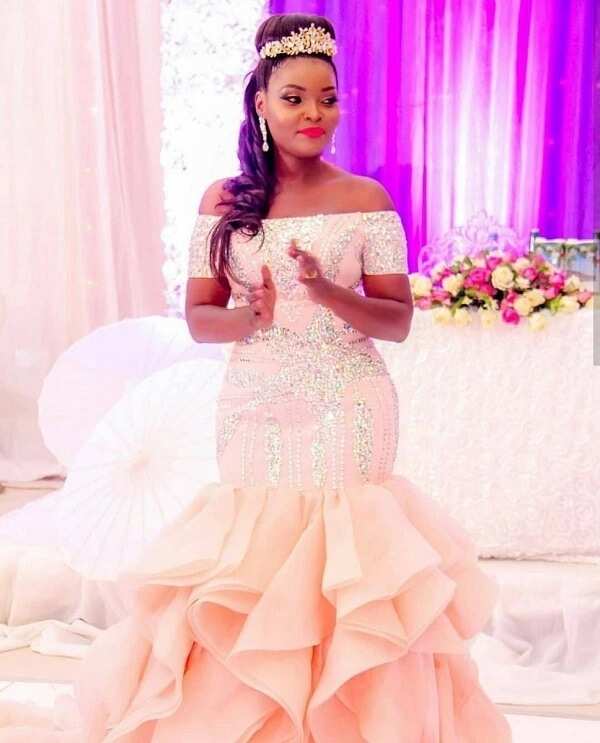 Picture: ankarafashion.com.ng
Romantic style is the most popular among the brides. These dresses look very elegant. Having acquired a dress in this style, you can easily emphasize your femininity and attractiveness. When choosing a romantic dress, experts recommend pastel tones. But if you like bright colors, you should not limit yourself. Buy what you like.
Dresses of simple tailoring are also relevant. Such gowns cannot only emphasize the true beauty of the bride but also give her image a touch of elegance and chic. In recent years, dresses-cases have become extremely fashionable. You cannot go wrong if you give preference to such dresses.
READ ALSO: Nigerian wedding colours 2017-2018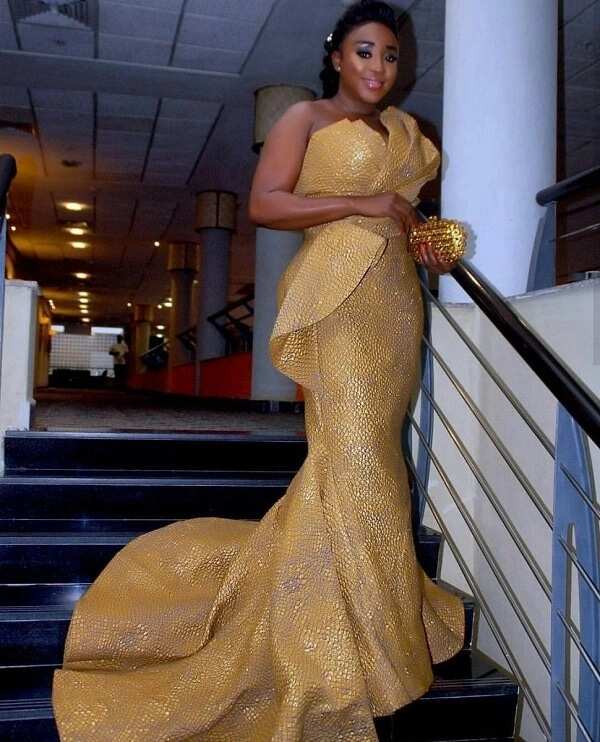 Photo: ankarafashion.com.ng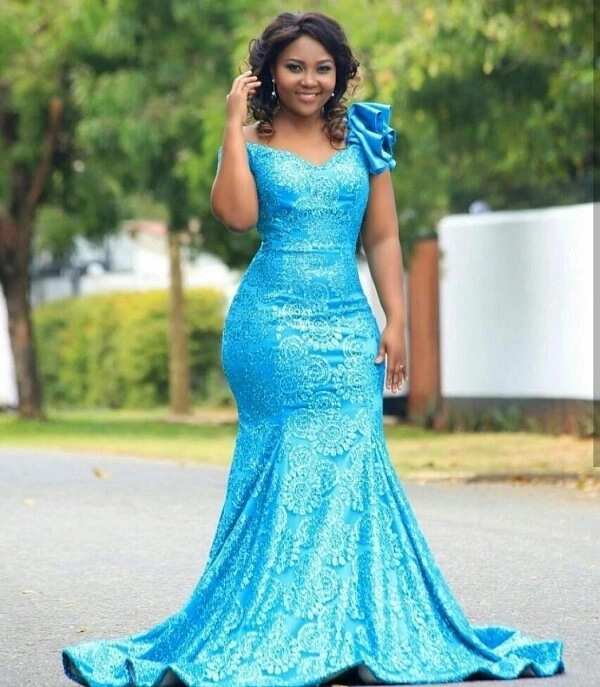 Photo: ankarafashion.com.ng
Best styles for after wedding dress reception
If you decide to shine in all your glory in the second part of your celebration, it is worth to use a detailed approach for creating an look. Evening dress on the next stage of the wedding can be of any color and style. It all depends on the theme of the after wedding party and venue. Here are some top tips for choosing a dress. You should pay special attention to the following pieces of advice:
Try to choose a versatile outfit. You already have a wedding dress Now you can get something daring and original that you can wear after the wedding official part.
On the second part of the celebration, a simple and modest outfit fits perfect. Extra sumptuous and gorgeous dress looks inappropriate. You can pick up something ordinary, but at the same time elegant.
Convenience is paramount. The time of uncomfortable long dresses with huge petticoats and trains is over. Feel the freedom and finally relax.
Be sure to consider the place and theme of celebration when choosing a dress. For example, if you celebrate an after wedding party in the country as a picnic, it is hardly worth wearing a pompous evening dress and shoes with high heels.
Try to choose dresses made of natural textiles. Cotton, linen, silk, and others are appropriate fabrics.
READ ALSO: Latest wedding gowns in Nigeria 2017-2018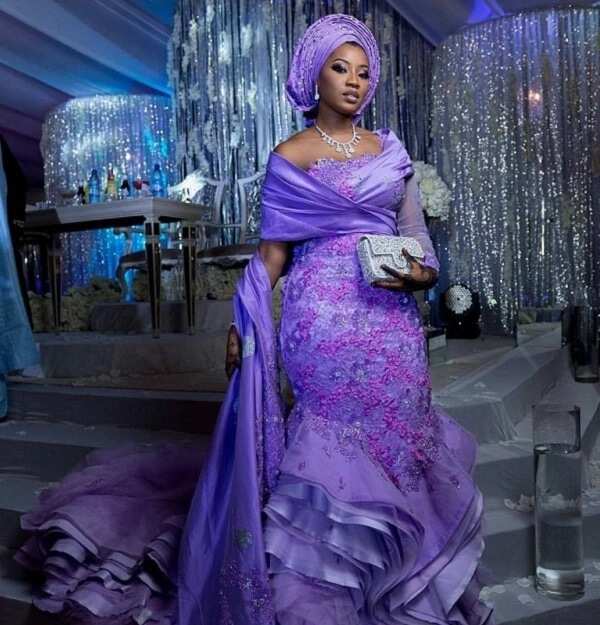 Picture: www.selectastyle.com
What style is suitable for after wedding dresses?
There are several universal styles of gowns that look good on any figure and are great for celebrating the next part of the wedding. They are comfortable, beautiful, and most importantly trendy in 2018.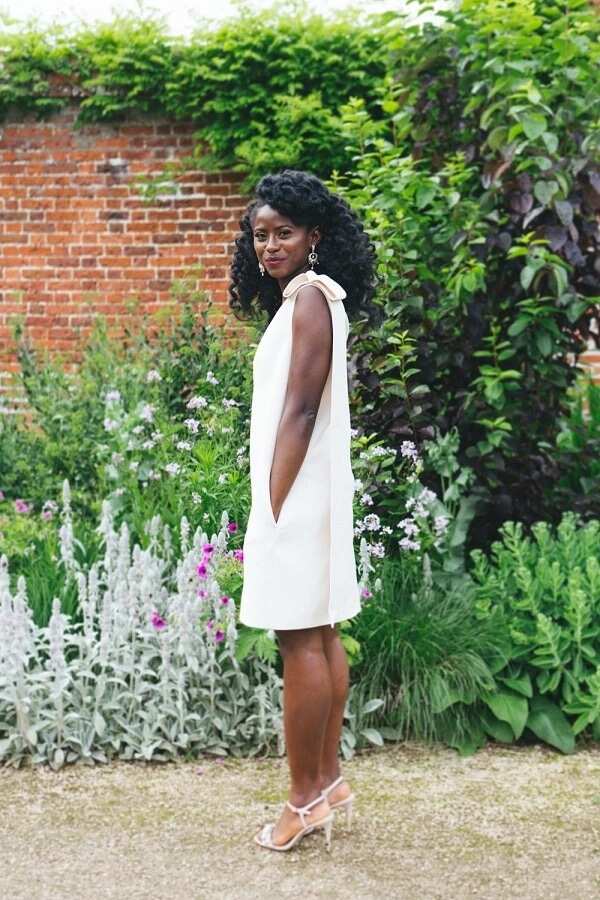 Source: blog.jiji.ng
After wedding cocktail dresses
They are ideal for a small buffet table, and for reception on the second phase of the wedding. Cuffed at the waist cocktail dress to the middle of the knee with open hands are suitable for any figure. In this dress, you can dance, eat, and do everything that was problematic before.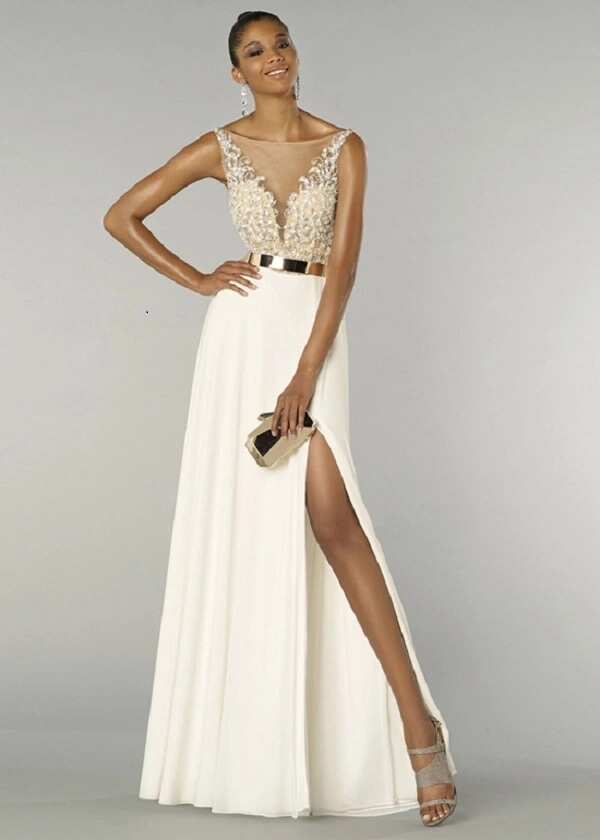 Photo: www.madivasmag.com
After wedding gowns in the Greek style
A long maxi dress with incredible beauty ruffles made of the flowing fabric makes the bride a Greek goddess. This outfit is not only beautiful, but also very comfortable. Put on the stylish sandals under the dress and complement the look with accessories. Do not limit yourself with the color palette. Any of the brightest tones and delicate pastel colors are appropriate.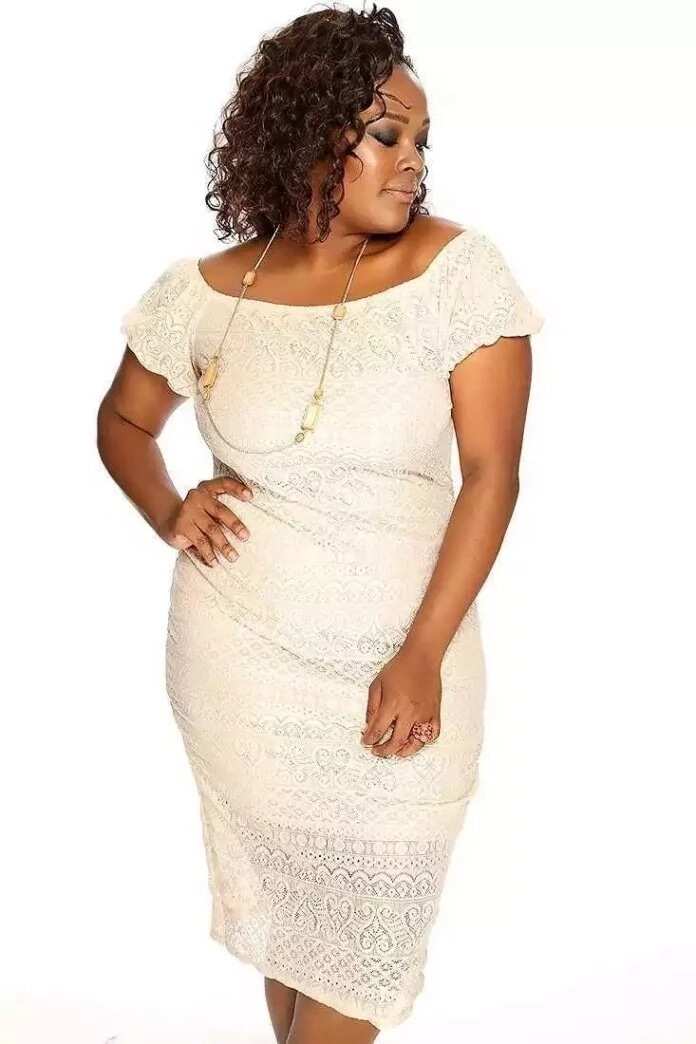 Photo: madailygist.ng
After wedding dresses cases
A straight or fitted short dress with open shoulders fits slender brides. In such a gown your figure looks fragile and airy. The girls with non-standard proportions should avoid this option. Without an accent on the waist and using off-shoulder design, you risk underlining your flaws. Choose the one best item that suits you. Pick an after wedding dresses according to the party theme.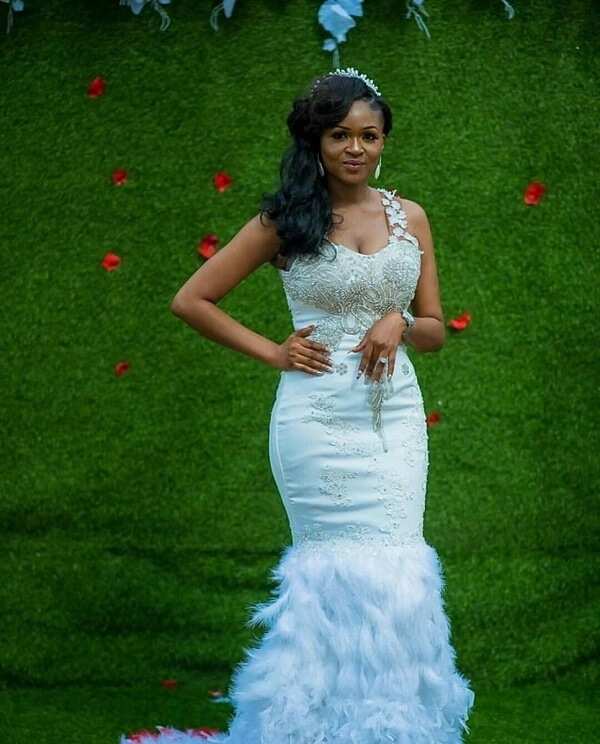 Picture: ankarafashion.com.ng
Pick after wedding dresses according to the party theme.
At a restaurant or café
If the reception is planned in a restaurant, then it is better giving preference to long evening dresses. With their help, you can create a refined and elegant image. A bride who chooses an elegant maxi gown for the second day of the wedding does not go unnoticed. The cocktail dresses of medium length are also appropriate.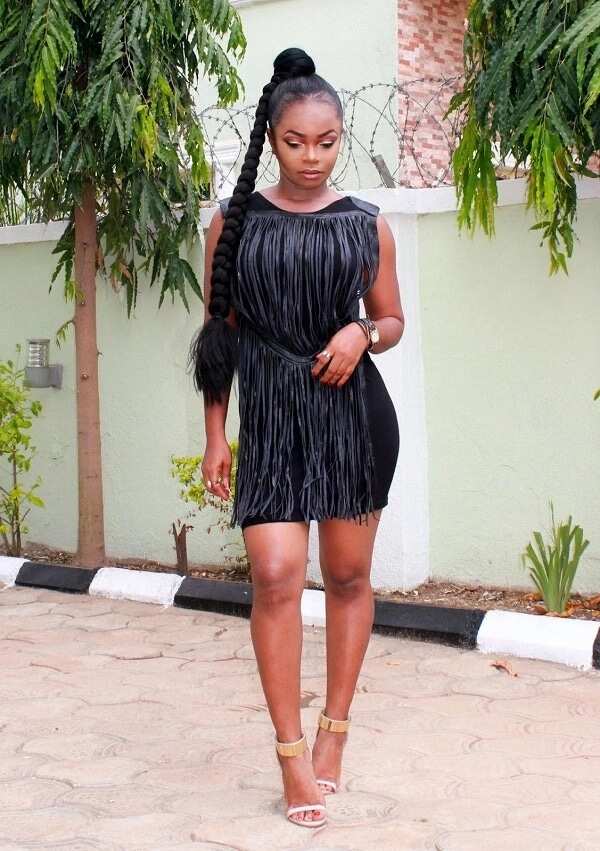 Photo: blog.jiji.ng
At a club
More daring and short models of cocktail dresses are suitable for a party in the club. Bright colors, glitter, sequins, and rhinestones are good here.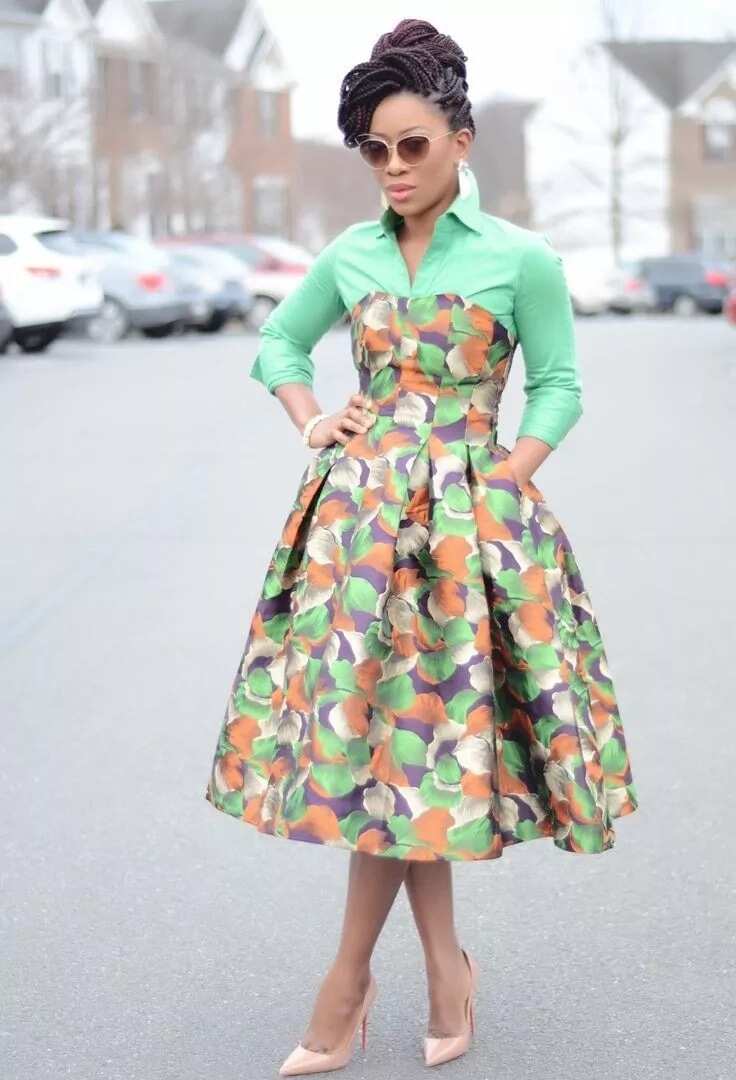 Picture: dressestoday.top
On a picnic
Celebration in nature involves simple clothing. A comfortable dress or simple sundress made of natural textiles with any length is perfect. The image can be complemented with bright accessories (jewelry, belt, and hat) or cute wreath of wildflowers. Themed T-shirts with different inscriptions ("wife," "I love my husband," "together forever") are also popular. They can be combined with spacious pants or jeans.
At home
For a family celebration, you can pick up a simple and cozy outfit, for example, a charming knitted sundress or an elegant dress of medium length.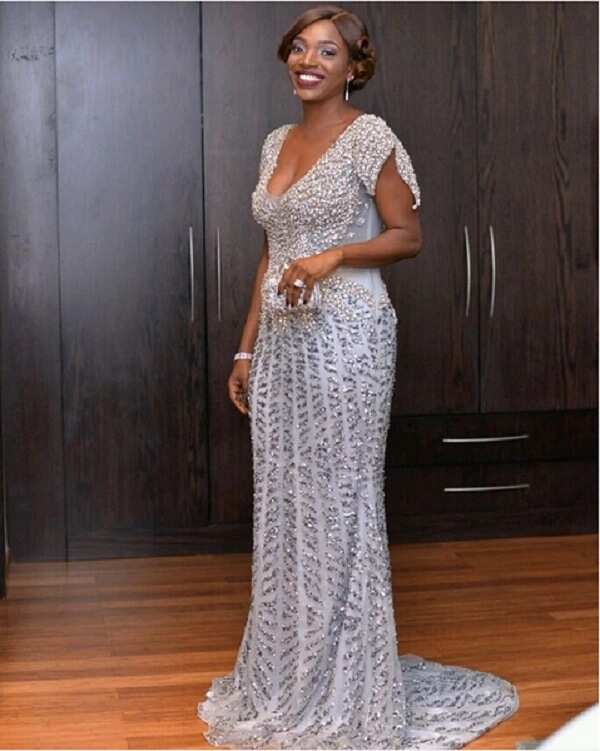 Photo: www.madivasmag.com
It is impossible not to mention the bride's hairstyle and accessories while speaking about the reception. Hair should be neatly packed and at the same time look simple and elegant. Expensive and large accessories should not be used. You have to exude a veil of freshness and femininity.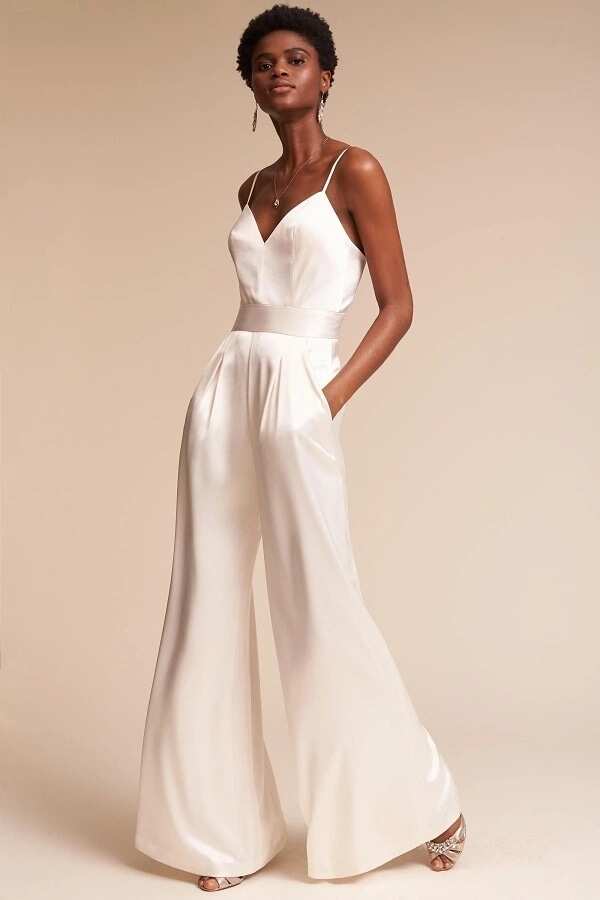 Photo: enweddingdress.com
The main feature of Nigerian dresses for the second part of the wedding day is that they can be completely different. Try to experiment and create a bright and unusual image. Choose beautiful styles, unexpected colors, and accessories. Overalls, suits, pants, long dresses - anything you wish! Forget about platitudes and surrender to creativity.
READ ALSO: Bella Naija traditional wedding attire
Source: Legit.ng