Nigeria's foremost entertainment company, Flytime Promotions and owners of the biggest music platform to have done it for 13 years, Rhythm Unplugged, has officially announced its most anticipated project of the year, the Flytime Music Festival.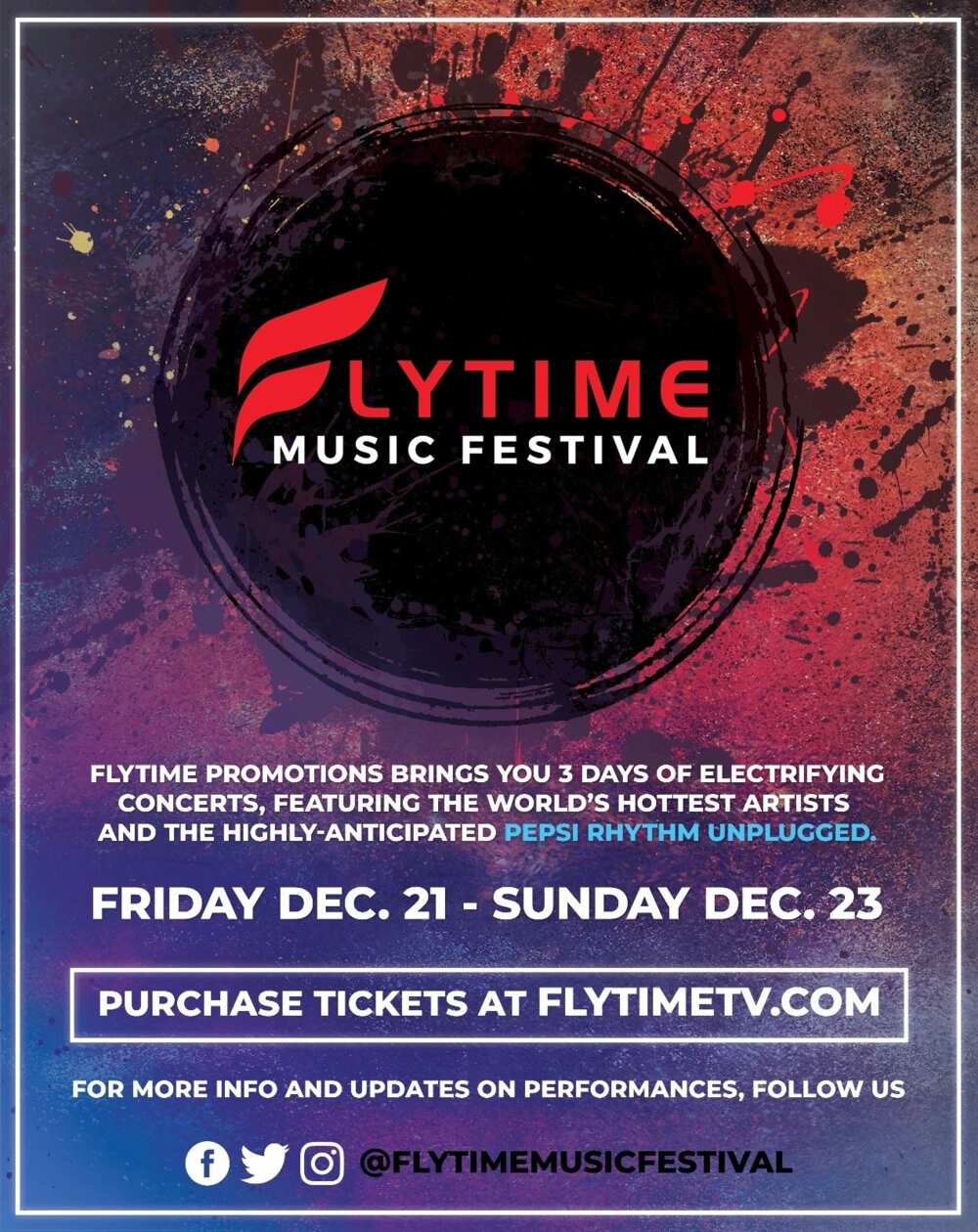 The grand festival promises 3 days of back-to-back music performances from the biggest of artists from all over the world. Being the first of its kind, the festival is a celebration of captivating fusion of thrilling music performances and hilarious comedy, both locally and internationally.
Often described as the "Mother of all music festivals", Flytime Music Festival is bringing together 3 major music concerts scheduled for 3 days, under Flytime Promotions, and it will take place at the prestigious Eko Convention Center, Eko Hotel & Suites, from Thursday 21st to Sunday 23rd, 2018.
Riding on the successes of its previous concerts - The Pepsi Rhythm Unplugged which has been hosted for over 13 years, Comedy Titans, D'banj Entertainer Album Launch Concert, Wande Coal Album Launch Concert, Koko Concerts (Lagos and London), 2face Live, Bovi Man on Fire 2013,2014 and 2017 , Wizkid concert (December 2017) and many more, the Flytime Music Festival 2018 boasts of a breathtaking roster of the most sought-after acts making waves across the globe.
Speaking on the uniqueness of this year's lineup of concerts, Cecil Hammond, CEO of Flytime Group said:
"Rhythm Unplugged is one of the most significant events in the Nigerian musical calendar. After the success of two back to back shows last year, we decided to go bigger by putting together 3 days of nonstop live entertainment.
"We have some surprises up our sleeves this year (last year we surprised people by having Davido and Wizkid perform together for the first time ever on stage and the crowd went crazy for this. The festival promises to be the dawn of a new age in Africa's vibrant entertainment industry and a potential tourist attraction for the continent at large."
Inspired by the huge success of Rhythm Unplugged over the years and to fulfill the ever growing demands of music lovers for themed music festivals within and outside Africa, the entertainment company has chosen to birth the FLYTIME MUSIC FESTIVAL to set the standard as Nigeria's first 3-day event of back to back phenomenal entertainment as has been achieved with Rhythm Unplugged for over 13 years.
Following the trend of "anything can happen", get ready to be blown away by the lineup of events!
ABOUT FLYTIME PROMOTIONS
Flytime Promotions floats the Rhythm Unplugged concert which has now evolved into the FLYTIME MUSIC FESTIVAL. For over 14 years, the entertainment outfit has floated over 30 Rhythm Unplugged Concerts across Nigeria.
Flytime's track record of successful productions include: Comedy Titans, Koko Concerts (Lagos and London), 2face Live, Wizkid's Debut Album Launch Concert, P-Square's Invasion Album Launch Concert, For Colored Girls (Nigeria Version), and more recently Wizkid Concert in December 2017.
With over 14 years of entertainment and media management under his belt, Cecil Hammond has worked with both local and foreign artists and built The Flytime Group into one of the most formidable entertainment companies in Nigeria. With long-standing corporate and entertainment industry connections, the festival is set to be the talk of December!
Join the conversation on social media using the #FlytimeMusicFestival #FlyFest2018
Follow Flytime Music Festival on social media to win tickets:
Instagram/Twitter/Facebook: @FlytimeMusicFestival
For more information, visit http://flytimetv.com/flytimemusicfestival. Ticket sales starts from 15th of October.
For all media related enquiries please contact Ifeanyi Udeh +2348105750590
[Sponsored]