Latest Nigerian traditional wedding beads
To complement the wedding look, Nigerian brides use traditional and stylish accessories. They are often handmade which adds a feeling of love and true care to their look and wedding atmosphere. These designs look overwhelming and unique but one still needs to pay some attention to the colour, size, style, material, and design. The variety of choices is unimaginably great, so we would like to share some photos of the most popular beads designs for the special day of your life. So, what are the latest Nigerian traditional wedding beads? Let's take a look.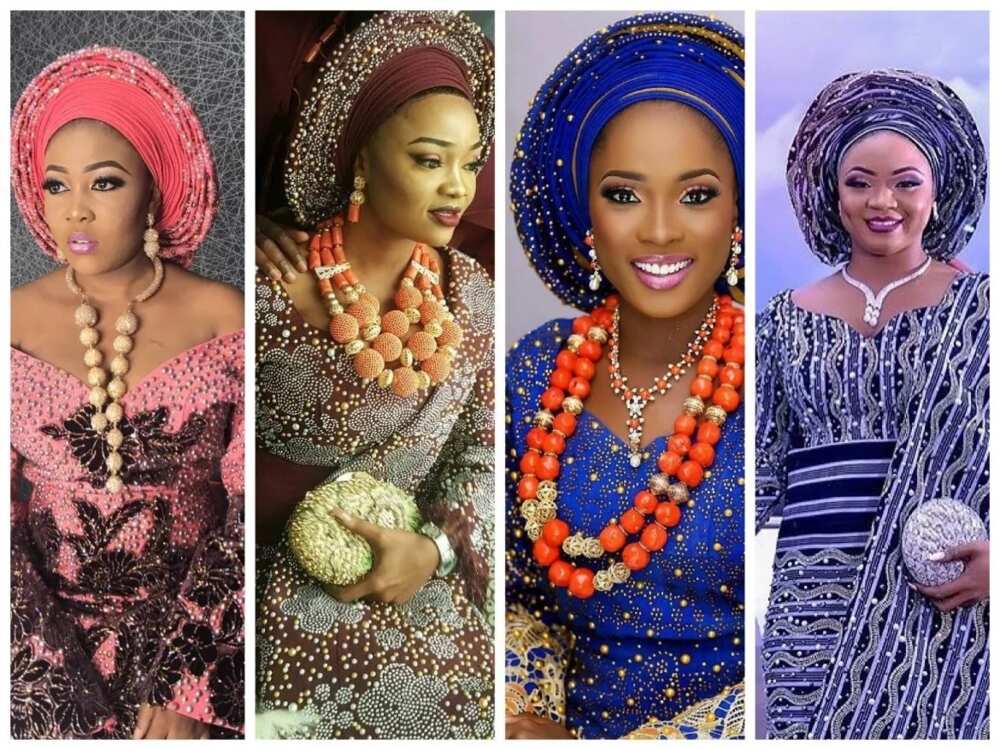 Nigerian traditional wedding beads colours
Given the fact that in Nigeria a traditional wedding is a big deal the way the bride looks is a matter of great importance, especially if the bride is a Yoruba or Igbo lady. Beads are essential fashion accessory of every Nigerian bride (and even groom) who is preparing for the traditional marriage/engagement ceremony. Wedding guests are also expected to wear beads to complement their attire.
When it comes to Nigerian jewelry, colour plays a crucial role. No matter how expensive the wedding dress is, it is not able to create the total look without a piece of matching accessories. So, look at the pictures of the latest and well-known beads designs and colours Nigerian brides wear on the wedding ceremony. While some of the beads are very expensive, others are more affordable. Brides dress up in traditional wedding dresses and then they choose the beads based on the color combination chosen for a wedding ceremony.

When it comes to different shades of red, Nigerian brides, actually, have tons of options. One of the most popular beads colour is coral. Coral goes well with white, dark red, gold, green, black, pink, peach, and other colours. By the way, the combination of red and gold is one of the most popular in Nigeria. They always look lovely together. This combination promises wealthy life for the newlyweds.
READ ALSO: Bead making designs in Nigeria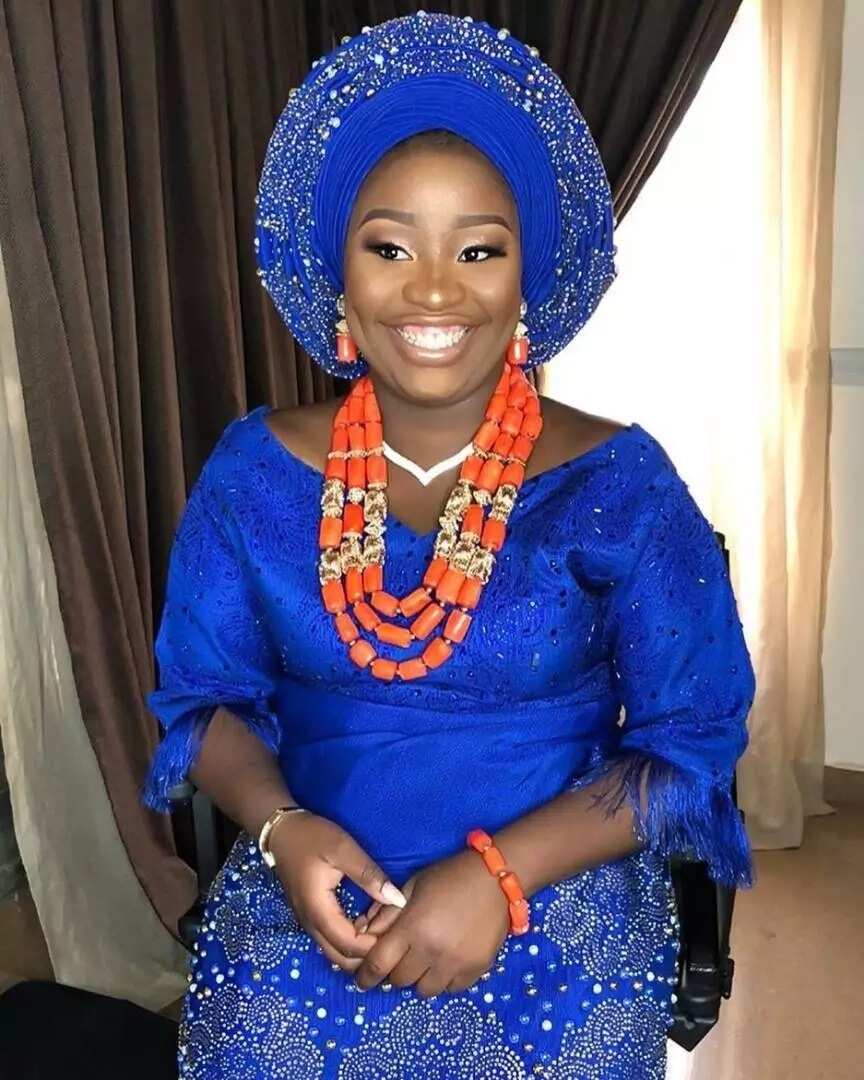 Photo: topsimages.com
The beads look wonderful both at the engagement and during the marriage ceremony. Nigerian ladies who wish their wedding to be wonderful could add some beads to the look. The bead jewelry can make the bride look even more impressive and outline her makeup. Using yellow will make you look like a sunny princess. The combination of yellow and black, gold, white, green, purple usually look very stylish, and brides often choose this colour combination for their wedding looks.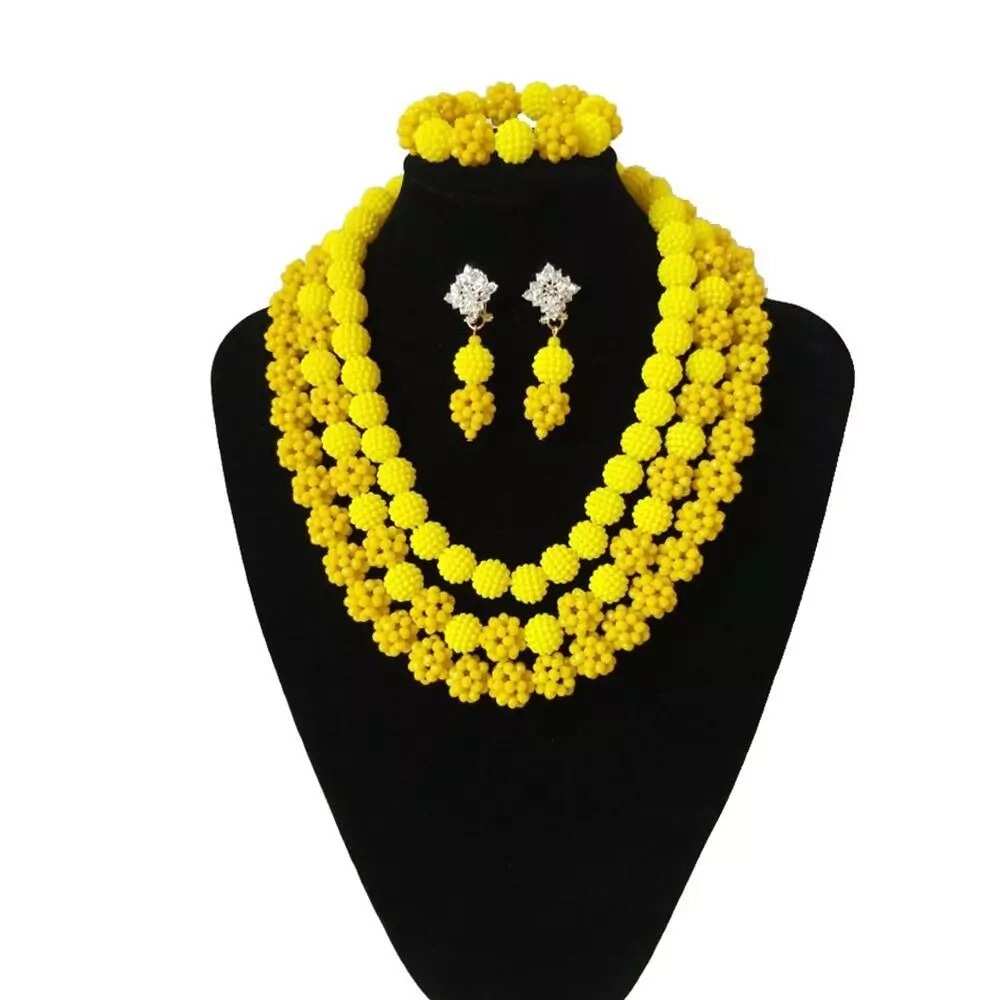 Photo: dhgate.com
The shades of blue can make any lady look like a goddess. Depending on the style, blue beads add a touch of shine looking like Swarovski crystals. Either it is an expensive pendant or necklace, blue beads look amazing with such wedding dress colours as red, coral, golden, green, white, silver, black and other.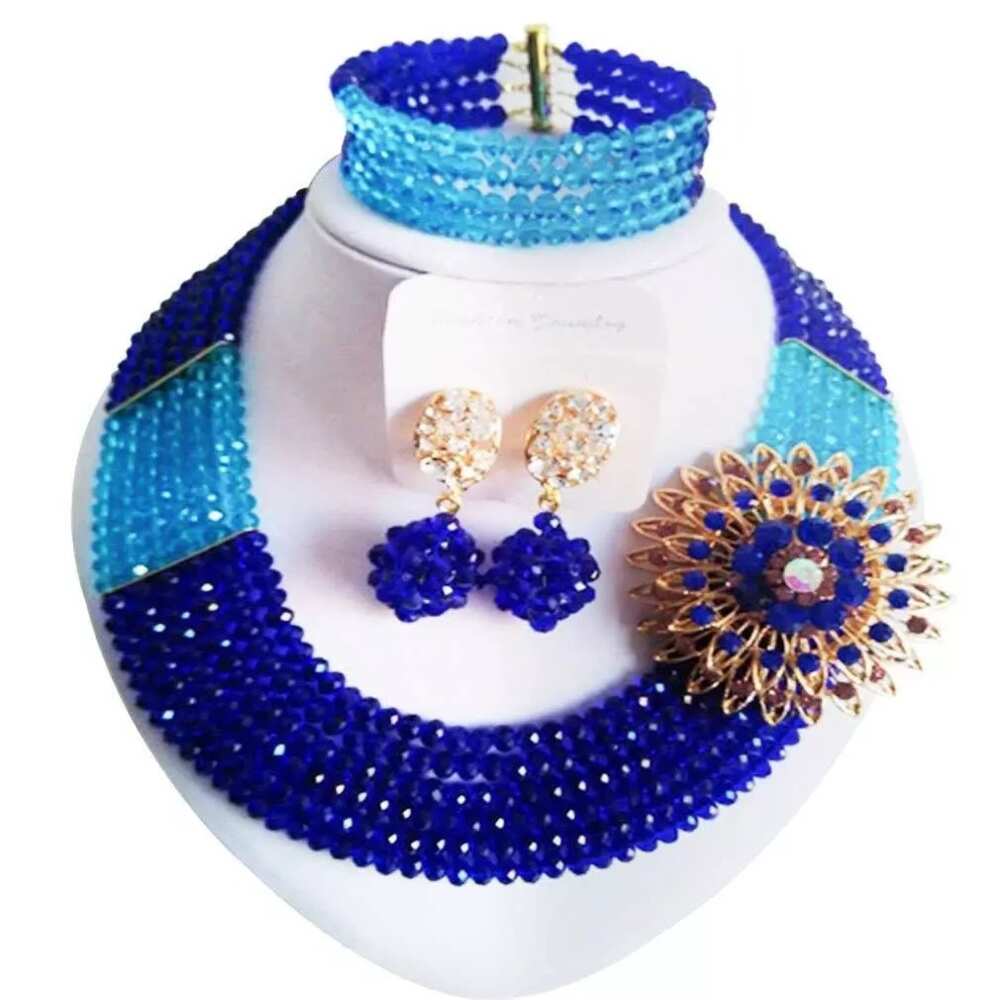 Photo: amazon.co.uk
Purple is a traditional colour of the Nigerian wedding dresses as well as beads designs. This tradition of wearing purple beads incorporated into the wedding colour scheme passes from generation to generation adding glamour to every wedding ceremony in Nigeria and beyond its borders.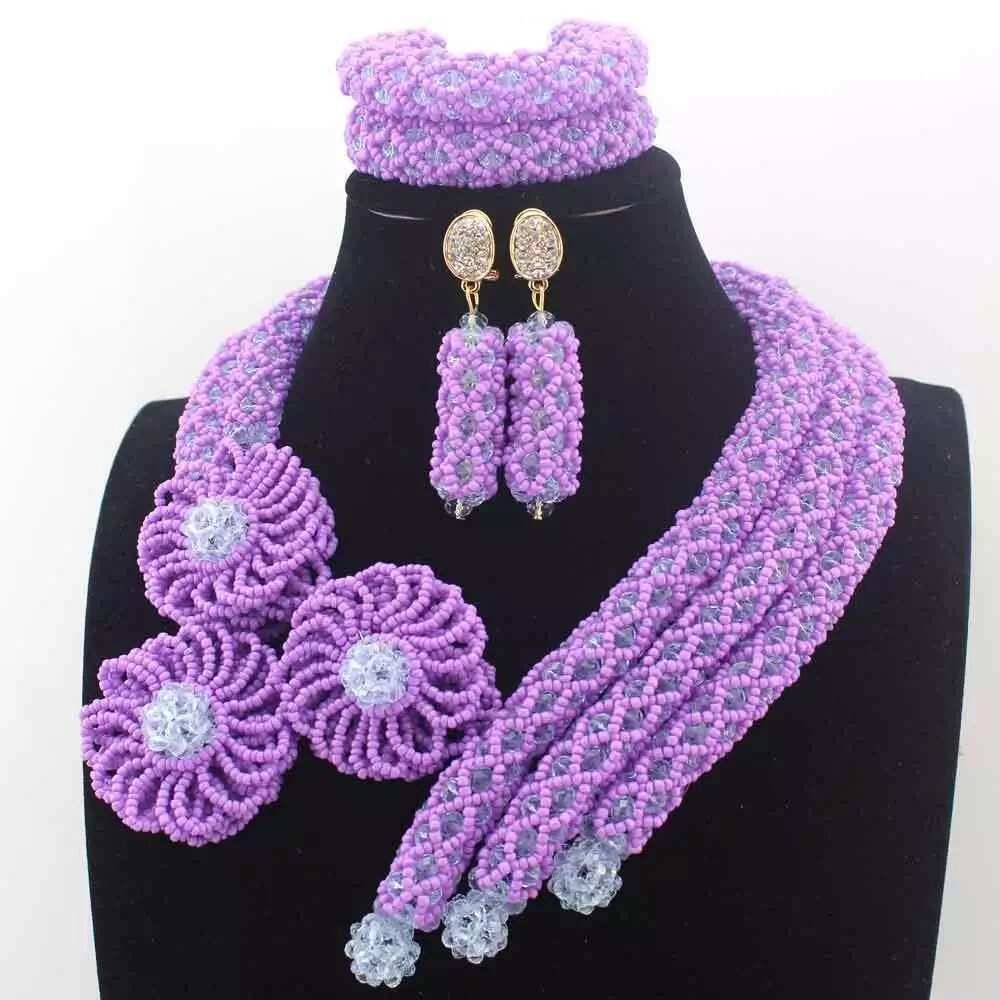 Nigerian traditional wedding beads materials
On the wedding day, Nigerian brides wear jewelry made of different materials. The pieces of jewelry some African women wear every day are usually made of plastic. The beads made of this material look no less stylish than others. Some ladies choose gorgeous glass beads. They look more natural.
The more expensive jewelry often chosen for the weddings are pearls that make every bride look stunning on this special day of her life. Sometimes brides choose crystals that make them look stylish and young.
We almost forgot about gold. In the past, gold beads were very popular among modern Nigerian couples. No surprise that gold was so popular as a wedding was always a big deal in Nigeria and brides were very particular about their wedding look. The tradition of wearing gold beads was a must for a while. Back in the day, people judged brides on how impressive their gold necklace looked.
This even pushed ladies to borrow the gold accessories from friends and neighbours just to save face. Now the days when the amount of gold worn on the neckline determined your wealth and status passed. Today beads are the new gold, and the good news is that beads are usually not as highly expensive as gold, that's why many brides embrace this trend with great pleasure.
READ ALSO: Latest Nigerian bead designs: top ideas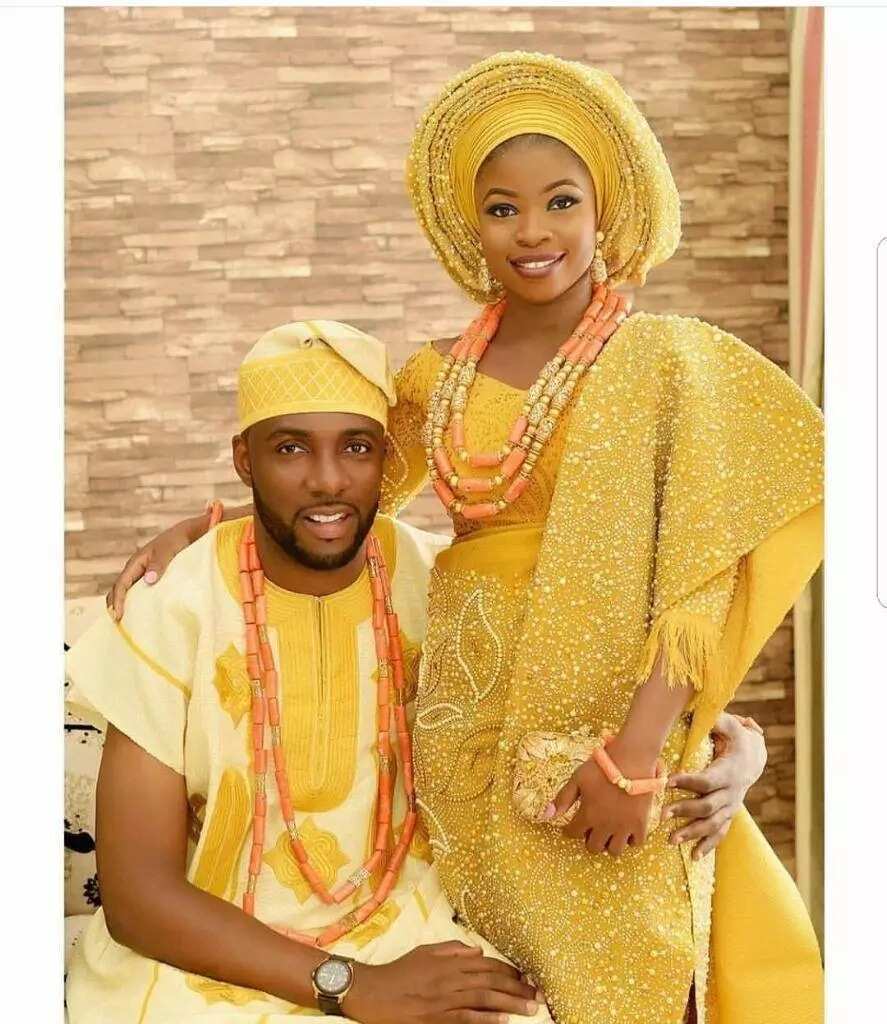 Photo: afrizar.com
One of the latest bridal beads trends is beads made of crystals and gemstones. This modern trend consists in mixing crystal beads and semi-precious gemstones. The piece can be additionally decorated with a brooch so that the bride could make an astonishing impression on the guests.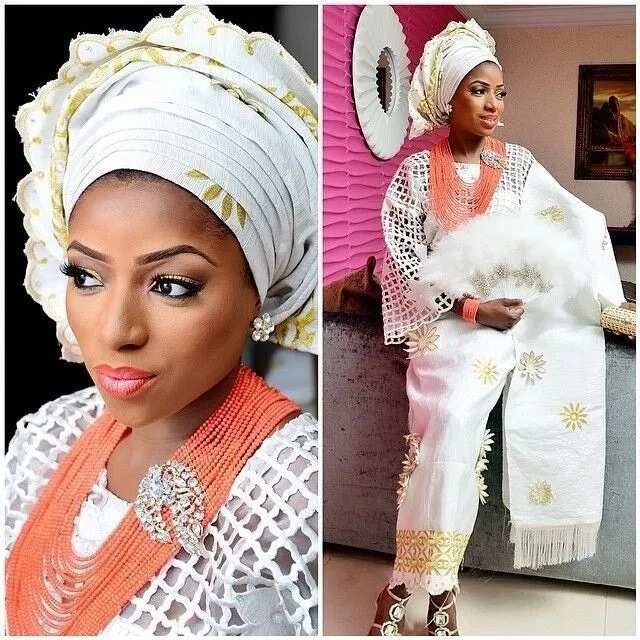 Photo: www.selectastyle.com
All the beads designs are able to make the bride look extremely stylish adding a touch of elegance and royalty to her look and wedding ceremony. Looking beautiful is what every lady wants to be on the wedding day. It is hugely important to complement the wedding dress with some beads to shine on the wedding photos.
READ ALSO: Bridal accessories trends in 2018
Top Nigerian traditional wedding beads designs
The more fashionable the piece of jewelry is, the more stylish it looks with the wedding dress. Nigerian bridal beads are famous all over Africa for their versatile designs. There are various beads designs including floral, geometrical designs but most often the beads come in the shape of pearls.
The engagement and wedding ceremonies are those important ceremonies that require wearing the best possible accessory. The current bead designs always look very delicate on the open neckline and add a touch of elegance. Once, you have already chosen the beads colour, either soft and calm or bold and saturated, you can focus on design. Wedding beads go in a variety of designs.

Nigerian brides have a lot of beads designs to choose from: long red coral beads, plain strings of beads, beads adorned with brooches, pendants, Swarovski crystals,etc. As you might guess, Nigerian bridal beads designs include both more traditional types and modern.
The most deeply rooted traditional wedding beads are perhaps red coral beads which remain the most popular beads design in Nigeria. This jewelry can be made of different materials including pearl, glass, and crystals. Even made of plastic this old African jewelry still looks awesome being really very affordable. One can easily find Nigerian traditional wedding coral beads at every local market in Nigeria.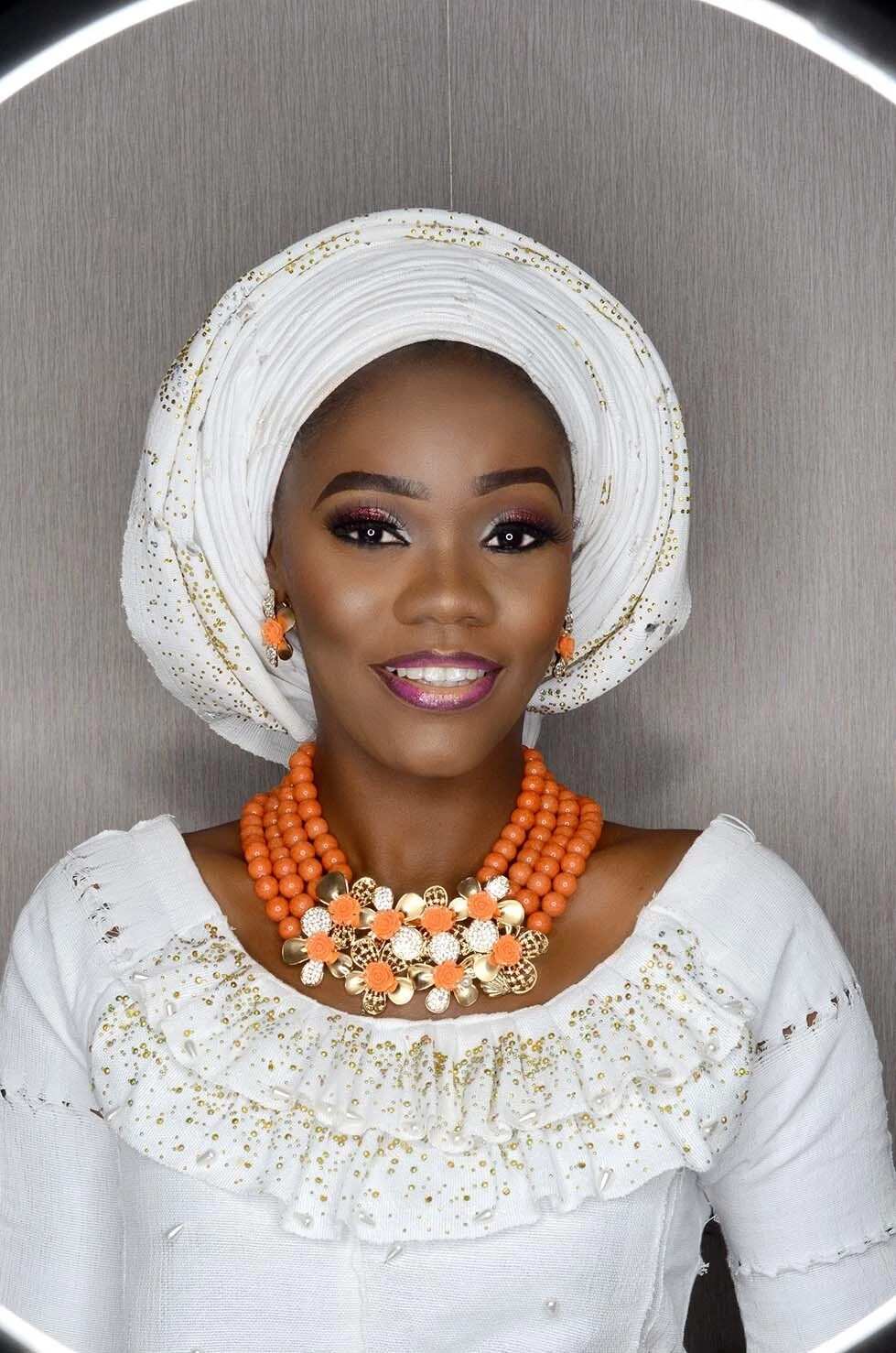 Photo: prestigeapplause.com
Being a significant part of the African culture, beads play an essential role in creating female looks. Many factors must be taken into consideration when the particular look is created. The appearance of the woman is the basis which is complemented by a specific colour, fabrics to reveal her style.
As for the fabrics, the most popular ethnic fabrics in Nigeria are laces, Ankara prints, George and other. To make the look more elegant, one needs to add a beaded necklace of the appropriate colour, shape, style, and length.
When looking for a piece of necklace or pendant, pay attention to its length. The lengths can be various including choker (15-17 inches), princess (17-19 inches), matinee (20-24 inches), opera (34-37 inches), and other.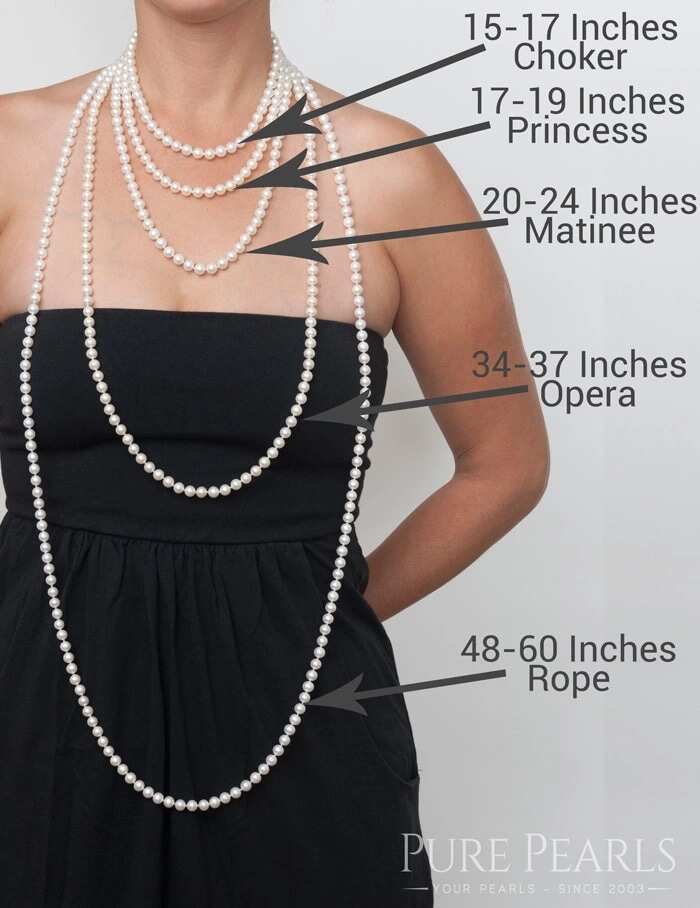 Photo: purepearls.com
Notice that wedding beads designs are not limited to traditional weddings (it means not only brides wear them when getting married), so you can wear these beads to rock in 2018 on any special occasion.
Choosing traditional wedding accessories can be a serious problem for brides, that's why we offered you a short guide on how to choose the fancy beads to use before you go shopping. No matter your taste and budget, a good bead necklace can be easily found either on the street market or internet. Today we showed you some of the most popular wedding beads styles and designs we came across. We hope you like them!
READ ALSO: Traditional wedding dresses by country in Africa
Source: Legit.ng