Latest twisting braids hairstyles
Twist hairstyles are immensely popular. They look more exquisite and elegant than simple braids and allow attaching any material of any color, texture, and length. This is an excellent hairstyle if you need something that would let your hair grow and gain a healthy appearance. Let's check out some twisting options and hairstyles you can create if you already have twists.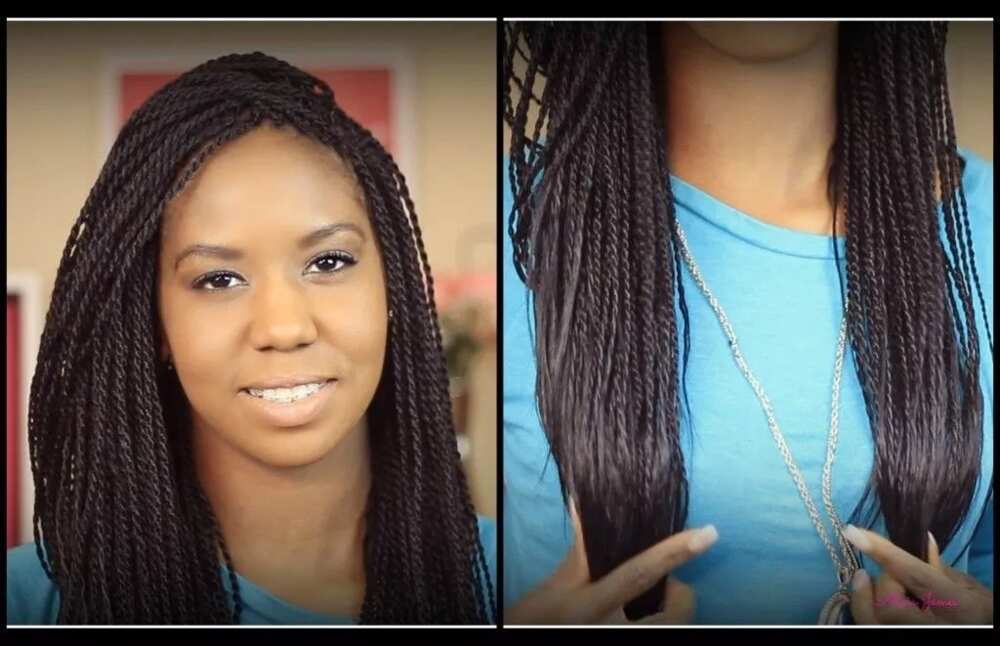 Image source: pinterest.com
Why twisting braids?
First of all, these braids are authentic and utterly African. They are loved all around the world for their purely African taste and the exotic look they give to women and men of all races. Besides this, such braids are comfortable. They demand little care and are worn perfectly well for a long time without any corrections. This makes them hugely popular.
Let's check out several most popular styles and fashions.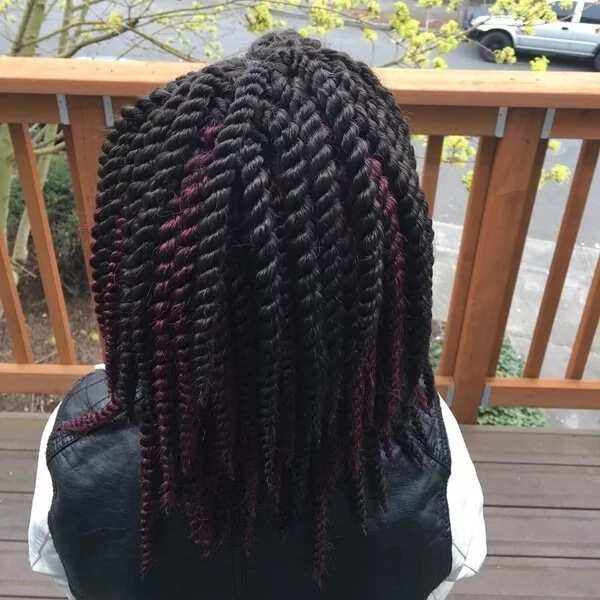 Image source: pinterest.com
READ ALSO: Nigerian hairstyles for kids
As you can see, the slight touch of a dark, juicy but still visible color is a great decision to make your twist braids look awesome. The touch of color breaks the monotonous blackness of the hairdo and adds some unexpectedly dramatic look. Such a hairstyle is a great decision if you need something classy, not too flamboyant, but yet very attractive.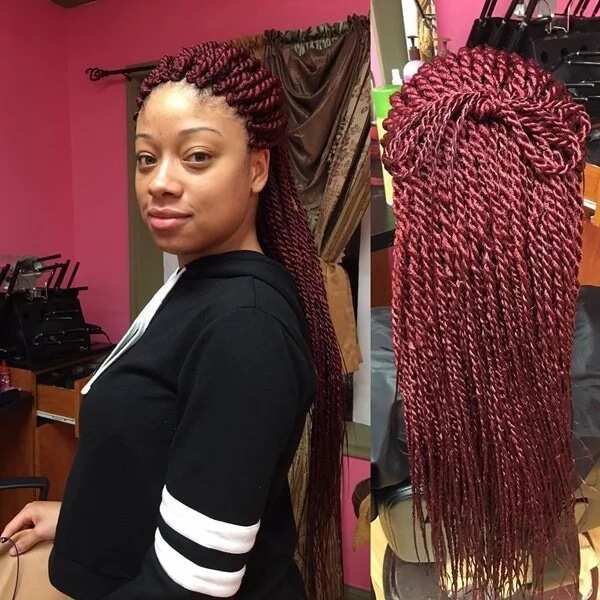 Image source: pinterest.com
Having all your twists done in a bright solid color is a brave decision. This is a hairstyle for those ladies who are not afraid of turning heads in the streets and who are not tied with formal restrictions and dress codes. Long, luxuriously shiny twists made out of colorful extensions are exactly what you need to look attractive and stylish anywhere. Letting them hang loosely or tying them in the half-updo from the picture – you will have all eyes on you anyway.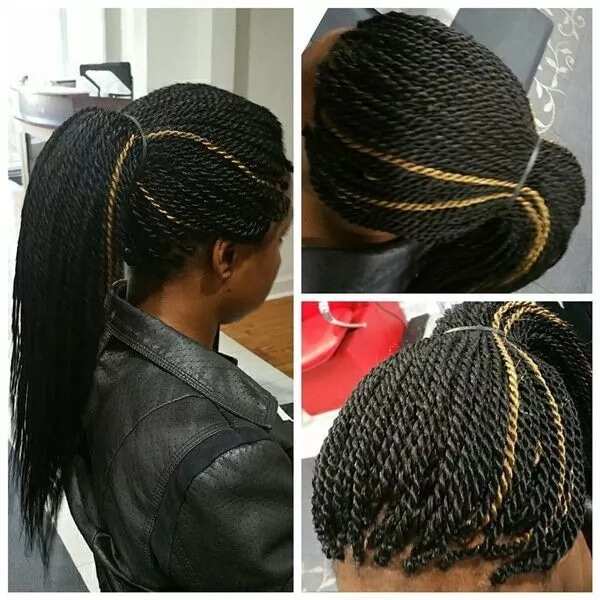 Image source: pinterest.com
What if you have a couple of twists done in a pure golden color? It's a great idea and a perfect decoration. A heap of all-black twists will look perfectly classic if you add a couple of lines in a fine golden color. They will be barely seen if you let your twists hang loosely, but they will add a sudden drama if you create a bun, a ponytail or any other kind of updo. Just try it and see how lovely and stylish it looks.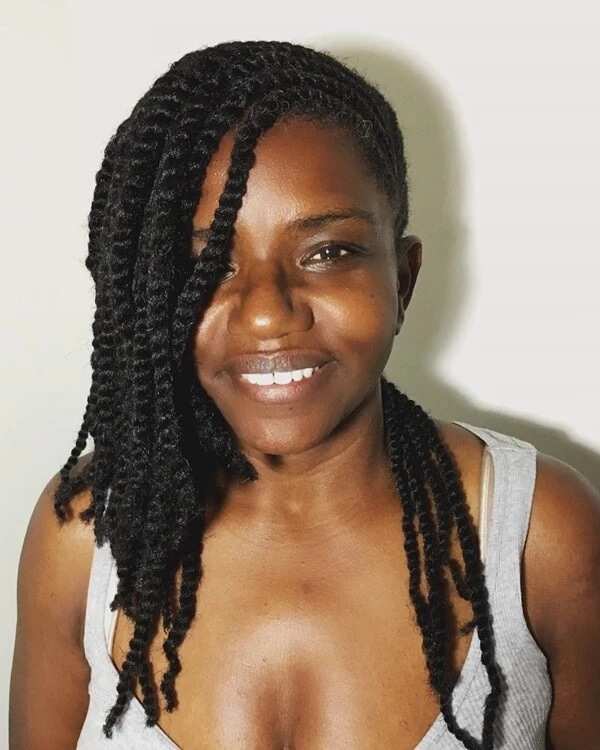 Image source: pinterest.com
When you create lovely twists, why not give them a certain style and shape at once? Braided closely to your scalp, these twists are already done in a way that makes any further styling unnecessary. Parted at the side and braided to shade one eye, these twists look exquisite and elegant, no matter what the length of the twists is.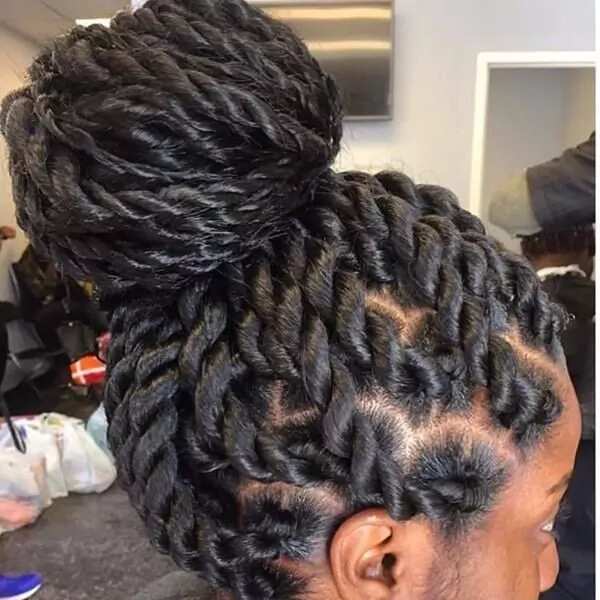 Image source: pinterest.com
READ ALSO: Didi hairstyles in Nigeria
Having big twists is another way to get a stylish hairdo right from the start. No matter whether they are short or long, they are already hot as fire and as perfect as can be. They look great when they made out of both hair extension and wool, so it's up to you to choose what you like more. Woolen twists have a smaller weight while artificial hair gives a shinier appearance.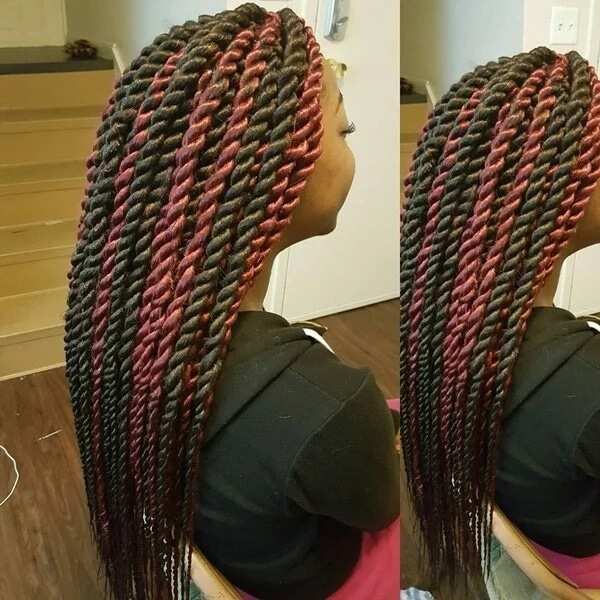 Image source: pinterest.com
Get a good half of your twists done in a different color and see how stunning it looks! If you use hair extensions, not wool, you will get something really amazing. The shiny silky appearance of these twists will stay with you even after weeks of wearing and the shape will remain the same. It doesn't matter how long you want them to be because they will look perfect in any case.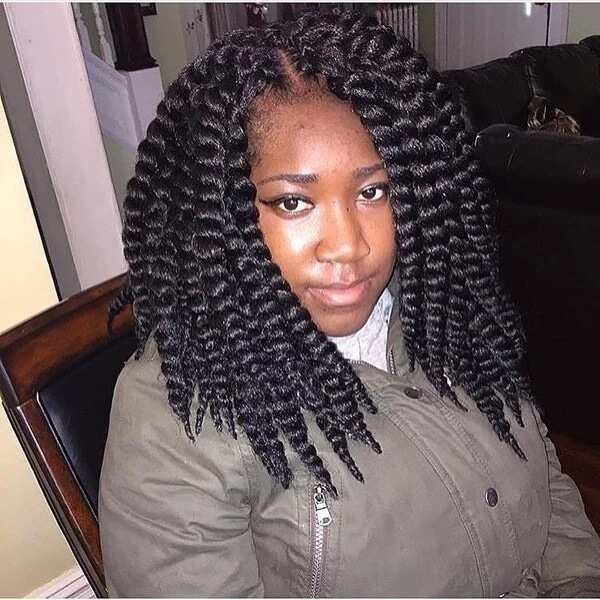 Image source: pinterest.com
Thick twists with pointed ends is another great idea that will help you attract everyone's attention. They look very interesting and catchy, and it's quite easy to take care of them. Having a big heap of thick and soft twist braids is exactly what you need to feel pretty and comfortable.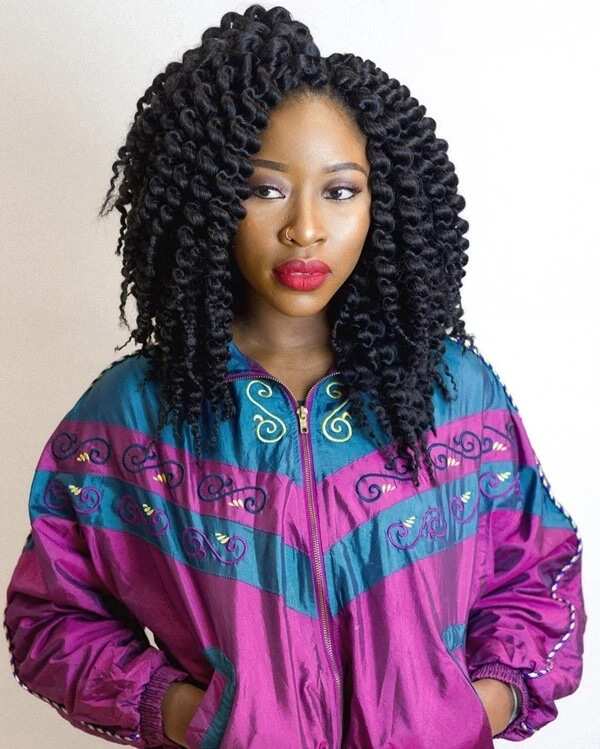 Image source: pinterest.com
Here you can see an example of one of the hottest twist braid styles possible. These twists are made out of two strands of hair, as usually, but there's one very important detail. One strand is much thicker and softer while the other one is tight and very thin.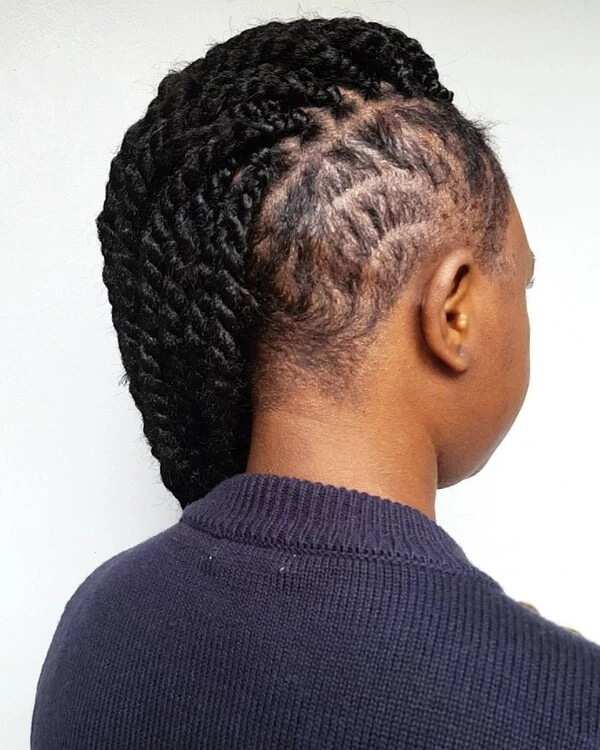 Image source: pinterest.com
Female undercuts have become extremely popular these days. So, if you are thinking of twist braids, think over the idea of having a part of your head shaved in an interesting way. The possibilities of modern haircuts are literally unlimited, so you can have any patterns and designs on the shaved part of your head. The remaining hair, decorated with twists, will keep you feminine and stylish.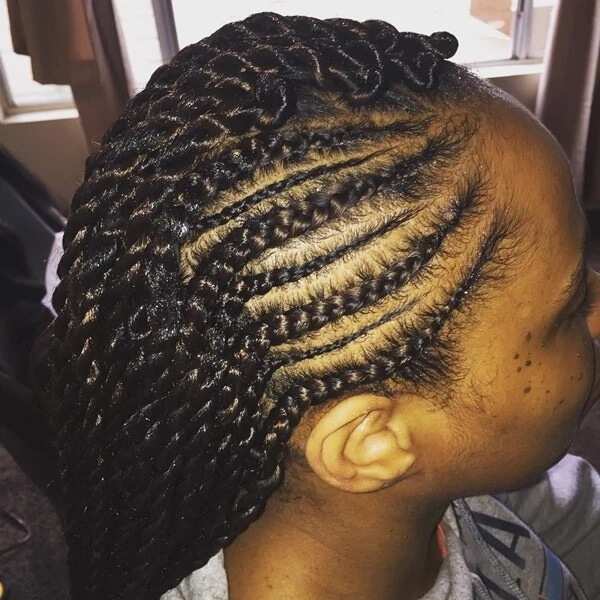 Image source: pinterest.com
Did you ever think of combining regular braids with twists? Think of it, seriously. Just see how great they look together and imagine how many variations of styles you or your hairdresser can invent. It's possible to make any patterns and attach any extensions to create the loveliest look. For instance, colorful extensions will help you give accent on the pattern of twisting or braiding.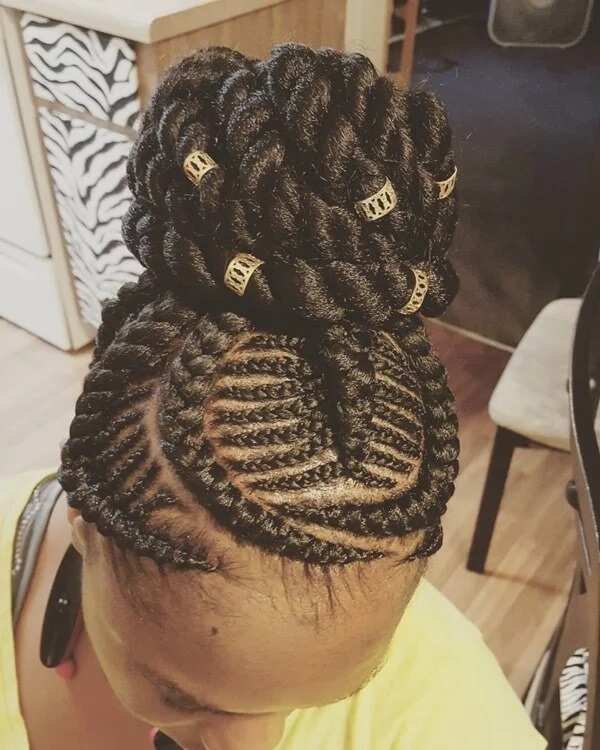 Image source: pinterest.com
Braids mirrored in twists
If you want something unusual, try doing braids on your head and end them up with twists. You can see what it looks like in the picture. The combination of braids and twists looks stunning and eye-catching, especially if you create such a lovely updo. You can experiment with different styles, buns, knots, and so on to reveal the beauty of both the types of braids.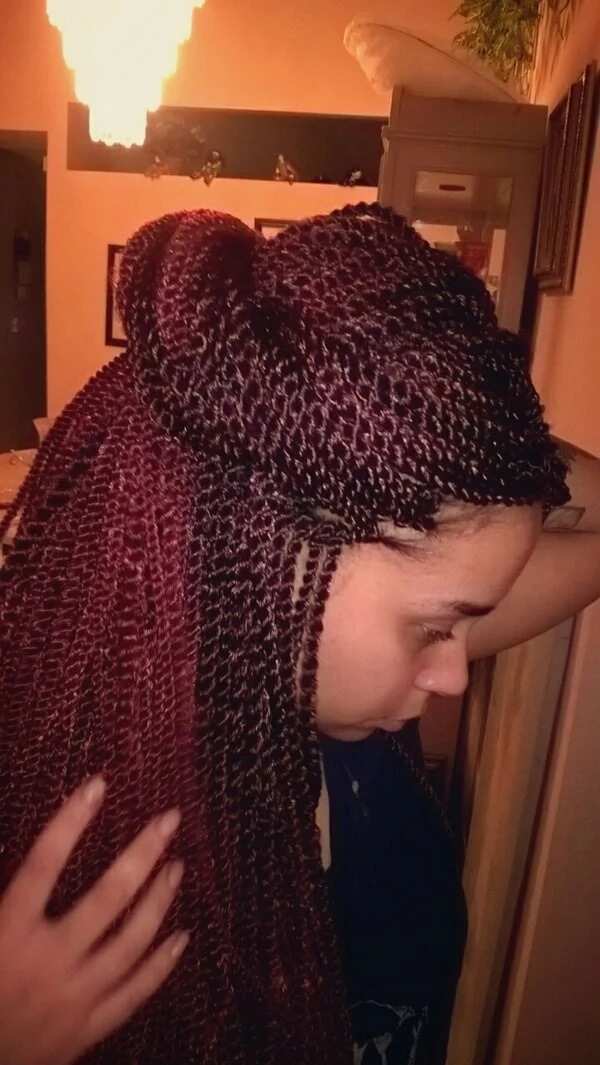 Image source: pinterest.com
If you choose two matching tones of hair extensions (or wools, whatever you prefer), you can have a great hairstyle that will catch glances and look stunning in any situation. The colors may be bright and juicy or calm and pastel, it's up to you. Also, they may be different hues of the same color or two absolutely different but matching colors. It's your choice and the main idea is matching your general style and taste.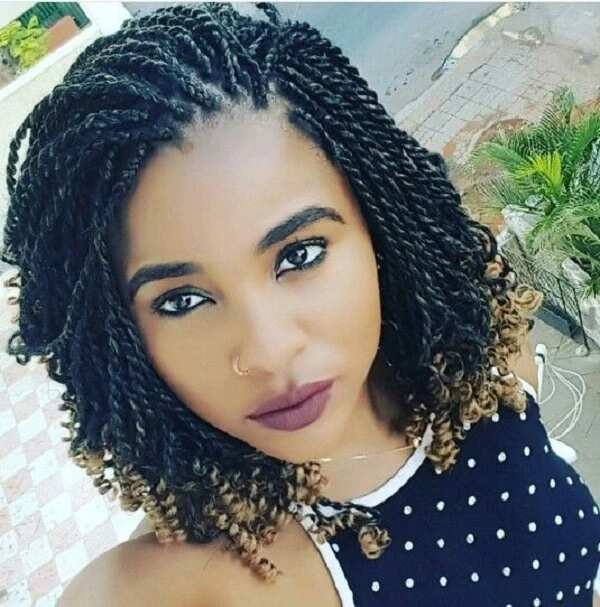 Image source: pinterest.com
Colorful ends of twists? It's a great fresh idea, one of those latest twisting hairstyles that are still quite rare. The main idea here is in the colorful extensions that are added in such a way that only the ends of braids are colored. When done, you may curl the ends to add even more style to your hairdo. Choose bright colors that are visible clearly at the ends of your twisting braids.
Now, let's give attention to the ways you can style your braids in a comfortable and stylish way.
The loveliest latest twist braid styles and hairdos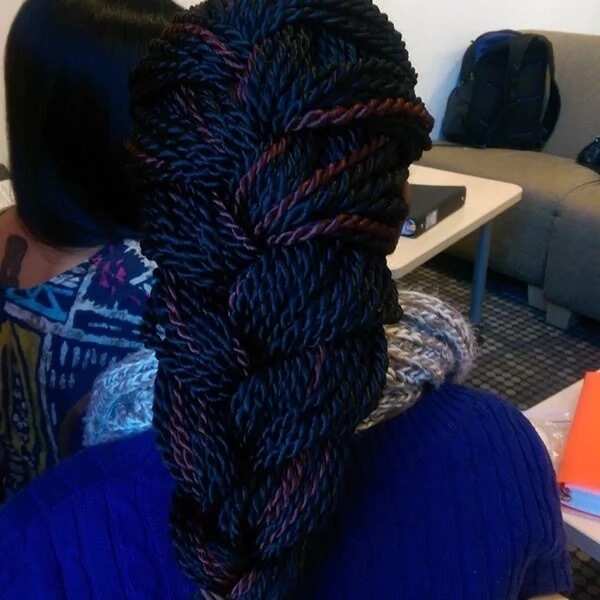 Image source: pinterest.com
This is exactly what you can do early in the morning when you are in a hurry to work or school or wherever else. This is a comfortable and lovely hairstyle for long twisting braids that requires little care but looks gorgeous. If you have colorful strands in your hair, they will be visible, bright, and very attractive. A braid made out of twists is a great hairdo for long hair.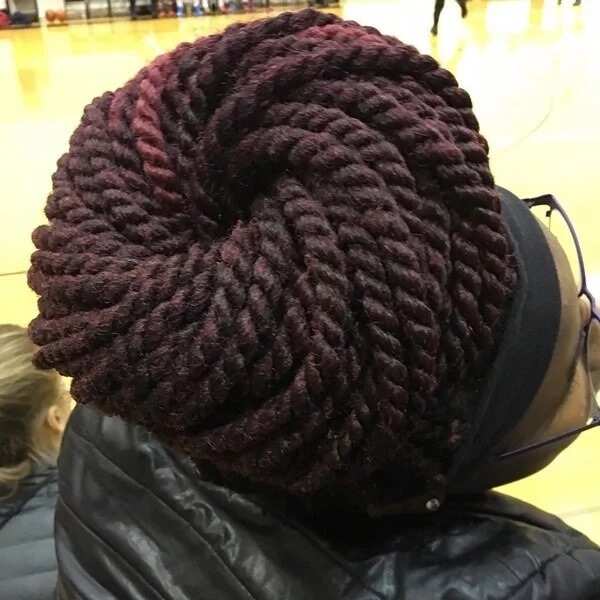 Image source: pinterest.com
A huge soft bun is another great hairdo for long colored (or solid color) twists. The way the twists whirl into a huge bun attracts the eyes and looks charming. This is an elegant hairstyle (with a headband or without it) that suits any occasion, no matter whether it's informal or official (work, studying, business meetings, etc.)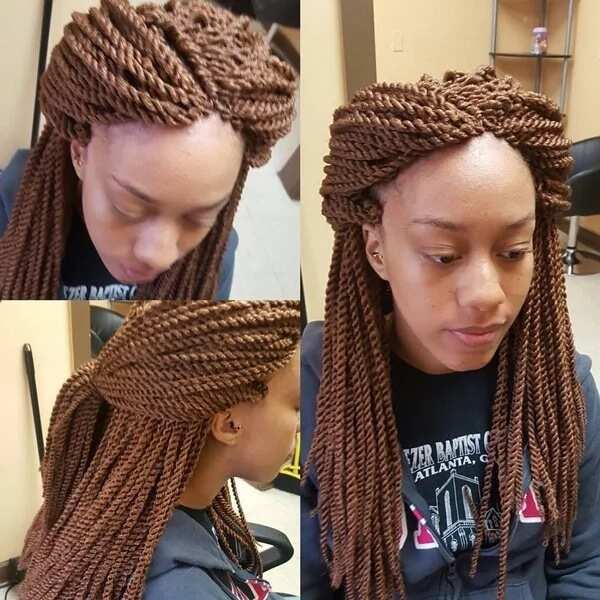 Image source: pinterest.com
This is another great idea for long luxurious twists that requires no special skills and not much time but offers a lot of comfort. It's a great way to create a kind of frame for the face and remove the twists backwards for more comfort.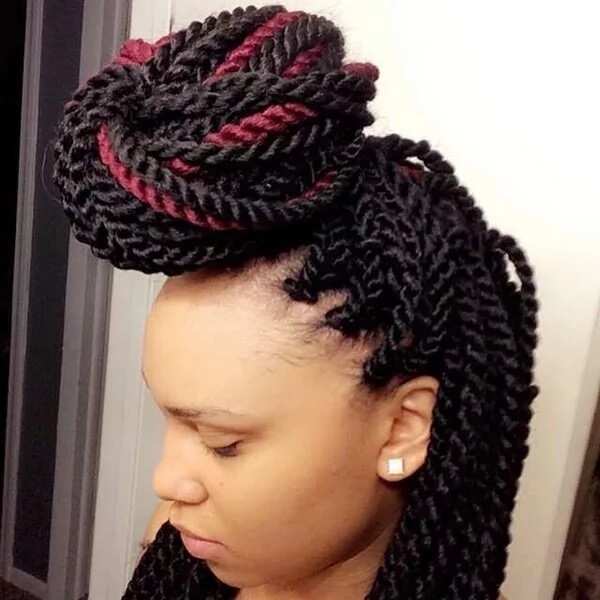 Image source: pinterest.com
This is a daring hairstyle that looks funny and lovely. You need to separate a section of your twists and create a big bun right above your forehead. Secure it with pins and elastic bands and make sure it looks a little careless. The rest of the hair should be tied into a half-updo that removes the twists from your temples and keeps them at the back of your head.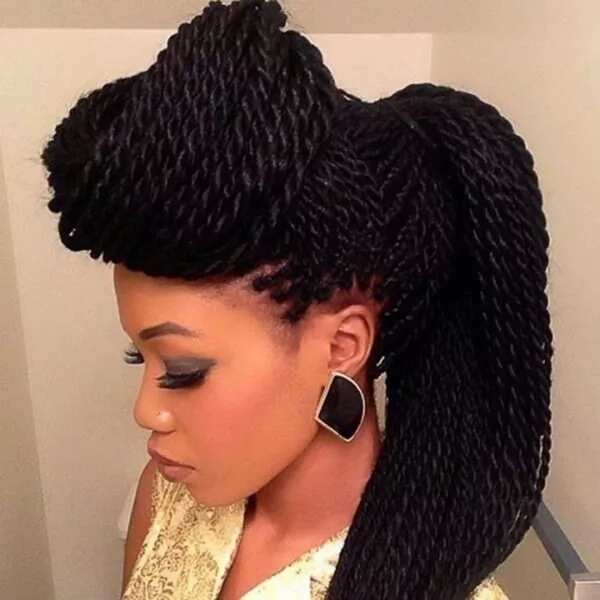 Image source: pinterest.com
This is a lovely mixture of a bun and a ponytail and this is definitely one of the loveliest ways of wearing stylish twist braids. Create a big soft bun above your forehead and make sure that the ends of your twists are securely hidden and fastened with the help of pins. Then, create a massive ponytail out of the rest of your hair. Get ready for turning heads everywhere you go now!
So, these are several of the latest and hottest twisting hairstyle trends and hairdos that you will definitely love. Try them and choose whichever you like best!
READ ALSO: Natural hair types and care: type 4 hair
Source: Legit.ng