Van Vicker's wife: interesting facts to know
Van Vicker's movies are loved by many people in Ghana, Nigeria and other African countries. Everyone appreciates his incredible charm and appealing personality, as well as his talent to play the romantic characters in the movies. But does he have someone who is always there by his side? You will learn the most exciting things about Van Vicker wife! Who is this woman and how did she win the Ghanaian heartthrob over?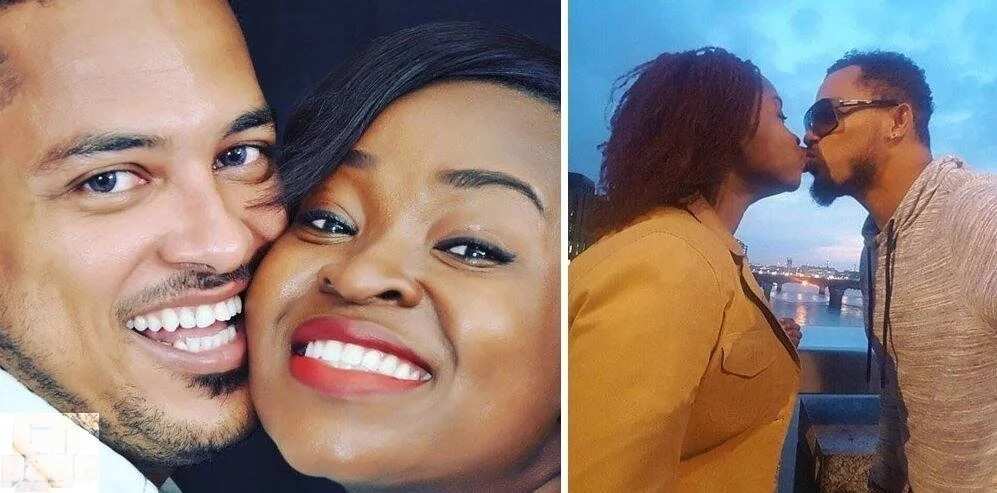 Photo: ghpage.com
Briefly about Van Vicker
Joseph Van Vicker is an award-winning Ghanaian actor, who mostly acts in Nollywood movies. He is 41 years old and was born on August 1, 1977. He considers himself a global citizen, as his family is multinational (Ghanaian/Liberian mother and Dutch father). He started out as a television presenter, but later ventured into acting and never had any regrets. Some of his most popular movies are "My Soul Mate", "Popular King", "Heart of Fire", "Gaming with Marriage", "Stolen Will", "Harvest of Love", "The Joy of a Prince", "The Kingdom", "Discovered", and "Against the Law", among many others.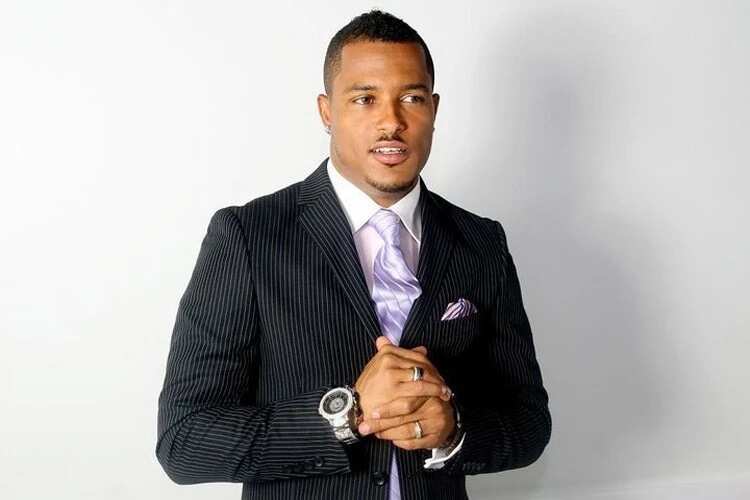 Photo: buzzghana.com
Van Vicker's family
This talented Ghanaian actor with an attractive appearance and endless personality mostly plays romantic heroes in the movies, alongside the gorgeous actresses. Of course, the media often link him to one actress or the other, because he demonstrates huge passion with them on the screen. At one point, he was linked to the Ghanaian movie star Nadia Buari, because they had a close business relationship and often appeared together in the movies.
However, Van Vicker is not one of those people who would be tempted by every beautiful actress he sees. So, all the rumors about him being in relationships with fellow movie co-stars are far from the truth. He believes in true love and is loyal to one person who captured his heart many years ago. Here is everything we found about Ghanaian actor Van Vicker wife and their long-lasting relationship.
Van Vicker wife name is Adjoa Vicker. She is a caring and sweet woman who always looks out for the Ghanaian superstar and makes sure he is not too caught up in exhausting work. Van Vicker wife age is 41 years old, just like her husband. Her birthday is on January 24, 1977.
Joseph Van Vicker and Adjoa met many years ago – they have been friends since secondary school. They first met when they were teenagers.
The couple decided to get married after a few years of dating, and they officially tied the knot on October 16th, 2003. This year, they celebrated their 15th anniversary.
READ ALSO: Tiwa Savage husband: does he want to divorce?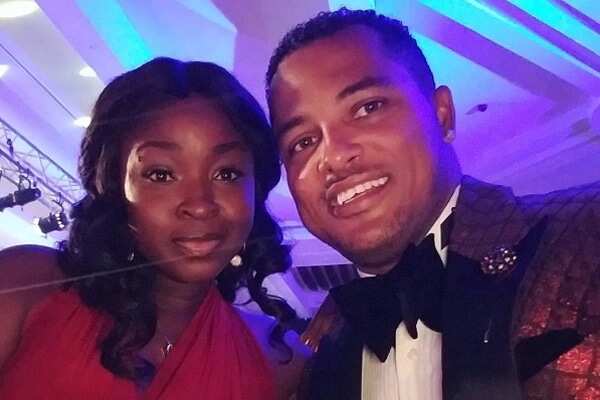 Photo: myjoyonline.com
Van Vicker considers his wife to be incredibly loving and truly remarkable. According to him, they have had their low moments, but despite everything, still stuck together. No matter how many disagreements they have, they are still very close. Every anniversary, the actor posts a lot of photos with his wife and lets the world know how much he appreciates her. As the actor says, she understands him like no one else. He is amazed by her ability to manage the entire household, as well as her analytical brain. To Van Vicker, his wife Adjoa is his best friend in the world and a true partner for life.
Van Vicker's favourite holiday is Valentine's Day because on this day he remembers happy memories made together with his wife. Once, when he was young, it was common to write romantic letters to your partners, and Van Vicker received a huge card from Adjoa. All of Van Vicker's friends immediately noticed his Valentine's card, and he felt very special. Since then, he always spends this holiday with his wife and goes for dinner with her. As he confesses, she gives him a reason to look forward to the next year's Valentine's Day and come up with the new unique ways to celebrate.
READ ALSO: RMD wife and children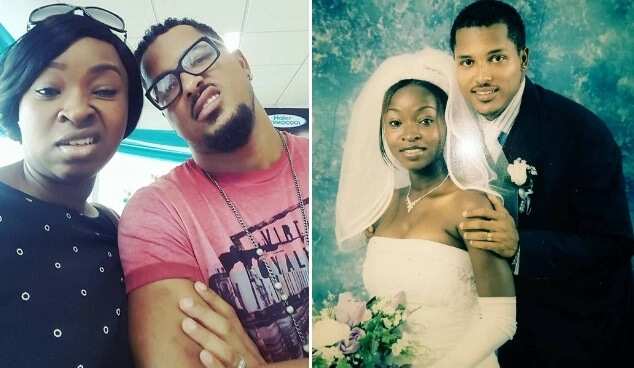 Photo: myjoyonline.com
Adjoa Vicker is a very understanding wife to Van Vicker. She is absolutely alright with the fact that her husband has to kiss other women when he is on the movie set, and is not jealous at all, because this is a part of his job. Adjoa is very supportive of Van Vicker's acting career, and just like her husband, she is convinced that he has to keep it solely professional on set, even if he has some romantic scenes to play. Shortly, Adjoa's take on Van Vicker's difficult job is very humble, and she supports his passion.
According to the actor, he often becomes a subject of romance-themed gossips, because this is a part of the popular Nollywood actor's life. For instance, there was one time when the media said that he was the reason that the actress Chika Ike, who was his co-star once, divorced her husband. Van Vicker did not understand how this gossip even makes sense.
All the reports about dating Nadia Buari were too much for him too, because he has never been with this actress – this would mean cheating on his wife, which he says he would never do. Sometimes he gets attention from female fans, but he is able to adjust to this, as he is a celebrity, and various kinds of calls and questions from his fans are a normal practice. Van Vicker and Adjoa are clearly soulmates.
Van Vicker has three wonderful children with his wife. Their daughters are named Jeto and Julian, and their only son's name is Junior Joseph, after his dad. Van Vicker says that his wife Adjoa is an incredible mom.
When he is not on set, he always tries to finds time for his little ones. The usual activities of Van Vicker's family are playing games, going to the beach or pool, and watching movies. As the actor admits, he does not see any difficulties in combining his acting career and being a parent.
READ ALSO: Nigerian actress Uche Jombo's biography and movies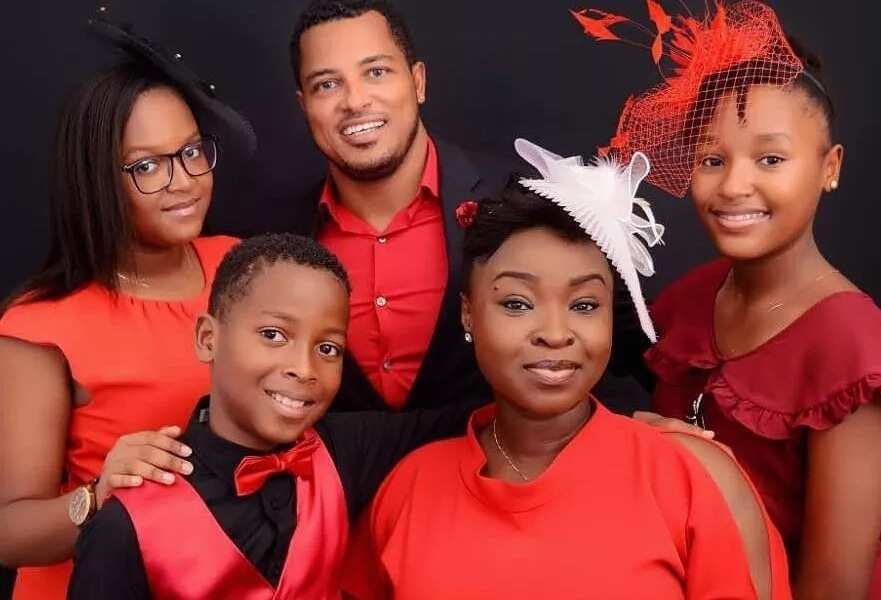 Van Vicker family
Photo: kemifilani.com
Now you know more about Van Vicker's loving wife and his family. Their love story is truly remarkable, and they are one of the examples of the perfect marriage in Nollywood.
READ ALSO: Do Actor Chinedu Ikedieze and wife have a baby?
Source: Legit