A Twitter user has taken to her social media handle to narrate a sad story of how a young taxi driver was beaten up by a Lekki-based bakery owner in Chevy View estate. However, the lady in question Lynda Mamud has taken to her Facebook handle to share her side of the story.
According to Uyai (@uyai_), she disclosed that she met the Taxify driver who she identified as Caleb on Monday, October 8. During their conversation, the young man painfully narrated how one of his female passengers ordered her estate security men to beat him up over N200 increased fare rate.
Uyai decided to share screenshots of her conversation with Caleb where he gave detailed explanations about how it all happened. The Taxify driver said he dropped her off at Crumbles Bakery at Chevron drive.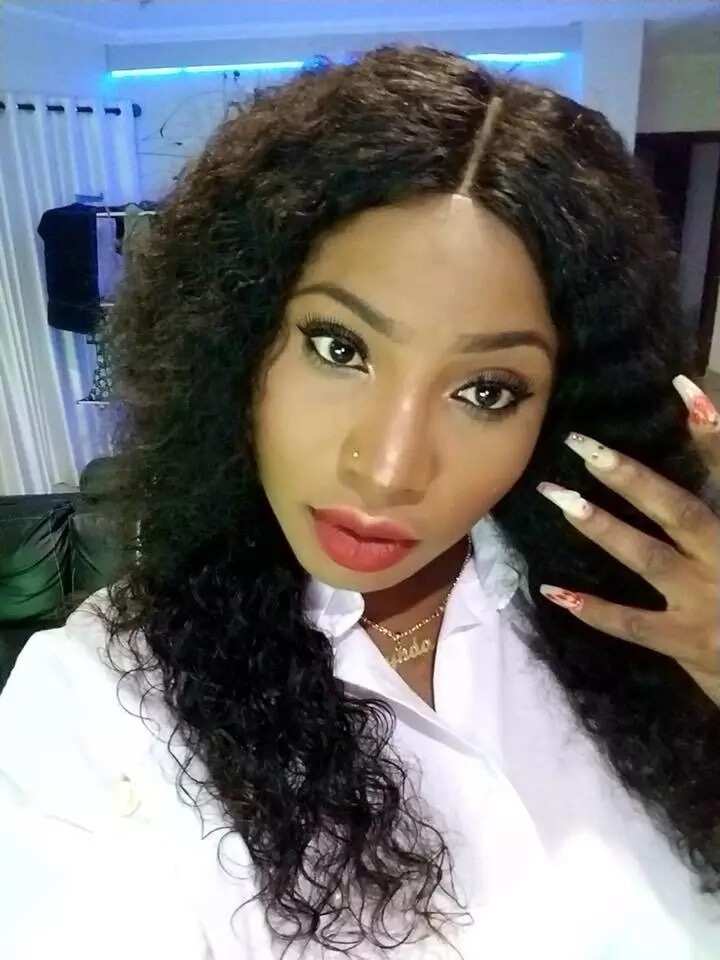 READ ALSO: Nigerian man declared wanted after allegedly using fake N90k to buy items in a supermarket in Ajah
He explained that after arriving at their destination, the price fare on his phone was N200 higher than the estimated price but the lady felt reluctant to pay. In anger she got out of the car and said he should follow her if he truly wants to get his money which he did but unfortunately, she ordered the estate MOPOLs to beat him up.
That was not all, he claimed that the lady also bribed the officials to delete all forms of evidences on his phone.
Uyai's post reads: "I met this taxify guy on Monday this week. Amazing guy with very good energy. We had great conversations. He messaged me today to tell me about how a rider ordered her estate security to beat him up. This chat made me so sad."
See post below:
PAY ATTENTION: Join Africa Love Aid today for your daily relationship tips and advice
See more screenshots below: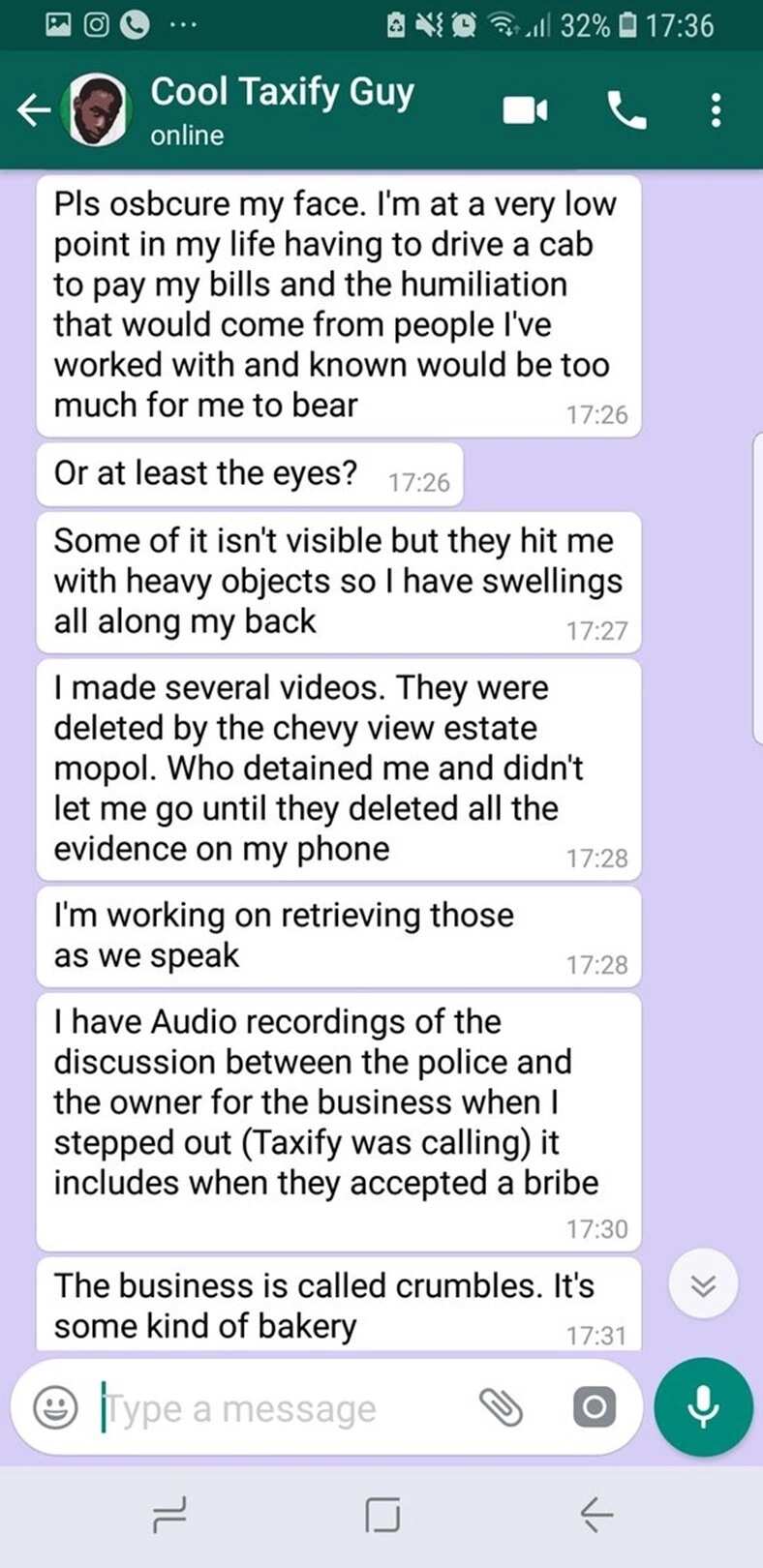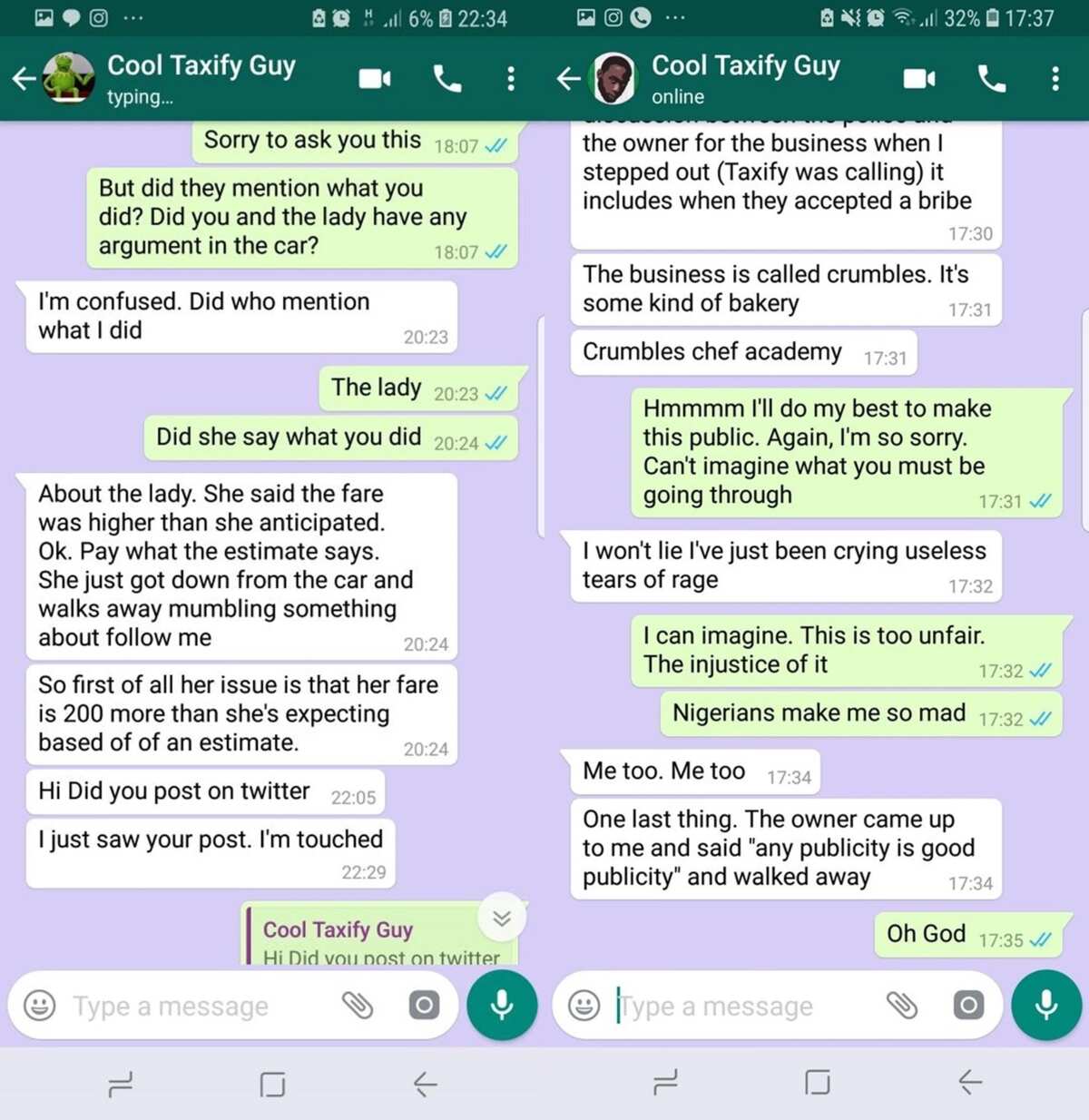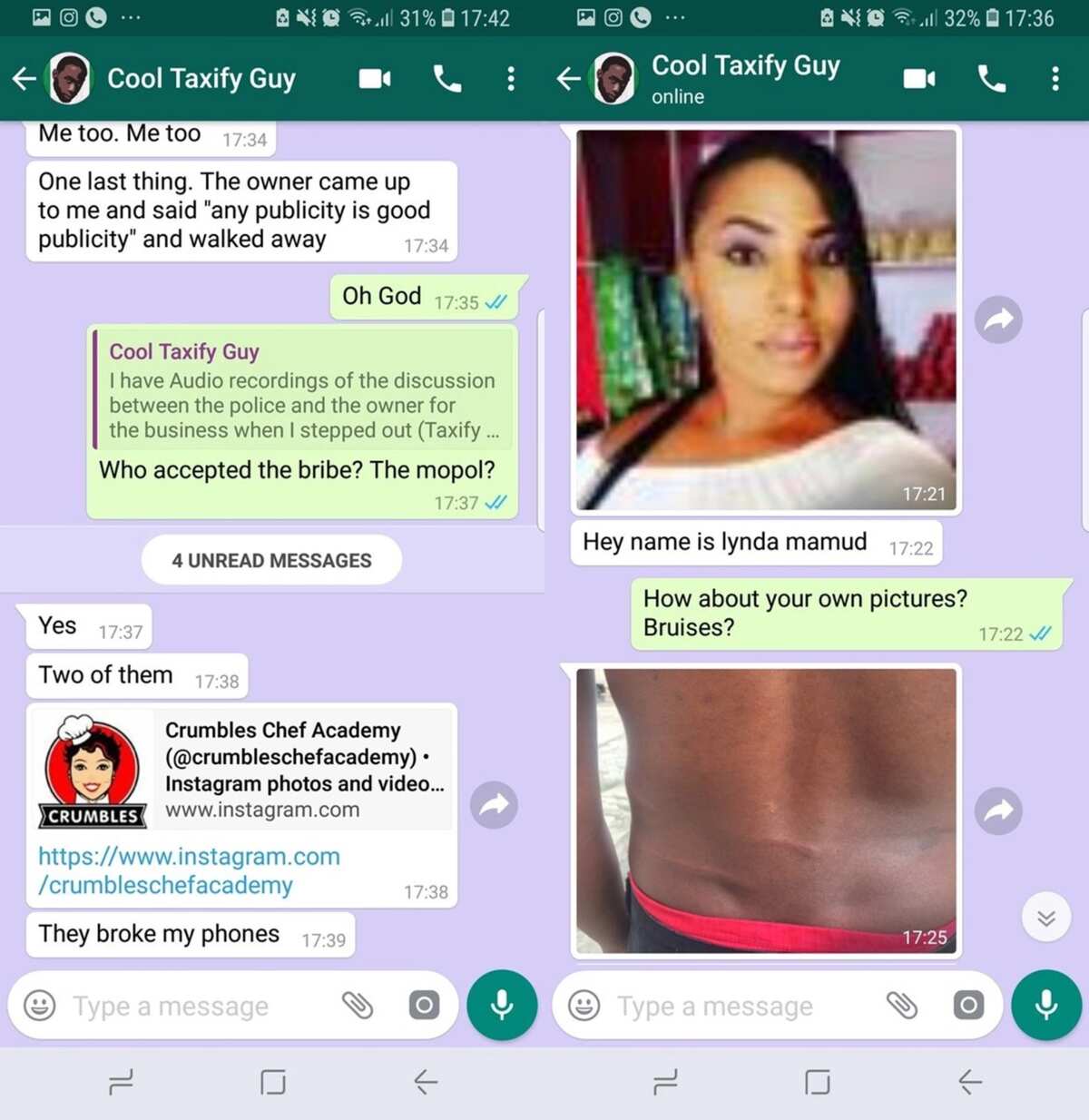 UPDATE:
Following Caleb's outburst the lady in question Lynda Mamud has taken to her Facebook profile to narrate her own side of the story. She added that the Taxify driver is a liar and was the first to attack her.
Her post reads: "This man is just pathetic and a liar from the of hell ,he picked up my request at kolawale adekunle .,a street opposite eko bank on addo road and my destination was crumbles academy at Chevy view. he has started acting insane on our way Just because I told him it is card trip saying that he likes cash and that he is going to drop me on the road but I reminded him that politely that if he tries it I would report him to taxify because when you accept to pick a rider you ought to drop them at their destination already I was running late for my school because my class starts at 11am .When we got there the trip which I take 700-800,sometimes, if there is traffic became 1200,I told him It couldn't be possible because it was way above the normal estimate ,in the course of the argument that he started threatening me saying he would deal with me in Lagos ,am a mad woman that he would pull the school down that he is an old killer that I don't want to pay him inviting a scene by such statement .just for questioning him about the fare increase not like I wasn't going to pay him ,brought out his phone saying he will record me and post it .,by then the security guys were already asking him to calm down that he was shouting ,.he said he will shout he will pull the building down,immediately I got 1200 trying to give it to the security to give me when he jumped at me saying never that he is a man and I have to give it to him by myself .At that time his hands were on my throat as he held on to my dress choking me in the process my dress tore, his nails scratched my chest I screamed by then the security guys were trying to hold him to stop but he had already bruised me seriously my hands my face it was at that point one of the security guys got physical with him .mr taxify guy that was a fight between you and another man like you since you fight only women . the other security already called the estate security to take him out telling me sorry because I was crying. I have all the evidence and witnesses because while he caused a scene shouting ,everybody at the cooking academy came out. The chefs ,the student, the workers around. The CEO arrived during that period she can attest to it because he even threatened her and the school .i even called Taxify to report the incident a lady responded to that call and was asking me for details but the background was noisy,that lady can attest To that call too. He was really high even the estate security police chased him."
See post below:
Legit.ng earlier reported that an Ibadan customary court sitting in Mapo on Friday, May 26, has dissolved a marriage of 20 years over domestic violence. NAN reports that the cup got filled up when Kudirat Adekola stabbed her husband, Abideen, with a broken bottle.
Sad!
Nigeria News Today: Nigerian Air Force Buries Pilot Who Died in a Crash | Legit.ng TV.