Van Vicker's biography and family
Everyone who has seen memorable movies starring Joseph van Vicker would probably want to know more about this talented actor with a charming smile. Now is your chance to dive into the exciting Van Vicker biography! How did he reach such massive success, and what about all the other aspects of his life, besides acting? We have prepared all the newest information about Van Vicker for you!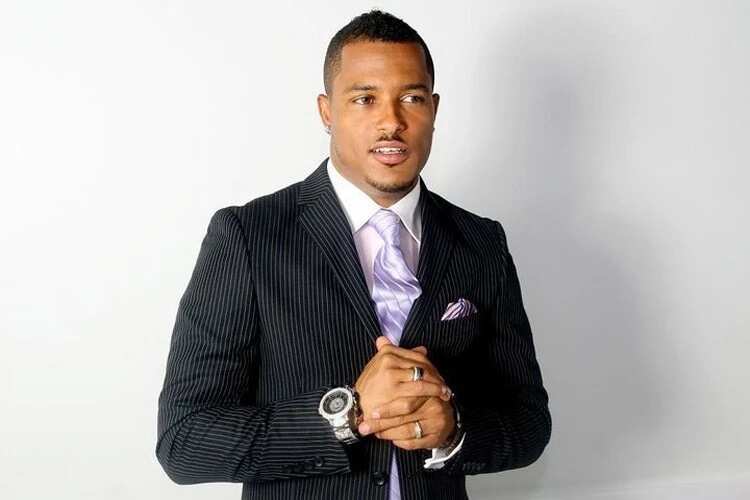 Photo: buzzghana.com
Who is Van Vicker?
The actor Van Vicker is one of the finest Nollywood stars of our time, who has starred in plenty of different productions, and in all of them, he did incredibly well. He is mostly popular among the fans because of his humble personality in the majority of his movies. This man has a huge power of attraction, which is why he is capable of charming all his viewers. He has been a star of several great Nollywood movies and acted alongside remarkable actors like Desmond Elliot, Mercy Johnson, Jackie Aygemang Appiah, Stephanie Okereke, Yvonne Nelson, Ini Edo, Kate Henshaw-Nuttal, and Nadia Buari. In most of his production, he got the main role. But Van Vicker is not just an actor – he also enjoys directing movies, and he works hard to make his dream come true.
Now, we will move on to the biography of Van Vicker! Stay with us to find out the most exciting details from his life and career, and learn how he managed to become so incredibly famous in Nigeria.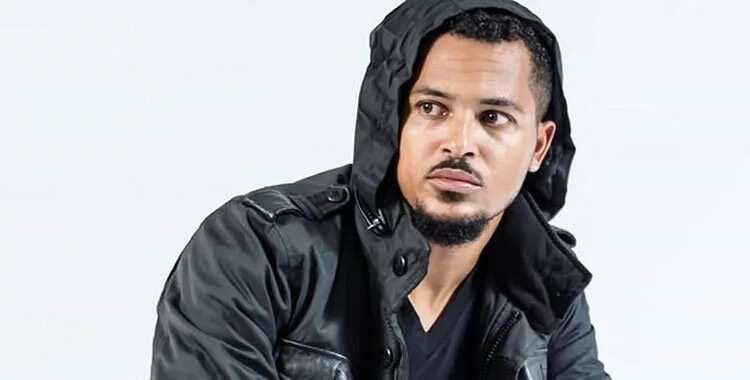 Photo: informationcradle.com
Van Vicker's biography
The full name of this actor is Joseph Van Vicker, but to most of us, he is just known as Van Vicker, because this name slides off the tongue better. Van Vicker age is 41 years old – he was born on August 1st, 1977. The actor was born in Ghana, so his nationality is not Nigerian, but Ghanaian. Van Vicker parents were of different nationalities – his mother was half Ghanaian half Liberian, while his father was Dutch. He also has a sister.
When Van Vicker was only six years old, his father passed away. His mother had to raise him alone, and he is very close to her, as she was his only remaining parent. Van Vicker considers his mother to be a hero, given the circumstances which she had to endure.
During the actor's childhood, he and his mother moved around the world a lot, so Van Vicker now describes himself as a global citizen. As for his school, Van Vicker was a student at the Mfantsipim School in Ghana. Unknowingly to him, he was school mate with another Ghanaian Nollywood actor Majid Michel.
The first career venture of Van Vicker happened in 1997 when he was twenty years old. His career started not as an actor, but as a presenter. He auditioned for the presenter position on the new TV station, called "TV3 Network", after seeing the advertisement for this job in the newspaper. Van Vicker had to go through a few auditions before he was finally hired. As a part of his new work, he had to do a lot of productions and present his ideas. Later, he resigned and found a new job on Groove FM radio station. He was hired to do a drive time programme. However, later the TV station was replaced with the local station, and since Van Vicker was not fluent in the local language, he had to look for something else.
This is when he found a new TV station, which was called Metropolitan Television and he started producing new programs there and presenting. His corporate successes earned him a promotion to the assistant head of entertainment. Alongside his main work on Metropolitan Television station, he also worked at the Vibe 91.9 FM, as well as some other stations. Van Vicker's TV career was really satisfying for him, but he also wanted to try acting.
He decided to audition for the television series "Sun City", which was his first big project as an actor. He had a role of the fine arts student Leroy King Jr, who was born in the United States and came to Sun City for the educational purposes. These series ran for ten episodes and became very popular in Ghana. Van Vicker really enjoyed his time on this show and decided that it would be great for him to star in more big movies.
His first movie was called "Divine Love", where he acted with his former school mate Majid Michel and the Ghanaian actress Jackie Aygemang Appiah. This movie had mild success and made Van Vicker understand that acting is his biggest passion. He decided to stop working on the radio and resign from the television and radio. During this time, he also started an advertising agency, which was called "Sky + Orange", and he ran it for a while until he understood it took too much of his time and let other people run it. He is still a CEO of this company, and he is very much involved in the business of his agency, which is movie direction and production.
Real fame came to Van Vicker after his role in the movie "Beyonce", which very quickly made him a superstar. In 2007, Van Vicker decided to expand his horizons and debut in Nollywood, as a lot of his fellow Ghanaian actors did the same. In the Nigerian movie industry, he became known for his roles of the romantic hero. People were comparing him to Majid Michel, Emeka Ike, and Ramsey Nouah. The popular Nigerian movie star, Omotola Jalade-Ekeinde, even revealed that she had the best on-screen kiss in her career with no one other than Van Vicker. After he became famous in Nigeria, the next step was international recognition, and the actor masterfully pulled this off when he appeared in the Australian movie "Cop's Enemy", together with Prema Smith and John Kay.
This superstar has won multiple awards for his great acting talent, which are both from Ghanaian and Nigerian movie awards. He is one of the richest Nollywood stars and gets a considerable pay per movie. However, Van Vicker is one of those people who always aim for the better. For instance, his biggest dream is to star in Hollywood movies.
He has also produced five movies of his own, the most popular of which is called "Friday Night" and is starring Nana Ama McBrown. This production follows the adventures of four married men who go out on Friday nights and have fun. Van Vicker is proud of this movie and has a lot of plans which include producing new ones in future.
READ ALSO: Most handsome man in Nigeria
Van Vicker is grateful to Ghanaian movie industry for shaping him as a person and an actor. Currently, he works with Nigerian producers more than with Ghanaian ones, but this does not mean that the actor is not considering the propositions from Ghana. Aside taking care of his own career, he is also very concerned about the young people who want to be actors. This is why he created his own foundation, which is called "Van Vicker Foundation", and the purpose of it is to help beginners become famous actors by giving them all the necessary skills and training.
Speaking of how he deals with the rumors that people spread about him, Van Vicker says that it is the inevitable part of the actor's life, and he tries not to be bothered by these things. He knows that the media would go out of their way to twist the actor's words and actions.
For example, there was an incident when Genevieve Nnaji said that Van Vicker was not a good actor. However, he is not too upset about it – he knows that he is happy doing his job, and assumes that her words were twisted. Still, Van Vicker is aware that not everyone is required to like him, and is not very disappointed about it, because there is no single celebrity that everyone likes.
READ ALSO: 10 most handsome Nigerian actors
Van Vicker's family
Probably the most exciting thing about Van Vicker is whether he is married or not. In the past, there were rumors that he was dating the Ghanaian actress Nadia Buari because the two often played lovers in movies and had a close relationship off-screen. However, it was never confirmed by the actors themselves, and these rumors are just speculation by the fans of the Ghanaian movie industry.
In fact, Van Vicker is very happily married to the woman that he loves and treasures and they have known each other since they were teenagers. Van Vicker wife's name is Adjoa Vicker, and she was born in January 1977, which makes her of the same age as her husband. The two met in secondary school. Adjoa went to a different school from Van Vicker's, but the two were still close friends. They have been together since they were very young, and they recently celebrated 15th anniversary of their marriage.
According to him, his wife is totally fine with him kissing other ladies on-screen and having a lot of female fans because she knows that this is the nature of his job, and has absolute trust in her husband keeping his work relationships solely professional.
The actor and his beloved wife have three children together. They have two daughters whose names are Jeto and Julian, and the son, who was named after his father – Junior Joseph.
He says that combining acting and parenthood is not a big deal, and he just needs to get accustomed to his current role, which depends on where he is in the moment – on set or at home.
READ ALSO: RMD wife and children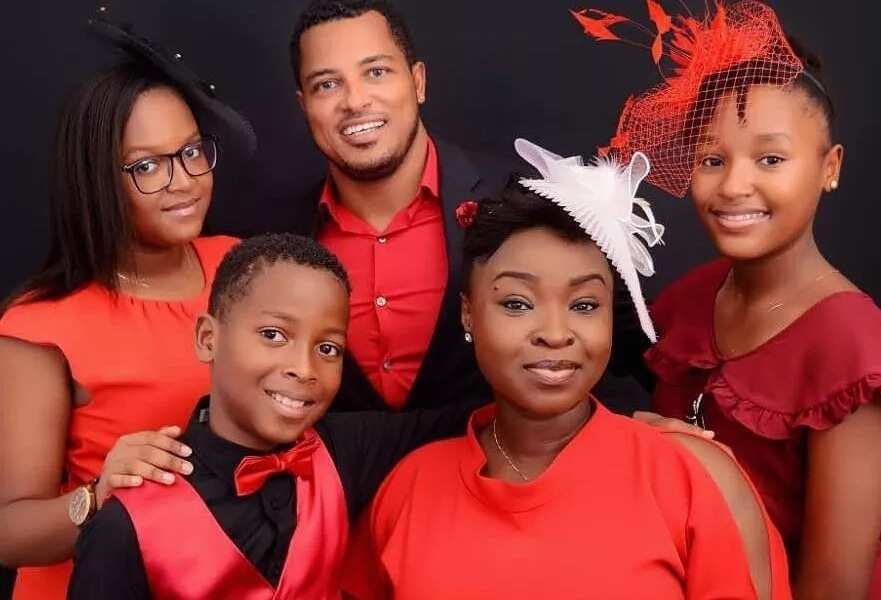 Van Vicker's wife and children
Photo: kemifilani.com
Van Vicker is truly a great actor, and we bet that he is an even greater family man. His example shows that Ghana can send amazing talents to Nigeria. Hopefully, it was enjoyable for you to read his biography and learn new things about this Nollywood superstar.
READ ALSO: Adeniyi Johnson biography and his wife: have they parted?
Source: Legit Newspaper