Former president Olusegun Obasanjo on Thursday, October 11, had a closed-door meeting with his former deputy and current presidential candidate of the Peoples Democratic Party (PDP) in the forthcoming 2019 general elections, Atiku Abubakar.
Recall that the former president had earlier said that Atiku can never enjoy his political support, particularly concerning his life-long ambition of being elected president of Nigeria.
"How can I be on the same side with Atiku?" he asked. "To do what?"
"If I support Atiku for anything, God will not forgive me. If I do not know, yes. But once I know, Atiku can never enjoy my support," he added.
However, things changed in the afternoon of October 11 when, after a closed-door meeting with Atiku, some PDP chieftains and religious leaders, Obasanjo said he has forgiven his former deputy and subsequently endorsed him for president in 2019.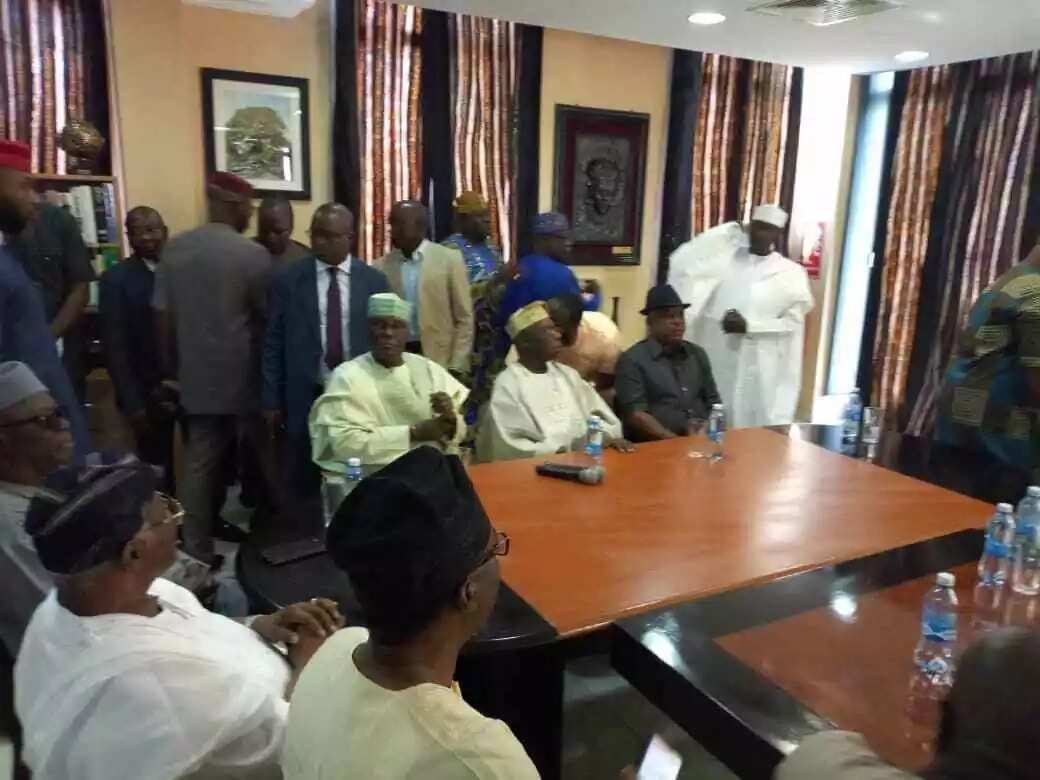 He said he has reviewed his stance on not backing his former deputy for the presidency of Nigeria.
The former president also said he believed Atiku has "re-discovered and re-positioned himself' himself and is now good enough to enjoy his support in the next election."
For the records, Legit.ng highlights seven major key points from the former president's speech as he openly forgave Atiku and endorsed his 2019 presidential ambition.
1. Reference to Atiku's acceptance speech after emerging winner of the PDP's presidential primary
Obasanjo congratulated the former VP and stated that he "took note of his gracious remarks in his acceptance speech". Atiku had in the speech paid tribute to Obasanjo saying that he played a key role in his political life.
2. The initial plan was for Atiku to succeed as Nigeria's president in 2007
Obasanjo also disclosed that there was an initial plan for Atiku to succeed him but the plan could not materialise because things "went wrong on the side of Atiku."
3. Atiku's remorsefulness
The former president reiterated that he was right in his earlier decision not to give any support for Atiku's political ambition. He, however, said he has decided to forgive him because he "has re-discovered and re-positioned himself."
"From what transpired in the last couple of hours or so, you have shown remorse; you have asked for forgiveness and you have indicated that you have learnt some good lessons and you will mend fences and make amends as necessary and as desirable," he said.
4. The nature of the grudge he had with Atiku
Obasanjo, in the speech, also explained that he does not have a personal grudge against his former vice president.
"As I have repeatedly said, it is not so much what you did against me that was the issue but what you did against the party, the government and the country," he said.
5. 'Special advice' for Atiku
After forgiving Atiku, Obasanjo proceeded to advise him concerning his political ambition. He advised the PDP presidential candidate to appreciate what his party has done for him and "work together with all those who contested for the Party's flag with you as a team for your campaign."
He also advised him to start from where they (he and Atiku) stopped in 2007 if he eventually becomes president in 2019.
"Please uphold truth, integrity, principles, morality and fight corruption, crimes and insurgency. The fundamental law of the land, our constitution must be scrupulously defended. I make one demand and one demand on you today, I need you to say before God and man that you will always remain irrevocably committed to upholding ALL the provisions of the Constitution of the Federal Republic of Nigeria and the whole country will remain your single indivisible constituency," he advised.
6. Readiness to assist Atiku in rectifying his past misdeeds
Obasanjo noted that the PDP candidate still needs to mend fences both nationally and internationally and he will be ready to assist him in doing so.
7. Atiku's political value
The former president also said that he believed Atiku is the best candidate the opposition party can field among all the aspirants that contested the recently conducted presidential primary. He added that Atiku has the capacity to perform better than President Muhammadu Buhari.
PAY ATTENTION: Read the news on Nigeria's #1 news app
Meanwhile, Atiku prior to the PDP's presidential primary, alleged that some political elites were making several attempts to prevent him from clinching the presidential ticket ahead of the 2019 elections.
He said there had been failed attempts by these individuals to ensure he lost at the PDP presidential primaries held in Port Harcourt, Rivers state.
He said his refusal to be used by the elite to satisfy their personal aspirations as well as their belief that he is too independent and principled are part of the reasons they don't support him.
Atiku's acceptance speech after being declared PDP presidential flag bearer | Legit.ng TV