Best holiday resorts in Nigeria
There are plenty of great holiday resorts in Nigeria, and we have decided to talk about some of the best ones you can choose as your weekend, holiday or even honeymoon destination. Find out where people choose to spend their vacations in style.

Photo: thelalit.com
Top 7 holiday resorts of Nigeria
Obviously, there are way more great resorts in the country, but we wanted to share with you some of our personal favourites. From mountain to beach resorts, you can find a resort that fits your needs in this article. Without further ado, let's take a closer look at them. Locations are presented in no particular order.
Ibom Hotel & Golf Resort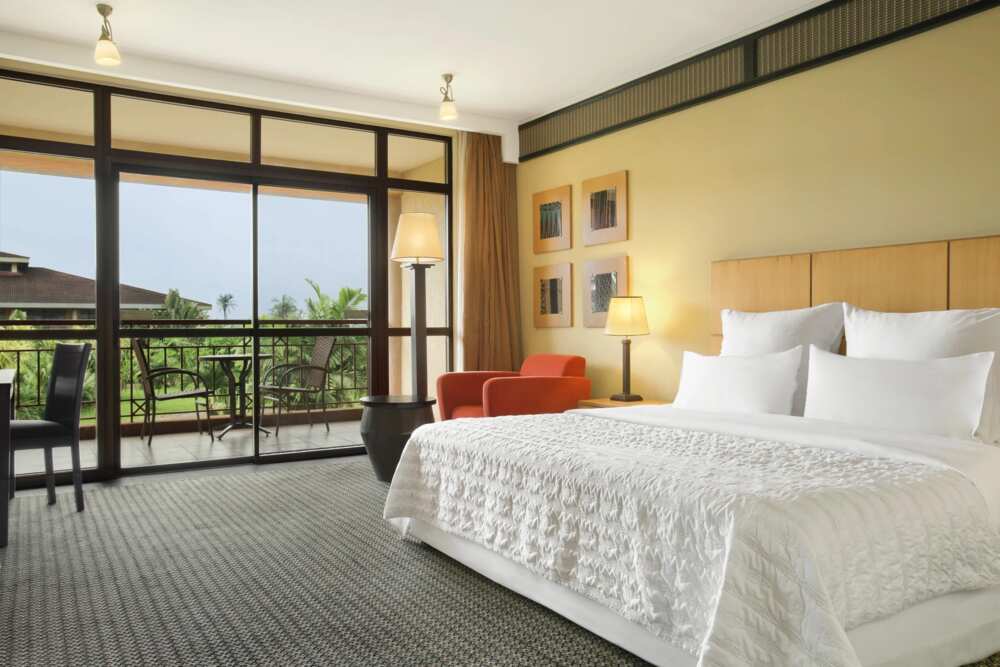 Photo: ibomgolfresort.com
Address: Nwaniba Road, PMB 1200, Uyo, Akwa Ibom State
Website: ibomgolfresort.com
Phone: +(234) 808-0527-411
E-mail: reservations@ibomgolfresort.com
If you are looking for a luxurious place in Akwa Ibom, you do not have to look any further than Ibom Hotel & Golf Resort. A stunning 5-star resort from Uyo, it is an impressive hotel with an incredible 18-hole golf course, surrounded by lush vegetation.
There are multiple rooms to choose from, ranging from Deluxe and Executive rooms to Junior, Executive and Diplomatic suites. Apart from lovely accommodations and golfing, you can also enjoy the delicious food and drinks from one of the six bars and restaurants located in the area.
Whispering Palms Lagos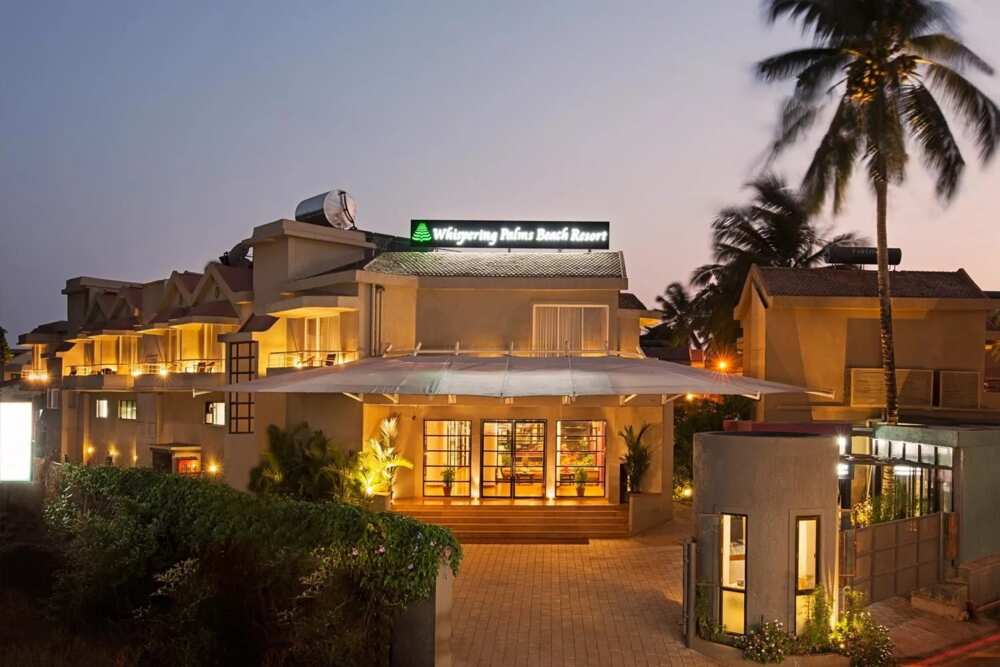 Photo: whisperingpalms.com
READ ALSO: Things to do in Lagos, Nigeria in 2018
Address: Adijo Town, Badagry, Lagos
Website: www.whisperingpalmslagos.com
Phone: +(234) 0703-798-6284
E-mail: booking@whisperingpalmslagos.com
This is one of the oldest holiday resorts in Lagos and Nigeria as a whole, but that does not mean that it still looks the way it did all those years ago. It has undergone extensive renovations in order to keep up with the times and remain one of the most popular destinations in the area.
Whispering Palms Lagos offers a wide variety of rooms at competitive prices, gorgeous views and friendly staff. It is a perfect place to spend your honeymoon, as they have a special package just for that filled with many things (such as water sports, free drinks, aerobics training and more) that can make your honeymoon unforgettable.
Obudu Mountain Resort (Obudu Cattle Ranch)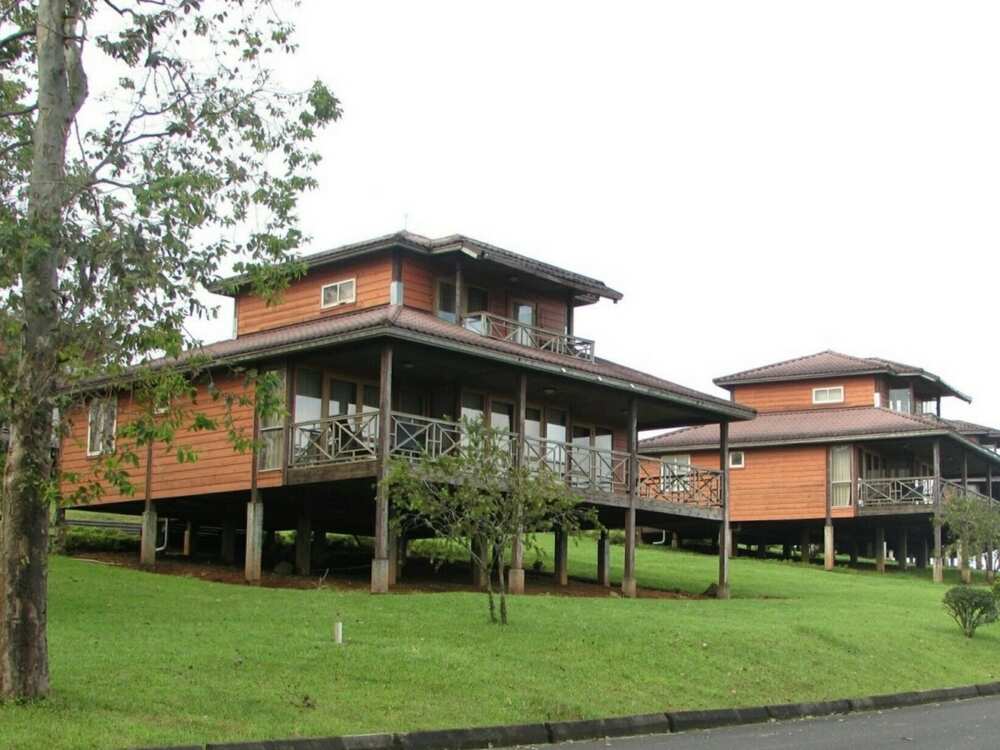 Photo: hotels.ng
Address: Obanliku LGA, Obudu
Website: -
Phone: +(234) 708-923-1815
E-mail: -
Obudu Mountain Resort is a perfect destination for people who want to get away from civilisation for a little while and become one with nature. Located not far from the Obudu Plateau and the border with Cameroon, this resort offers breathtaking views and great facilities.
One of the most popular features of this place is the cable car, which can take you 870 metres up the mountain, offering you an opportunity to enjoy the view without getting winded. Another great thing about the resort is that kids and infants can stay there free of charge!
Zenababs Half Moon Resort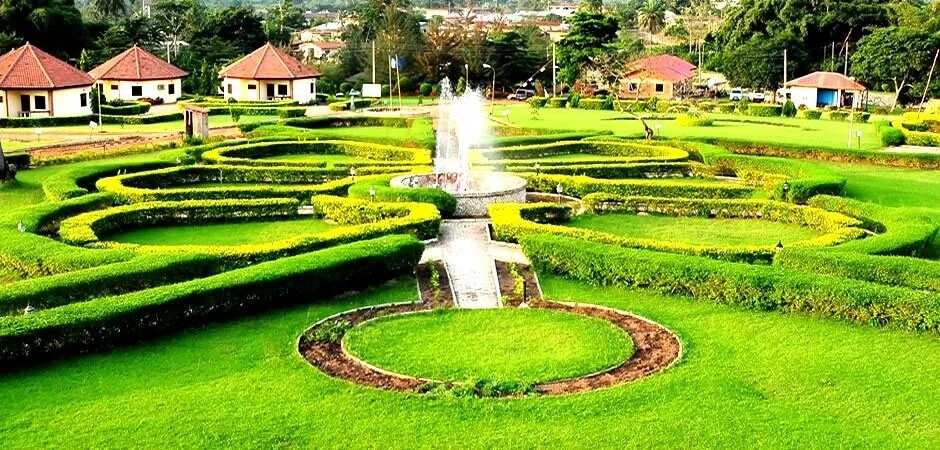 Photo: zenababs.com
READ ALSO: Most expensive hotel in Nigeria
Address: Prince Oladele Olashore Way, Ilo Aiyegunle, Ilesha, Osun State
Website: zenababs.com
Phone: +(234) 803-714-8212, +(234) 803-590-7424
E-mail: zenababs@zenababs.com
Zenababs Half Moon Resort offers its visitors great accomodations surrounded by lush greenery and wonderful views. You can enjoy nature, as well as the lovely surrounding territory of the resort that features green gardens and a beautiful fountain. This is a place to go when you want to experience tranquility and serenity.
Apart from the views, the resort also has plenty of recreational facilities on offer, from table and lawn tennis to volleyball and basketball. You can also visit the mini zoo located on the premises or go on the boating lake.
La Campagne Tropicana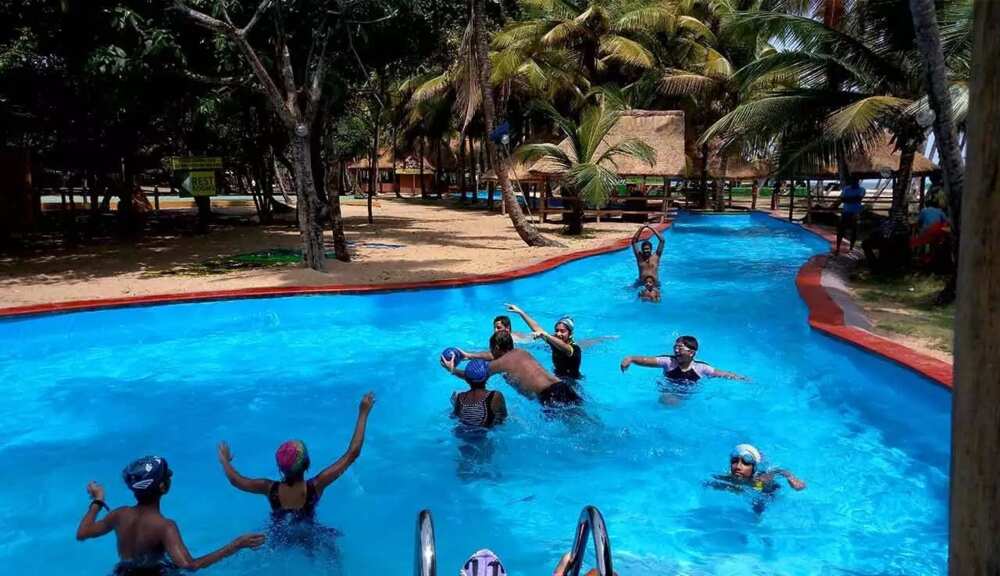 Photo: lacampagnetropicana.com
Address: Ikegun, Ibeju-Lekki Local Govt. Area off Lekki/Epe Expy, Lagos
Website: www.lacampagnetropicana.com
Phone: +(234) 805-222-5226, +(234) 708-774-7901, +(234) 708-529-2796
E-mail: info@lacampagnetropicana.com, reservation@lacampagnetropicana.com
If you are looking for a great beach resort in Lagos, this should definitely be on your list of options. La Campagne Tropicana is among the most popular tourist destinations in Lagos, and for a good reason. It is located in a unique place that combines the mangrove forest, fresh water lake, savannah, sandy beach and, of course, the ocean.
Apart from that, there are lots of things to do, such as hunting, hiking, canoeing, horse riding, aqua aerobics, fishing, golfing, beach football & volleyball and so much more. The accommodations offered by the resort are top notch, so you know your money will be well spent there.
Tinapa Lakeside Hotel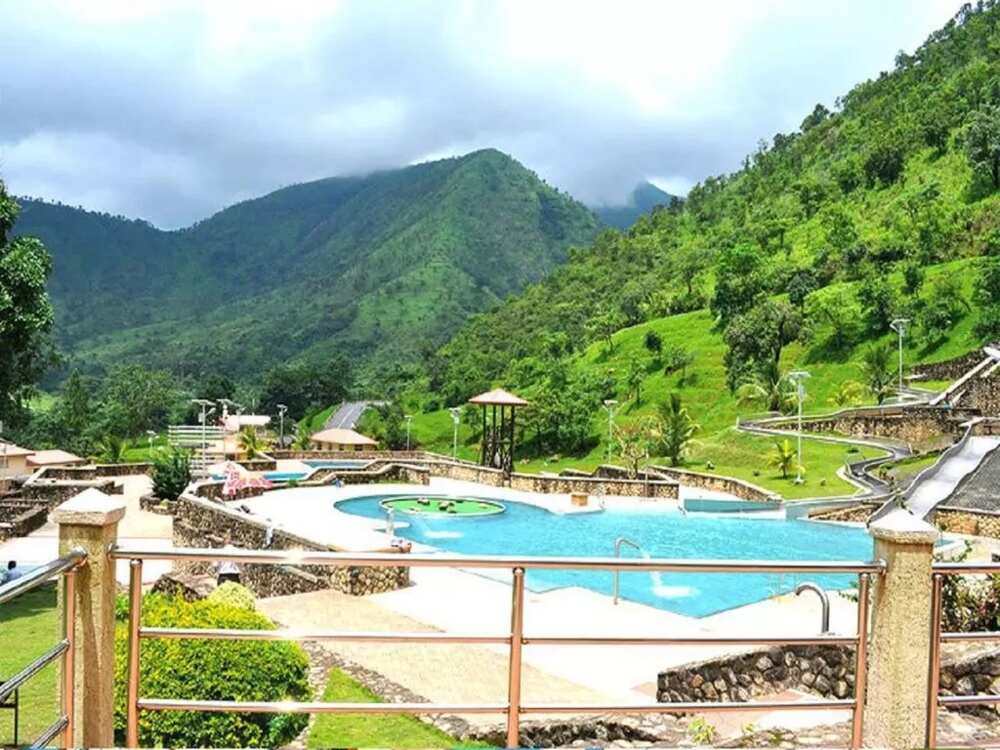 Photo: booking.com
READ ALSO: Honeymoon destinations in Nigeria
Address: Tinapa Free Zone and Resort, Calabar, Cross River State
Website: www.tinapalakesidehotel.com
Phone: +(234) 803-417-5376
E-mail: info@tinapalakesidehotel.com
If you like to mix business and pleasure, you should check out this resort. Tinapa Lakeside Hotel is a perfect destination whether you are on holiday or on a business trip, as it has excellent facilities for both. With great service and top notch accommodations, it is a great choice for those who have always wanted to visit Calabar.
The hotel is located on the banks of Tinapa Lake, and it offers a panoramic view of the soaring klandscapes of Tinapa, as well as of the Calabar River. While it is situated in a very peaceful place, you can always go for a short drive and end up in Calabar.
Kamp Ikare Beach Resort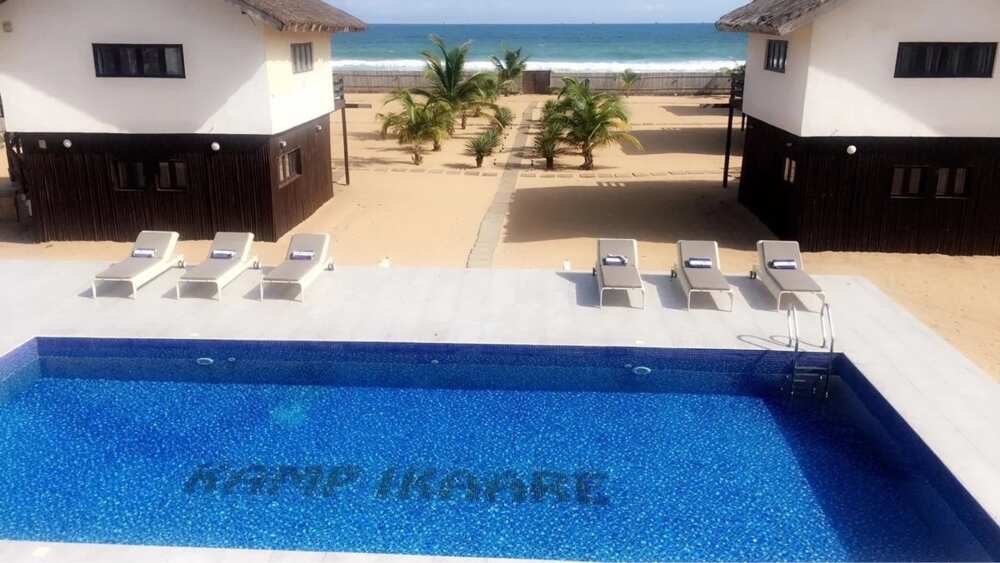 Photo: goto.ng
Address: Ikaare Island, near Victoria Island, Lagos
Website: kampikaare.com
Phone: +(234) 701-520-9387
E-mail: booking@kampikaare.com
Our last pick for this list is a great place for beach lovers. It has the view of the ocean right in front, and if you turn around, you can see the Lagos Lagoon behind you. The place is great for people who like to have fun no matter what time of day it is, as it offers both day- and night-time activities.
You and your family can stay in one of the chalets or the main pool house, depending on what you want your holiday to be. You can also enjoy a variety of water sports, as well as beach safaris that can take you to neighbouring islands.
As you can see, there are plenty of different options to choose from if you want to spend your holiday in Nigeria. Be it the mountains or the beach, you can find something that fits your need. So go ahead and book your trip today!
READ ALSO: 7 places to visit in Ghana for honeymoon
Source: pulse.ng
Source: Legit.ng