Some parents are known to dote on their kids, and it is very important for folks and their children to share bonding moments as it leads to the overall well-being of the child.
In some families, some kids enjoy healthy relationships with their parents and that eventually blurs the line between their roles in the family, and they soon become very good friends.
Music manager, business man and father, Ubi Franklin, is known for taking to social media to showcase the love he has for his son, Jayden.
The handsome father posted a photo of himself with his son, and he explained in his caption that his son is his best friend.
PAY ATTENTION: Install our latest app for Android and read the best news about Nigeria
Several fans were impressed and they cooed at their relationship. However, not everybody envied them.
The former wife of the entertainer, Lilian Esoro, was a bit jealous because according to her, her ex-husband stole her best friend. Lilian was not too happy that her ex was taking her son's attention from her.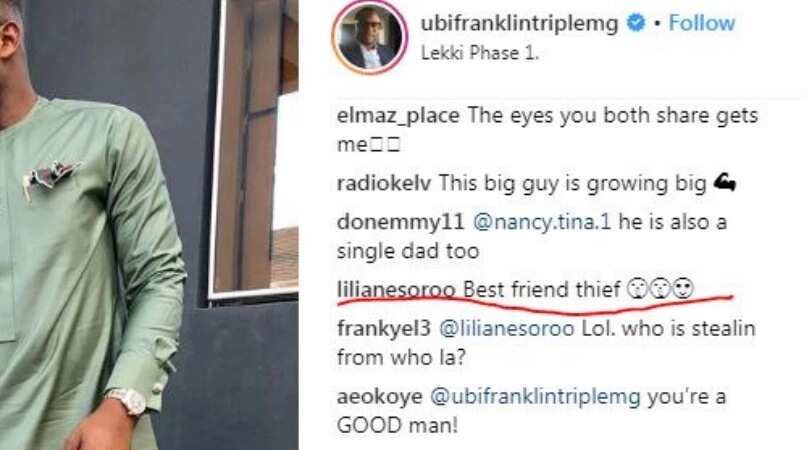 Fans were pleased at her comment and their hopes were rekindled that the estranged couple might mend their differences and come back together.
READ ALSO: VP's daughter Kiki Osinbajo looks stunning in new photos
Ubi Franklin and Lilian Esoro got married in November 2015, but their union ended shortly after. However, the former couple did not reveal much details about what led to their separation but there seems to be no bad blood between them.
They have been able to co-parent peacefully and they sometimes attend the same events to the joy of their fans.
McDermott Interview: I Believe in Equity – Nigeria Actress Ufuoma McDermott on Feminism | Legit.ng TV