African footballers with private jets
Do you know any African footballers with private jet? We do. The modern society feels that celebrities and famous people have to live a luxury life and fly their private aircraft.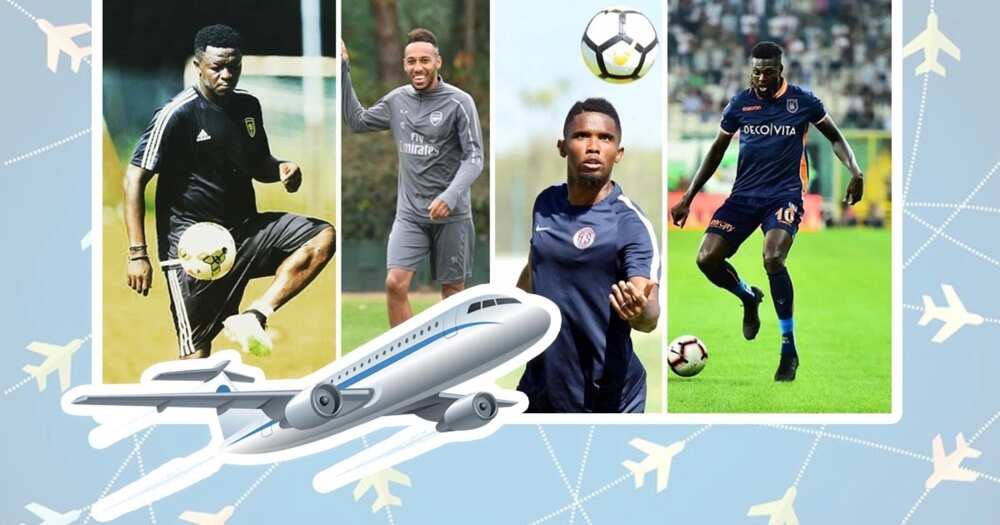 Preferring private flights over commercial, business or first class flying is the prerogative of superstars, successful actors, and football players.
Football players with private jets
Checkout African footballers who own private jets! We will also answer the popular question of whether Asamoah Gyan has his own jet or not, because many of his fans ask this question all the time.
1. Samuel Eto'o
READ ALSO: Private jet owners in Nigeria
This Cameroonian football player is a famous striker. The number '81' player represents Qatar SC at the moment, but he has played for different well-known teams, including Real Madrid, Inter Milan, Chelsea, and Barcelona. The talented footballer has been awarded African Player of the Year numerous times (2010, 2005, 2004 and 2003) and FIFA World XI (2006, 2005).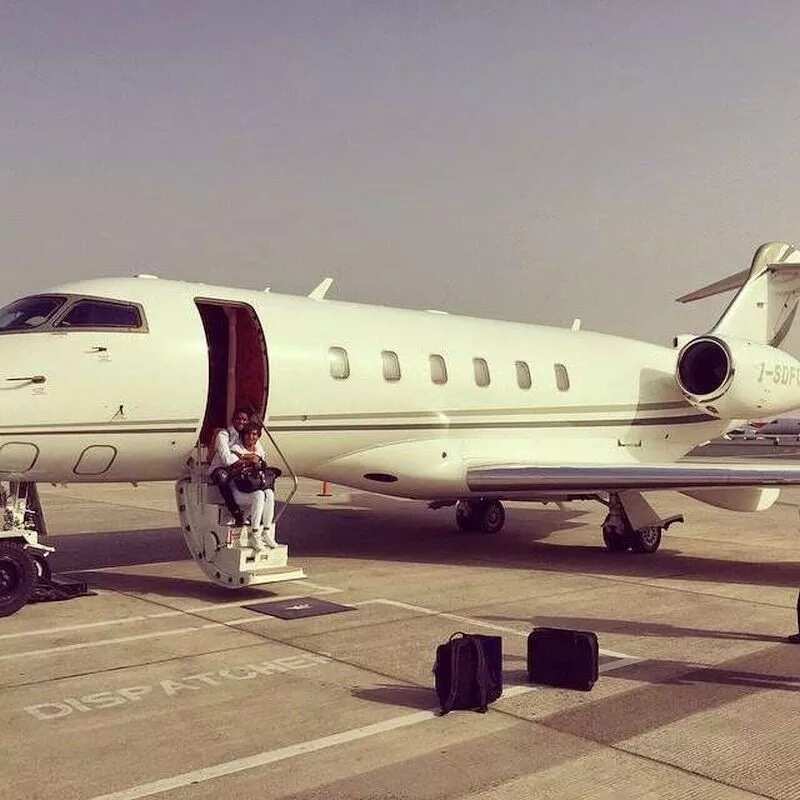 Samuel Eto'o private jet; photo: pulse.ng
According to Forbes, Samuel's earnings in 2013 were 16.4 million U.S. dollars. According to therichest.com, his current net worth is approximately 95 million U.S. dollars. You can guess that such a successful man has to own a private jet. And he does.
2. Emmanuel Adebayor
This football star was born in Togo. Emmanuel Adebayor has played for many famous clubs, including Manchester City, Arsenal, Real Madrid, and Monaco. He is currently representing Istanbul Basaksehir FC and his native Togolese national team.
Togo's top goalscorer has an impressive net worth of about 45 million U.S. dollars, according to richestceleb.com.
READ ALSO: Nigerian musicians with private jets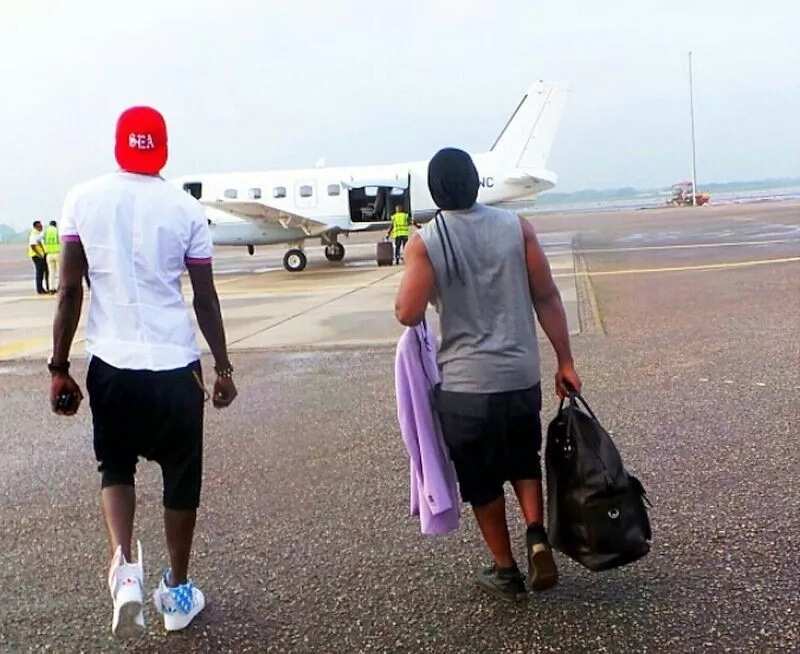 Emmanuel Adebayor's private jet; photo: naijagists.com
Emmanuel is a rich star who can afford his own private jet, thus he is one of the African football players with private jets.
3. Pierre-Emerick Aubameyang
This professional striker was born in France, but his father used to be the captain of the Gabonese team. No wonder, the son followed the steps of his dad and joined the Gabonese national team as well. The famous number '14' is currently playing for Arsenal, but the career of this football player led him through different FC, including Milan, Monaco, Saint-Etienne, and others.
According to goal.com, Aubameyang's net worth is about 12 million Euro.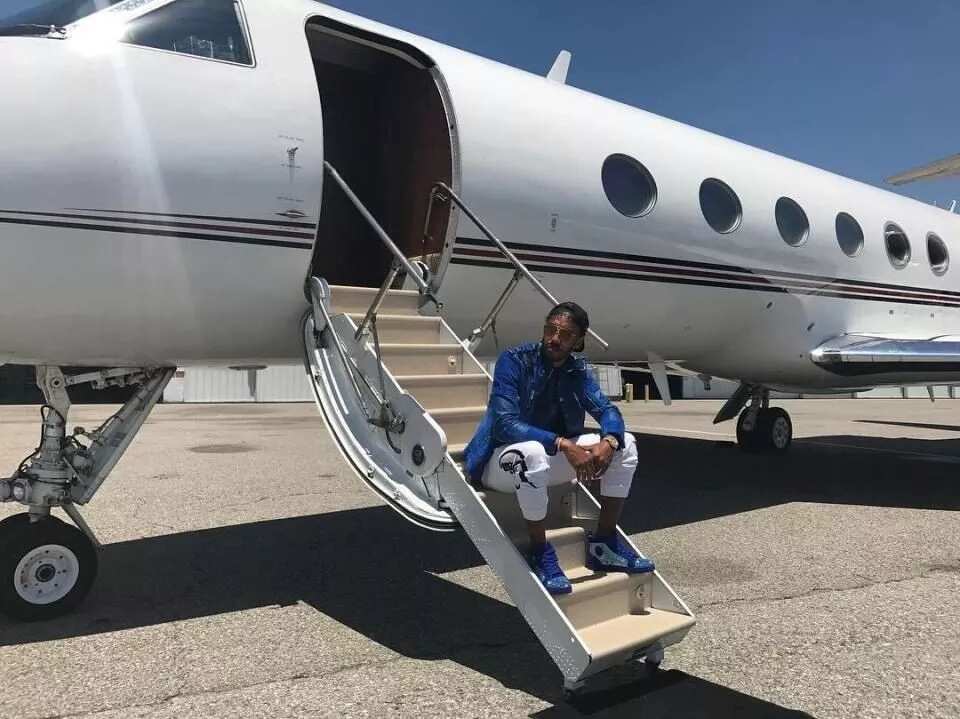 Pierre-Emerick Aubameyang's private jet; Photo: thesun.co.uk
Pierre belongs to the list of footballers with private jets. He owns an expensive jet which he shows on his Instagram account.
4. Sulley Muntari
READ ALSO: Nigerian richest footballers and their net worth
Our selection of African football players with private jets wouldn't be full without Suleyman Ali Muntari better known as Sulley Muntari in the world of football.
The central midfielder is from Ghana. The 34-year-old has played for different clubs (Milan, Portsmouth, Pescara) and currently presents the Spanish football club Deportivo La Coruna.
Back in 2015, Muntari's net worth was estimated at 40 million U.S. dollars, as noted by africa-facts.org. According to buzzghana.com, Sulley's current annual salary with Deportivo La Coruna is approximately 1.7 million U.S. dollars.
Sulley's photos near his family's private jet caught the attention of all his fans. In the picture, the football player poses with his wife (Menaye Donkor) and child (Jamal) next to their jet.
P.S. Asamoah Gyan
We had to include this Ghanaian player our list because of many conversations and photos of 'his jet' online.
The famous striker currently plays for Kayserispor and his country's national team. His prominent career led him through different professional FCs, such as Udinese, Sunderland, Rennes, Al Ain, and Shanghai SIPG. According to wikipedia.org, Asamoah has scored more goals in the World Cup history than any other African footballer. While Gyan is not the richest football player in Africa, his net worth is still estimated at impressive figure of approximately 23 million U.S. dollars which makes him the wealthiest player in Ghana (according to yen.com.gh).
There are many talks about Gyan being one of the several African football players with private jets. The footballer denies such conversations and assures he has no personal airplane.
Asamoah Gyan has obtained a license to operate the Baby Jet Airlines. It was issued to him by the Ghanaian government in 2017. It turns out that this is just one of his many businesses. The airline operations organized by the footballer offer cargo handler sub-region and international services, according to yen.com.gh.
You have learned about the famous African footballers with private jets. All these players are wealthy and loved by millions of fans from across the world.
READ ALSO: Top 10 finest footballers in the world
Source: Legit.ng