The Naija 'Jungle Story' is a brilliant musical play by Sound Sultan which is sure to be entertaining and enlightening.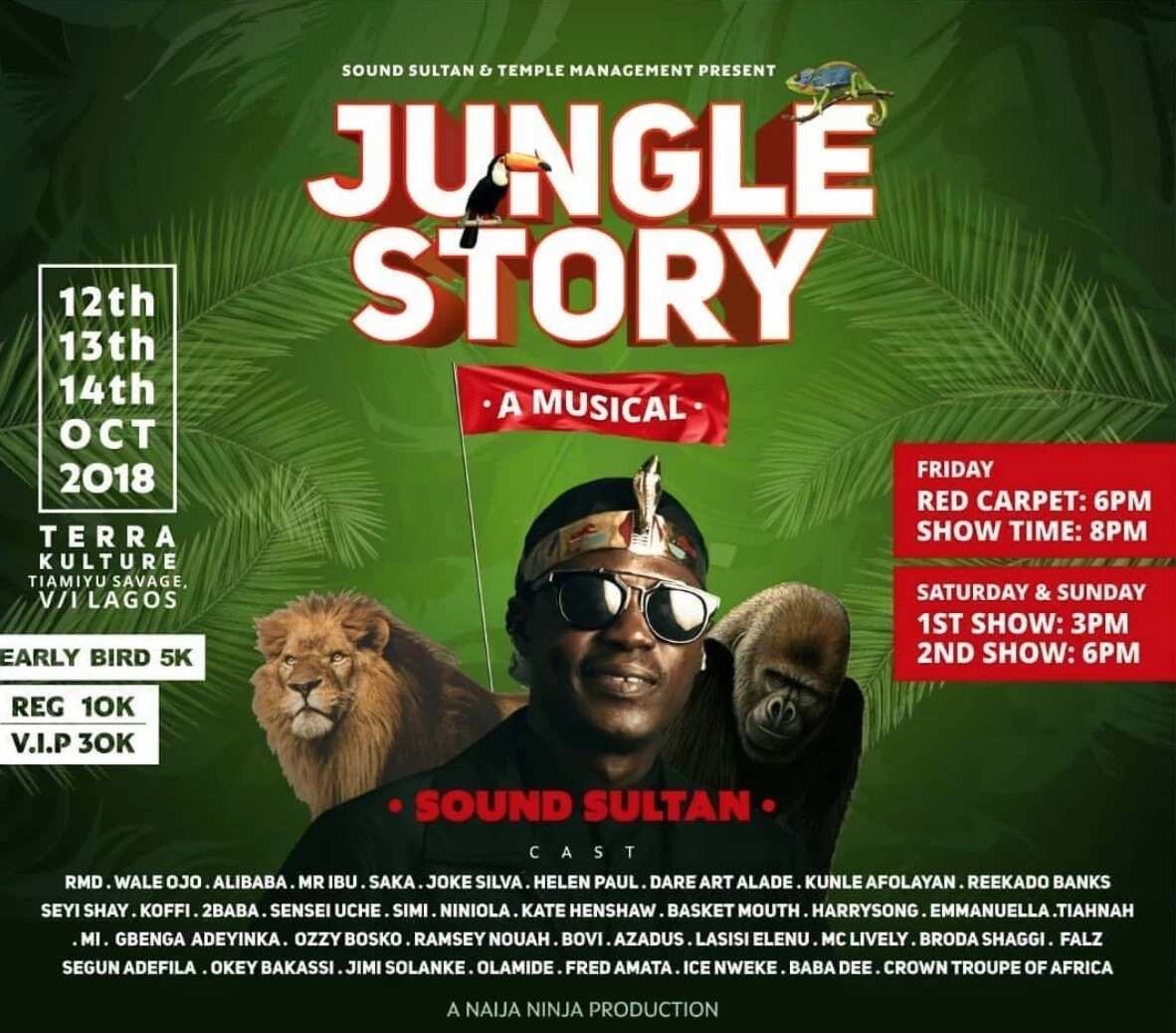 Here is a quick preview of what to expect:
The Naija Jungle Story - The script
Multimedia : Uncle Jimi Solanke gathers kids to tell them the jungle story .
Jimi solanke: Once upon a time in a jungle not too far away, the people in a certain farm had gotten enough of being ruled by the outsiders.
The opening - animal farm intro. Reference: A story by George Owel.
Sound sultan is sat on a stool under a spot light on the far left side of the stage, on a piano. Drama begins on the center stage
Song : Animal Farm (2007)
Lyrics:
I wonder why my country be like so
Ordinary rice and garri don turn to gold
Basic neccesities of this life don turn to luxury for my people eyes
Naija case dey remind me of the animal farm
Farm owner been dey rule dem all of dem no like am.
Dem put heads together to chase the human away
But nowadays na dem come dey go astray
E no good o dem turn naija to animal farm … etc
Venue: Tera Kulutre, Tiamiyu Savage, V/I, Lagos
Date: October 12 , 13 and 14, 2018
Friday
Red Carpet -6pm
Show Time- 8pm
Saturday & Sunday
First Show - 3pm
Second Show - 6pm
Ticket categories:
Early bird tickets online, regular - N5,000
Gate, regular - N10,000
VIP- N30,000
For reservations & enquiries, please call: 09086787099
Follow the link to purchase your tickets to jungle story >> www.ariiyatickets.com/hot/event/1026
[Sponsored]