Davido is presently one of the biggest music stars of all times. In fact, his fame, sound and charismatic bearing transcends the shores of this country so that it almost feels like he was never a child or a teenager who didn't need to grow up.
However, this highly successful musician of today was once an undergraduate at a university in Nigeria. A throwback photo of him in school has gone right ahead to remind us of this.
The Nwa Baby crooner schooled in Babcock University, a private tertiary institution located in Ilishan-Remo, Ogun state. Even during his days in school, the musician was already been known among Nigerians.
But then, a throwback photo of the 25-year-old singer has been making rounds on social media and many people can't help but find it very hilarious.
READ ALSO: Omoni Oboli shares major throwback photo to celebrate her son's 17th birthday
The picture showed a young Davido while he was still in school. In the photo, he was with an unknown friend who was all too happy to embrace the singer.
Davido himself had a red t-shirt and a black cap turned to the back. At this time, he already had a lot of tatoos which he flaunted alongside a chain.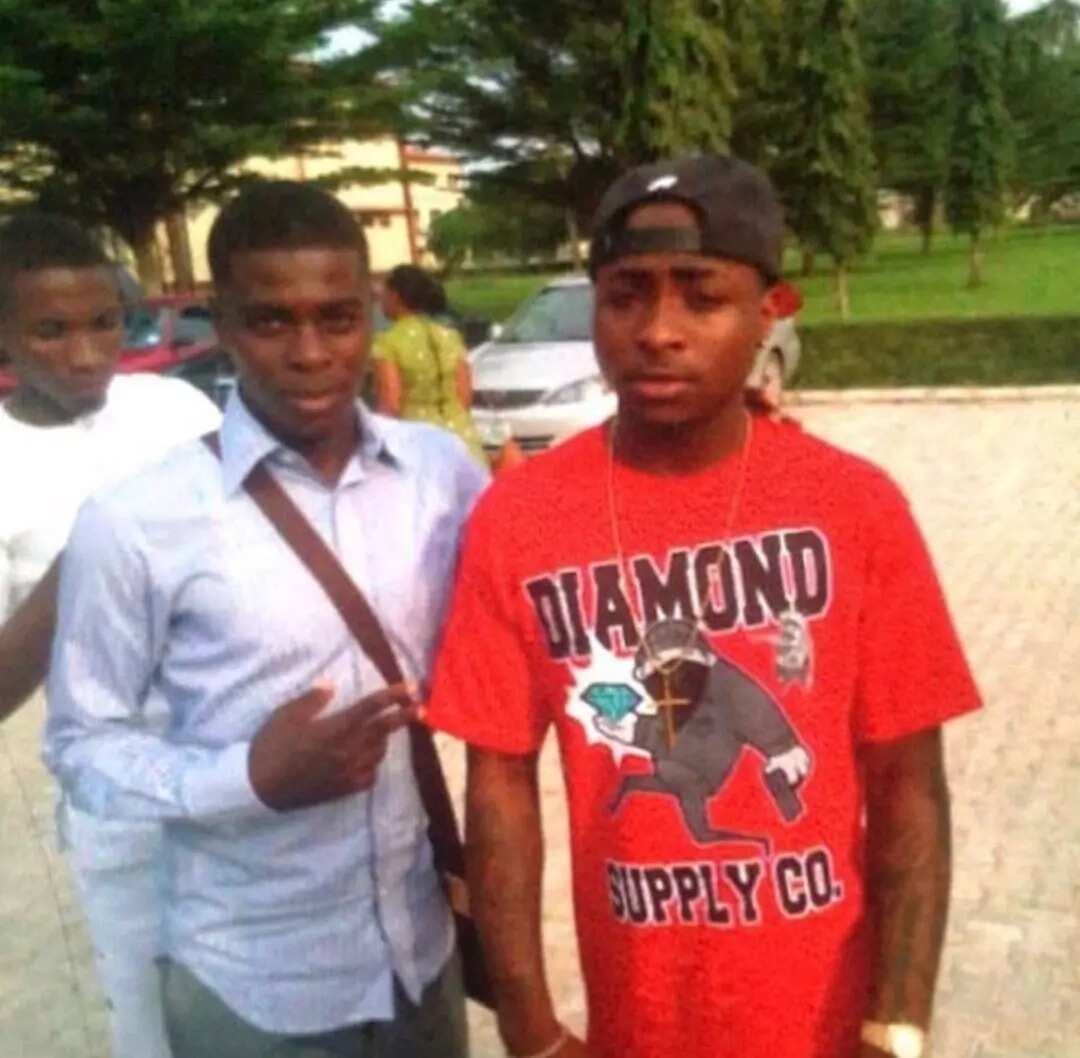 PAY ATTENTION: Install Legit.ng News App on Android and get the latest Nigerian news
In the meanwhile, the music star who has only been recently nominated for the MTV EMA awards reminisced about his school years in an interview with the Breakfast Club.
Read his words here:
"When I was in college, that's when the Nigerian, African (music) industry became big. Back then, it was 2face, D'banj and Psquare. Those were the three hottest singers back then.
I went back (to Nigeria) one Christmas, and the artistes were making bread (money), the songs were being played everywhere on the radio. That's when I fell in love.
After I fell in love with the music, I bought studio equipment when I came back (to the US). I actually used to record for the Jamaicans in my dorm. Everything changed after I met the Jamaicans.
As a producer, I used to make demo tracks and I'd shop it to artistes. I had a cousin called Mpizzle. I made a demo track for him but he did not record it. So I dropped it and put some rapper on it, and it became big."
PAY ATTENTION: Relationship gist and gossips available on Africa Love Aid
He talked about how he came to develop passion for music and how his dad had insisted he finished schooling. He appeared all too grateful to his wealthy father Adedeji Adeleke for making him complete the feat.
"I remember the first show I did… there were 50 policemen. Back then, they arrested my girl, my manager, the show promoter. Then the song started getting big, so it was getting harder for my dad to send the police after me. Then at some my point, my dad called me and said 'let's have a meeting', so we met up."
Right now, Davido, who is a graduate, has moved on to serving his nation as occasioned by the National Youth Service Corps.
Nigeria News Davido & Chioma: All You Want To Know About Their Latest Photoshoot | Legit.ng TV
Source: Legit.ng