- Following investigation by CNN reporters, a new spot in Paris has been discovered to be the home of human traffickers
- The park identified as Bois de Vincennes harbors several Nigerian love peddlers at night
- According to reports, these women have been sworn into secrecy by their pimps and their passports seized as they are made to pay off a never ending debt
The issue of human tracking involving many Nigerians has continued to be a fundamental issue for the nation as these trafficking networks continue to expand internationally. The stories of Nigerian women lured into prostitution abroad seems endless.
A recent discovery made by CNN brings to light yet another spot in Paris, France where many young Nigerian women are forced into prostitution. The park identified as Bois de Vincennes, is home to horse riding schools and a zoo. At night however, it becomes a harboring ground for love peddlers.
In a video shared by CNN on Twitter, several scantily dressed women believed to be Nigerians are seen littered all over the park, waiting for anyone interested to patronize them. A Nigerian woman who has since gone into hiding, opened up about her ordeal and how she was lured into slavery all the way from Nigeria.
READ ALSO: 19-year-old man reportedly ties the knot with a 39-year-old woman
According to the mother of one, she was forced to sleep with clients by her madam for €20 (N8,4000) each. Nadège, who could not give her real name for safety reasons, revealed that the madam who she met in Lagos promised her a better life in Europe, working as a waitress.
"I was told it was like a paradise. But getting here, it was like from frying pan to fire."
READ ALSO: 27-year-old Princess Shyngle reveals how Nigerian thieves blackmailed her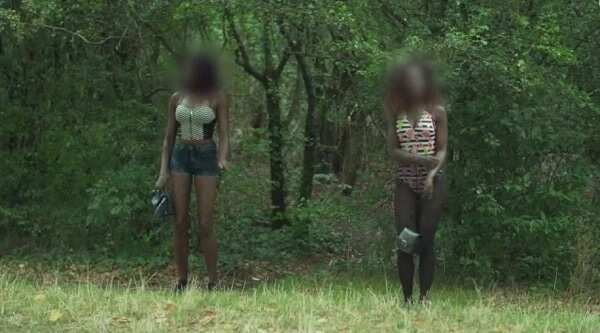 Before she left for Europe, the madam made Nadège swear an oath at a juju temple with a native doctor of Ayelala. She was made to swear an oath to repay her madam once she got to Europe. She also swore never to speak of her oath, or her debt, to anyone. Apparently, it's the same for so many Nigerian women lured into sexual slavery.
Nadege revealed she got into France with a fake passport at the age of 20 and was made to resume work at the infamous Bois de Vincennes.
She was told her debt was €50,000 (N20.8m). Her madam gave her a €100 (N41,800) daily target and took away her passport and all her earnings, except money for food and rent.
Sadly, this is the story of several other Nigerian women in dark corners on the streets of Paris, slaving for their pimps, women who Nadege believe are very talented but are too scared to runaway and start new lives due to the fear of what breaking the oath can do to them.
PAY ATTENTION: Get the Latest Nigerian News on Legit.ng News App
The turning point for Nadege was when she became pregnant. She and her boyfriend agreed to keep the baby and both began plans towards escaping the network. She revealed that once she stopped making payments to her madam, she was waiting for the oath to harm her.
"I was waiting patiently for the death or the madness. I was like... 'Should I go over to the street and start working? Should I abort my baby?"
She has escaped harm as the networks have less of a physical presence in France and with the help of a lawyer, she has been able to gain asylum there.
Get the hottest gist on Africa Love Aid
Nigeria News Today: James Brown - I am not GAY; Police Arrested Me Despite My HIV Status Legit.ng TV