Actress Yvonne Nelson has been rescued from the throes of death in what would have been a ghastly airplane accident. The film producer who was so grateful for living through the ordeal took to social media to talk about the incident.
As gathered by Legit.ng, the actress had joined herself to Delta Flight 420 that was supposed to take off from an airport in New York named after a former US president called John Fitzgerald Kennedy. The plane was supposed to fly to Ghana.
However, the pilot who has started the engine of the plane aborted take-off due to an undisclosed minor issue. This caused the brake of the airplane to be excessively heated and propelled it to start emitting smoke.
Hence, the 205 passengers who were meant to be en route to Ghana had to be evacuated. Yvonne Nelson was part of these people and in a subsequent video she shared, the filmmaker was astounded as firefighters promptly came to the scene of the accident and doused the flames with water.
READ ALSO: Yvonne Nelson shows off huge backside in new photo
A grateful Yvonne Nelson was all too shocked as she listened to an announcer instruct passengers like her to maintain their seats and stay calm. Through it all, she and the other people on board with her were safely rescued from what would have been a terrible incident.
To show her immense gratitude to God, the mother of one also wrote an inscription alongside the videos she shared on Instagram. She said: "My flight! So this happened to us! Thank you Jesus #Deltapleasesitup"
PAY ATTENTION: The best of Nigerian News on Legit.ng News App
Evidently, the beautiful actress also wants the airway in charge of the plane she boarded to prevent any such re-occurrence.
Fans of the Ghanaian lady were all too happy for her and they expressed their joy at her safety and protection in spite of the ruckus she had found herself in.
PAY ATTENTION: Love, relationship, marriage on Africa Love Aid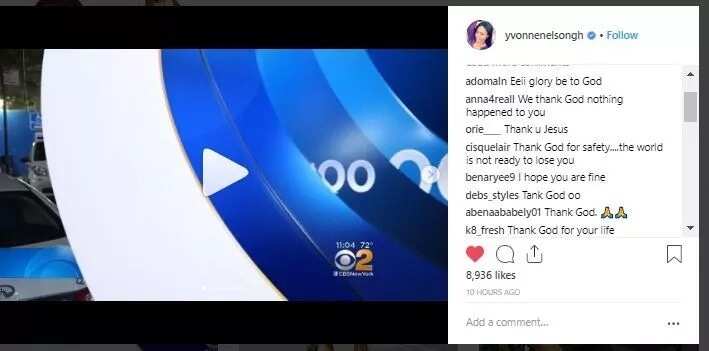 My life after the plane crash – Nigerian plane crash survivor Kechi Okwuchi speaks to NAIJ TV | Legit.ng TV