People are looking for some adventure quotes sayings, when they do not have enough positive emotions in their life. You can check up our list and be inspired for you future journeys right now!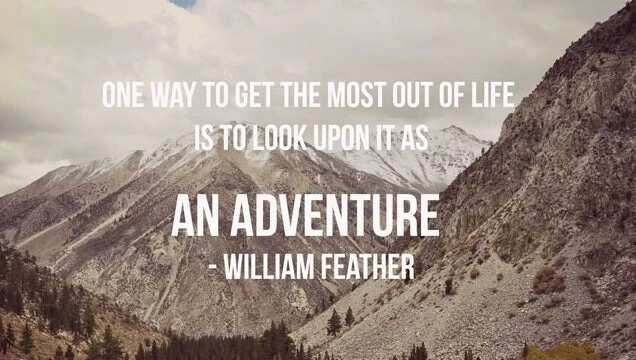 Adventure journey quotes
"To die will be an awfully big adventure."
― J.M. Barrie, Peter Pan
"Why do you go away? So that you can come back. So that you can see the place you came from with new eyes and extra colors. And the people there see you differently, too. Coming back to where you started is not the same as never leaving."
― Terry Pratchett, A Hat Full of Sky
"Let us step into the night and pursue that flighty temptress, adventure."
― J.K. Rowling, Harry Potter and the Half-Blood Prince
"Life should not be a journey to the grave with the intention of arriving safely in a pretty and well preserved body, but rather to skid in broadside in a cloud of smoke, thoroughly used up, totally worn out, and loudly proclaiming "Wow! What a Ride!"
― Hunter S. Thompson, The Proud Highway: Saga of a Desperate Southern Gentleman, 1955-1967
"Would you tell me, please, which way I ought to go from here?"
"That depends a good deal on where you want to get to."
"I don't much care where –"
"Then it doesn't matter which way you go."
― Lewis Carroll, Alice in Wonderland
"The purpose of life is to live it, to taste experience to the utmost, to reach out eagerly and without fear for newer and richer experience."
― Eleanor Roosevelt
"I know not all that may be coming, but be it what it will, I'll go to it laughing."
― Herman Melville
"What is that feeling when you're driving away from people and they recede on the plain till you see their specks dispersing? - it's the too-huge world vaulting us, and it's good-bye. But we lean forward to the next crazy venture beneath the skies."
― Jack Kerouac, On the Road
"Don't let the expectations and opinions of other people affect your decisions. It's your life, not theirs. Do what matters most to you; do what makes you feel alive and happy. Don't let the expectations and ideas of others limit who you are. If you let others tell you who you are, you are living their reality — not yours. There is more to life than pleasing people. There is much more to life than following others' prescribed path. There is so much more to life than what you experience right now. You need to decide who you are for yourself. Become a whole being. Adventure."
― Roy T. Bennett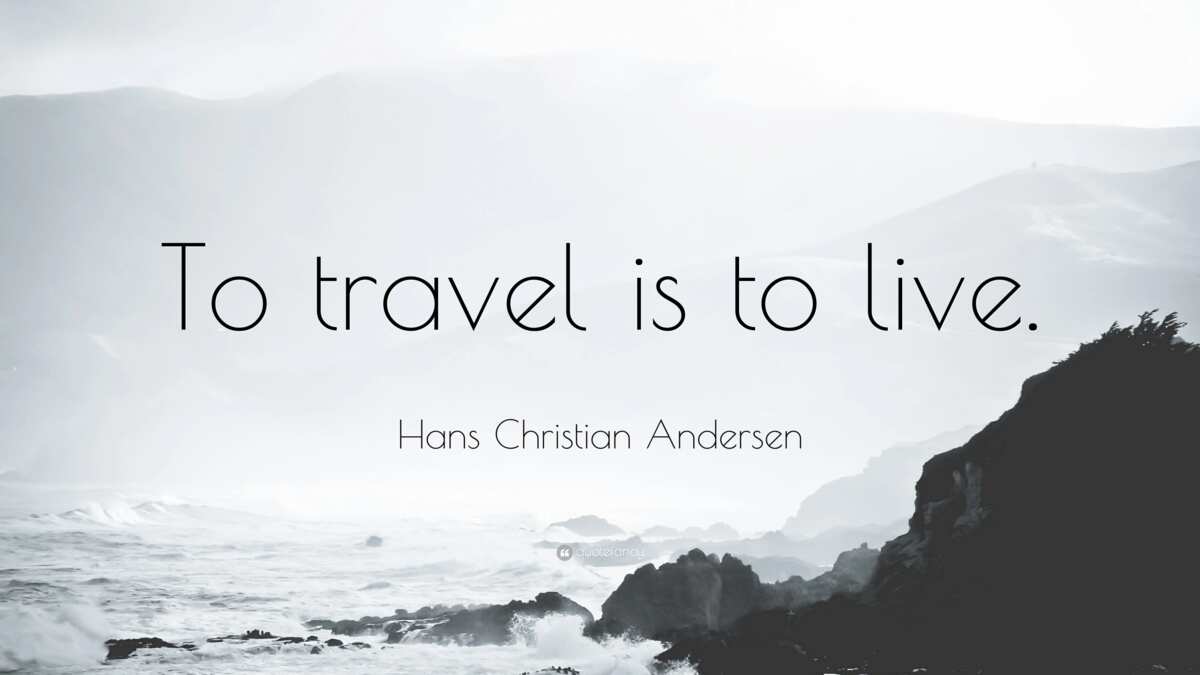 READ ALSO: Savage quotes about fake friends
"The biggest adventure you can ever take is to live the life of your dreams."
― Oprah Winfrey
"I'd like to repeat the advice that I gave you before, in that I think you really should make a radical change in your lifestyle and begin to boldly do things which you may previously never have thought of doing, or been too hesitant to attempt. So many people live within unhappy circumstances and yet will not take the initiative to change their situation because they are conditioned to a life of security, conformity, and conservatism, all of which may appear to give one peace of mind, but in reality nothing is more damaging to the adventurous spirit within a man than a secure future. The very basic core of a man's living spirit is his passion for adventure. The joy of life comes from our encounters with new experiences, and hence there is no greater joy than to have an endlessly changing horizon, for each day to have a new and different sun.
If you want to get more out of life, Ron, you must lose your inclination for monotonous security and adopt a helter-skelter style of life that will at first appear to you to be crazy. But once you become accustomed to such a life you will see its full meaning and its incredible beauty. And so, Ron, in short, get out of Salton City and hit the Road. I guarantee you will be very glad you did. But I fear that you will ignore my advice. You think that I am stubborn, but you are even more stubborn than me. You had a wonderful chance on your drive back to see one of the greatest sights on earth, the Grand Canyon, something every American should see at least once in his life. But for some reason incomprehensible to me you wanted nothing but to bolt for home as quickly as possible, right back to the same situation which you see day after day after day. I fear you will follow this same inclination in the future and thus fail to discover all the wonderful things that God has placed around us to discover.
Don't settle down and sit in one place. Move around, be nomadic, make each day a new horizon. You are still going to live a long time, Ron, and it would be a shame if you did not take the opportunity to revolutionize your life and move into an entirely new realm of experience.
You are wrong if you think Joy emanates only or principally from human relationships. God has placed it all around us. It is in everything and anything we might experience. We just have to have the courage to turn against our habitual lifestyle and engage in unconventional living.
My point is that you do not need me or anyone else around to bring this new kind of light in your life. It is simply waiting out there for you to grasp it, and all you have to do is reach for it. The only person you are fighting is yourself and your stubbornness to engage in new circumstances."
― Jon Krakauer, Into the Wild
"Never fear quarrels, but seek hazardous adventures."
― Alexandre Dumas, The Three Musketeers
"No, no! The adventures first, explanations take such a dreadful time."
- Patrick Rothfuss
"I have stolen princesses back from sleeping barrow kings. I burned down the town of Trebon. I have spent the night with Felurian and left with both my sanity and my life. I was expelled from the University at a younger age than most people are allowed in. I tread paths by moonlight that others fear to speak of during day. I have talked to gods, loved women, and written songs that make the minstrels weep. You may have heard of me."
― Patrick Rothfuss, The Name of the Wind
Do you consider these ones as some inspirational quotes? Do you feel some positive energy we've wanted to send to you? We hope, you've loved these beautiful quotes and you are ready to share them with the world! Be the person who has strong, wise, motivational quotes on his social media page, so everyone wants to go back to it all the time!
READ ALSO: Regret quotes about life and relationships
Source: goodreads.com