Everyone has their own personal hygienic practices and beliefs that tends to differ from one person to another and singer/beauty entrepreneur, Dencia has taken to social media to share some of hers.
It is safe to say one of the perks of being rich and famous is that you can afford basically anything that ordinarily would be a struggle for a regular person. Nigerian/Cameroonian singer, Dencia sure knows how to flaunt hers.
She recently took to social media to reveal she is one among many women who don't repeat underwear during menstruation period. According to the Whitenecious CEO, she disposes of them no matter how new or clean they may be.
According to her, repeating underwear used during menstruation is dirty and unhealthy. She also revealed that she doesn't flush wipes or toilet paper in the toilet as she believes anything that goes into the toilet asides human waste might clog the toilet.
READ ALSO: Patience Jonathan steals show as she attends burial ceremony in Rivers
She wrote: "I have two habits everyone finds weird, I throw away all period underwear. I just can't go back to them, they've got to go. I don't want to know how clean or how new they are, as long as I used them while on my period. I don't flush wipes or toilet paper, they go to the trash."
I feel like everything that goes in there that is not poop or pee will clog the toilet. My sister said I'm the only weirdo who does this, but I said there are folks out there like me", she wrote on Snapchat.
See post below:
READ ALSO: Viral video of lady dancing Shaku-Shaku as she gets called to bar in Canada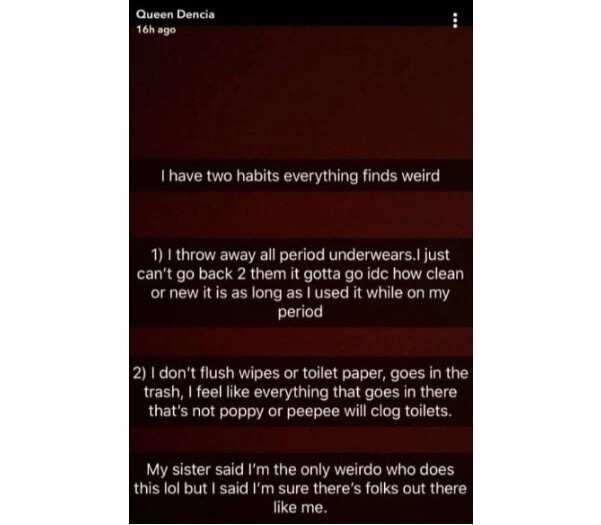 Interesting!
PAY ATTENTION: Get the Latest Nigerian News on Legit.ng News App
Get the hottest gist on Africa Love Aid
Nigeria News Today: Peter Okoye - Receiving His First Major Award For His Solo Act | Legit.ng TV