Funke Akindele has taken a break from the Nollywood hustle to address her fans about a matter of utmost importance. She did this by sending out a reality check where she put aside the glam she is known for on the gram and talked about life issues.
The Nollywood actress took to her Instagram page and started a conversation by noting the fact that social media has its positive and negative effects of social media. Then she went on to ask her fans pertinent questions that mirror her concern for them.
But more than this, these questions narrowed in on the financial, emotional and physical well-being of her fans. Funke Akindele, popularly known as Jenifa, took them through a deep search into whether or not they utilise social media and make it fit their own purposes.
She also delved into the fake life people live and how all that glitters is not necessarily gold. In this regard, Funke gave a reflective idea on how to succeed for having to live for the gram.
READ ALSO: Celebrating famous actress Funke Akindele with 4 beautiful photos
Going forward, the award-winning actress made sure to tell as many who cared not to follow the fashion trend pervading the Nigerian space, especially when they cannot afford the lifestyle. She capped all these advice with this caption: "To my darling #jenifans and also to #jenifa herself. Love you all #realitycheck #betruetotourself #noneedforcopycopy #nodofollowfollow"
See her posts here:
PAY ATTENTION: More Nigerian News available on Legit.ng News App
Many fans have taken to her Instagram page to comment on her words. They thanked her profusely for the dose of advice she meted out to them and they also expressed their love for her and how she portrays her brand.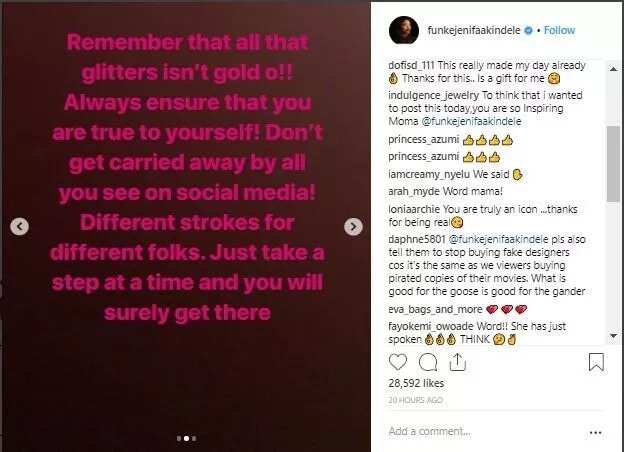 It is noteworthy that the actress has been giving several doses of advice and attending to the questions bearing on the minds of her fans in recent times.
PAY ATTENTION: Relationship gist at your fingertips on Africa Love Aid
Earlier, Legit.ng reported that Funke, when asked what are greatest fears were, said that she feared failure and poverty. This definitely must be the drive that has influenced these reflective statements coming from her.
McDermott Interview: I Believe in Equity – Nigeria Actress Ufuoma McDermott on Feminism | Legit.ng TV