- A Nigerian lady has rattled some internet users
- According to Sylvia Ekpedeme Umoh, any single lady above the age of 35 should be ashamed of celebrating her birthday
A Facebook user identified as Sylvia Ekpedeme Umoh has proven how much most Nigerians believe marriage is the ultimate goal for a woman in life. In a recent post, Sylvia boldly stated that single women above the age of 35 should be ashamed of celebrating their birthdays.
As much as marriage is a wise decision when one finds the right partner and desires to grow and share their lives with such individual, it is not the ultimate goal in life, especially for women.
Had Ekpedeme directed her statement to men and women, then it will be a whole different topic but welcome to Africa, where a woman's happiness should be solely tied to marriage and if she hasn't done this at the age of 35 and over, then all be damned, she must be miserable.
READ ALSO: Davido presents his bae Chioma with N2.3m Cartier bracelet
Umoh stated that such women should not throw big parties to mark their birthdays and be ashamed as most of their mates had already given birth.
Interestingly, many Nigerians agree with such thoughts and even take the liberty to act funny to any of such woman they come across.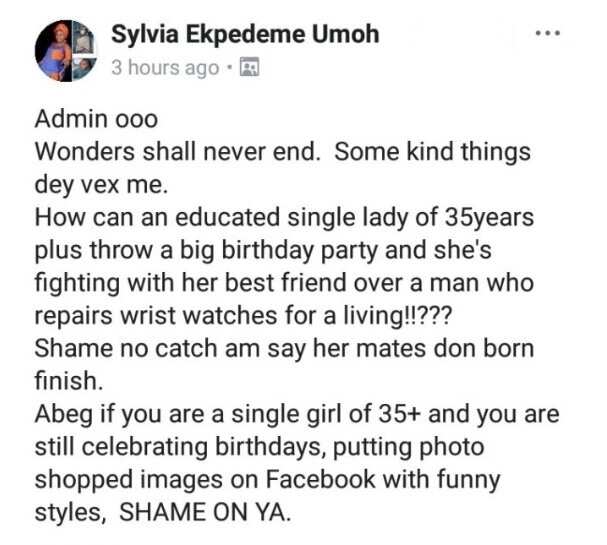 It will surprise many to know that single women above a certain age in Africa are judged because they have chosen (most times) to pursue something greater. Men are, however, given a pat on the back if they decide to chase a fulfilling career over marriage.
Recently, a Nigerian female who is a doctor by profession proved only recently that the stigma against single women still holds strong in the society.
According to Ola Brown, she had hired a man to fill in a role as her driver. The man who earlier accepted the job came later in the day to say that he could no longer take the job because she was a single woman.
PAY ATTENTION: Read best news on Nigeria's #1 news app
Should a Lady in a Relationship Have a Back Up Boyfriend? Street Gist Nigeria on Legit.ng TV: