Costliest car in the world
Over the years, we have seen some really expensive vehicles, but which one of them is the costliest car in the world? Find out which company has managed to create the most unique and luxurious mode of transportation, as well as its price tag!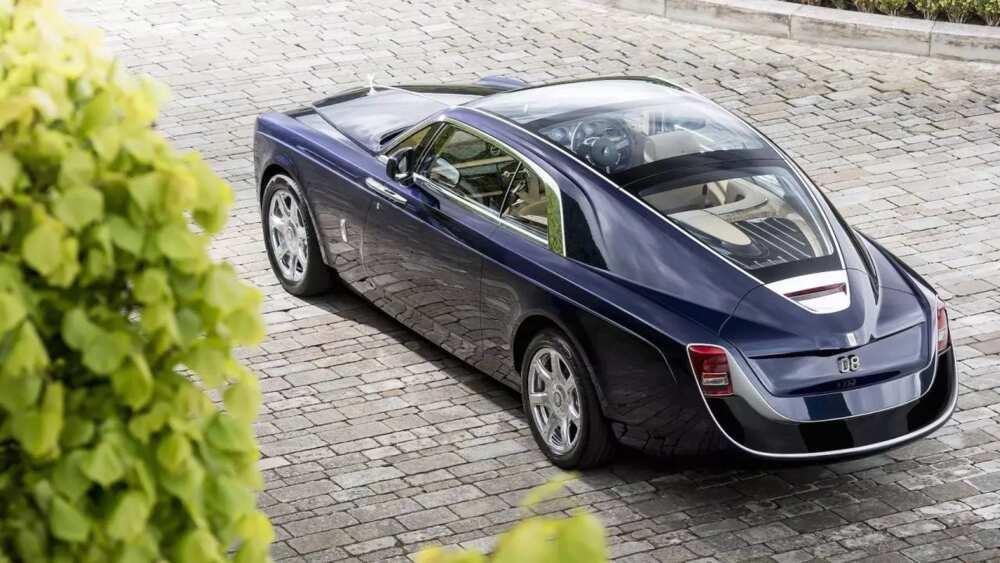 World's most expensive car
There have been many automobiles that could take part in the contest for the name of the most expensive car in the world. Just in the past few decades, we have seen the likes of Lamborghini, Ferrari, Bugatti and many other luxurious brands release their own top models valued at $3 million and above, but none of them have quite managed to outshine the current reigning winner of the title.
The most expensive car is none other than Rolls-Royce brand and it is valued at whopping $13 million! It was released back in 2017 as a one-off creation, and no other company has top that since. The model in question is the gorgeous Rolls-Royce Sweptail coupe.
This was a custom design, but the request seemed so complicated that it took the company four years to complete it. Four years! They have their Bespoke division tasked with creating unique cars, but even it was swamped with how special this car had to be.
But what makes this car one-of-a-kind? Let's find out.
What is so special about the most expensive car in the world?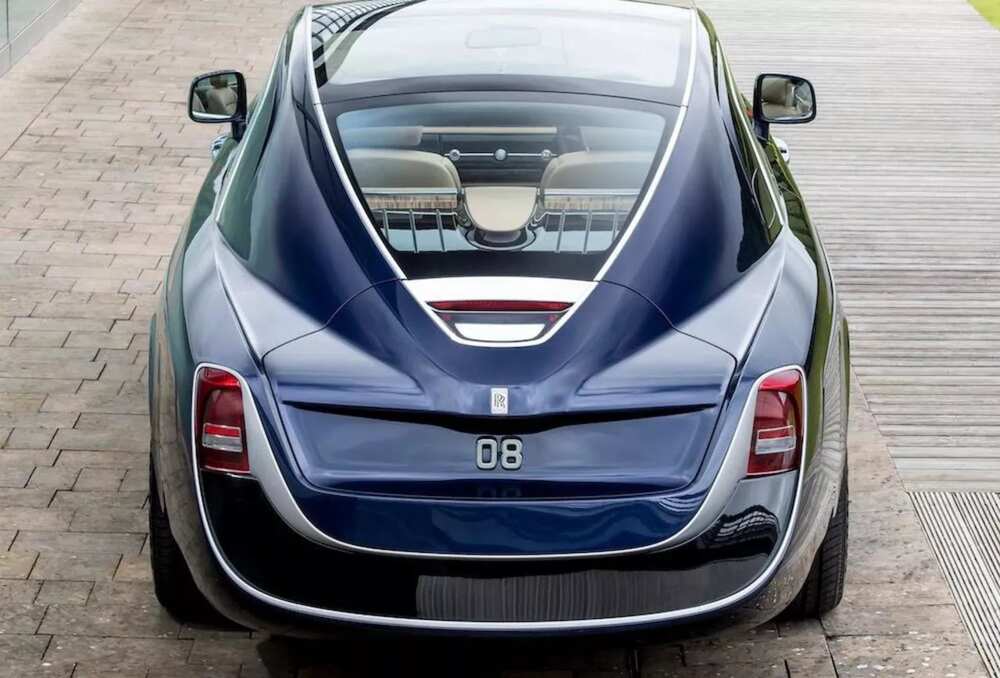 READ ALSO: World's fastest car 2018
If the price did not impress you much, we have quite a few reasons why this car is a big deal. For instance, it is incredible at least for the fact that, even when adjusted for inflation, it currently is most expensive car in the world of all time. However, it would be doing Sweptail a disservice if we just talked about its price tag, as there are a whole lot of firsts associated with it.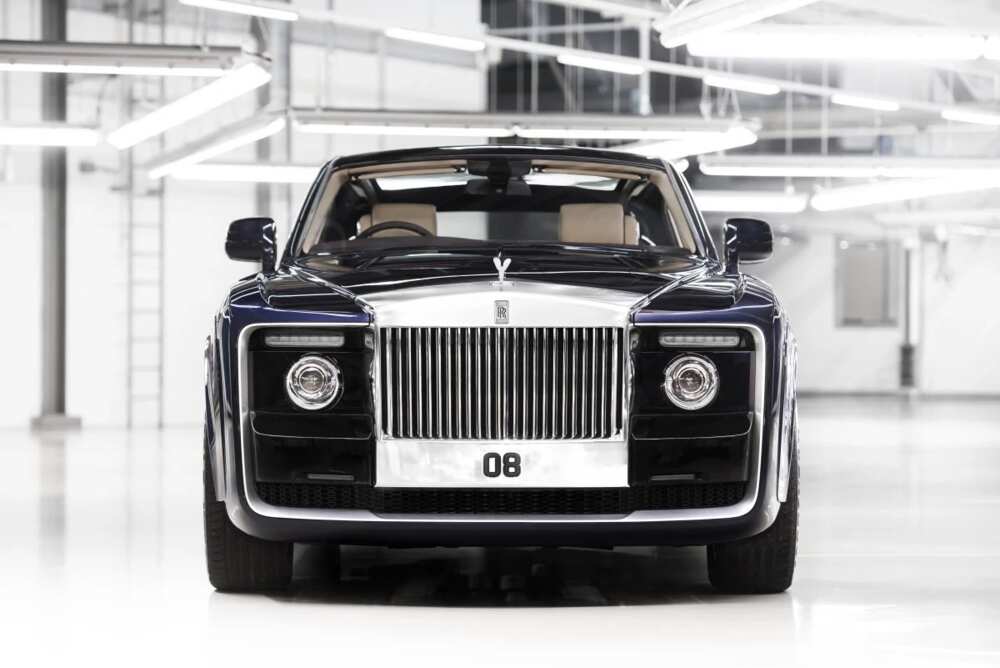 Even the exterior of this amazing car is very distinct. While it is unmistakably a Rolls-Royce, with its signature Pantheon grille, nothing else in this vehicle resembles any other model ever produced by the company.
Sweptail got its name from its most prominent feature, namely its swept tail. It is said that Rolls-Royce artists were inspired by nautical themes, making the car slightly resemble a boat. It has the unique number '08' sitting at both the front and the back, identifying it as one of the most unique and expensive cars ever produced by Rolls-Royce.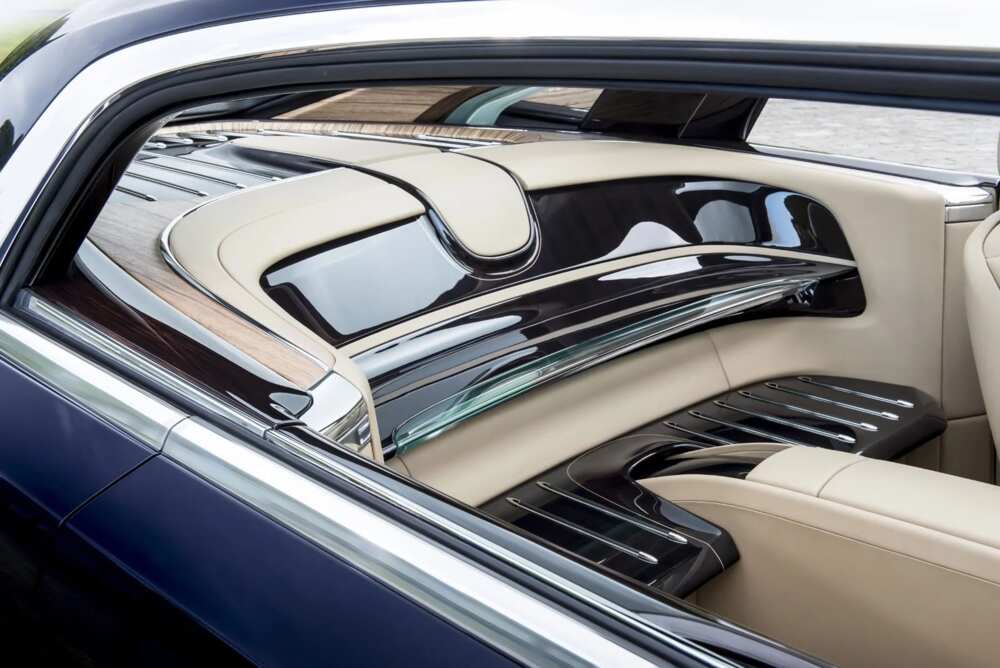 READ ALSO: The most expensive car in Nigeria and the owner
The interior of the car is not any less impressive than its exterior. Due to the roof of the car being so different from what Rolls-Royce usually does, the back of the car had to be redesigned. But that actually aligned with the wishes of the customer, who wanted a special wooden cabinet installed there.
Most of the interior is covered in incredibly expensive Macassar Ebony and Paldao wood, as well as in Dark Spice and Moccasin leathers. The centre console holds a mechanism that opens up to crystal champagne flutes and a bottle of champagne. We cannot even imagine what it feels like to sit inside that car.
As for the specs, it turns out that they have not done much to improve the internal components they usually put in their custom cars. Sweptail boasts a V12 6.75 L engine, 531 pound-feet of torque, 453 horsepower and a top speed of 150 mph, which are all common for Rolls-Royce top shelf cars. It can get from 0 to 60 in 5.6 seconds.
Who owns the most expensive car in the world?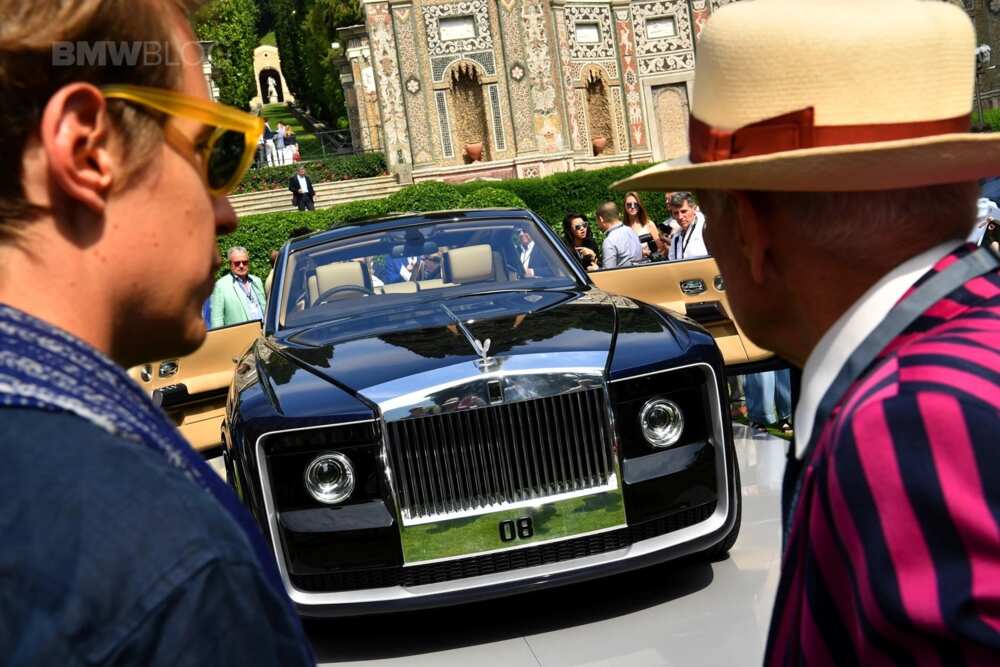 READ ALSO: Who owns the most expensive car in the world?
You might have noticed that we have not yet said anything about the owner of this incredible vehicle. Well, that is because it is still unknown who dished out a baker's dozen of millions to order such a beauty. Even though their deluxe car has appeared at multiple car shows and was even seen a few times on the roads, nobody knows who owns the beautiful piece.
All that is known about this mysterious person is that they are a 'connoisseur and collector of distinctive, one-off items including super-yachts and private aircraft'. This makes us even more curious about them, as it would be fascinating to see what other gems they have in their possession.
It would be interesting to see whether any other company will manage to surpass Rolls-Royce in the upcoming years and what that vehicle is going to look like!
READ ALSO: Ooni of Ife Rolls Royce: interesting details you should know
Source: Legit.ng