A Nigerian man has taken to Instagram to share the amazing experience he had at a recently held music event that featured his favourite international artist Jennifer Lopez.
The man identified as Dayo Dane on Instagram is known to be ardent lover of Jennifer Lopez who is popularly known as Jlo. According to him, he loved her for being great at everything she is and has become: an musician, a performer, mother, wife, daughter and human/
Dayo who heard of the show the singer was attending in Las Vegas, USA promised to be at the event to catch on his favourite female singer. Actually, he did more than that. He took to his Instagram to dedicate an entire video to her.
In the video, Dayo talked about his immense love for Jlo and how seeing her perform live at Las Vegas would 'bring unending joy to his life.' Touched by this public show of staunch loyalty, Jennifer Lopez replied his post with the words: "Check your DM."
READ ALSO: Celebrity girlfriends and wives of Nigerian stars
Apparently, there had been a competition in which Jennifer promised that any one who won would roll with her. Well, Dayo got to be one of the winners.
It was from this point that Dayo's dream of meeting his best act face to face started becoming true. In fact, the Nigerian man got more than what he bargained for as he did not only get to see Jennifer Lopez perform live, he also got called up on stage to sing with her.
PAY ATTENTION: Get more Nigerian News on Legit.ng News App
For Dayo, the experience of hugging her for a long time and getting to perform with her was a life changing one. He mirrored this in his subsequent post where he shared a video of his eventual meeting with the veteran musician.
"The night my life was forever changed. Words will never be enough to describe this magical moment. I love you so much jlo."
PAY ATTENTION: Africa Love Aid offers the best of relationship gist
Many friends of the Nigerian man who stays outside the country have all testified to the fact that Dayo is a die-hard fan of Jlo and it was his love for her that has gotten him right on stage with her.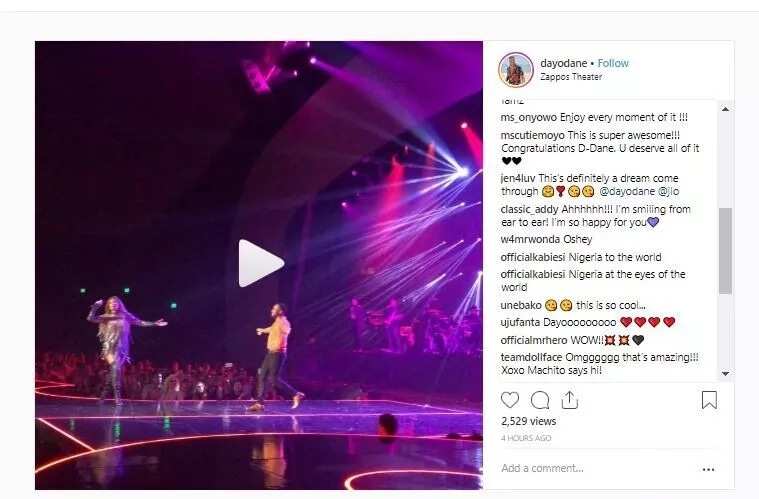 Nigeria Celebrities: How Much Do They Spend On Luxury Life? | Legit.ng TV