- Music critic Osagie lashed out at the likes of Wizkid, Teni in a recent podcast
- He has been criticized and threatened by many who were displeased by his words
- Nigerian singer Kcee has weighed in on the matter
The name Osagie Alonge is one that has been ringing a bell in the ears of many Nigerians lately and this is not for the right reasons. The music critic and journalist whose nickname is Osagz released an episode of his podcast program called Loose Talks.
In the podcast, he and other people touched on several matters with regards to popular names in the Nigerian music industry. Of all the discussions that surfaced, the clash between Wizkid and his first babymama Shola Ogudu ranked high.
Osagie, in his defence of Shola Ogudu, launched several accusations against Wizkid, part of which was the claim that he was an irresponsible father, a drug addict, an unfaithful artist and age falsifier.
READ ALSO: Kcee shows off his gold-painted exotic cars in his compound
The journalist also talked about Teni Makanaki. He claimed that she did not have the looks for singing and should stick to being a songwriter. All these lavish claims and accusations have attracted the criticisms of many Nigerians.
One of the people who have weighed in on this issue is Five Star Music singer Kcee. The Limpopo crooner shared his thoughts in a recent interview with TV Connect and expressed his unreserved disapproval of Osagie and his accusatory statements.
PAY ATTENTION: Get more Nigerian News on Legit.ng News App
See his words here:
"I don't know who Osagie is, I just heard of him yesterday and if I want to be modest, he doesn't deserve to be talking about the entertainment industry. He needs to go back to the village because he can't just wake up and start talking about people the way he did.
Without taking sides, I felt sad when I heard the things he said because a lot of people put in a lot of work to make the industry grow and you can't just wake up to rubbish their efforts with harsh words and going as far as insulting someone like Sunday Are who has been in the game for so long. I think he needs to apologise to everyone he talked about."
PAY ATTENTION: Relationship gist at your fingertips on Africa Love Aid
Even more than this, Osagie claimed that he has received several threats from people, one of which seems to be Wizkid's day one and old time friend whose name is Rotimi.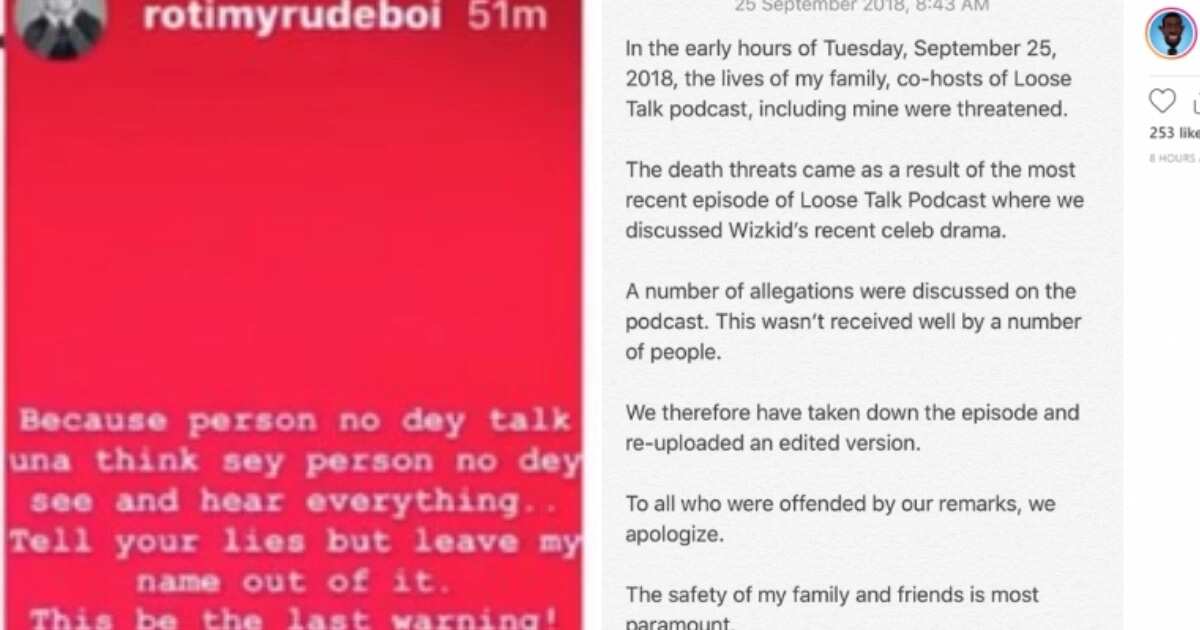 In light of this, the controversial podcast episode titled What is the Size of your Shoe has been pulled down by him and a re-edited version has been uploaded. In a statement released by him, Osagie claimed that he did this to protect his family and friends who he holds in high esteem.
Will you support WIZKID if he decides to run as Nigeria's President in 2019? | Legit.ng TV
Source: Legit.ng