Ankara corporate styles for Nigerian meaning
If you want to spice up your office wardrobe a little bit, check out our collection of ankara corporate styles. Find some vibrant work appropriate wears that can turn every weekday into a fashion event. Forget about the boring suits and monochrome!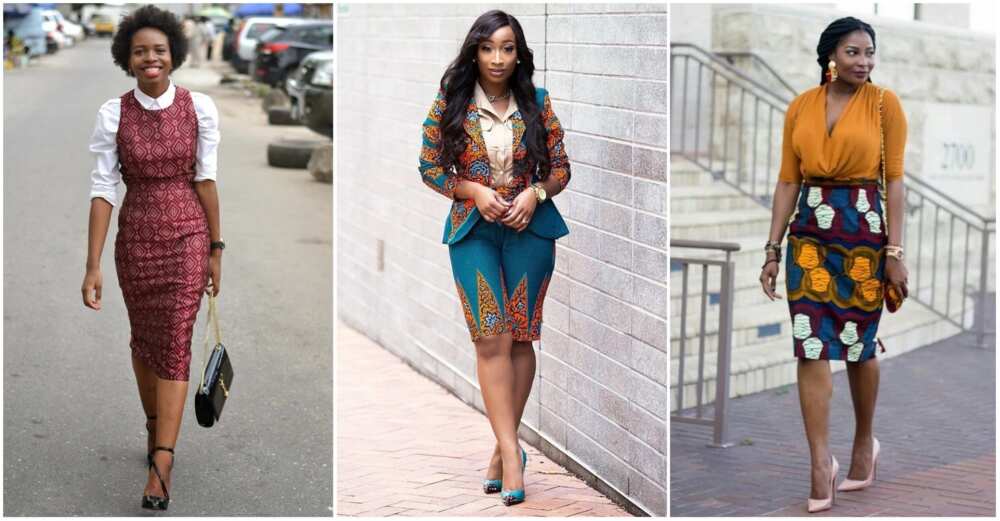 Some might think that ankara is not exactly appropriate to be worn to the office. It is bright, distracting and generally casual. People who think that way have probably never seen modern ankara styles, as some of those are simply made to be worn to work. Take a look at different ankara combos you can add to your corporate wardrobe, so that your everyday life can become more colourful.
Corporate ankara gowns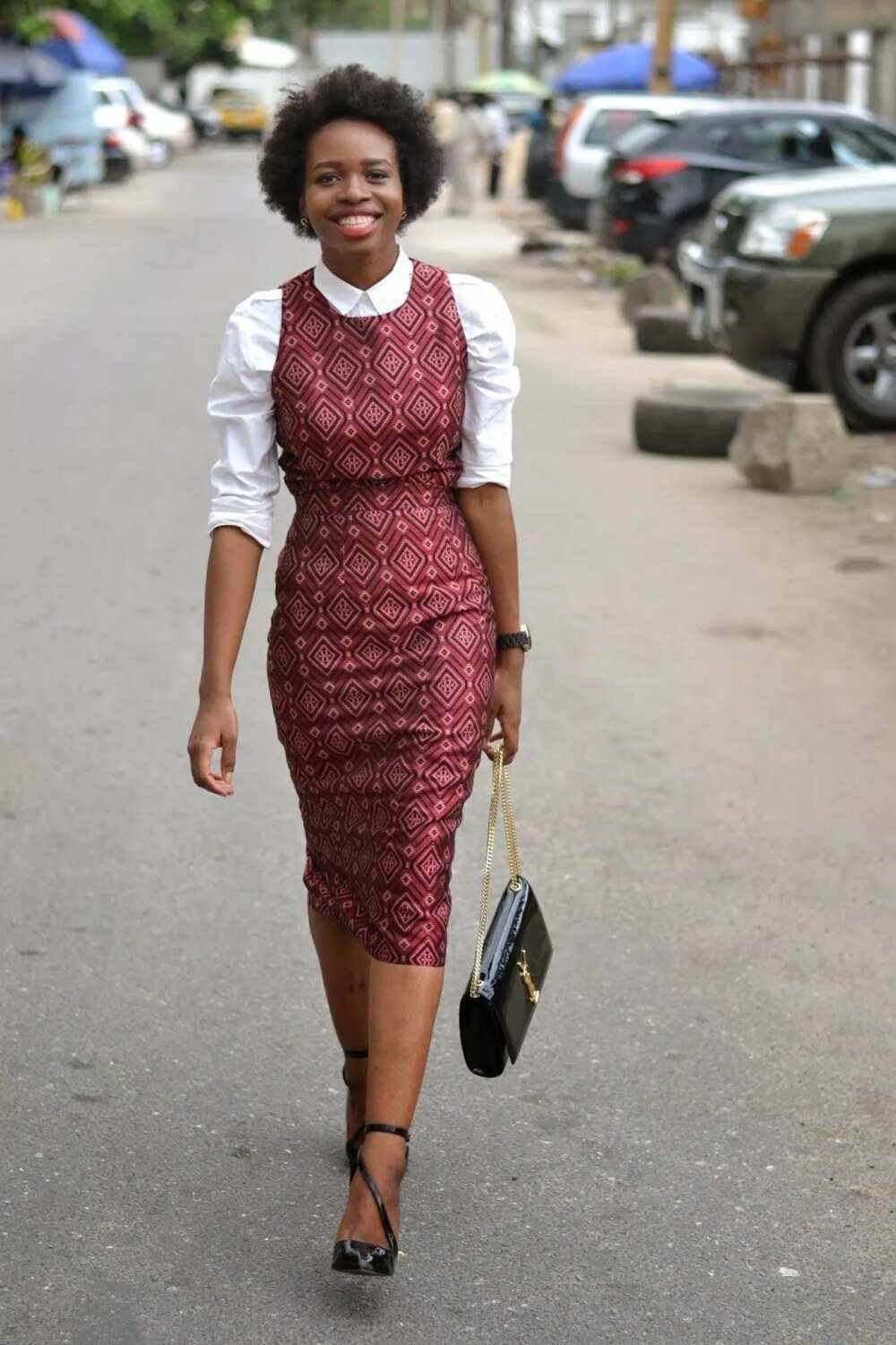 Let's open our little gallery of work-appropriate ankara fashion with dresses, particularly this lovely item. While it is classic ankara, with its repeating patterns and colours, it is simple enough to be worn to work. The style of the dress is very professional: it has the classic pencil silhouette, the hem of the skirt goes below the knee, and the shirt worn under it covers all the areas that should be covered while in the office.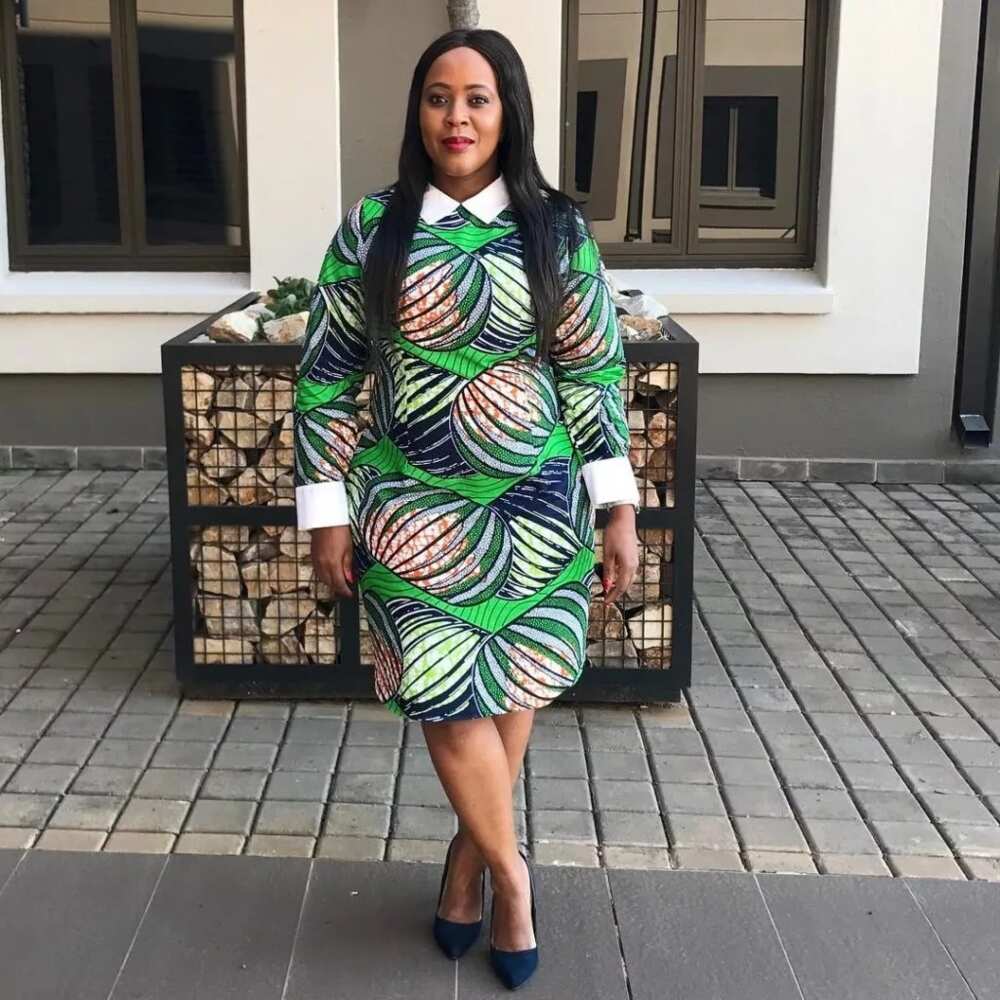 If you do not want to follow the usual pencil shape, you can also go for a sheath dress. It is not quite as close to the body, which means that you do not have to worry about it clinging to you too much. This dress is also of the appropriate length, and the added elements, such as cuffs and collar, make it look corporate.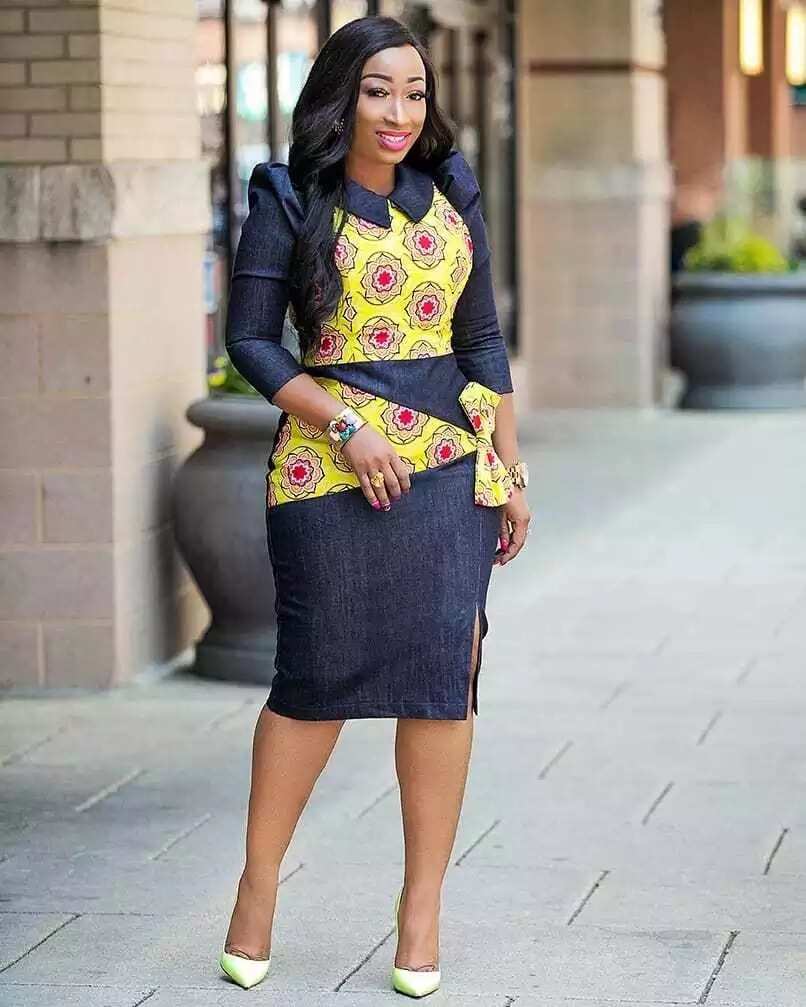 READ ALSO: Flowing gowns made with ankara to rock in 2018
Sometimes you might not want your whole dress to be made out of Ankara, but still have some vibrant elements to brighten up your day. If that is about you, then consider this dress. Without ankara inserts, it would have been a simple classic office dress, but the bright yellow patterned fabric makes it much more interesting and eye-catching.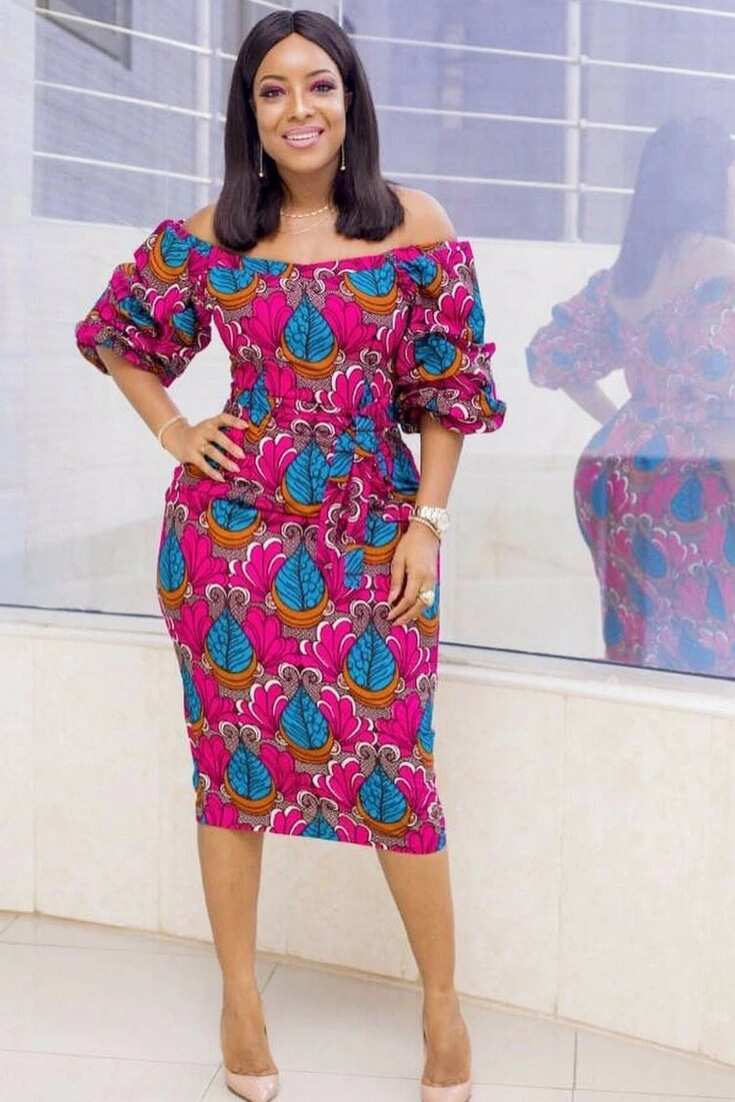 If your dress code at work is quite lenient, or you are actually the boss, why not wear something brighter and a little bit more revealing? As far as we know, not all offices allow bared shoulders and very colourful wears, but if yours does, then you should definitely try out a dress like this. While it has a classic silhouette, its off-shoulder fit and bunched up sleeves make it stand out from the rest of corporate wears.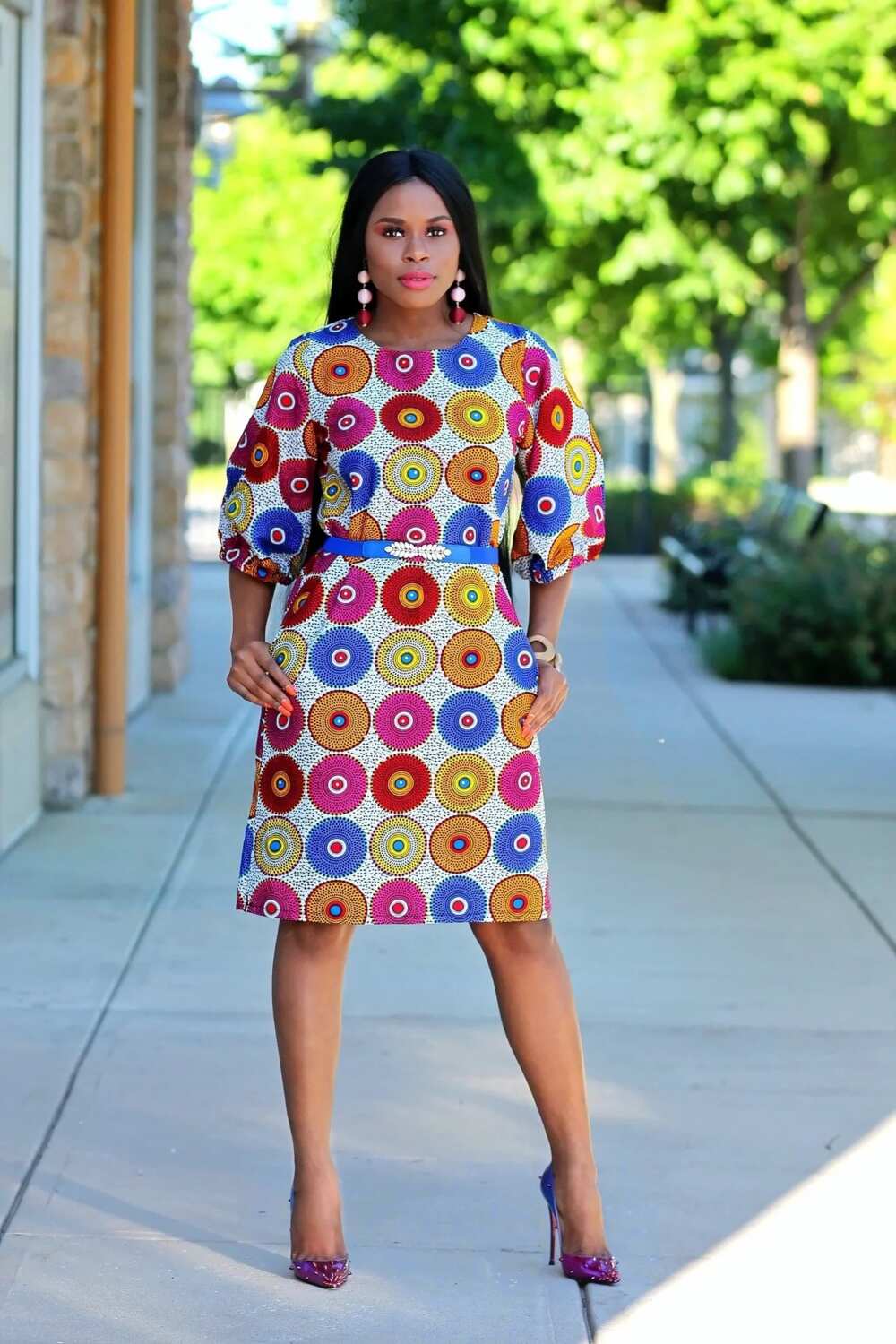 Our last pick from this category is this cool shift dress. As you can see, you can make it even more interesting with a simple belt, which can accentuate your waist and add something new to your look. What is also great about this dress is that it has pockets! For us personally it is a big plus, as it is better to have pockets and not need them than the other way around.
Office ankara fashion styles with pants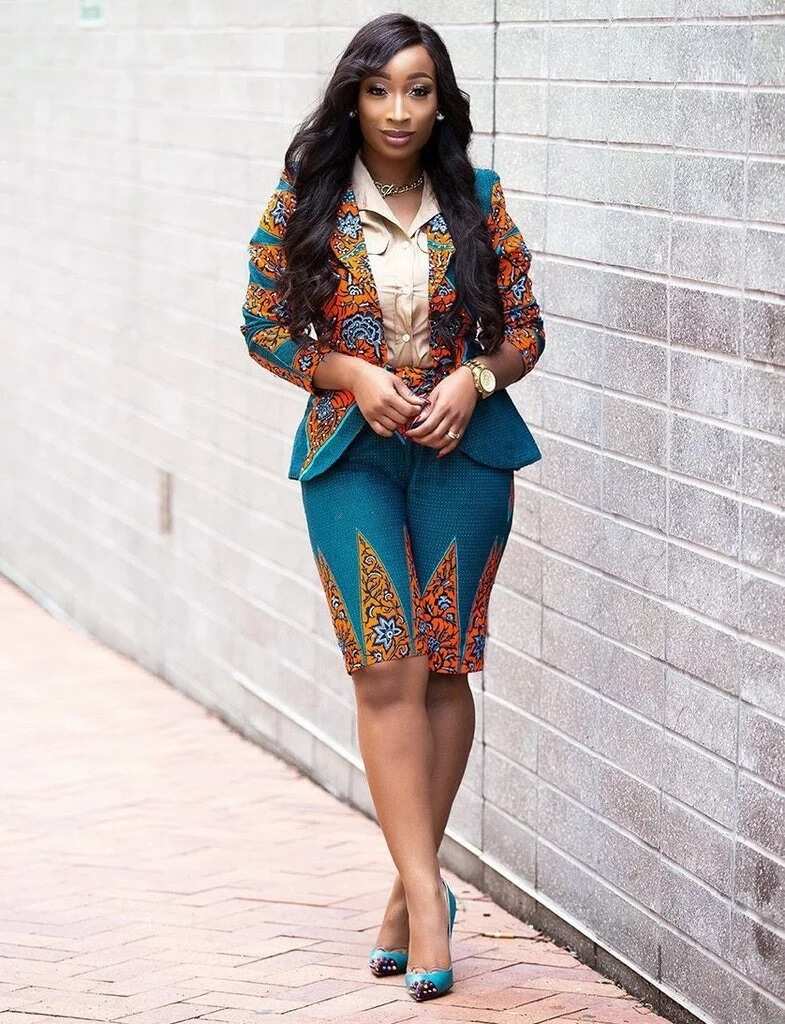 READ ALSO: Latest Ankara styles in vogue
Pantsuits have always been a part of classic office wear, but what about shorts? Of course, you cannot wear booty shorts to work, but if they are of appropriate length, why not? This particular ensemble looks wonderful, with its matching shorts and jacket, as the colours and patterns work very well together. Paired with a simple shirt, you can wear this look to the office (as long as your dress code allows shorts).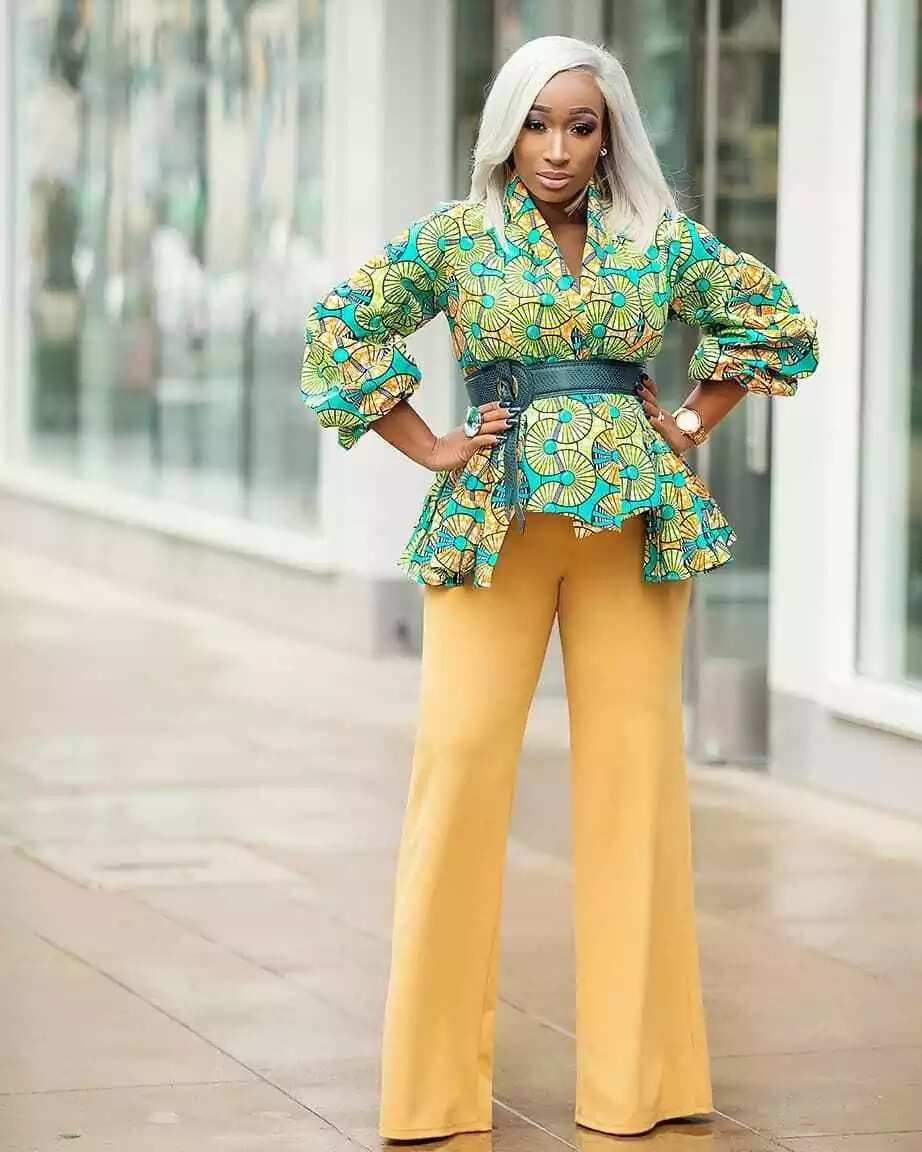 If you think that shorts are too risky to wear, but you adore ankara jackets, here is another way you can dress to work. With a look like this (and, of course, stellar performance), you are bound to get a promotion! That said, if you are already the boss, you can be a fashion icon for your employees. Mark our words, they will be lining up to get some fashion tips from you :)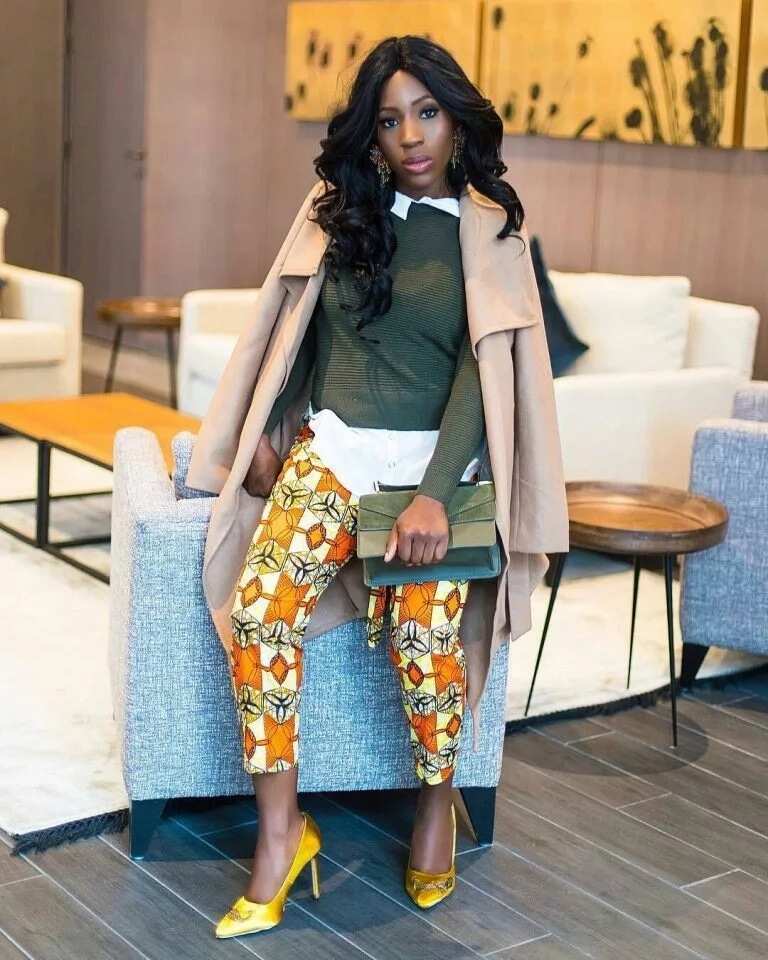 Next in our list of latest ankara styles for ladies is this look. This is great for those who prefer Ankara pants to other types of garments. With pants like these, you do not have to worry too much about what you are going to wear on the top half of your body, as all the attention is going to be focused on your legs. For that reason, make sure you wear shoes that make your legs look even nicer than they already are.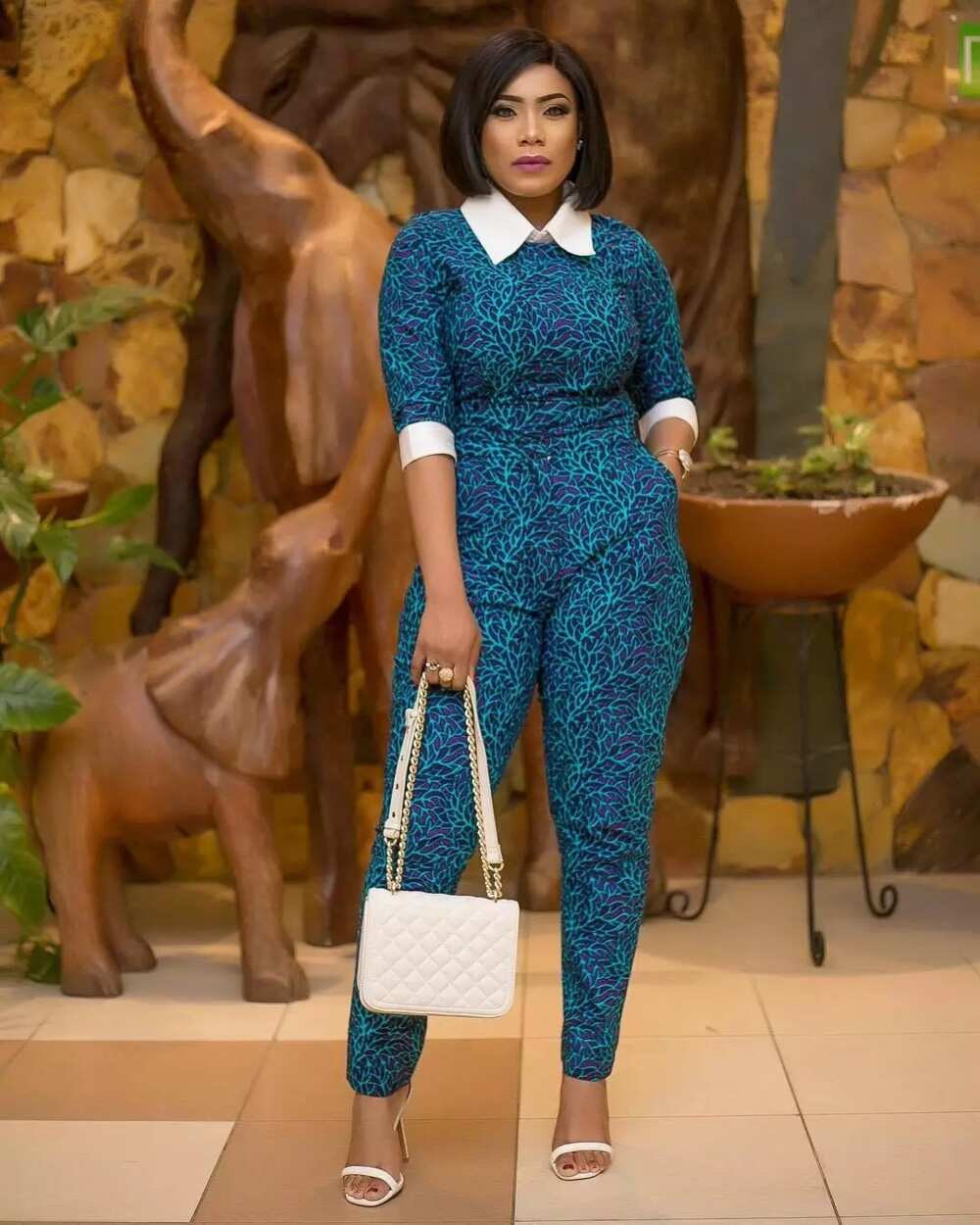 Out of all the ankara styles, one of our favourite ones has to be this jumpsuit. It looks either custom-made or expertly picked, as it sits on the body the way it should in all the places. Once again, the addition of the white cuffs and collar makes it look even more appropriate for work, and the pattern is not too distracting.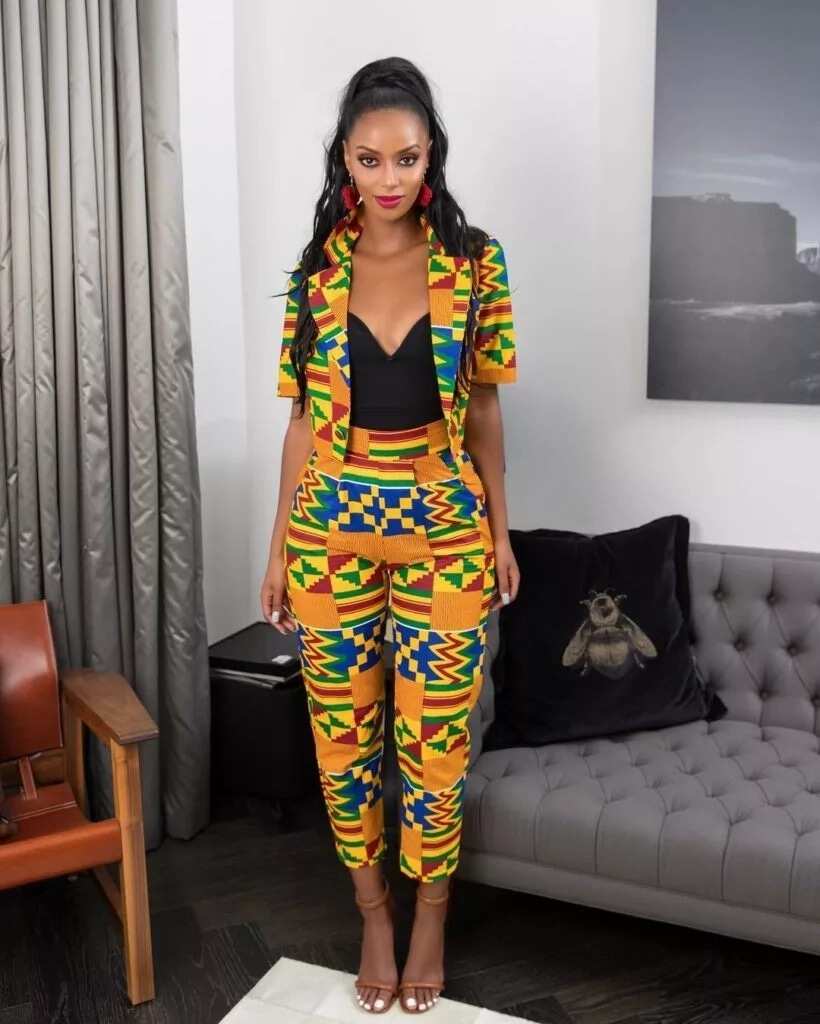 While not all workplaces allow their employees to wear really bright colours to work, you should definitely consider this pants-jacket combo if yours does. You might want to consider wearing a more modest shirt under the jacket, but otherwise this look is great if you do not want to sacrifice your style for your job.
Corporate ankara styles (skirt and blouse)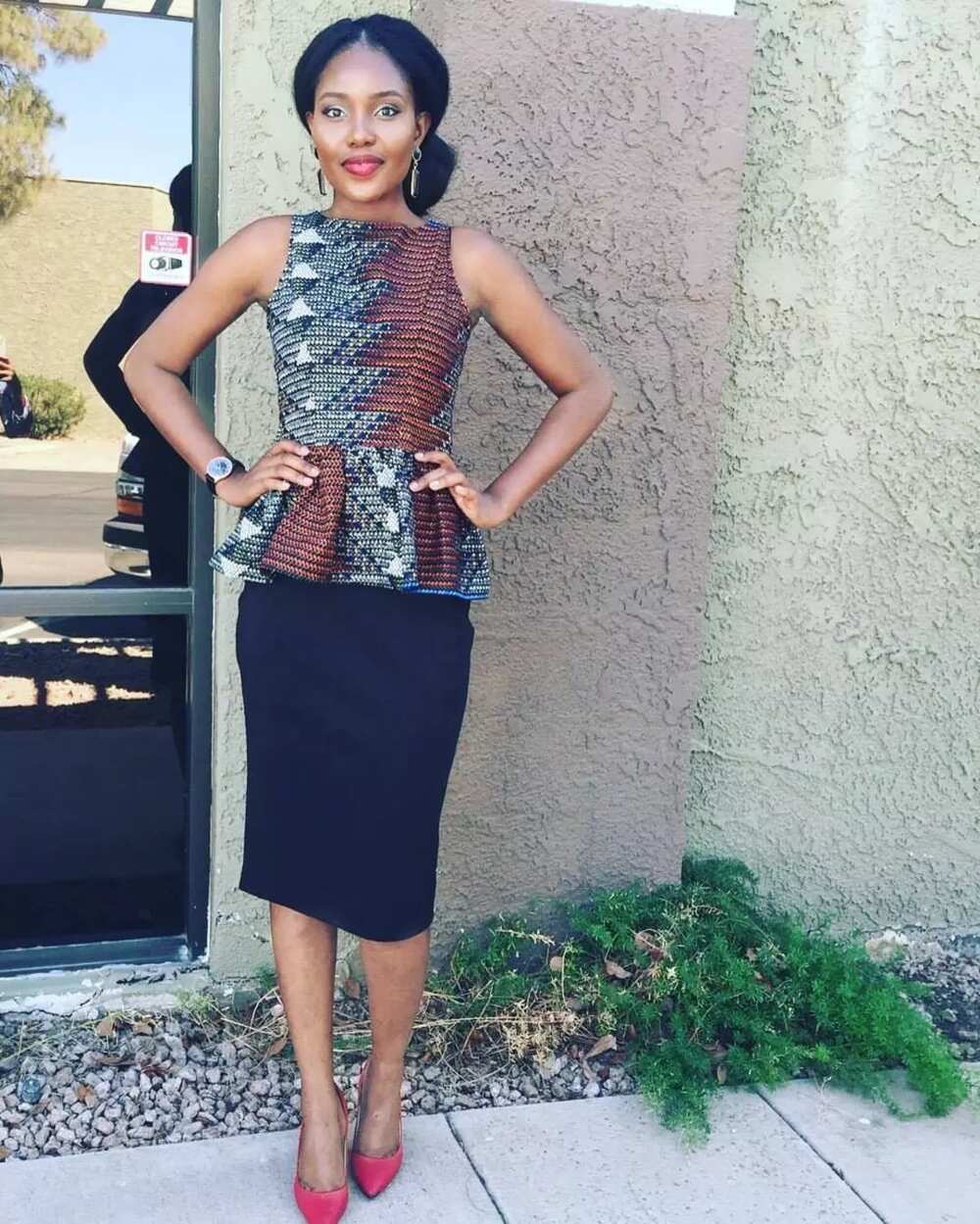 READ ALSO: Latest ankara tops and skirts
Ankara peplum tops have been in trend for the last few years, so if you have been looking for something to wear with your skirt, this is it. While they usually come in much brighter colours, this colour scheme seems to be more appropriate for the workplace. You can also add a simple black jacket on top for when the air conditioning kicks in.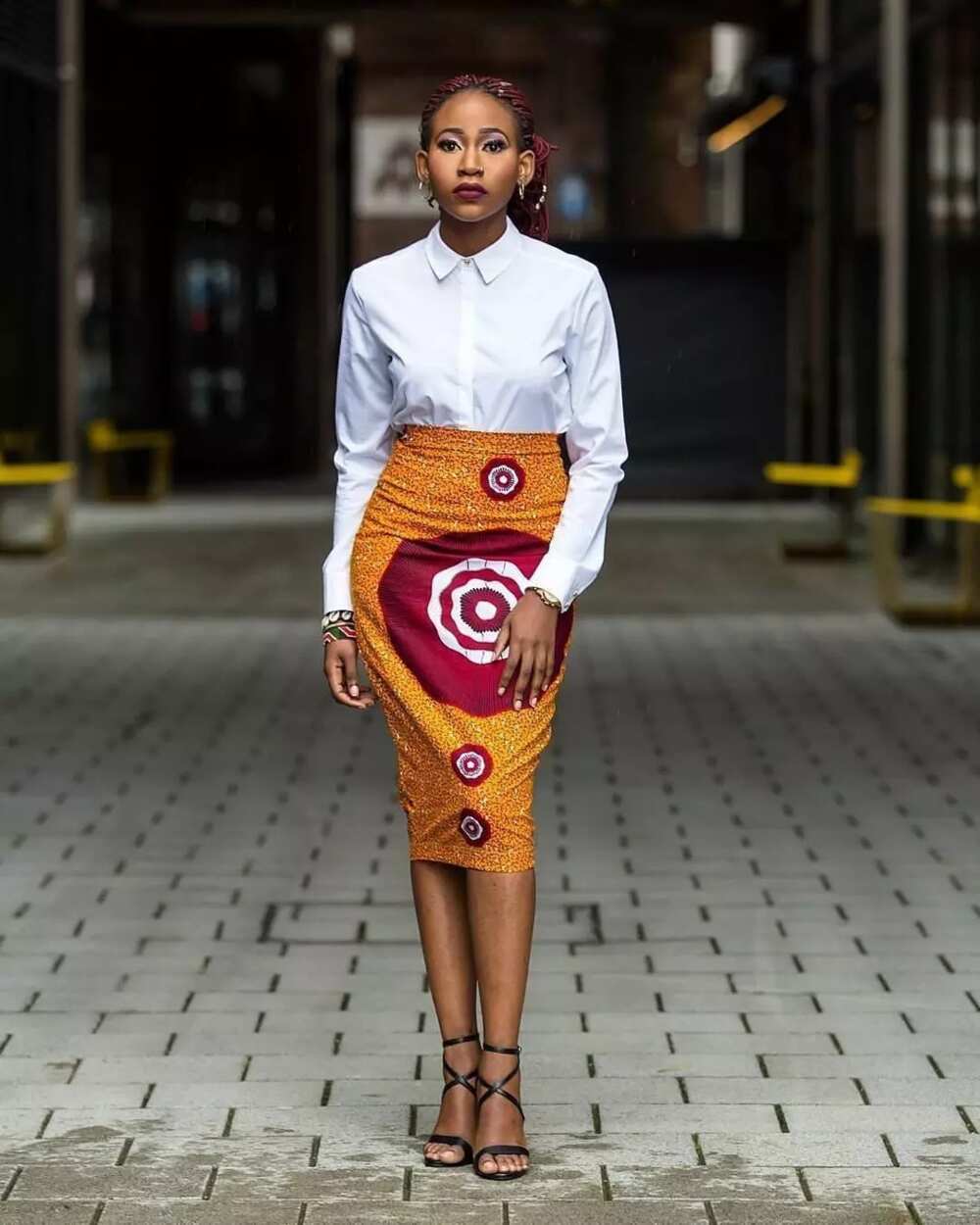 One of the latest Ankara styles is ankara pencil skirts, as you will see from our next few picks. This one in particular is tastefully paired with simple black ankle strap shoes and white shirt, so as not to make the look overly busy and to focus all the attention on the skirt. As it is common for ankara garments, the skirt is the centre piece of the look, and you would not want to dilute it by adding unnecessary elements.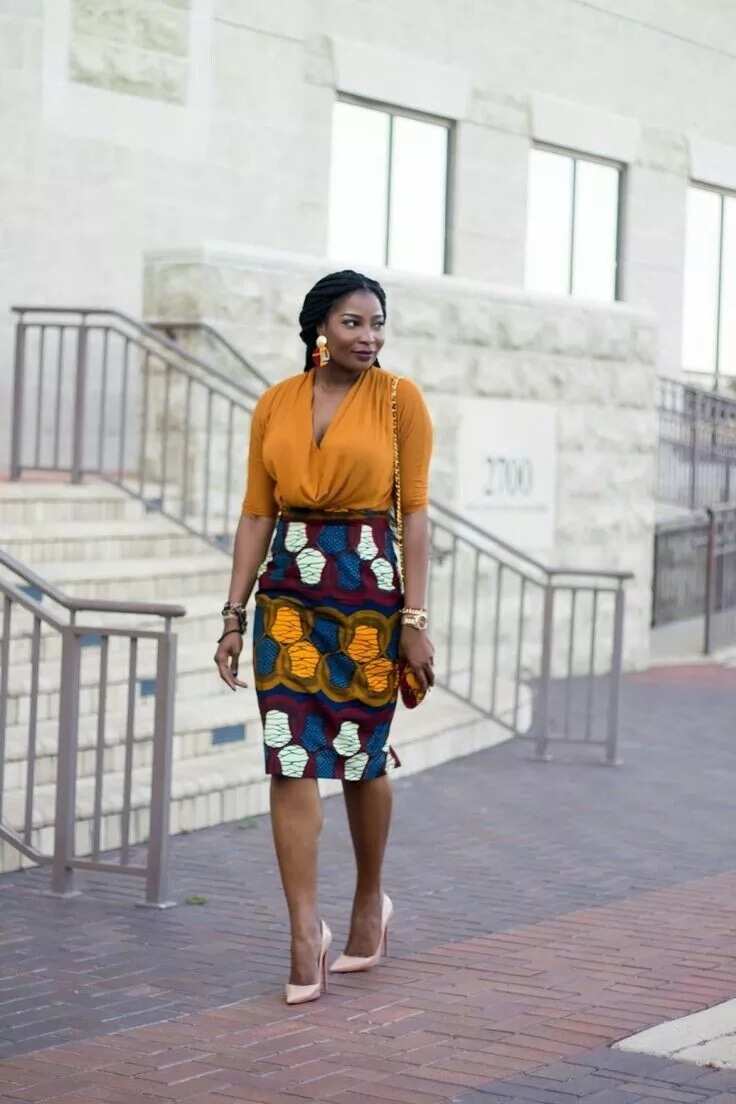 While it is ideal if you wear something neutral with your brightly coloured ankara skirt, you can also pick one of the colours from it and wear a top in that colour, as has been done in the picture above. Even though it is quite a bright look, it is tasteful enough to be work-appropriate.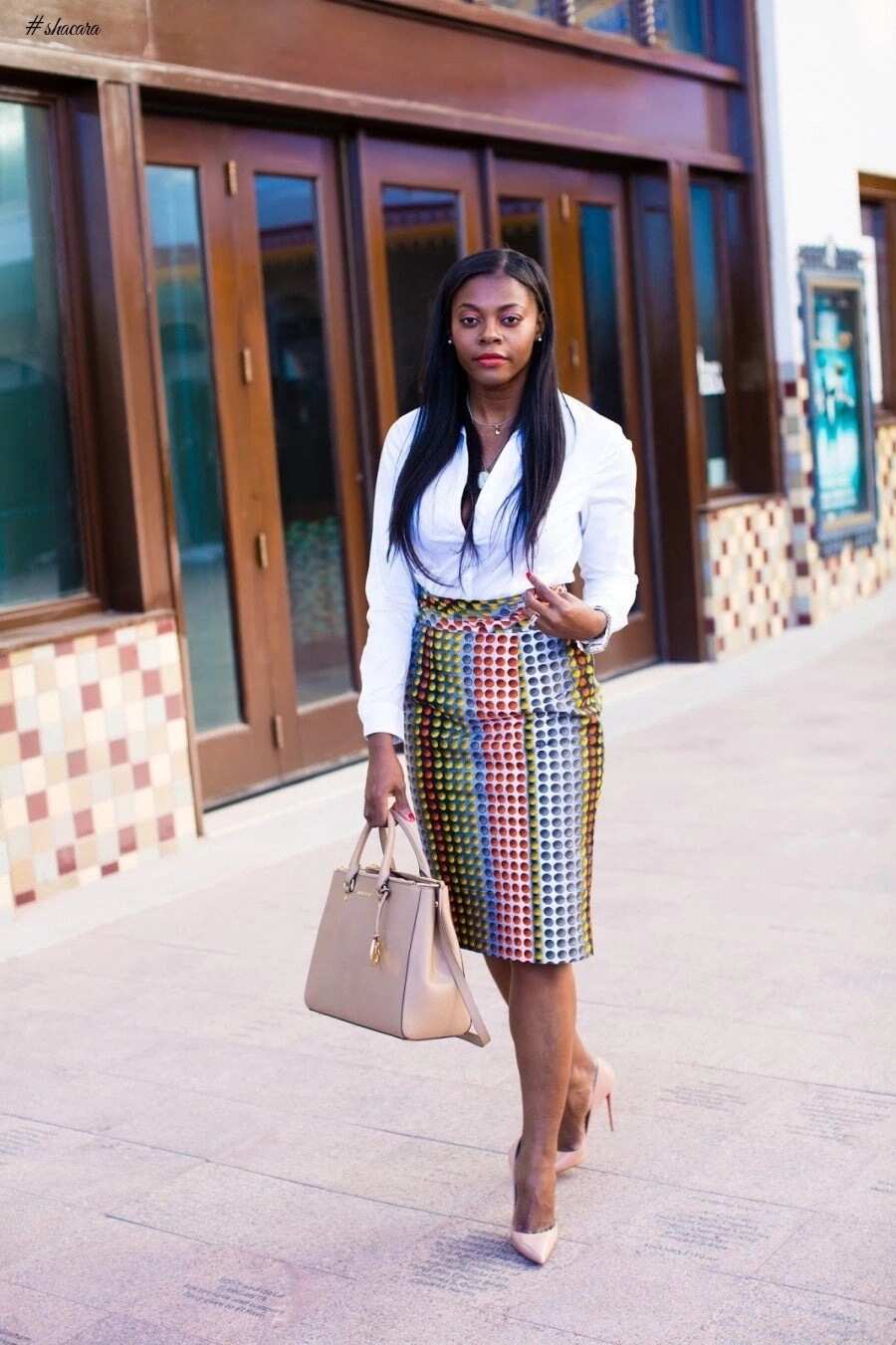 Here is another example of how you can wear ankara skirt to work. It does not feature any large eye-catching elements like the one we have mentioned before, which makes it even more office-friendly. Simple neutral coloured accessories and white shirt is exactly what you should have on the ready if you want to wear something like this.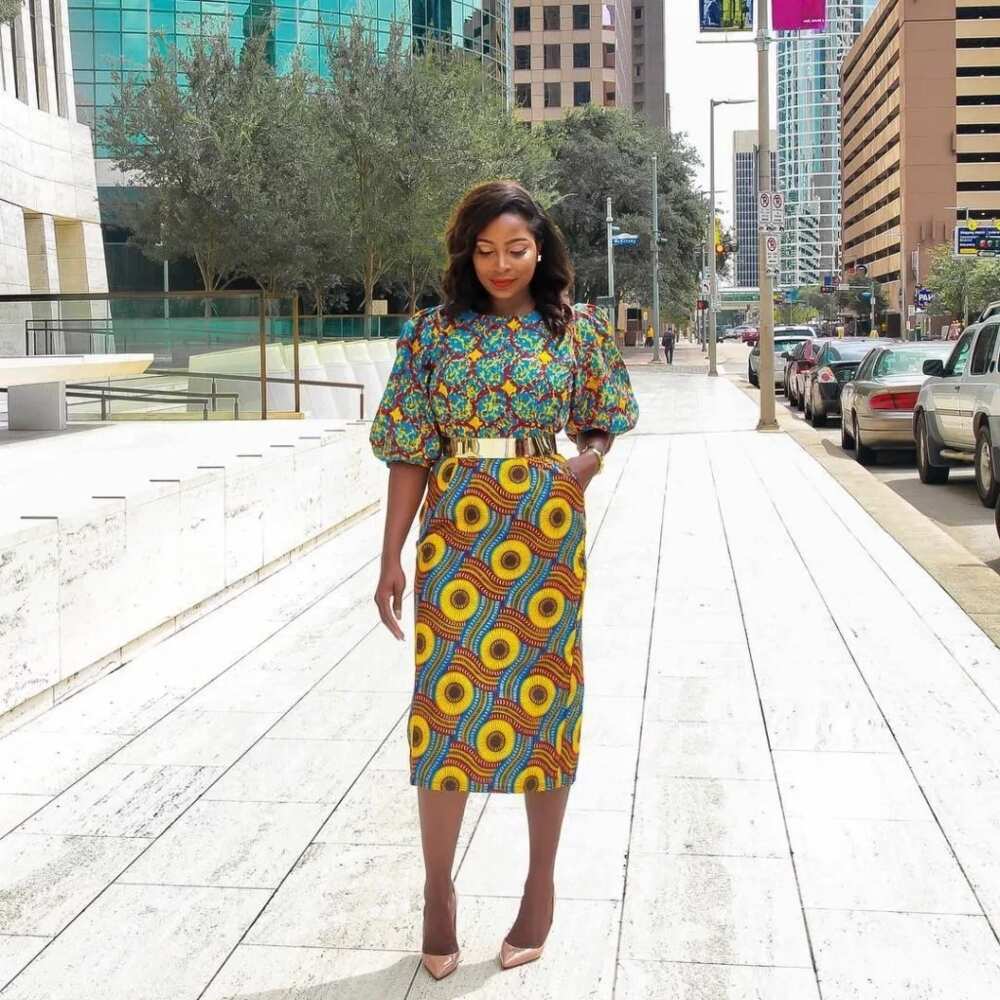 We wanted to end this article with this bright explosion of colour. While we have been preaching to wear something neutral-coloured with your ankara when you are going to the office, there is such a thing as casual Friday after all, when you can wear pretty much anything you want (as long as it is appropriate). So take that opportunity to combine some bold ankara patterns and wow your co-workers!
Those were all the styles we had for you today. Have you ever worn ankara to work? Would you want to? Have you been able to find some inspiration for your next corporate outfit? Let us know.
READ ALSO: Nigerian Ankara styles catalogue 2018
Source: Legit.ng