The sad story of a Navy official who died during his honeymoon with his wife has surfaced on the internet. Earlier, the man named Stephen Kramar who was declared missing by his wife was found dead four days later.
Stephen Kramar was a 27-year-old Navy veteran who recently got married to Jeffanie on Saturday, September 8, in Virginia, USA. The next day, the couple arrived at a resort called Kaunakakai at Molokai, their honeymoon destination in Hawaii.
In a bid to look for a hiking trail that was suitable for himself and his wife, Stephen left for a hike on the following Monday.
According to the wife, she was not at the beginning of the ordeal because Stephan was "an avid hiker, so he's hiked a few mountains before. Most of them, though, were snow-capped mountains."
Later in the day, Jeffanie received a text from her husband telling her that he was on his way back. But the lady who is also 27 years waited for him to no avail. As he did not return on time, she got worried and began calling his phone which went to voicemail every each time.
"At 9:30 I called him a few times and it rang so I knew his phone was on, but then around 9:45, 10 o'clock, like, the seventh or eighth attempt of calling him, it went dead. It went to voicemail."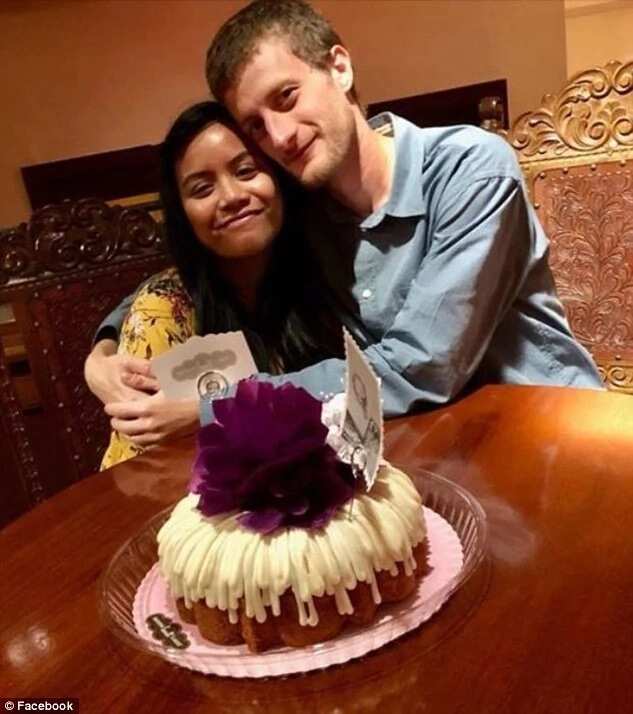 READ ALSO: Newlyweds die on the way to their honeymoon after bride fell asleep while driving
This prompted Jeffanie to go to the Maui police and lodge a complaint. After about 36 hours, several posts were placed on Facebook that indicated that Stephen was missing.
"Please help find my husband so he can return safely! That is the best honeymoon present I could ever ask for-- just his safe return… 'Please help find my husband by volunteering to work with the search and rescue teams on Molokai.'
The more help we can get, the sooner we can find my husband! We are spending our honeymoon in Molokai and I cannot leave the island without him."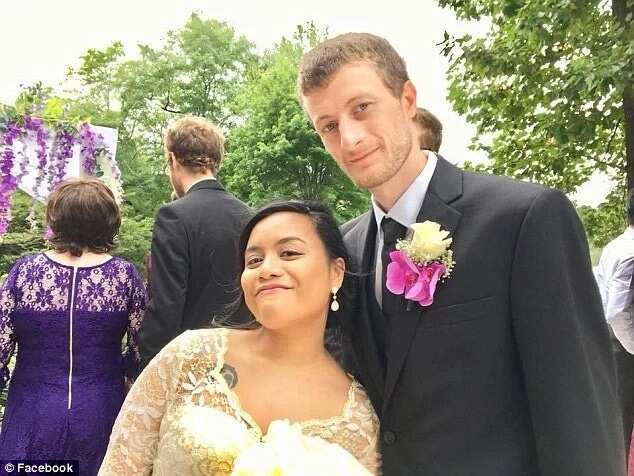 PAY ATTENTION: More Nigerian News on Legit.ng News App
Later, she opened a GoFundMe campaign asking people to be volunteers in the large search party that are looking for her husband.
A fire department crew with a minimum of 12 firefighters helped in searching for Stephen on foot while the fire department's Air One helicopter searched from the sky. These people were joined by Police Special Response Team members and even a tracking dog. Local volunteers also assisted in the search.
After the long search for Stephen who is a Marylander, he was found dead at Pia Gulch which was half a mile away from the Wavecrest resort they were staying at. The cause of his death is still a baffle to Hawaiian investigators. An autopsy is set to be carried out to determine the cause of his death.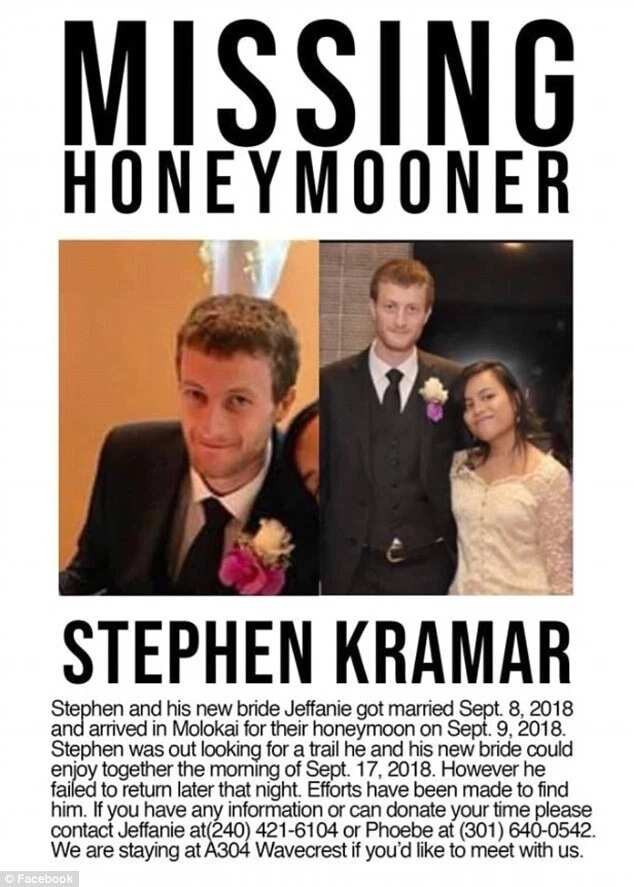 PAY ATTENTION: Daily relationship gist and gossips on Africa Love Aid
Originally, Jeffanie was supposed to travel with her husband back to their house at Potomac but she is still at Hawaii with other loved ones who are comforting her "at this time of great difficulty & loss."
The GoFundMe campaign that was initially meant to generate aid and volunteers to search for Stephen has now been reassigned to the acceptance of donations meant to bring Stephen's body to his hometown as well as support his family.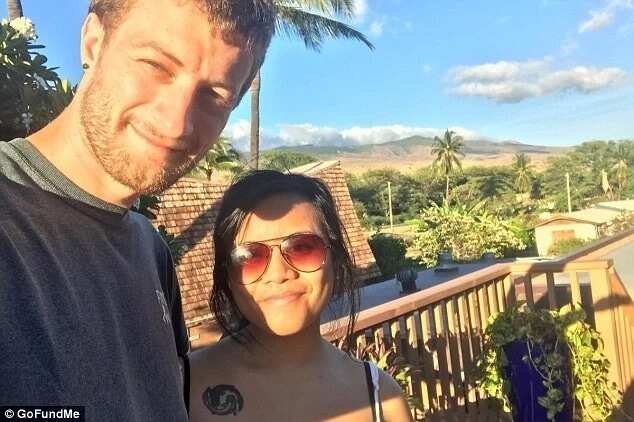 Based on the updated campaign, several loved ones were said to be with the wife in Hawaii. They also asked that donors continue to be generous as they still intend to bring Stephen's body back home.
"Some family & friends have made it to Hawaii to be with Jeffanie in this time of great difficulty & loss. At this time we ask for your continued support and sympathy toward the entire Kramar family as this campaign continues to assist them in bringing Stephen home. God Bless and Godspeed."
Would you invite your ex to your wedding? Why? | Legit.ng TV
Source: Legit.ng