Floral chiffon dress designs to rock this season
There are so many beautiful floral chiffon dress designs that you might become overwhelmed with the abundance of choices. Therefore, we have decided to pick some of the most beautiful floral dresses out there, so that you could find something you like. Check out this article to see some stunning gowns!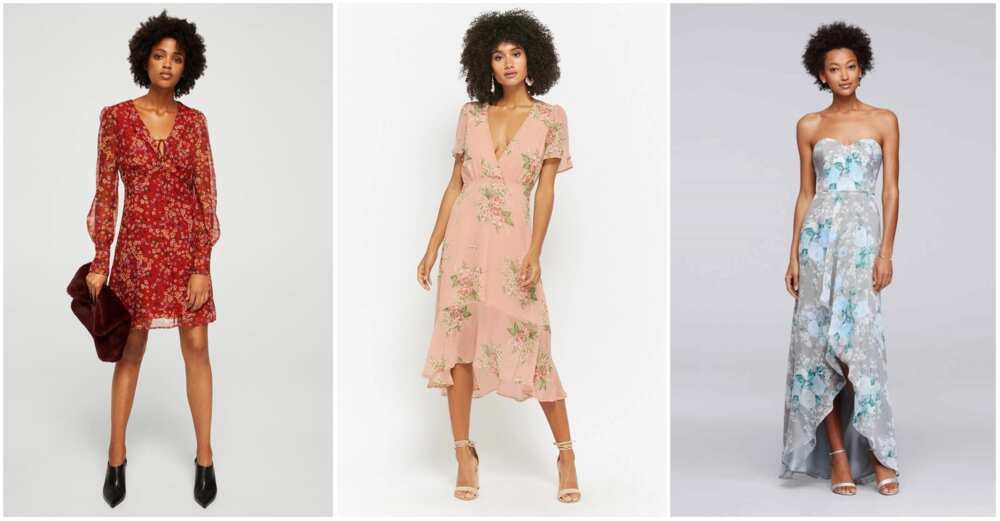 Floral chiffon dress styles come in many lengths, but most often you can find short, long and floor-length gowns. For that reason, we have separated our picks into three categories for your viewing pleasure. Scroll down to find some lovely chiffon dress designs.
Short floral chiffon dresses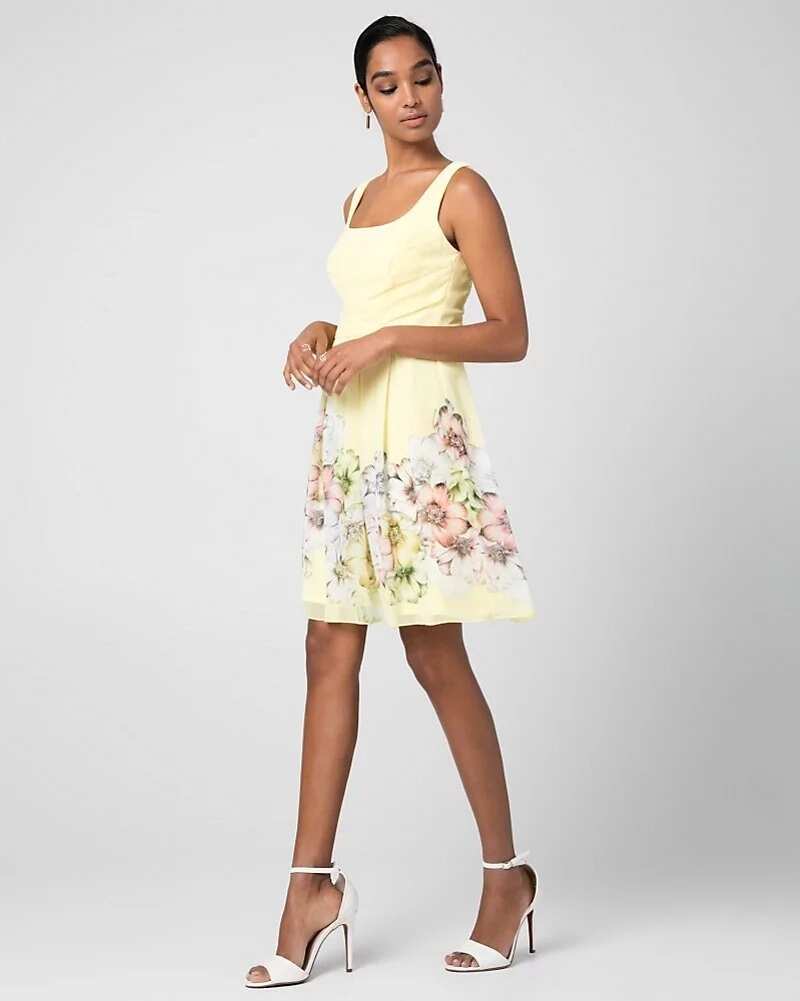 Let's start off with something simple. This dress does not look too fancy or complicated, yet there is something about it that makes it hard to take your eyes off it. The flowers along the bottom of the dress work great with the pastel yellow background and look very soft and delicate. So if you are looking for a subtle elegant look, consider something like this.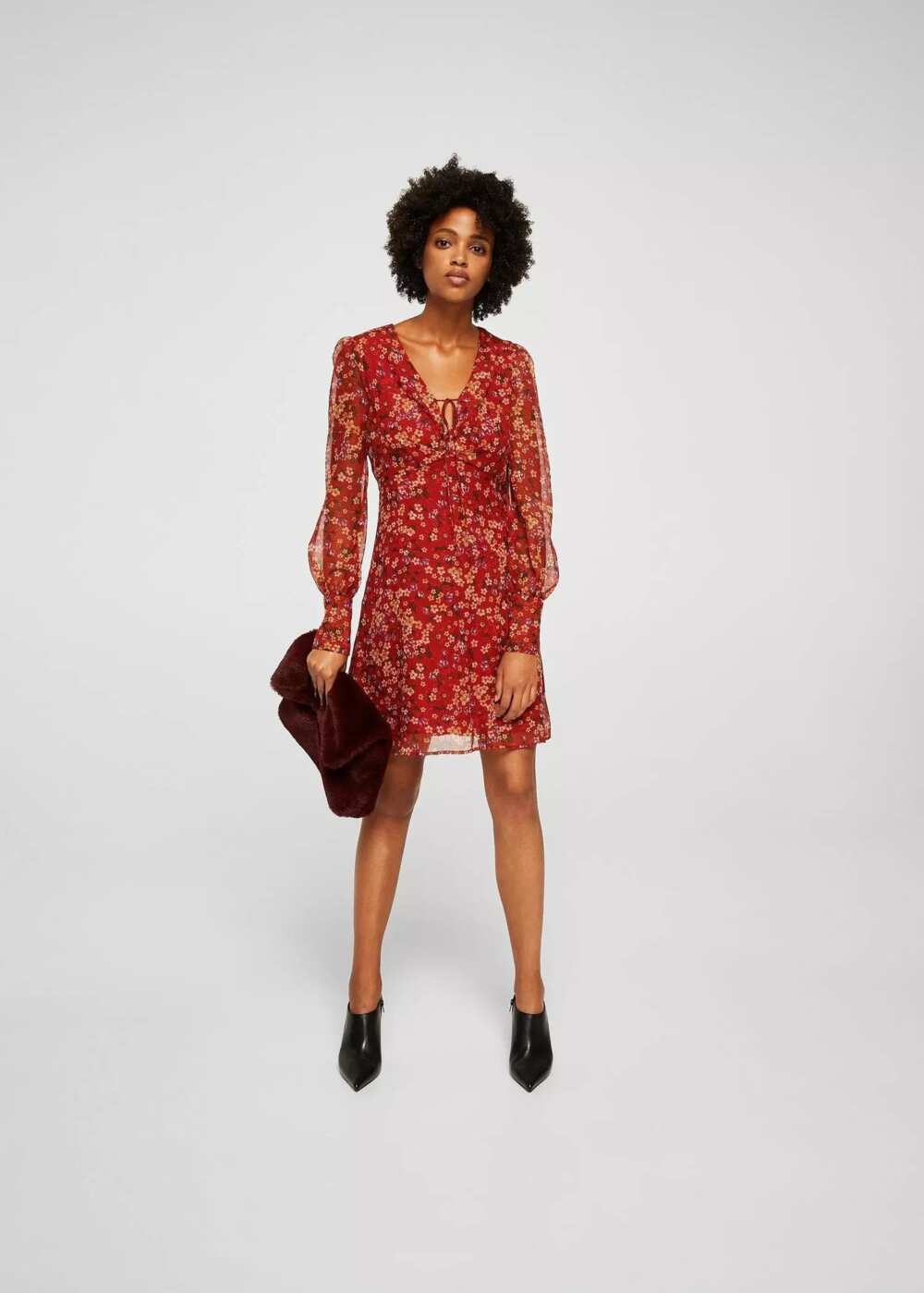 Next, we have this lovely red dress covered in lots of tiny flowers, which is quite a contrast to our previous pick. It looks incredibly airy and light, as if any gust of wind will be able to blow it away. Thanks to that, this gown should be perfect for a hot sunny day. Also, the ribbon on the front is functional, as it lets you decide for yourself how much cleavage you want to show on that day.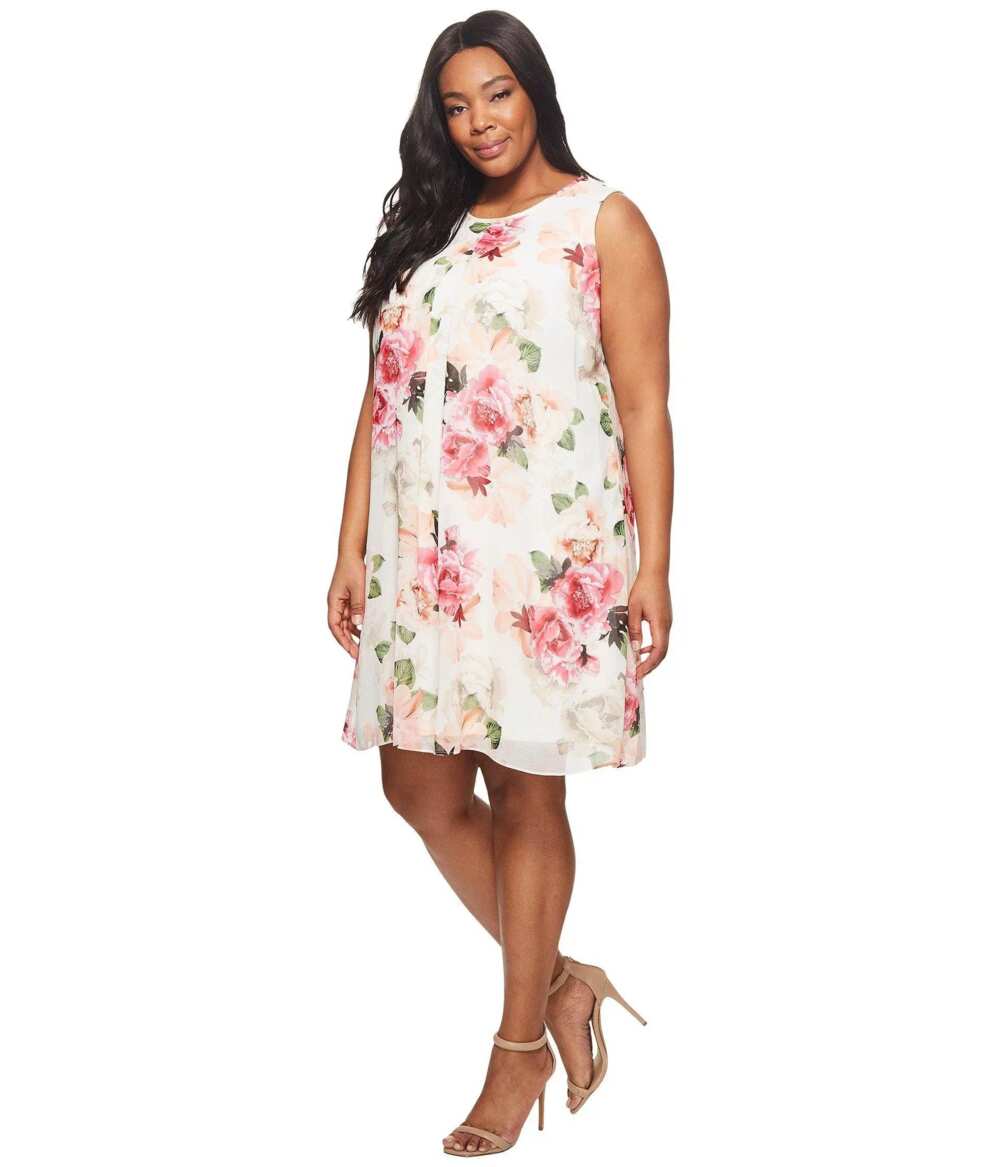 READ ALSO: Nigerian chiffon gowns styles in vogue
Most of the time, you can only see ladies with perfect 90-60-90 bodies modelling dresses. Well, we wanted to show that chiffon dresses are made for all types of bodies. Their flowing nature allows everyone to feel comfortable in them, as dresses like this one do not cling to the body and do not constrict any movements. And the flowery print can make you feel lighter than you have ever felt before.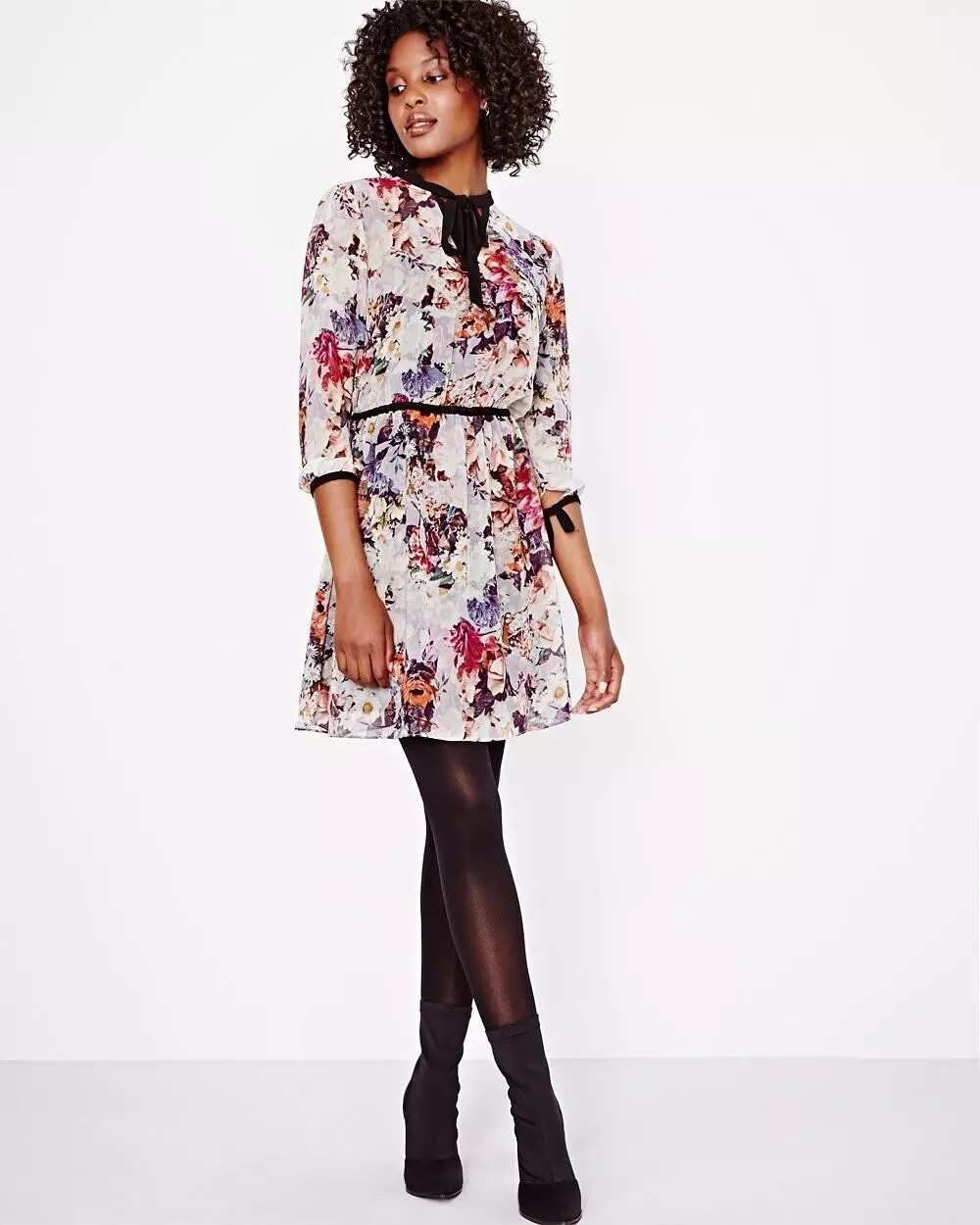 Here is another lovely floral dress. Usually, chiffon dresses are worn with bare legs, but, as you can see, you can always make your outfit more interesting by adding some black tights. It is particularly appropriate in this instance, as they match the ribbons on the dress.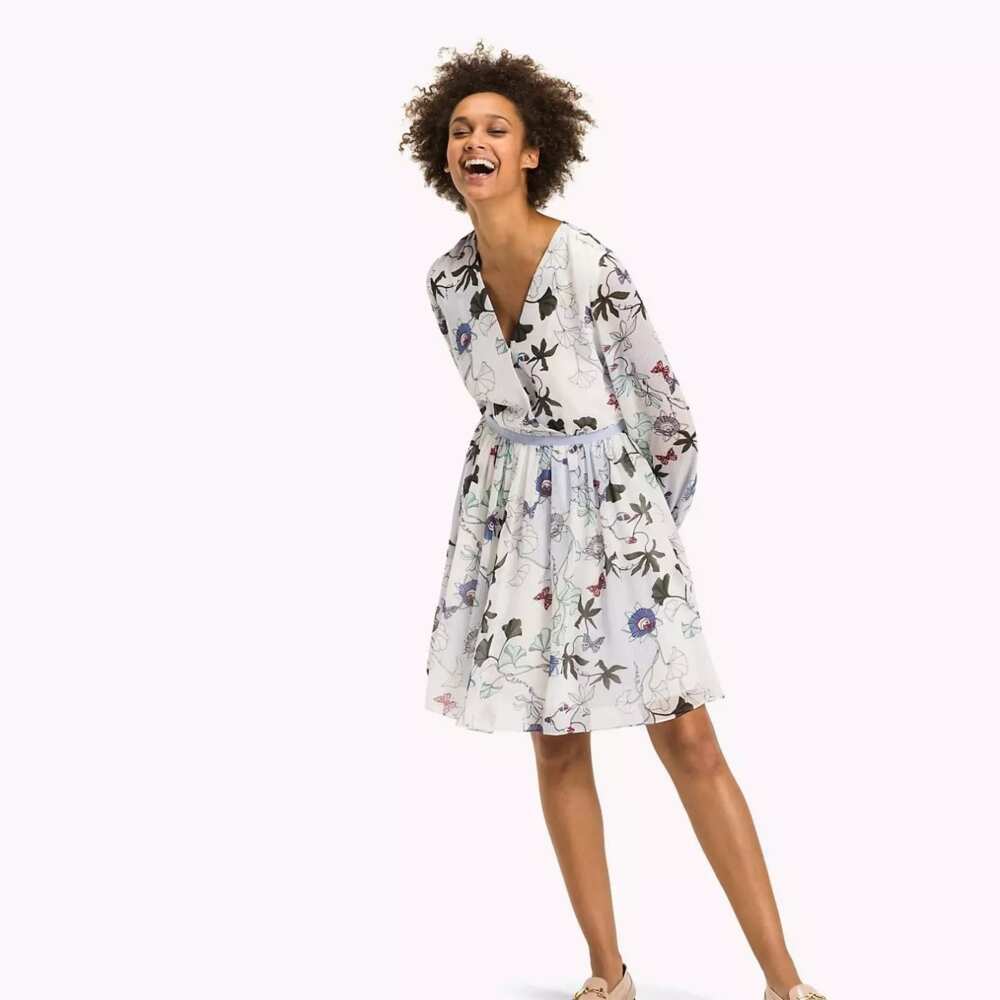 If you are not the biggest fan of pastel pink and peach flowers, there are options for you as well, such as this cute chiffon dress. It is great for any weather and occasion; you can wear it with pumps or with sneakers. Dresses like this one are also great to wear when you are in a bad mood, as a few twirls in a dress like this can turn any frown upside down :)
Long chiffon dress styles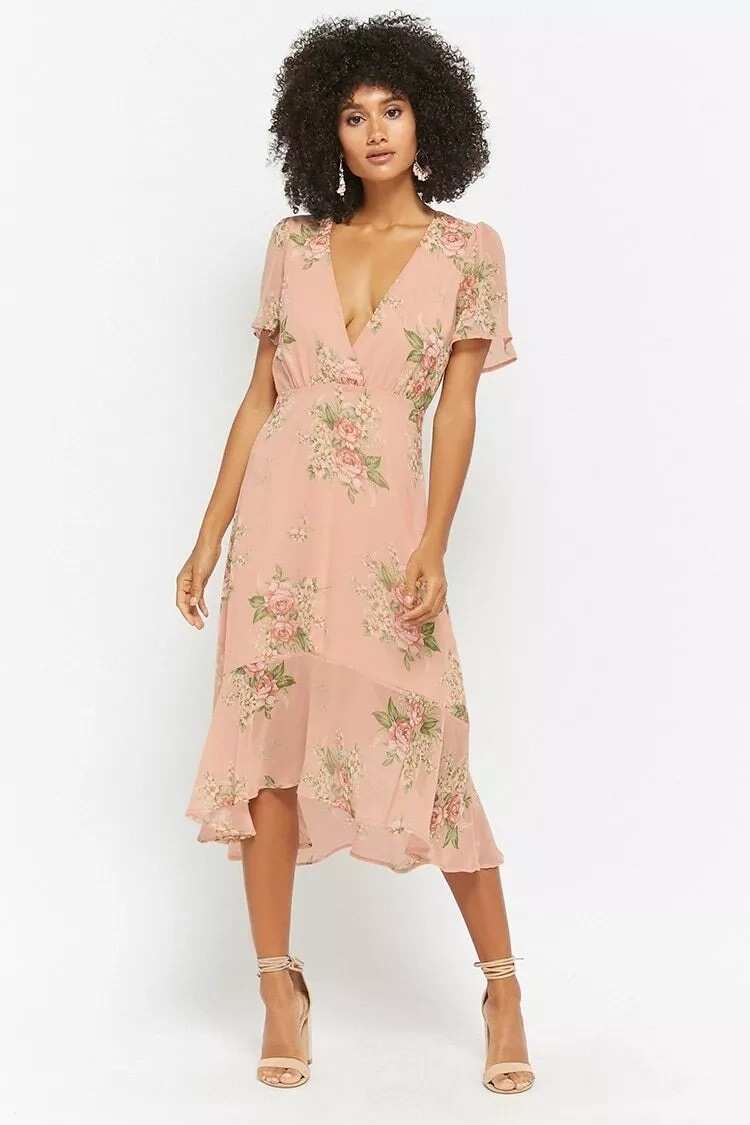 READ ALSO: Latest chiffon styles in Ghana you'll love
Not everyone is too keen on baring their knees when they are wearing a dress, but with long chiffon dresses, you do not have to do that. Instead, you can put other parts of your body on display if you want to, such as arms or cleavage, or both. The peachy colour scheme will help you feel light and summery (even if it is no longer summer).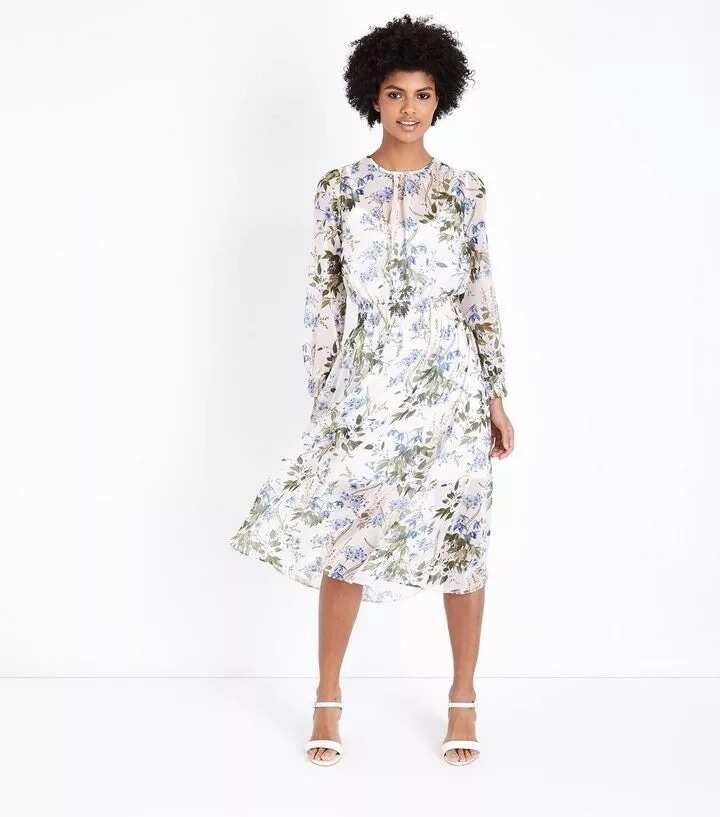 If you do not want to put anything on display, consider this long chiffon gown for a change. While it is quite sheer in places, it has opaque lining that will hide everything of importance from view. That said, it still looks very airy and light, so you should not feel too hot or overdressed. The blue and green floral motif is also a nice change from all the pink.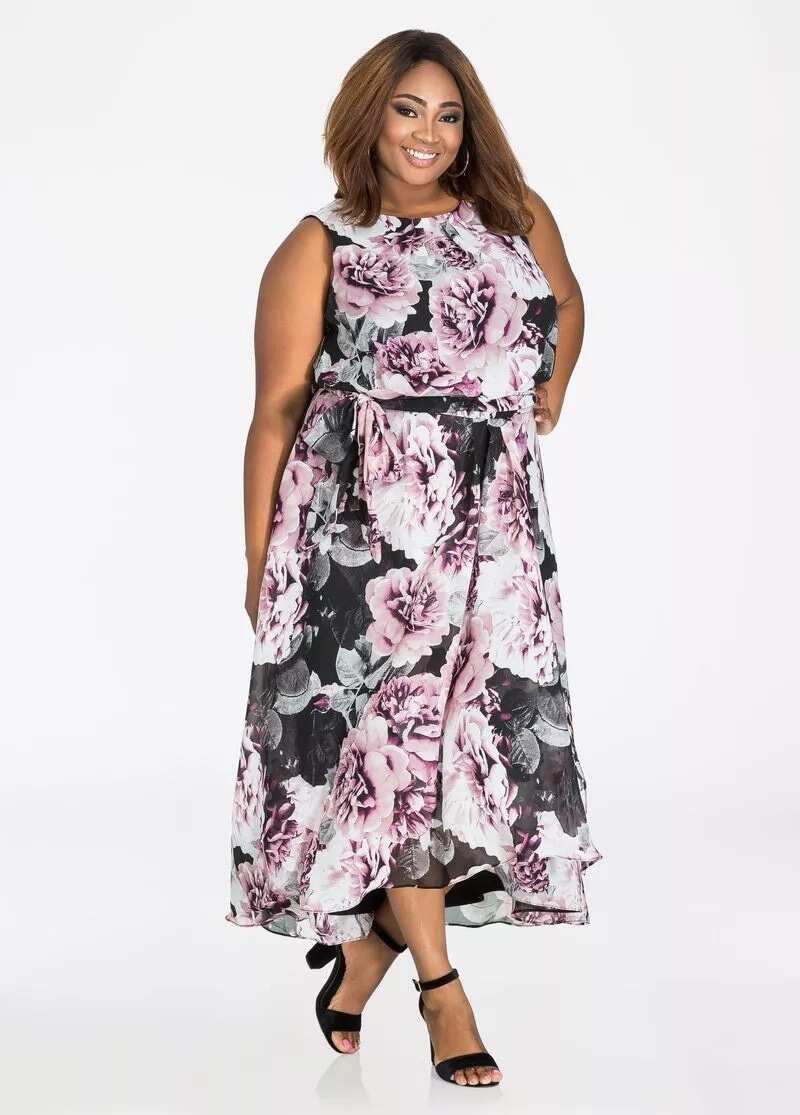 Most of the floral dresses we have featured up to this point had a white base with relatively small pastel-coloured flowers. However, that does not mean that it is the only way to go. You can also have a black base with large flowers if that is more your thing. Once again, chiffon dresses prove that your size does not matter, and you can look and feel good in them regardless of your measurements.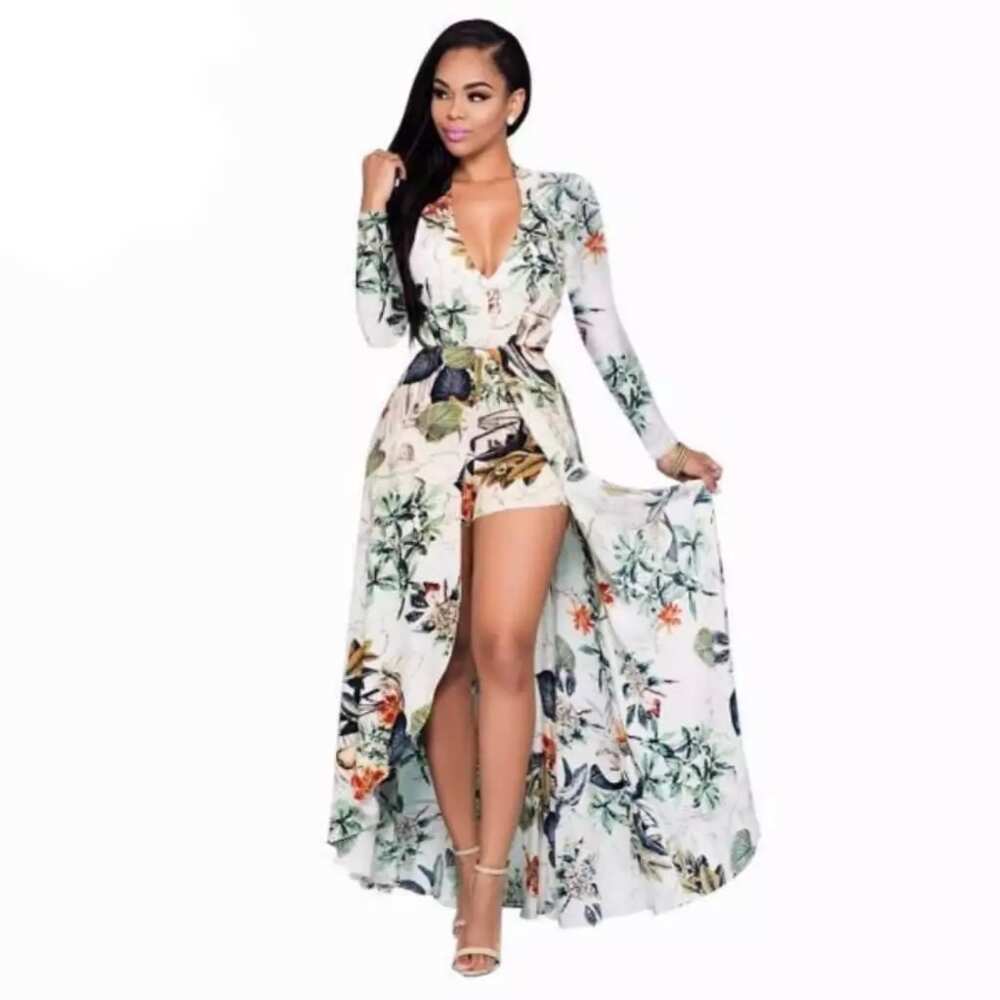 Now, this is somewhat of a cheat dress that we could not quite figure out where to put. On the one hand, it is long, on the other hand, the skirt does not actually go all the way around, and there are shorts underneath. Still, taking into account that its train almost hits the floor, it made more sense to put it among longer dresses. So if you do not want to choose between long and short, this is a dress for you.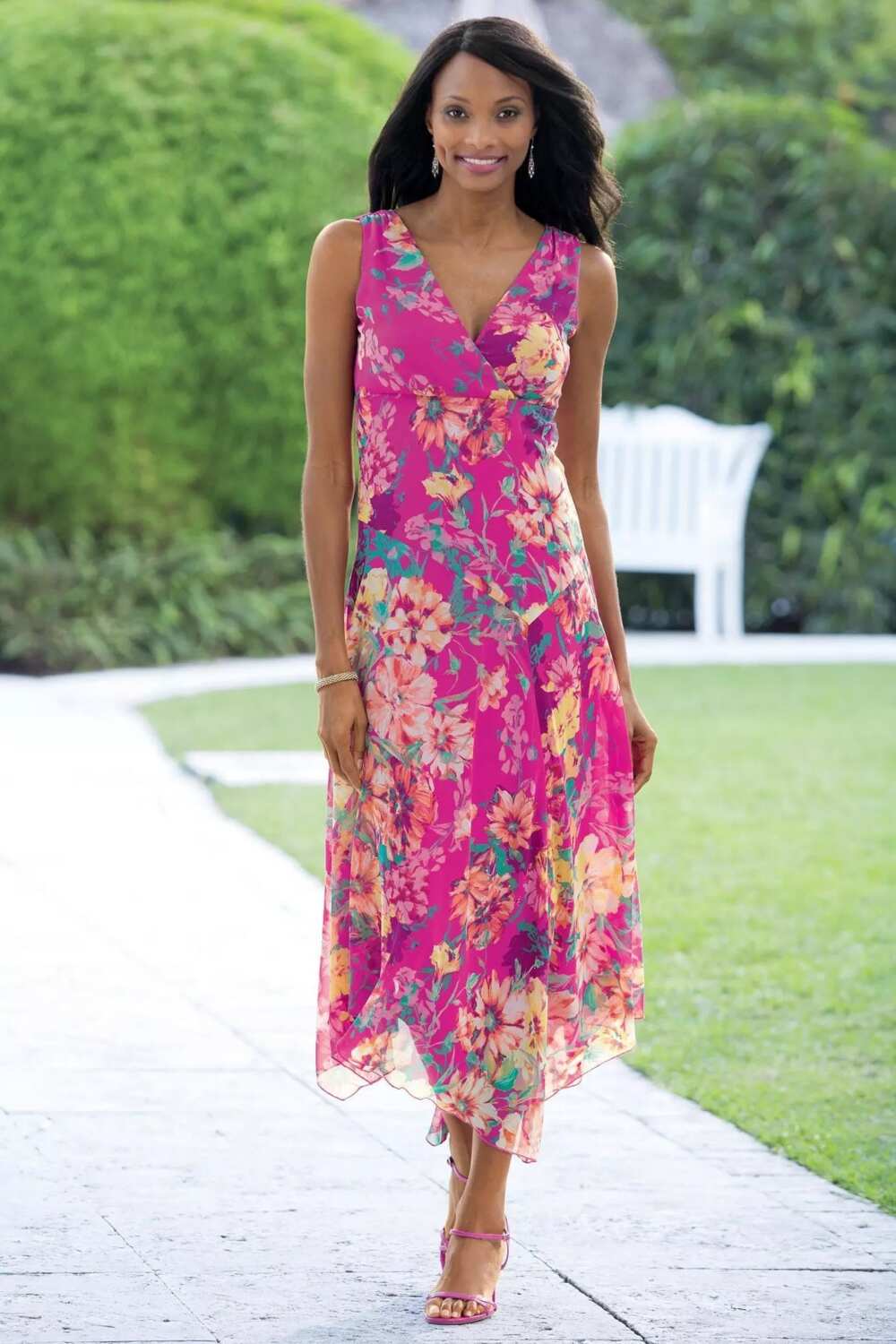 Not everyone likes soft pastel colours; some just want bright floral patterns on bright background. If you are one of those people, then this dress should be to your liking. It is long, but it does not quite hit the floor, and it is very bright and eye-catching. You will definitely be turning heads whenever you pass someone by.
Floor-length chiffon gowns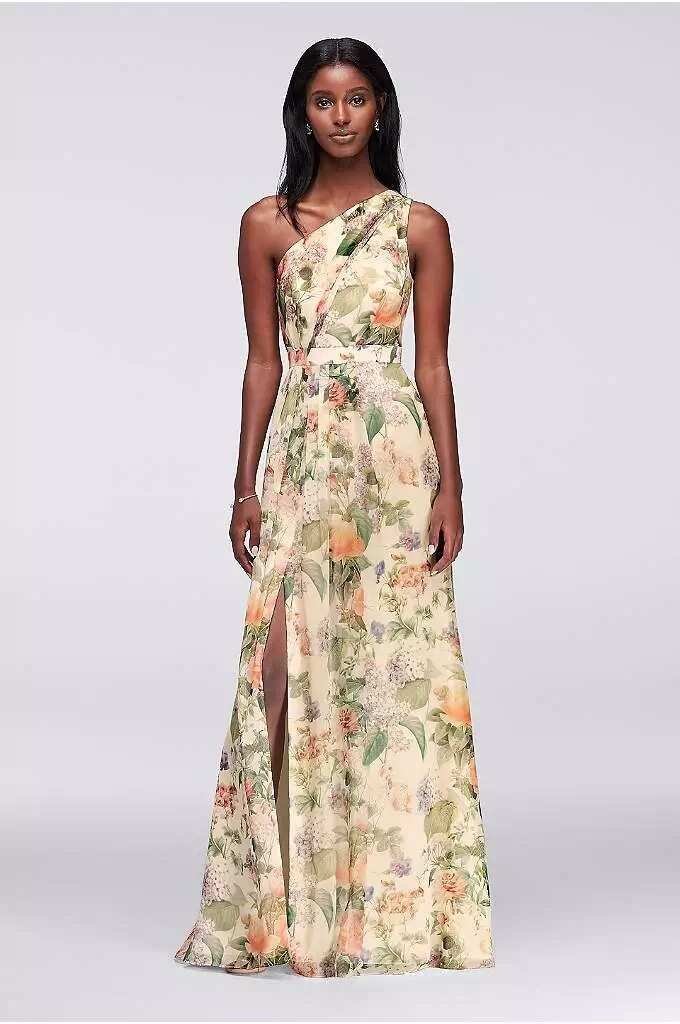 READ ALSO: Ankara dresses with chiffon for Nigerian beauties
We have finally got to our favourite category of floor-length dresses. Such gowns are particularly great for those who want to accentuate their height. This particular dress is also great because of the slіt that goes all the way to mid-thigh, so you can live out your Angelina Jolie fantasies while wearing it :)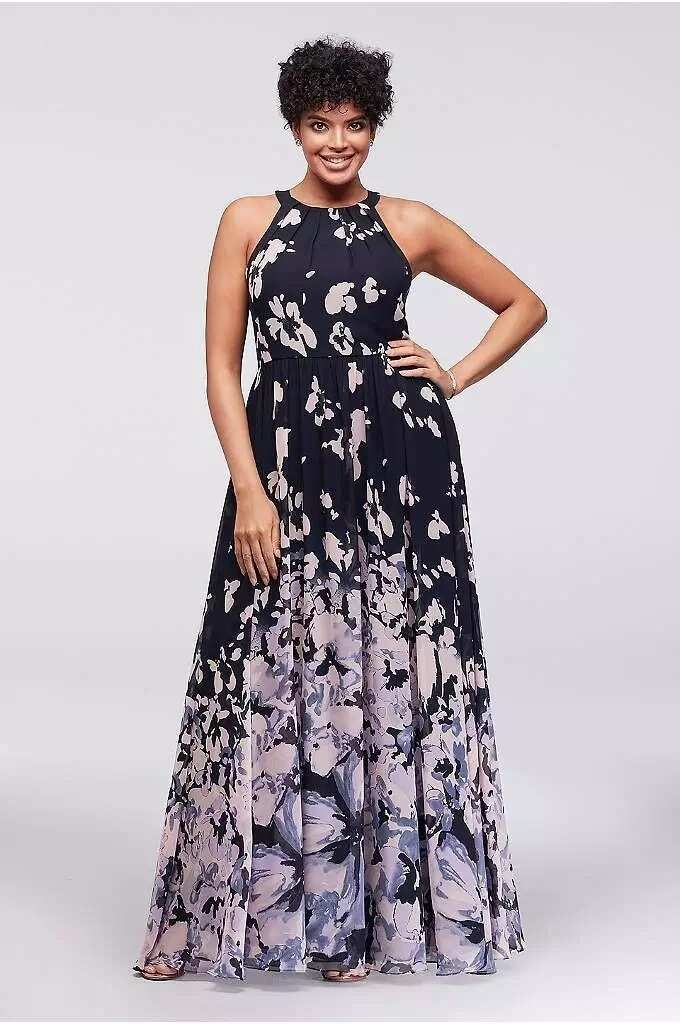 It is not often that we see floor-length gowns with a halter neck, but when we do, they always look lovely. This is also one of those dresses that ditch the 'traditional' light background with tiny flowers for something more intense. With a gown like this one, you will certainly look like a masterpiece on legs, as long as you get the right shoes, so that the skirt properly hits the floor.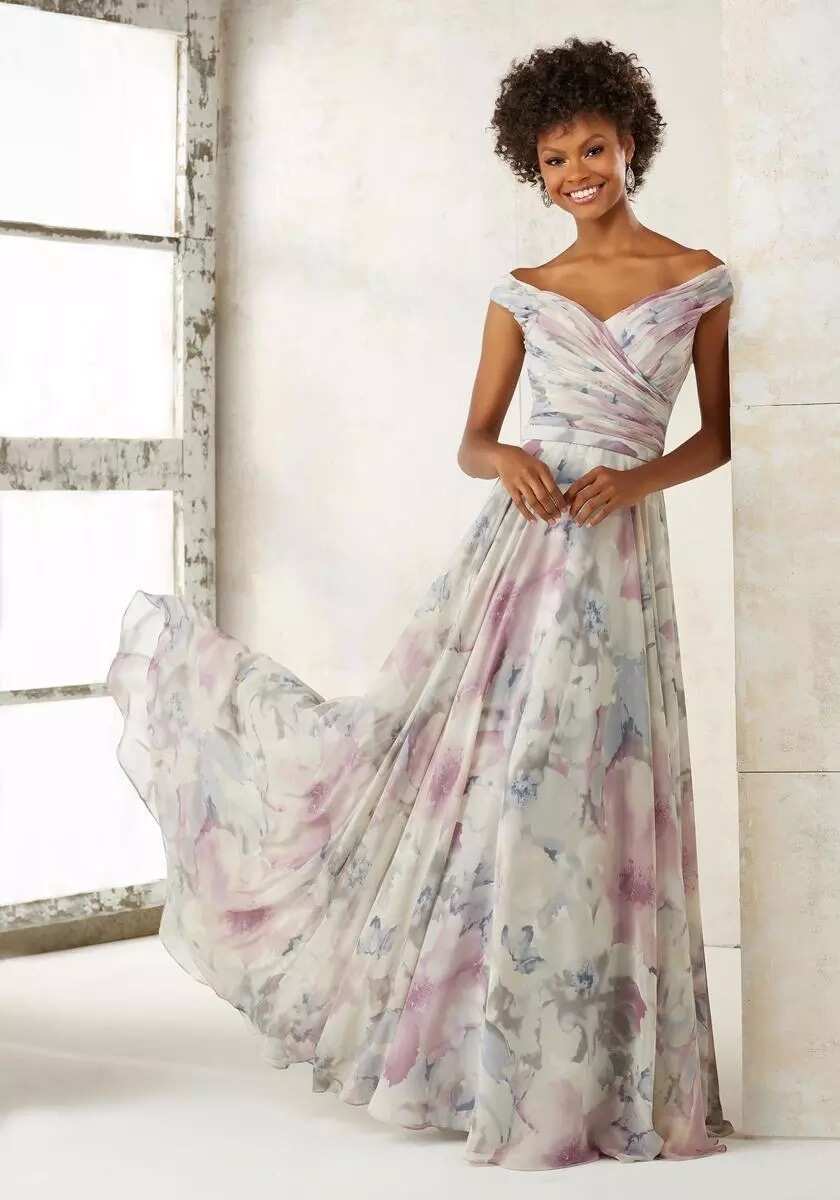 This is a dress that would be a perfect pick either if you are going to prom, or if you are a bridesmaid at a white wedding. The lovely off-shoulder neckline paired with a long airy skirt are both great for slow ballroom dancing, as you will be practically floating above ground in something like this. That said, if you feel like wearing something like this for a night around town, who are we to stop you?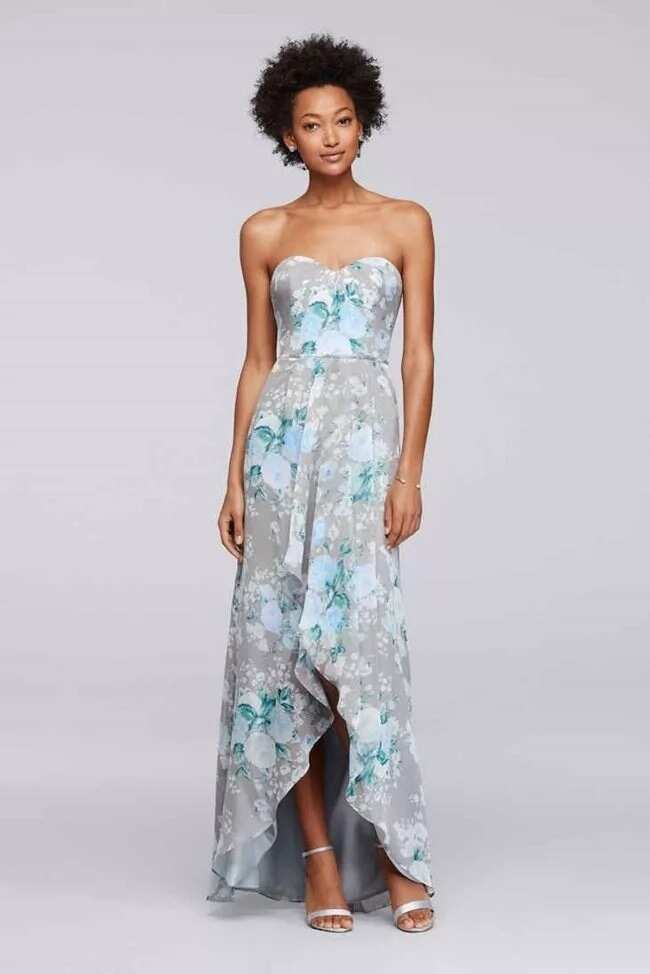 Sweetheart necklines and floral patterns go together very well, so it is always a good idea to wear a dress like this one. Even though it does not hit the floor entirely due to its asymmetric skirt, it is still long and beautiful, and it allows you to show off your lovely footwear.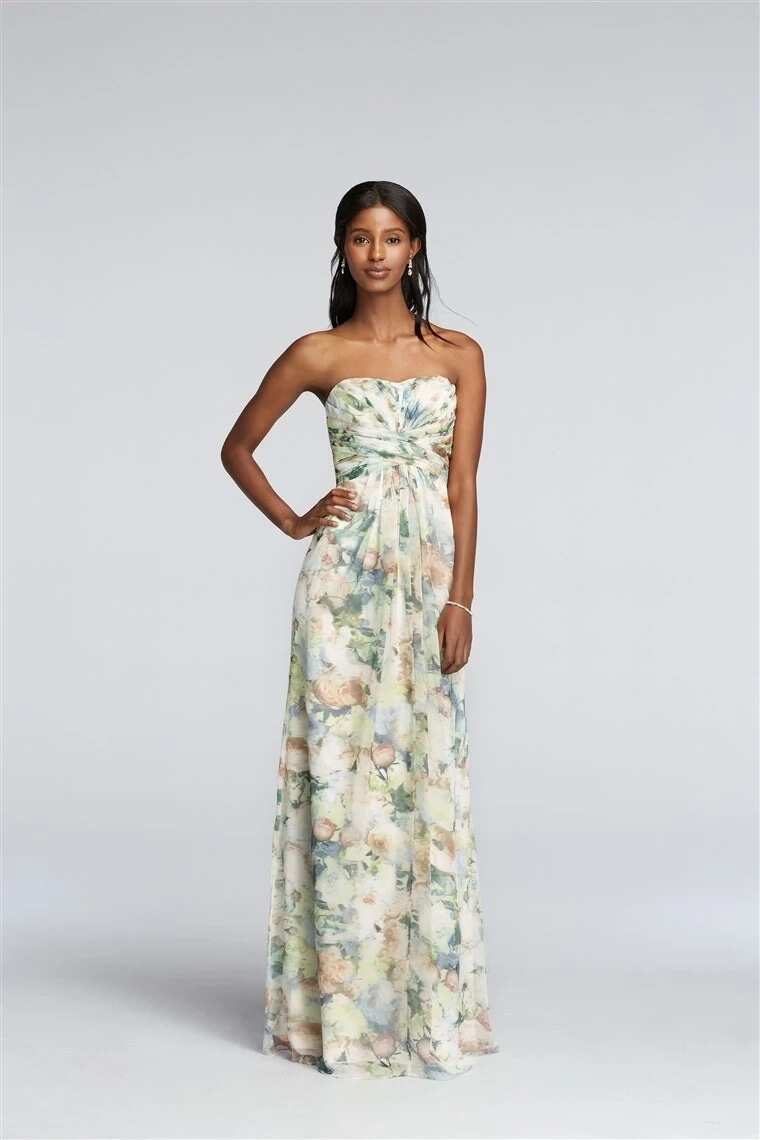 However, if you want a floral dress that does hit the floor all around and has a sweetheart neckline, then this is the option for you. With a gown like this, it does not really matter what you wear on your feet (you can just put on some flip-flops and be done with it :) ). The open shoulders and neck allow for some extra accessories, including a shawl or bolero, but they are completely optional. You can just showcase your collarbones.
There are many more floral chiffon gowns out there, so go out and find the perfect dress for yourself. We hope that our picks have served as inspiration for your next look.
READ ALSO: Ankara chiffon tops - Best designs for real fashionistas
Source: Legit.ng