Latest ankara blouse styles for Nigerian beauties
Ankara will always be in fashion, so take some time to check out some latest ankara blouse styles to stay in trend. Find the perfect top for you; whether you are wearing a skirt or a pair of jeans, you can spice up your look with some ankara garments. Take a look!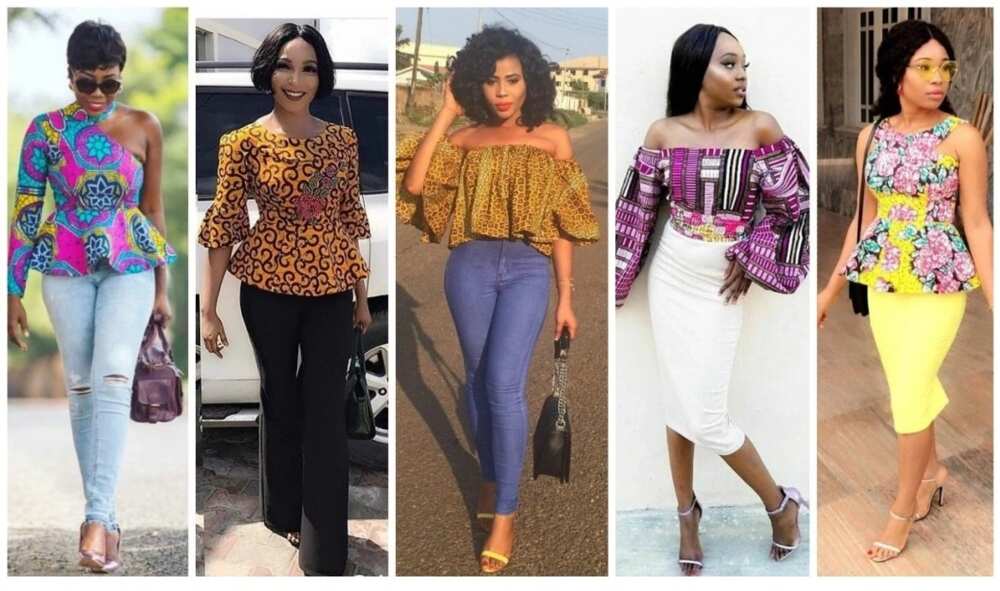 The beauty of ankara tops is that you can wear them with almost anything and end up looking amazing. However, today, we have decided to focus our attention on the combos with simple monochrome skirts and jeans, so that the ankara blouse styles are the 'main event' of your look. So select the category you like best and find the perfect style for you.
Ankara blouse on jeans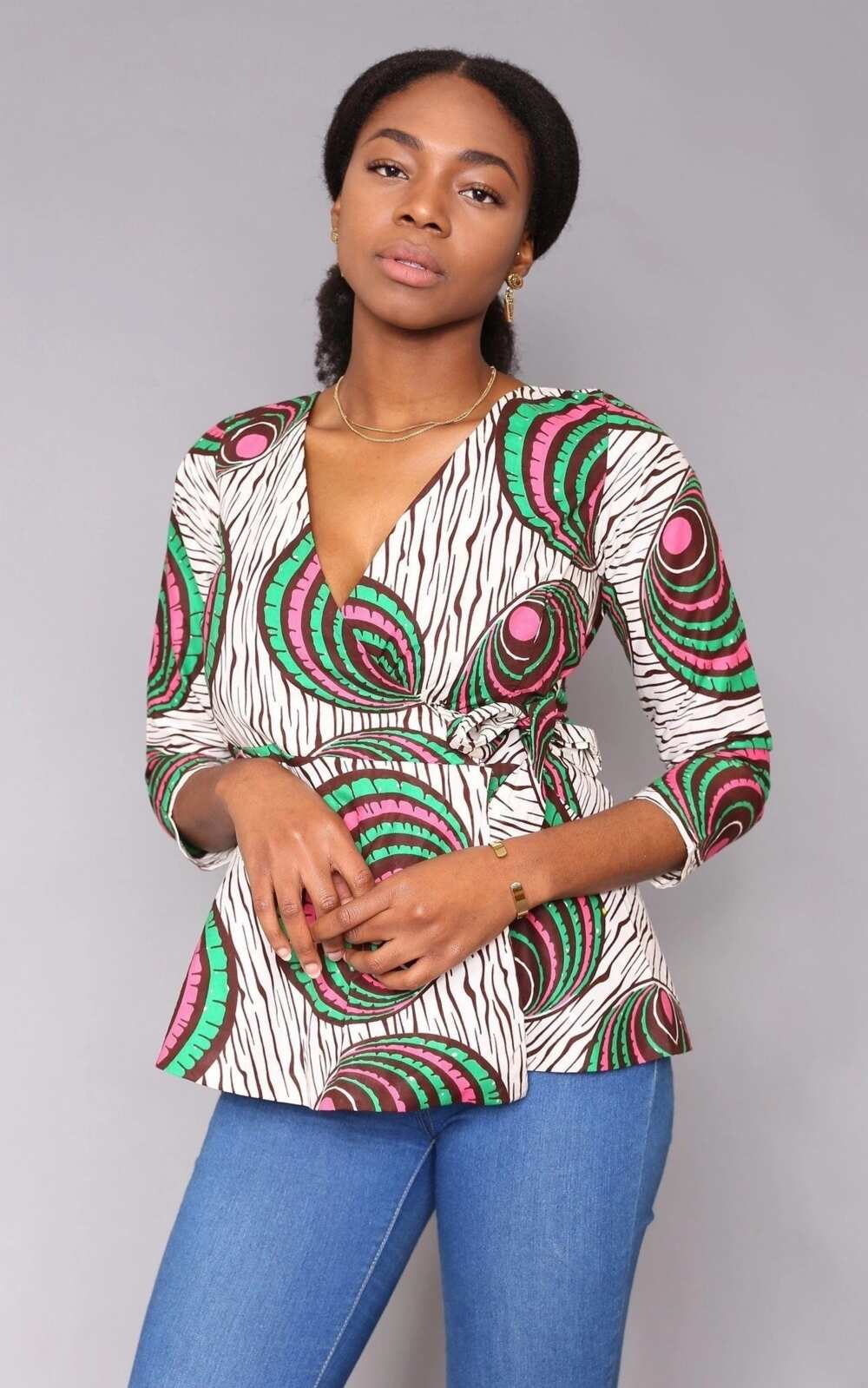 Our first ankara blouse is this simple wrap blouse that has a colour palette subdued enough to be appropriate for work. You can also adjust the depth of the neckline and the tightness of the blouse by tying it in a slightly different way. Such a blouse could prove vital for any type of wardrobe due to its multifunctionality and classic look.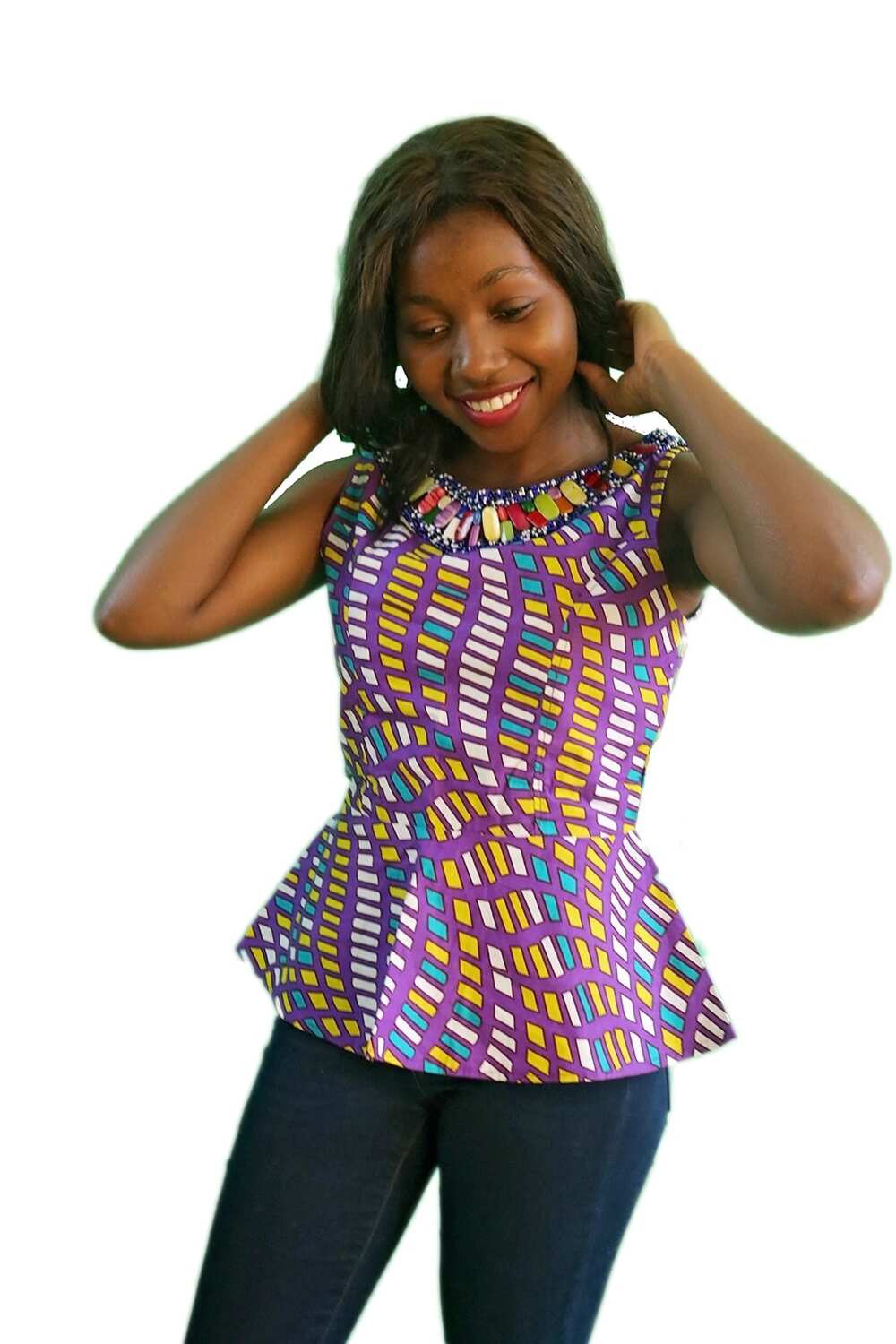 Next, there is this lovely and vibrant geometric blouse. It is sleeveless, so you do not have to worry about constricting your arms too much, and the peplum on the bottom can help you create an interesting silhouette. Thanks to the decorative element on the neckline, you do not even have to worry about accessories!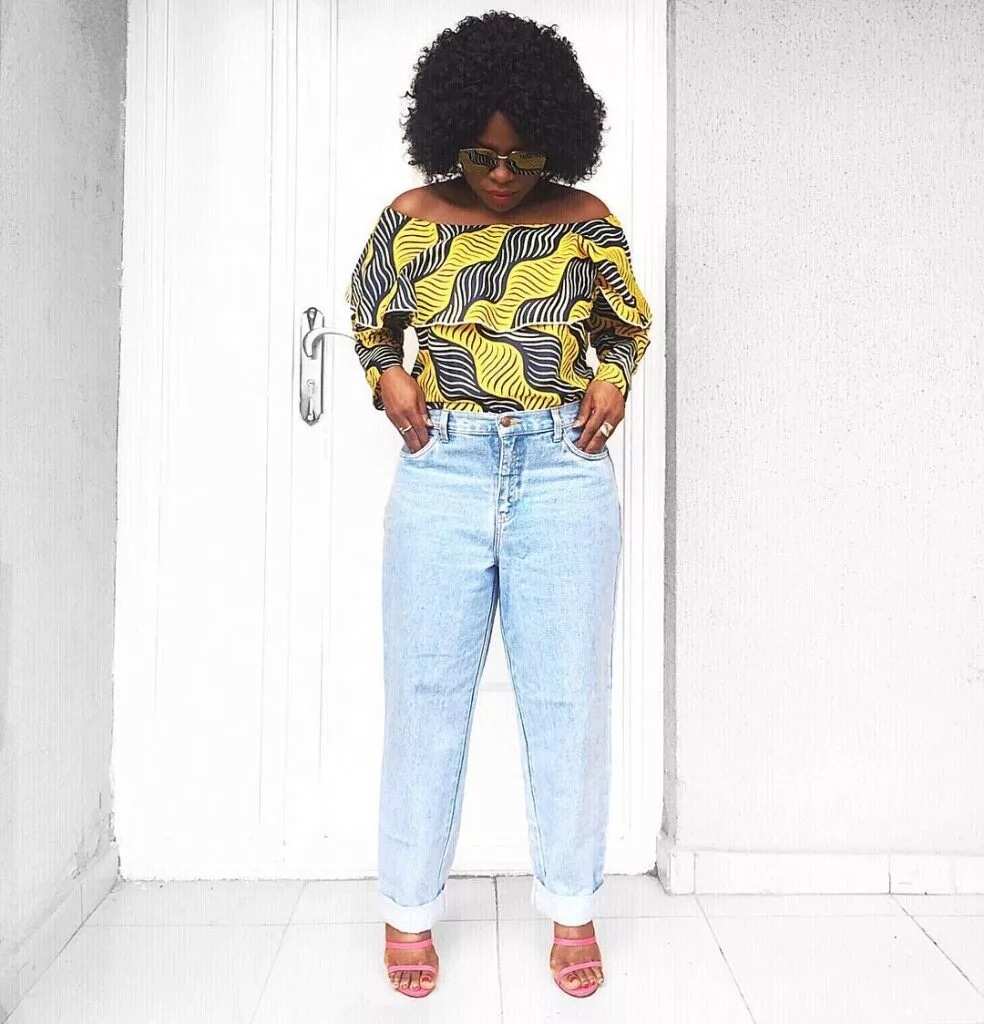 Every fashionista needs at least one ankara off shoulder blouse in their closet. It is an eternal style that will always be 'in', and it is great if you want to accentuate your beautiful shoulders. This particular blouse also has an interesting pattern and a flap of fabric at the neckline that can help add some dimension to your shape.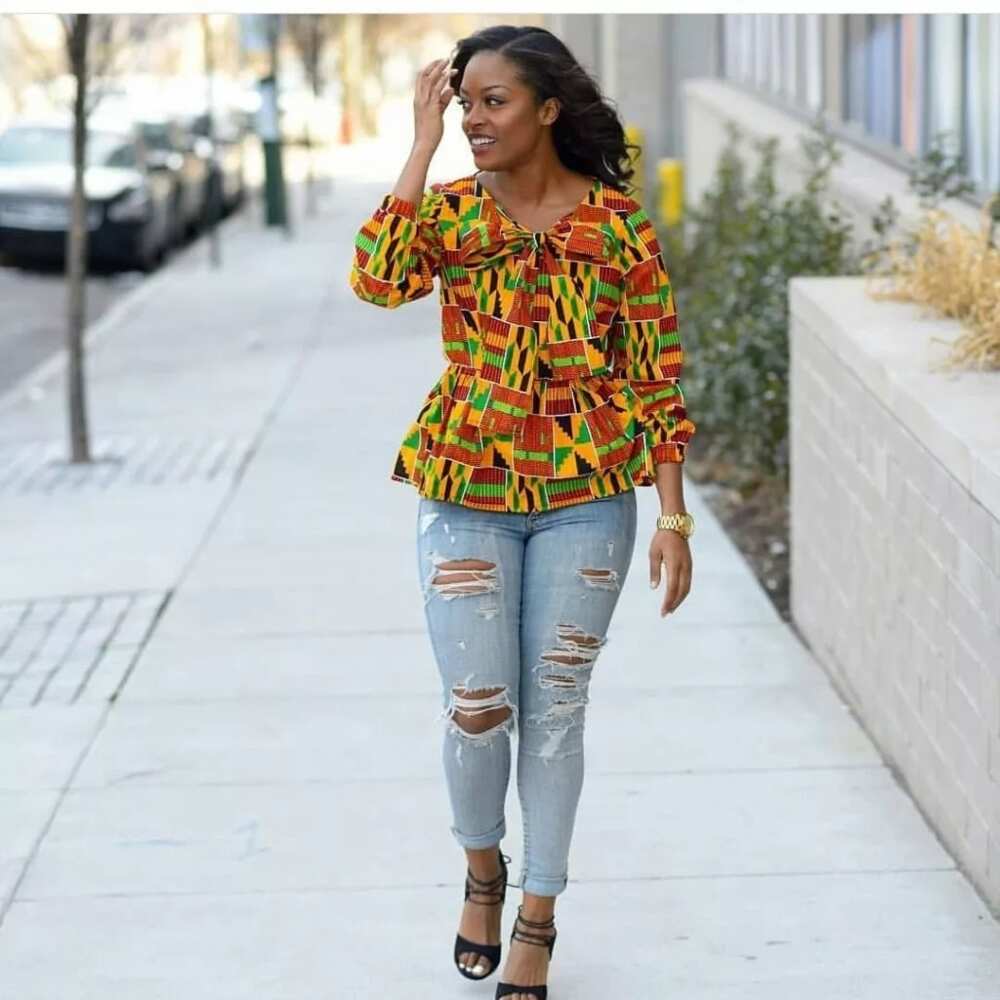 READ ALSO: Trendy ankara jackets for real fashionistas
Here is another lovely ankara-patterned top. It is a perfect choice for a slightly colder weather, and its colour palette can make even the gloomiest day look brighter. It is also interesting that it features a large bow at the front, but due to it being the same colour as the rest of the blouse, it looks almost invisible!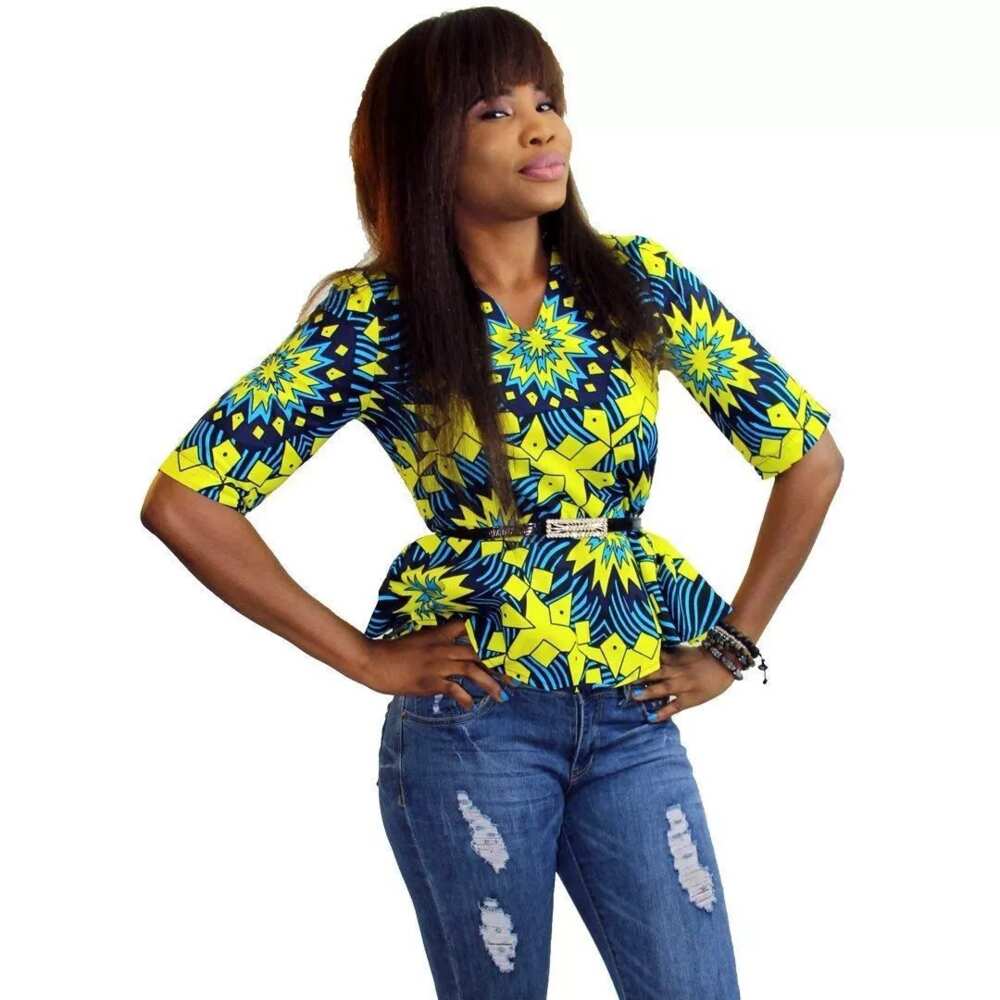 Peplum ankara blouses seem to be all the rage these days, as they not only look good as is, but they can also help you mould your shape the way you want.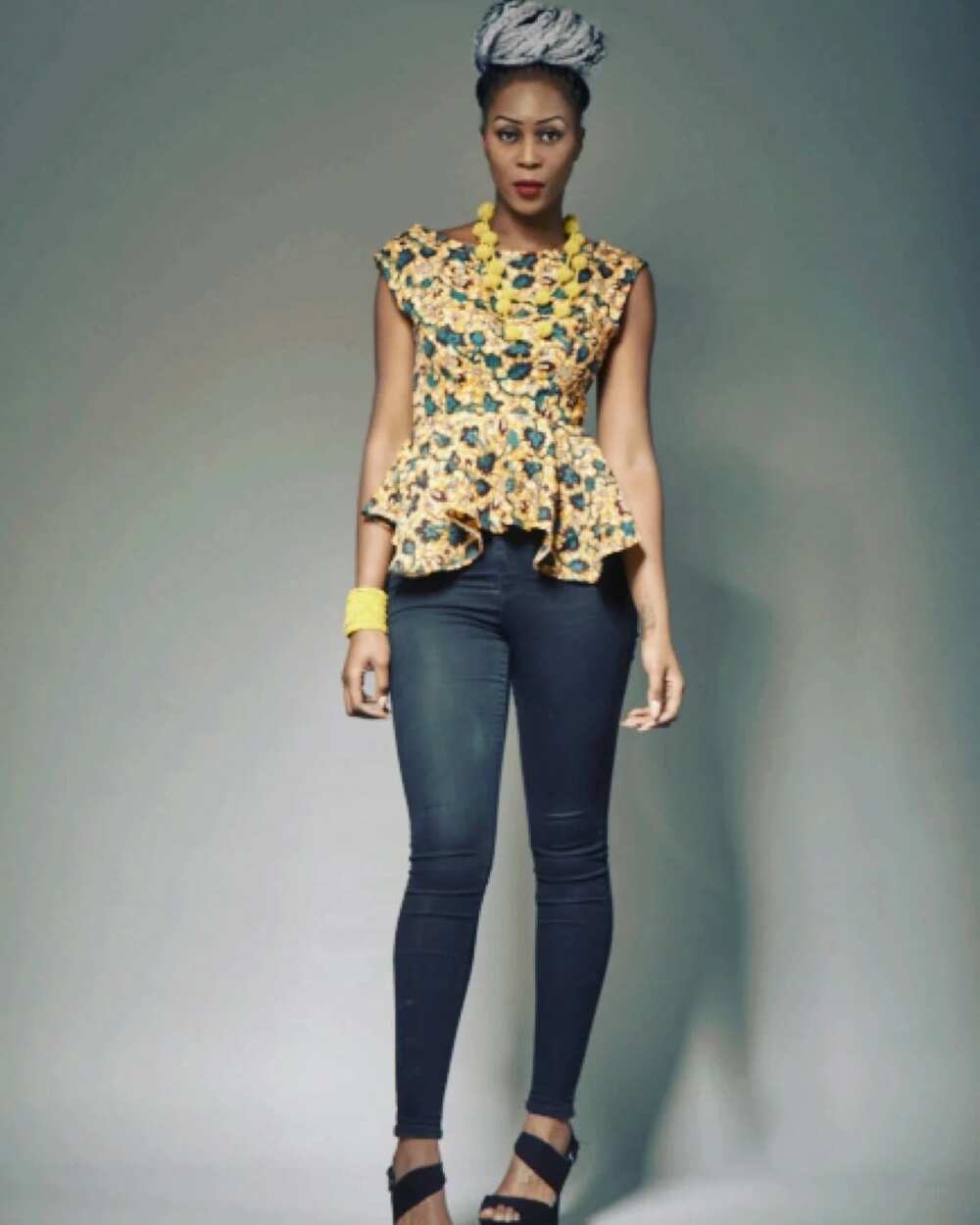 This is a different type of a peplum ankara top, but it is fascinating nonetheless. With no sleeves, you can let your arms be free, and with a frilly peplum, you do not have to worry about your body shape. Such tops are also fun to accessorise, as they have lots of colours you can choose from for your accessories. For instance, you can pick one colour for the jewellery and another for your shoes and jeans.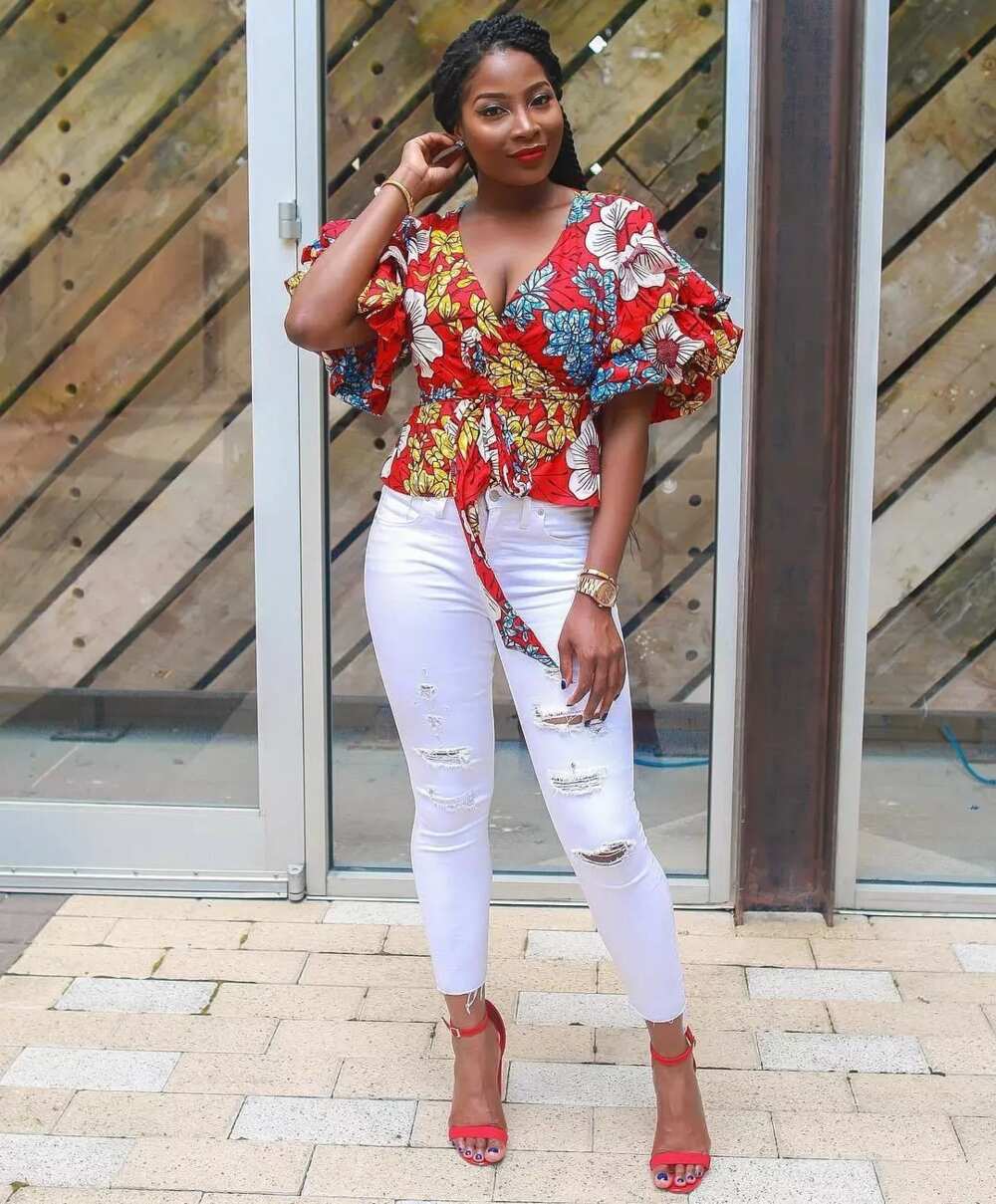 If you like being the centre of attention wherever you go, then this ankara blouse will be a wonderful choice. It is bright and frilly, and its rather deep neckline leaves little to imagination. It is also a great statement piece, which means that the rest of your clothes and accessories do not have to be that vibrant, and you can wear something simple.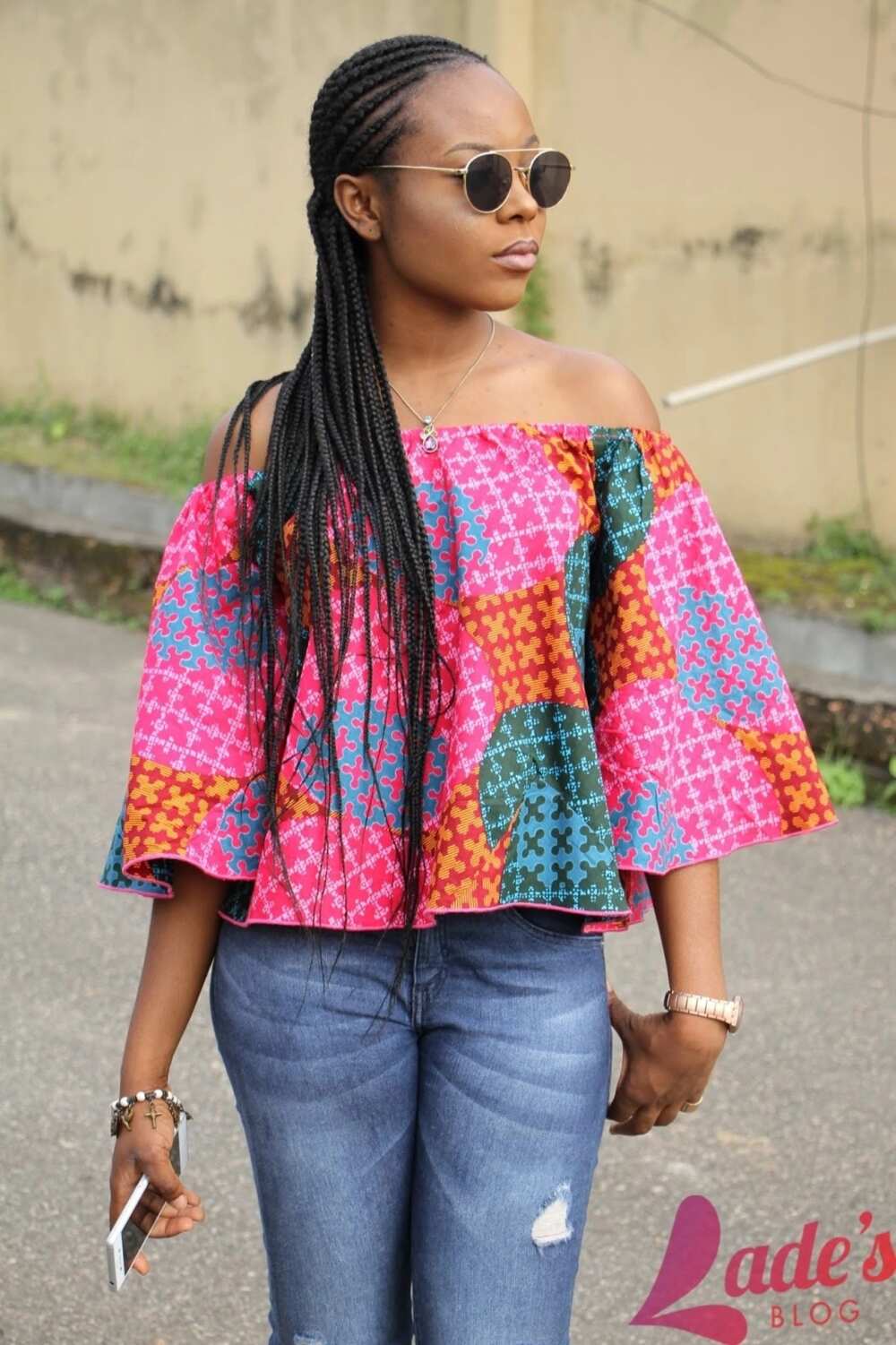 Among all the latest ankara styles, off-shoulder tops seem to be among the most popular ones. This particular top is great because it does not constrict your body or your movements in any way.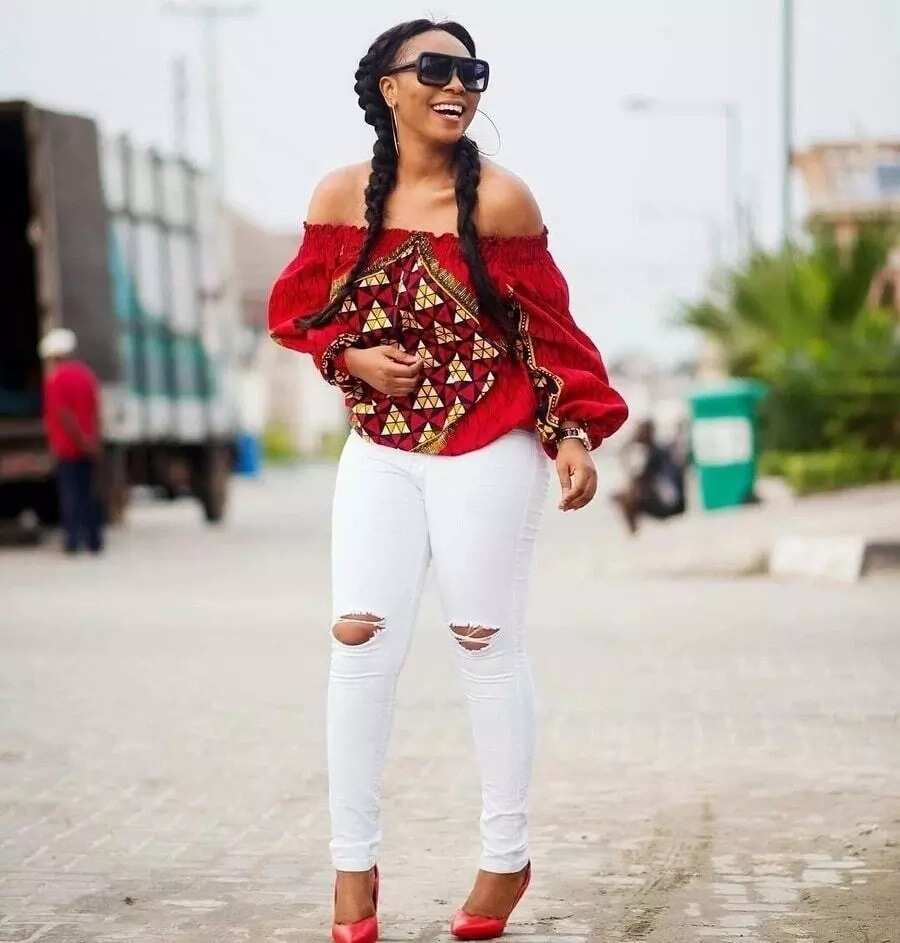 Here you can see yet another off-shoulder ankara blouse. It is also very free, as it does not cling to the body too much, but it still maintains a shape. With such pattern and colour scheme of the top, you do not have to worry about what to wear on the bottom, as all eyes will be up there :)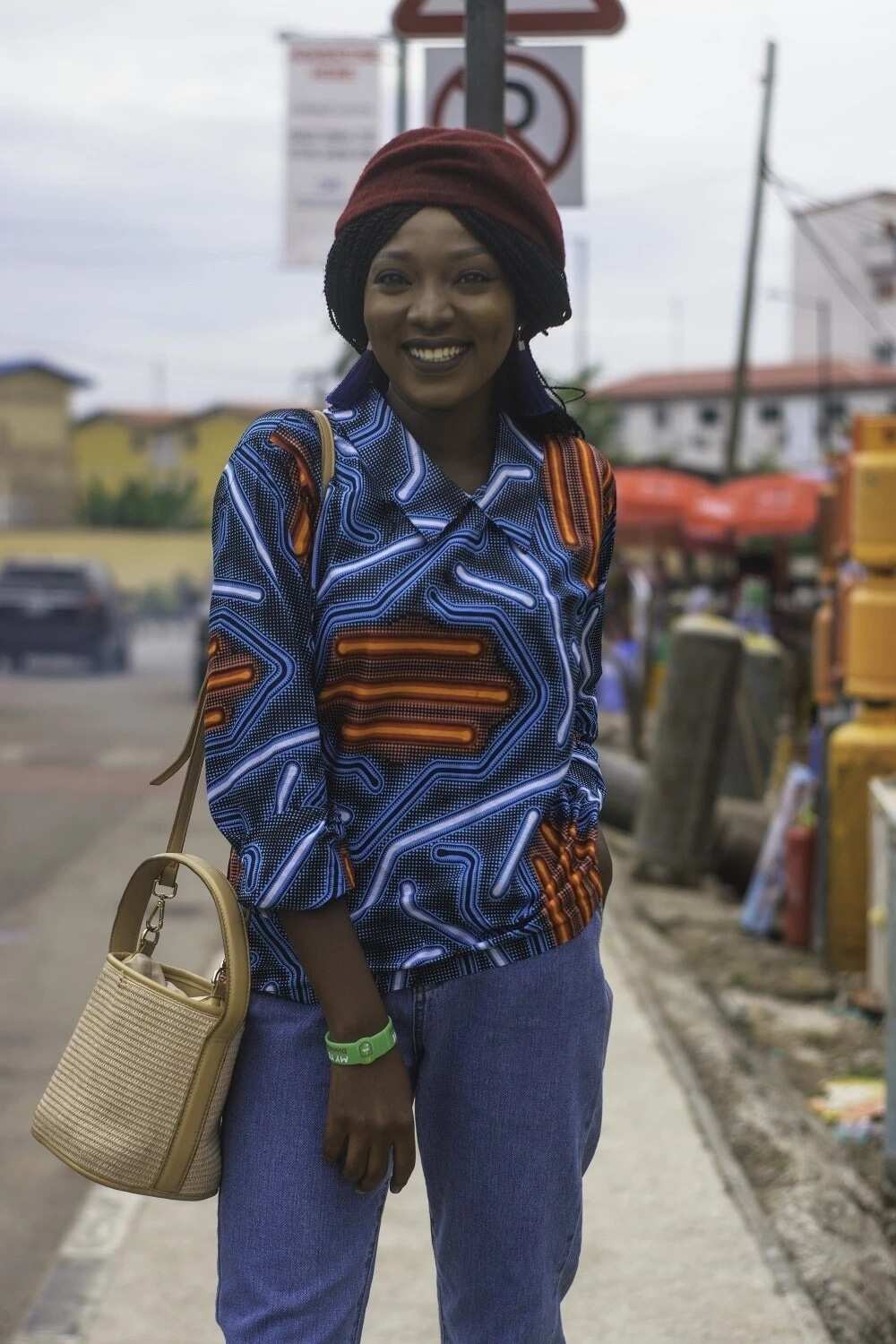 Our last pick from this category is this rather unusual neon blouse. Most of the time, ankara styles are bright and colourful, but this one is outright glowing! Consider wearing something like this on your night about town.
Ankara blouse and skirt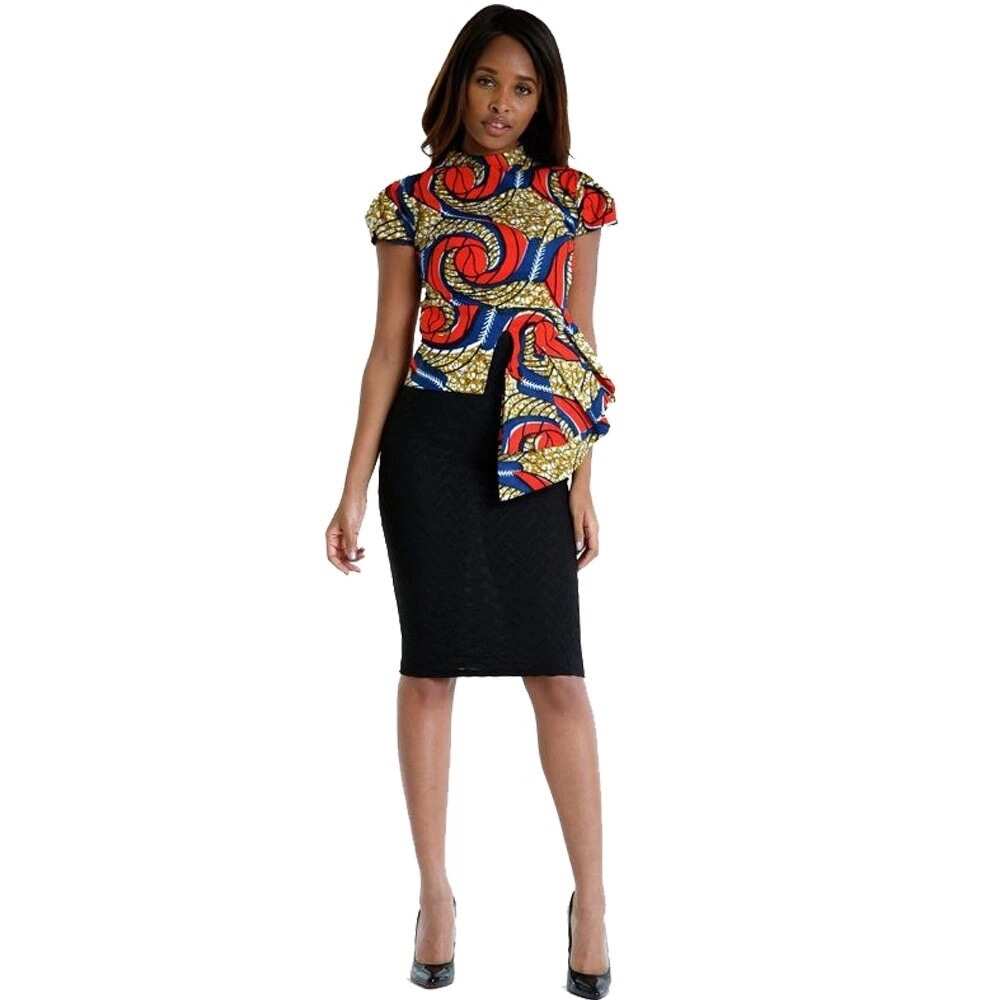 READ ALSO: Latest ankara tops and skirts
We have seen how well ankara blouses go with jeans, now let's look at how you can wear them with monochrome skirts. For instance, you can always pair them with a simple black skirt and black pumps and get a gorgeous outfit.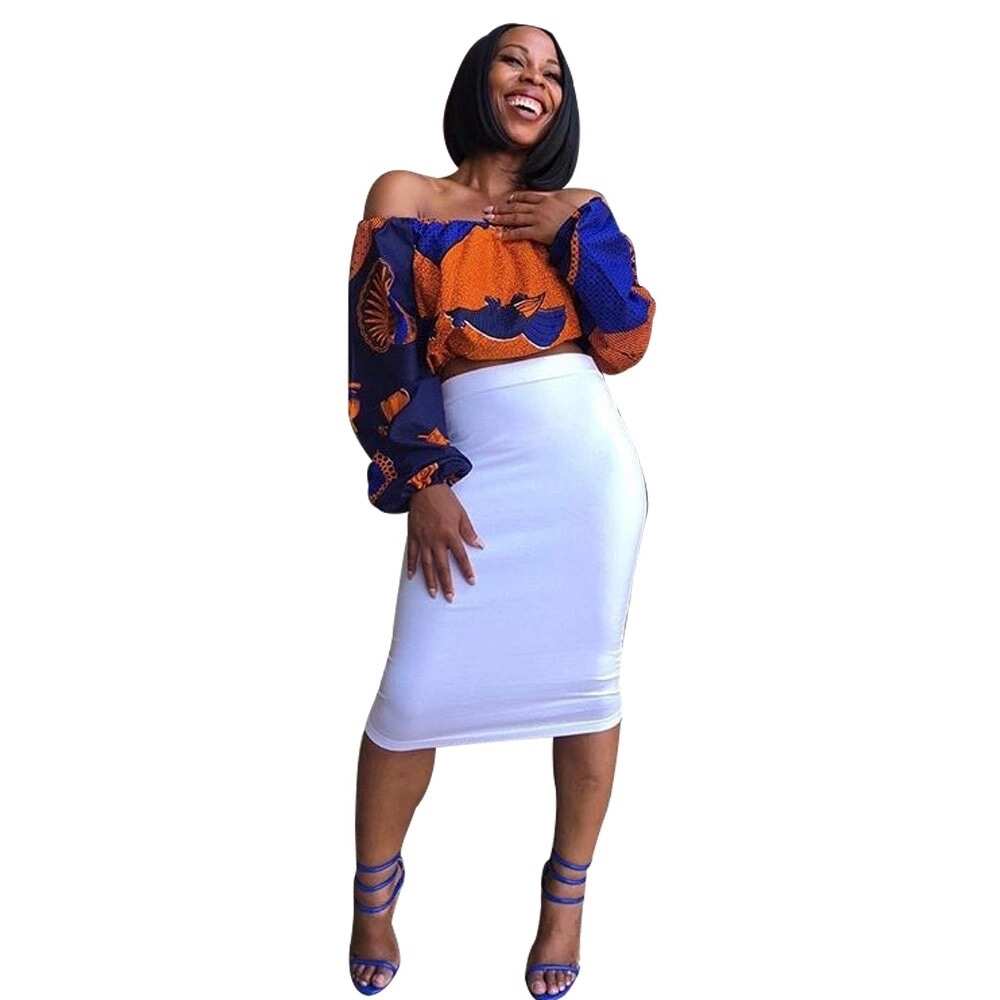 You can also experiment with white skirts (if you are not a messy eater, of course :) ). They seem to go very well with brightly coloured ankara blouses, but they are not for the faint of heart, as it is really easy to mess them up.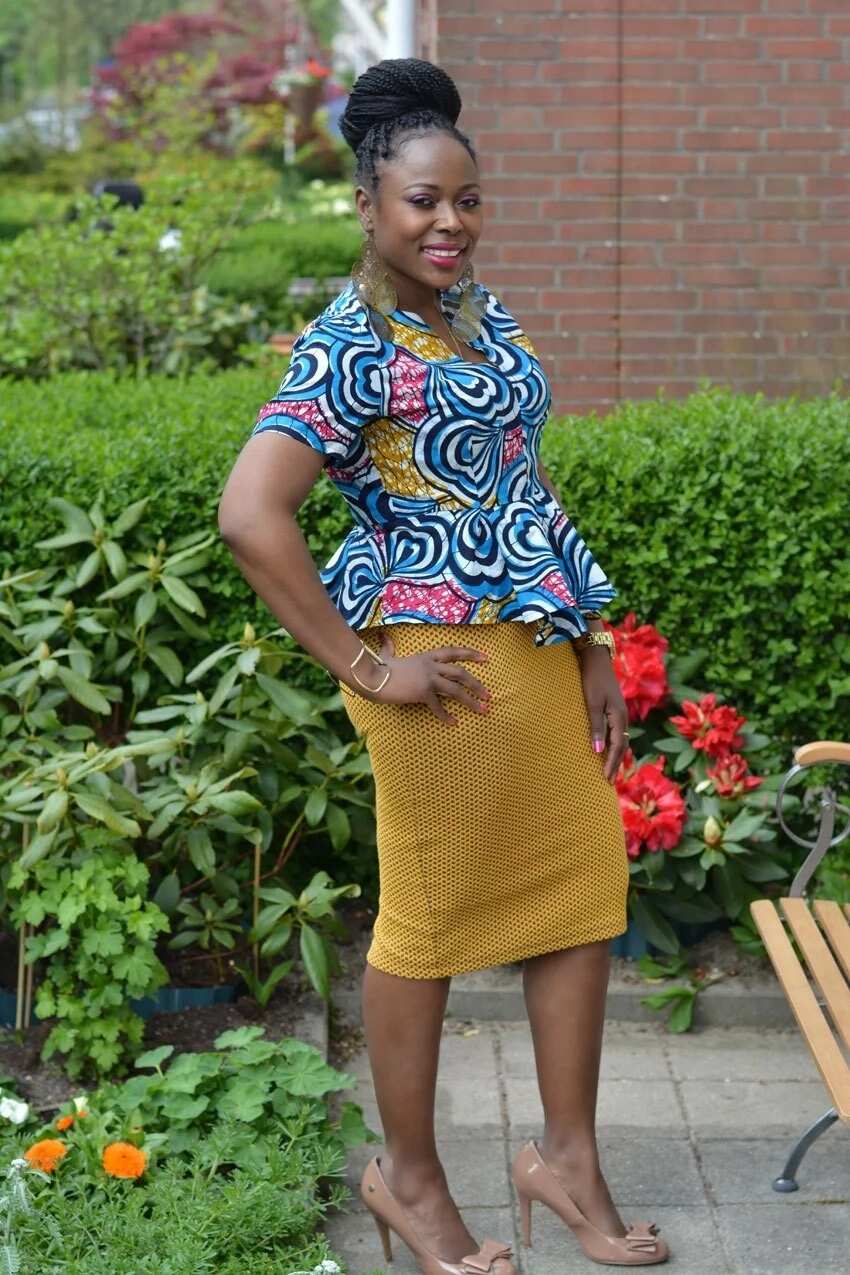 Even though ankara tops are already quite colourful, it does not mean that you only have to stick to the black and white skirts. You can also go for a colour that can be found on the blouse and pick your skirt accordingly.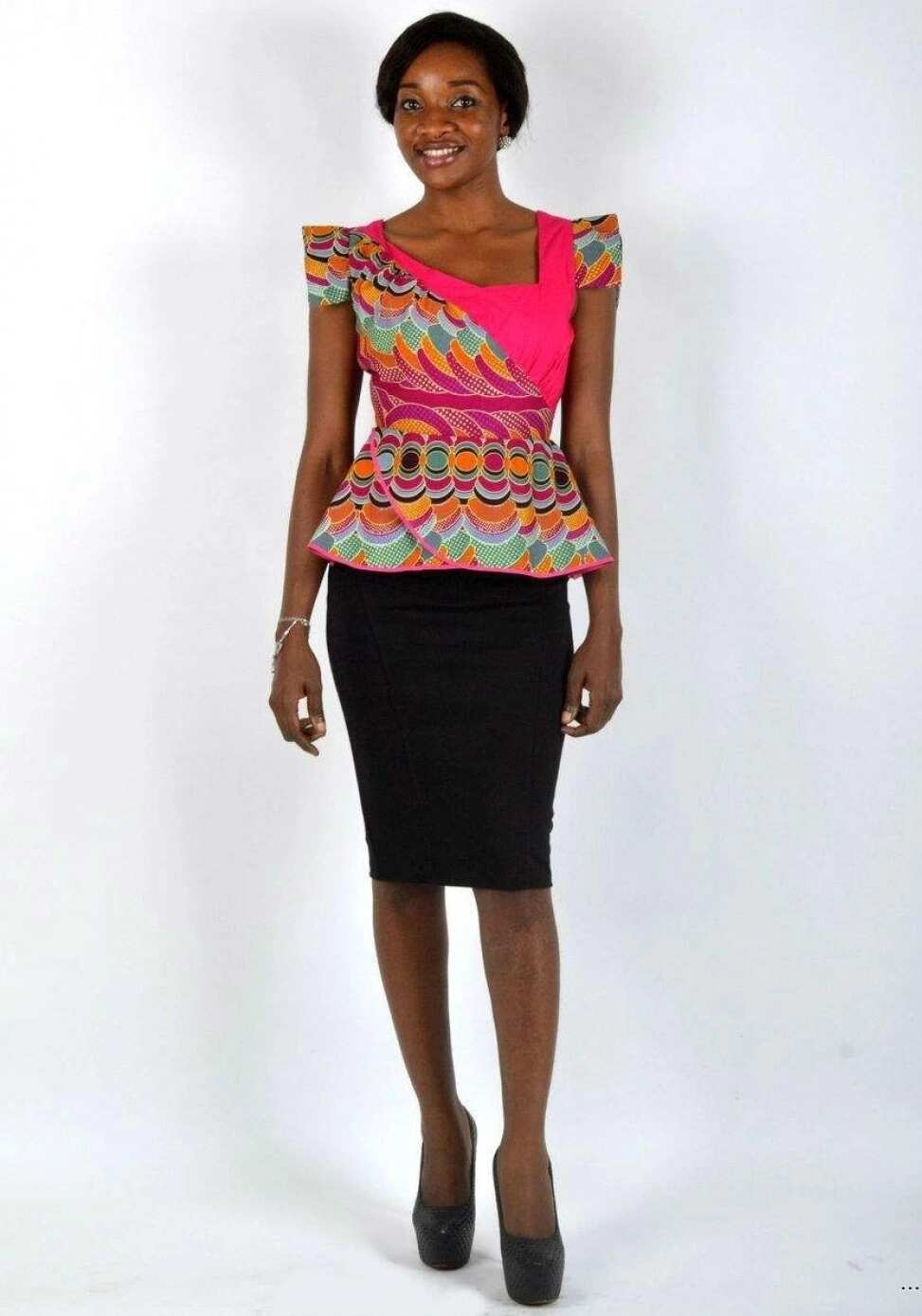 Ankara peplum blouses are practically made to be worn with skirts, and this particular top is great to wear at the office. Its fascinating sharp geometric lines look stylish, but at the same time very professional. As long as you are allowed to wear something this colourful, it should be perfect office attire.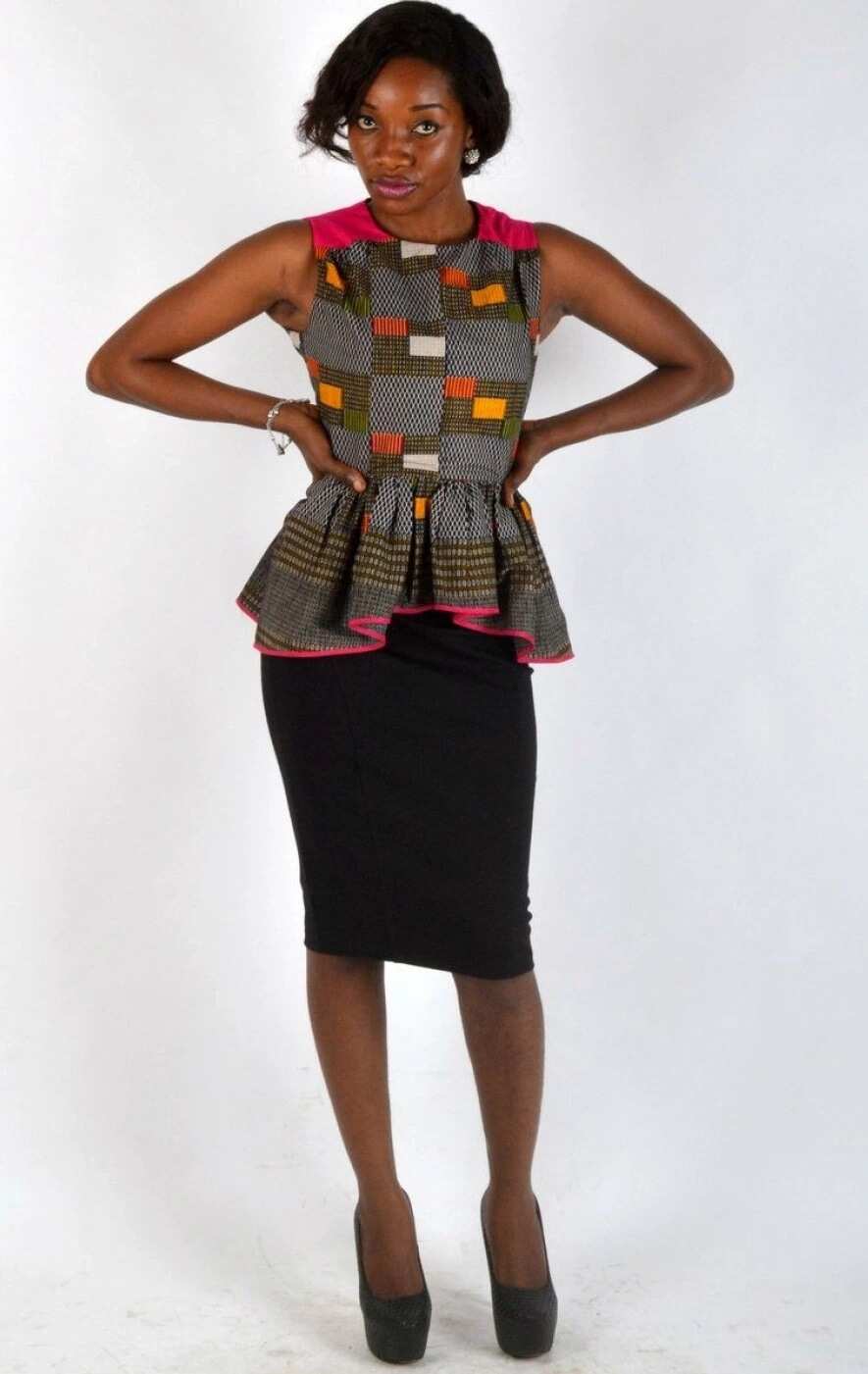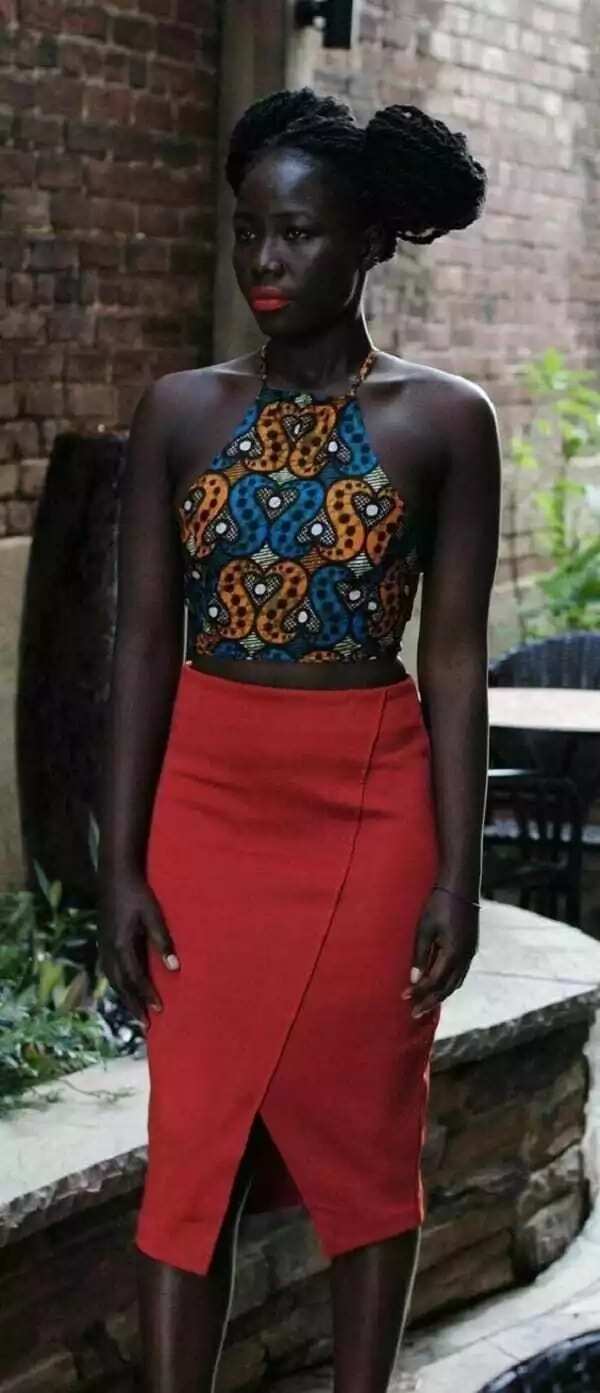 We do not know about you, but for some reason, we rarely get to see ankara halter-tops. That is a shame indeed, especially when they look as good as this one. They are stylish, cool, and perfect for really hot weather.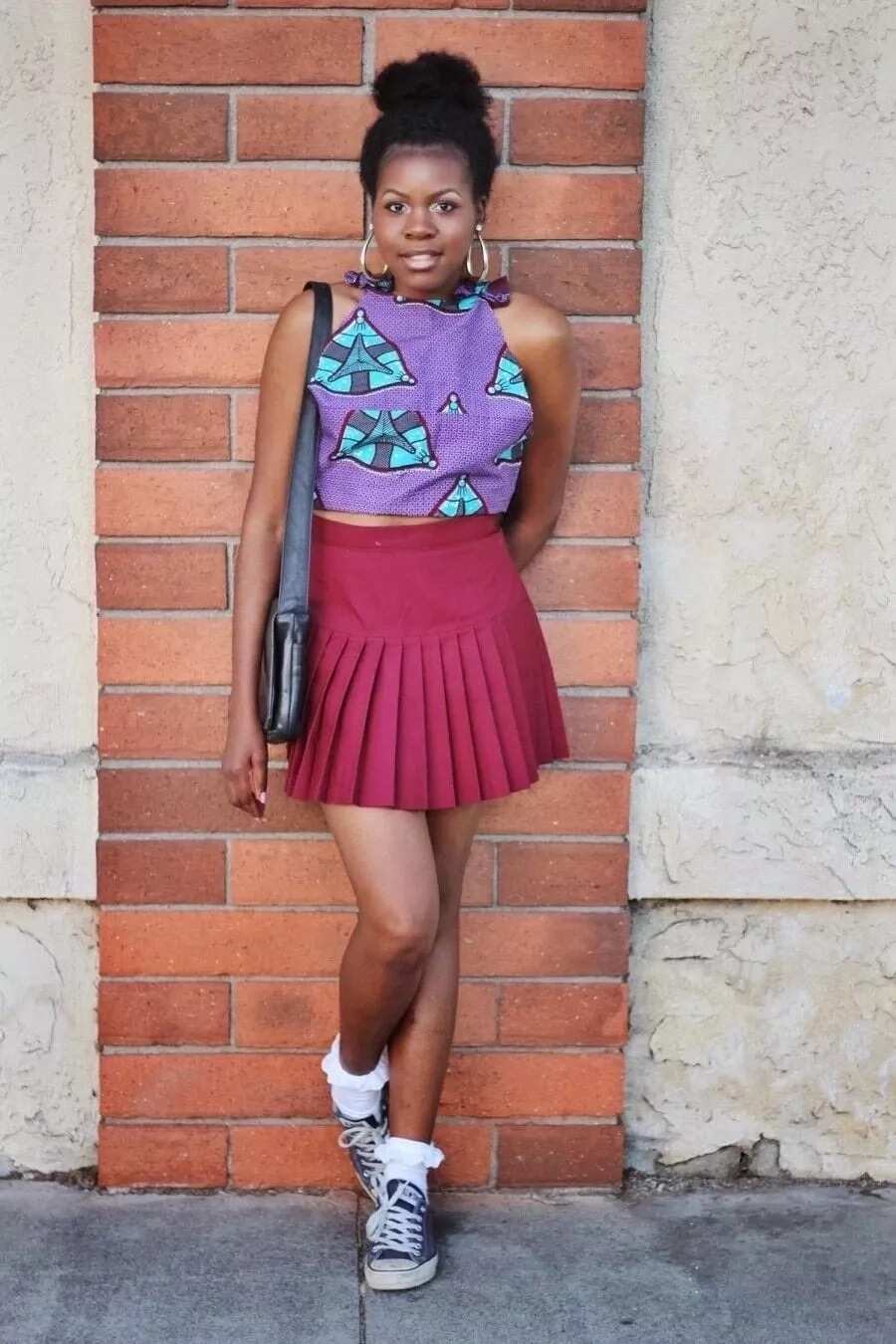 READ ALSO: Best ankara tops for men in 2018
If you miss the schoolgirl look with the pleated skirts, you can always go out and get one, and pair it with something as fun as this ankara blouse. Blouses like this one are great for creating that youthful look, as they are colourful and playful.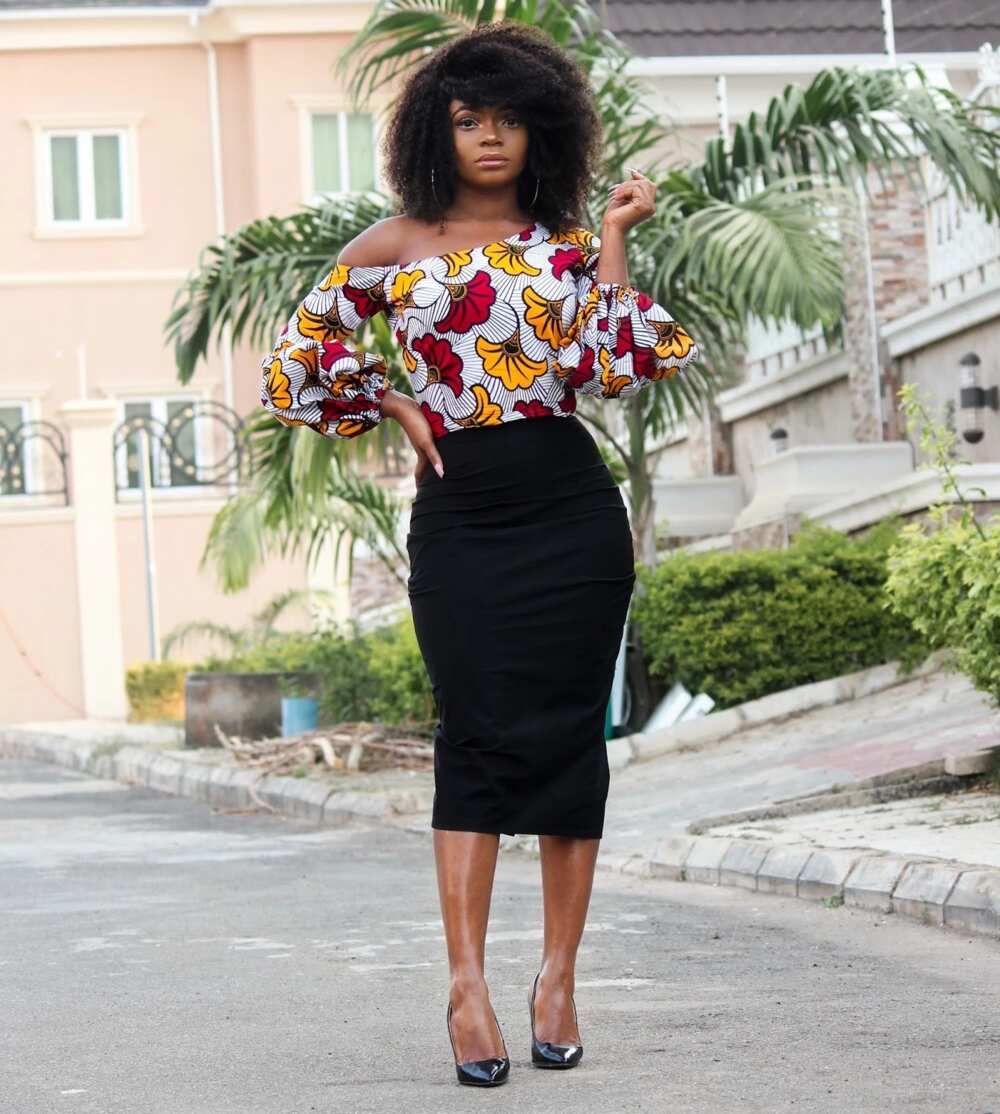 Here we have the classic ankara patterned blouse with the classic black high-waisted midi skirt. This is another great look to wear to the office, as it looks very formal and incredibly stylish.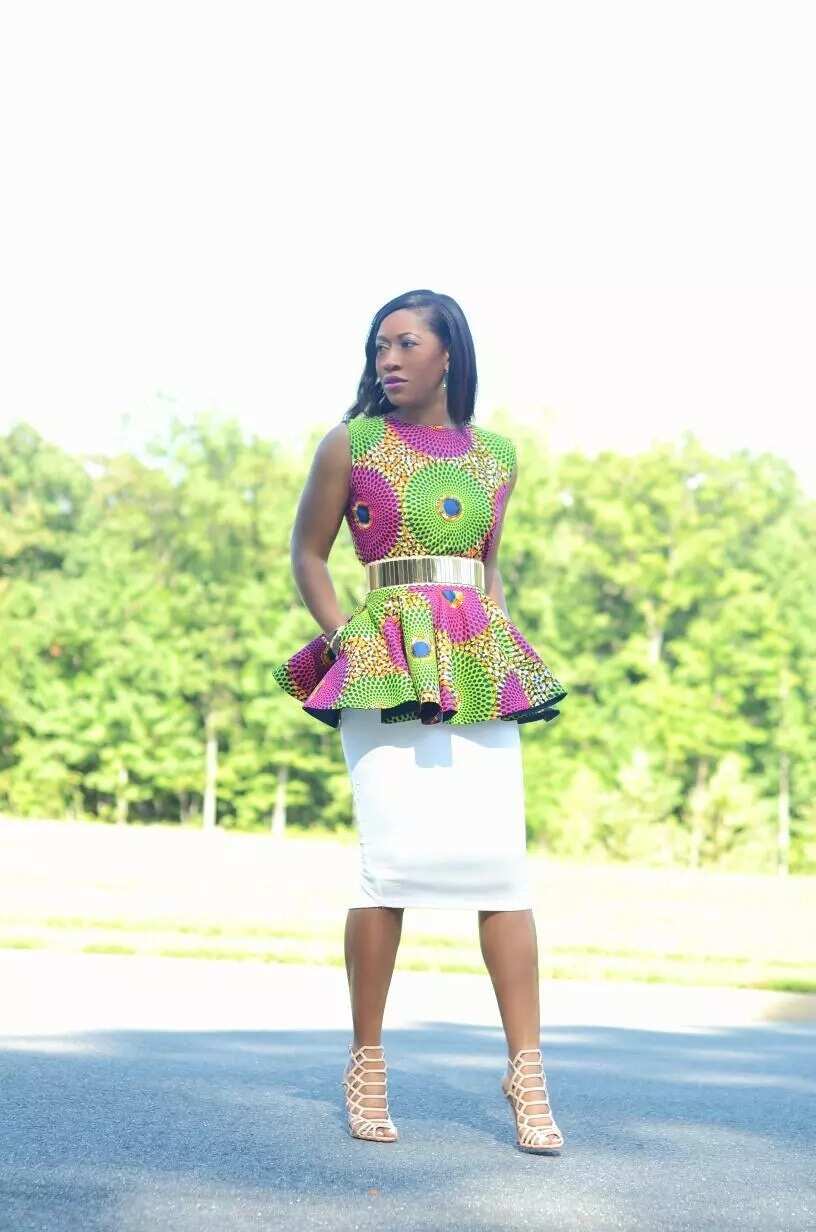 Most of the peplums on the ankara blouses are quite short and simple, but this one looks like it could be a full-on skirt. This is a look you do not see often, so if you decide to wear something similar, you will definitely stand out from the crowd.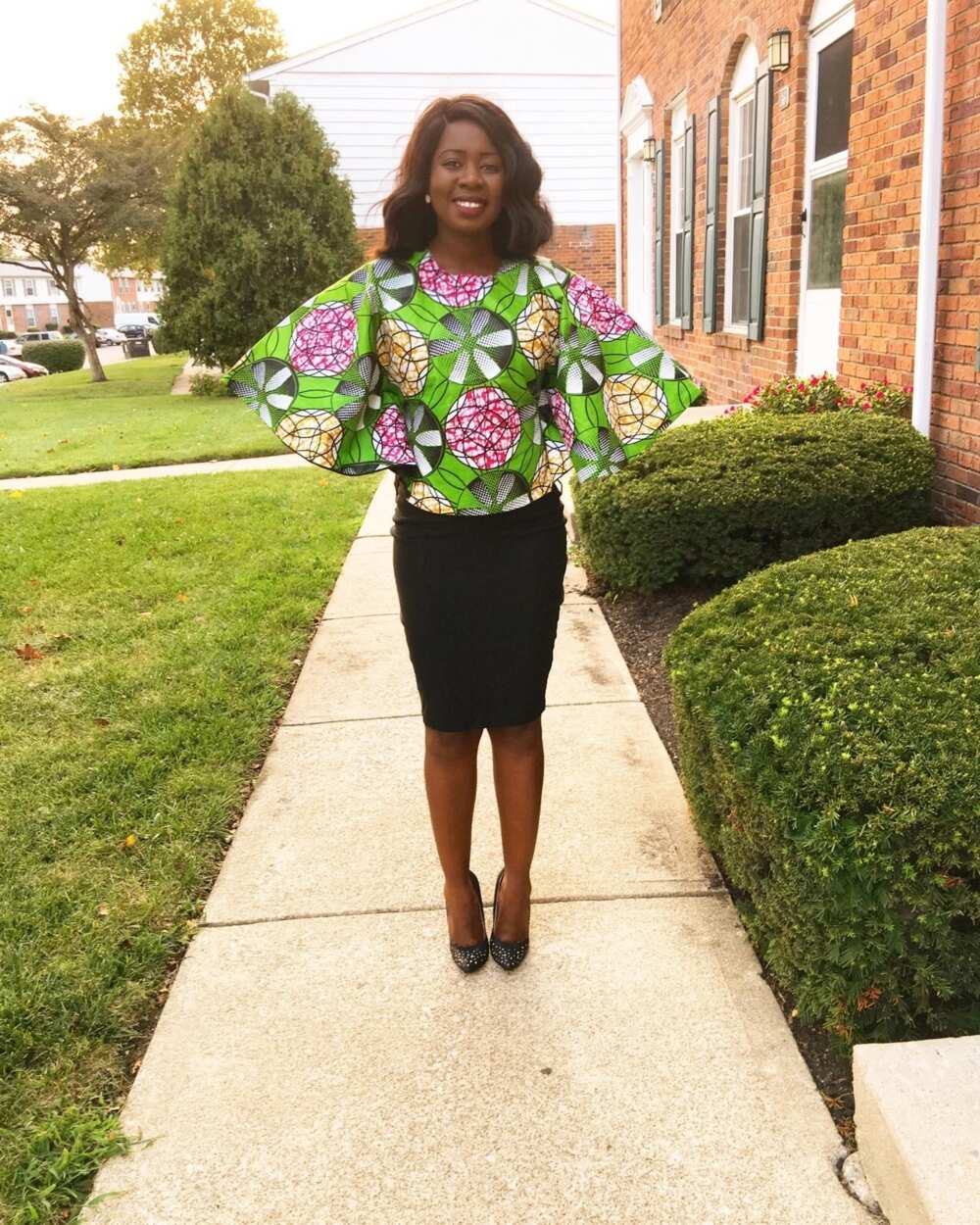 Last, but not least, we have this lovely ankara blouse. Its sleeves are big, which makes them very fun to play around with. The pattern also looks fascinating.
That is all we have for you today. Do you like our picks? Which ones are your favourite? Let us know in the comments.
READ ALSO: Casual ankara gowns for Nigerian beauties
Source: Legit.ng