What is moringa used for?
Moringa or "the tree of life" is the world famous nutrient-rich plant native to Africa and Asia, used for different health purposes. The interest to what is moringa used for is quickly growing. This tree is the storage of natural micro-elements and vitamins, providing resources for weight loss, improvement of the cardiovascular system, beauty treatments, fertility and even water purification. Keep reading to learn many interesting facts about this wonderful plant.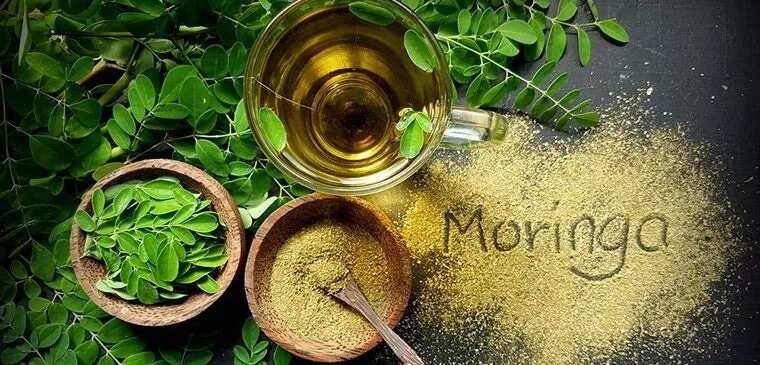 What is moringa and what is it used for?
People call moringa the "tree of life", the "supertree" and "superfood of a new century." One can use it for culinary, medical and cosmetic purposes, using all of its parts (leaves, fruits, flowers, bark, seeds, and roots).
What does it taste seem like? Its taste is similar to matcha green tree or spinach.
Moringa uses
Moringa has its pros and cons, pay attention to its parts and what they can be used for::
Leaves. People consume small light green leaves fresh. They are rich in vitamins A, B and C, calcium, potassium, proteins, necessary minerals, and trace elements.
Powdered leaves contain great plenty of antioxidants as well as vitamins B, E and K. To make this powder easier for consumption, some researchers developed special capsules that contain the powder.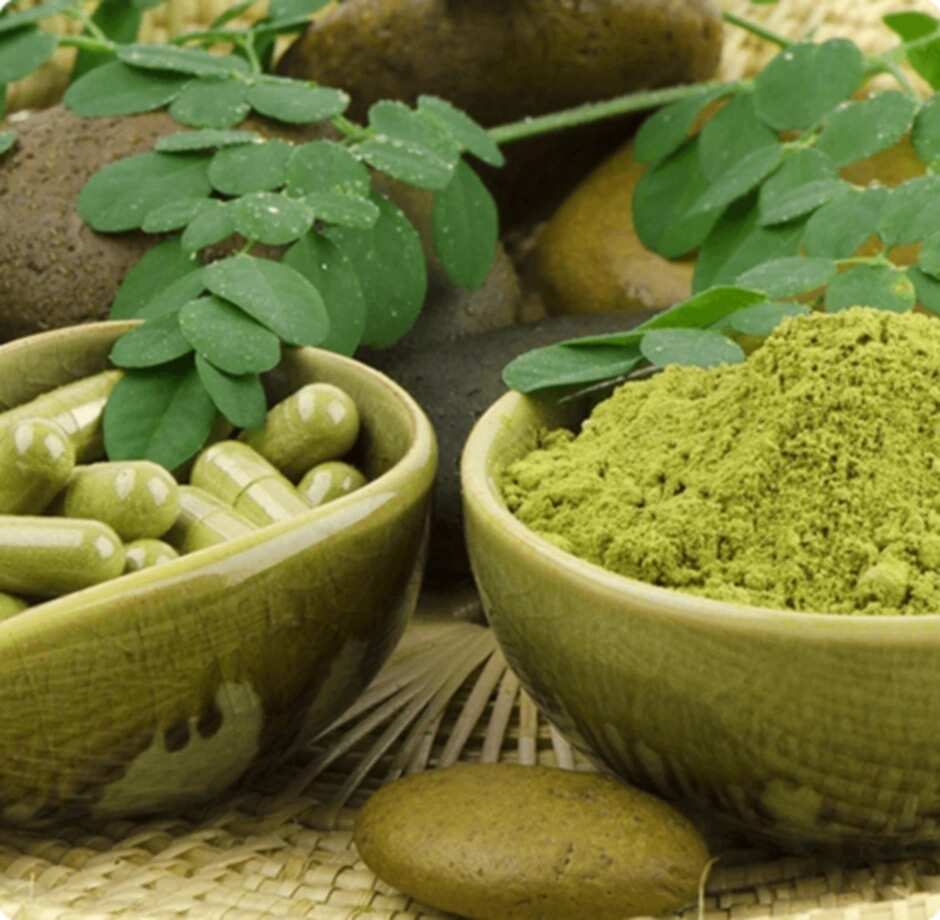 READ ALSO: How to use moringa leaves as medicine
Pods. If compared to the leaves, the pods contain fewer vitamins and minerals than leaves. However, they provide an exceptional concentration of vitamin C. The pods of moringa tree include small fatty nuts. They are very popular in Thai cuisine, are added to different soups and belong to one of the sources of butter, which has prolonged storage and does not get bitter. by the way, The young green pods (roasted or boiled) are an excellent garnish to main course dishes.
Seeds. One of the most significant benefits small seeds bring to people is their ability to serve as an antiseptic, they are also used for water purification.
READ ALSO: How to make Moringa oil without a machine?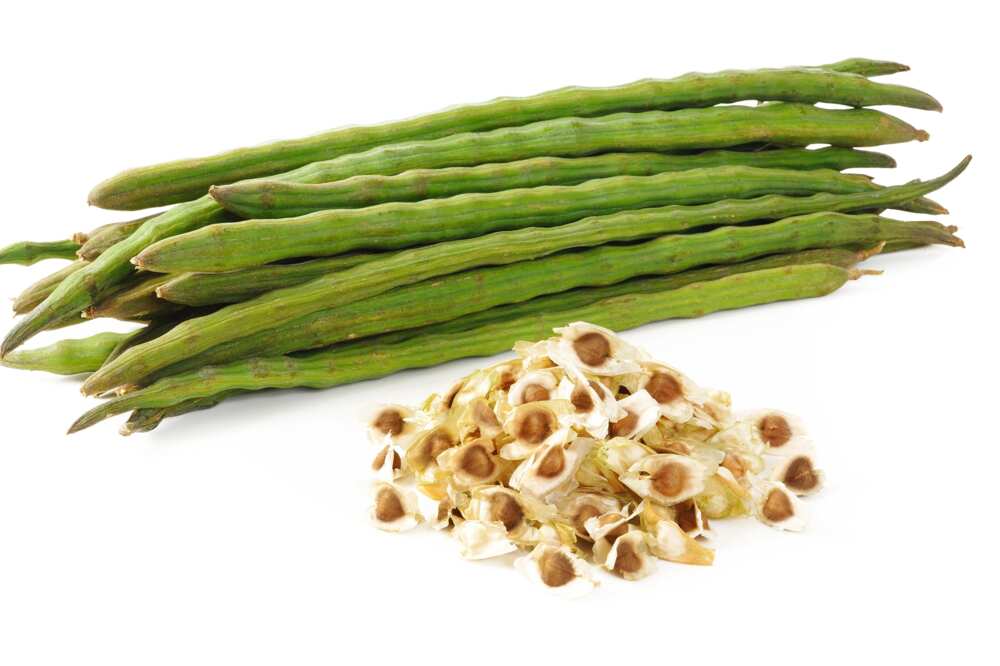 The moringa flowers are often used in salads and as a snack if fried in oil. You can also enjoy a cup of tea with flowers every day.
The root boasts with the highest content of microelements, which in a large dose can be even harmful. It provides a diverse spectrum of properties necessary for medicine, perfume production, fertilizing, water purification and nutrition of animals. The antibiotic features of the root are used to treat many illnesses like Asthma, Circulatory/Endocrine Disorders, Gastritis, Rheumatism, Digestive Disorders, Nervous Disorders, Inflammation, Reproductive Health, and Skin Disorders.
The proportion of minerals and vitamins in moringa is higher than in most of the daily consumed vegetables:
it contains more calcium than milk;
the number of iron is higher than in spinach;
more vitamin C than in oranges;
exceeds carrot's vitamin A in several times;
contains more potassium than bananas do.
10 moringa properties that will make you pick it up for a daily ration:
1. Is moringa used for weight loss?
People, who search for natural alternatives to kip their body fit, more often draw their attention to the properties of this "amazing tree". It helps to maintain blood sugar and cholesterol levels.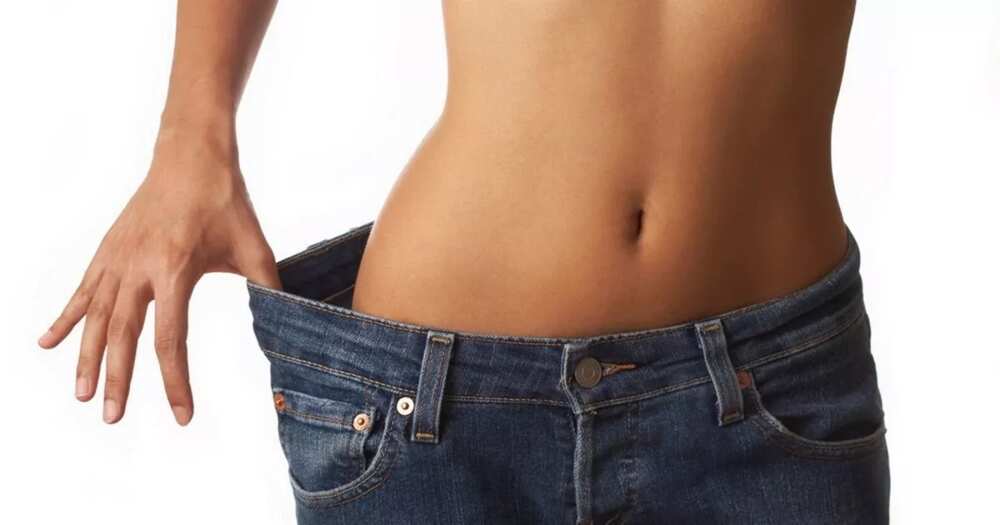 READ ALSO: Best diet plan for weight loss
2. A healthy body and perfect waist with moringa
Moringa is a unique remedy, which helps not only to lose extra pounds.
3. Is moringa used for fertility?
Traditional sources describe moringa as a permanent form of birth control. The elements, are found in the content of the root, can prevent pregnancy. That's why it's forbidden to eat this part of moringa when you are pregnant.
The seed cake, remaining after oil extraction, provokes the opposite effect and contributes to boosting fertility.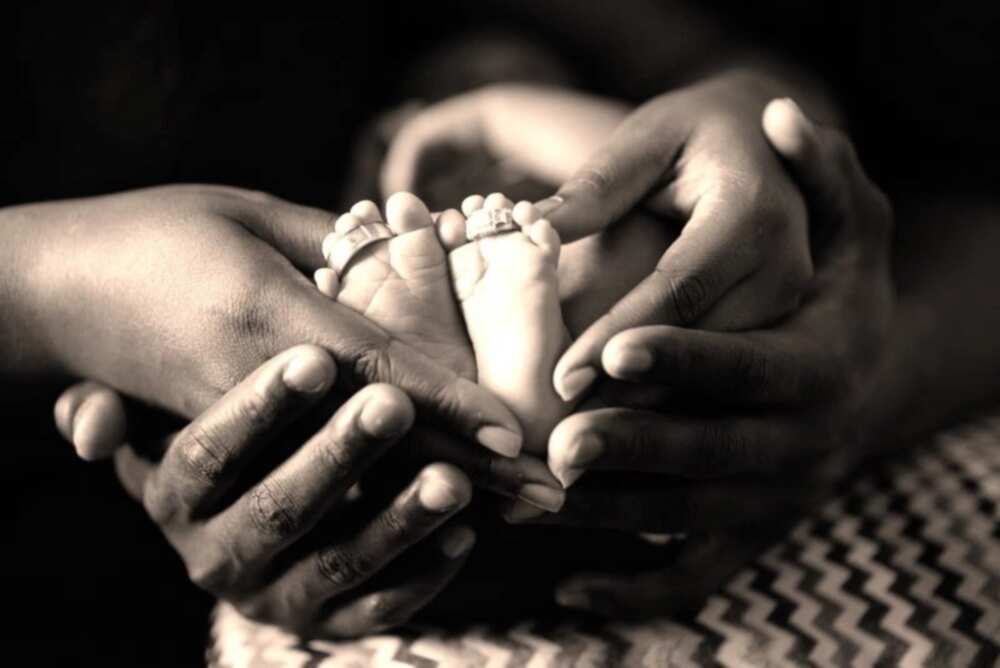 4. Moringa and detox
Moringa is rich in plenty of antioxidants like kaempferol, zeatin, rutin, beta-sitosterol, quercetin, and chlorogenic acid – which help to purify the body from free radicals through absorbing.
5. Improvement of the work of the digestive system
Mustard oils, found in moringa, are influential in the treatment of gastrointestinal function disorders, gastritis, constipation, and ulcerative colitis.
6. Moringa and memory enhancing
There is no better product for memory enhancing and improvements in brain functioning than moringa! Moreover, a large concentration of vitamins E and C help to cope with the oxidative stress of people with Alzheimer's disease.
7. Skin purification with moringa
The magic tree is an essential constituent of skin care products: it ensures protection from bacterial and fungal infections, serves as a revitalizer and slows down aging processes. The vitamin B in its content acts as a good moisturizer. Thanks to antioxidants your skin will look repaired and protected from cell damage.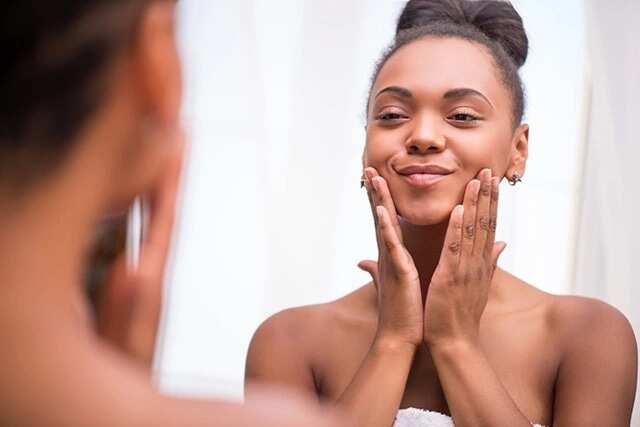 8. Moringa and immune function
Moringa leaves - an excellent remedy for boosting the immune system thanks to a high concentration of vitamin A (18.9%) and iron (32.2%).
9. Say "no" to tiredness and fatigue!
Vitamin A, found in moringa powder, is involved in the process of metabolism of iron, which is essential for the reduction of fatigue and tiredness.
10. Plenty of protein!
Moringa is a source of protein, necessary for growth and maintenance of the muscle mass. The powder may be consumed as a smoothie or as a topping for salad.
The humankind benefits significantly from moringa oleifera's properties both in prevention and healing. This tree grows extremely fast and caters to lots of people with the necessary amount of nutritive elements, natural unsaturated fatty acids, antioxidants, and minerals, which strengthen the body's general defence.
READ ALSO: Moringa seed benefits and side effects
Source: Legit.ng