Nigerian white wedding hairstyles are one of the keys and essential elements of the bridal image. What are wedding hairstyles tends in 2018? Read in this post, take a look at the fantastic photos and get inspired for your special day.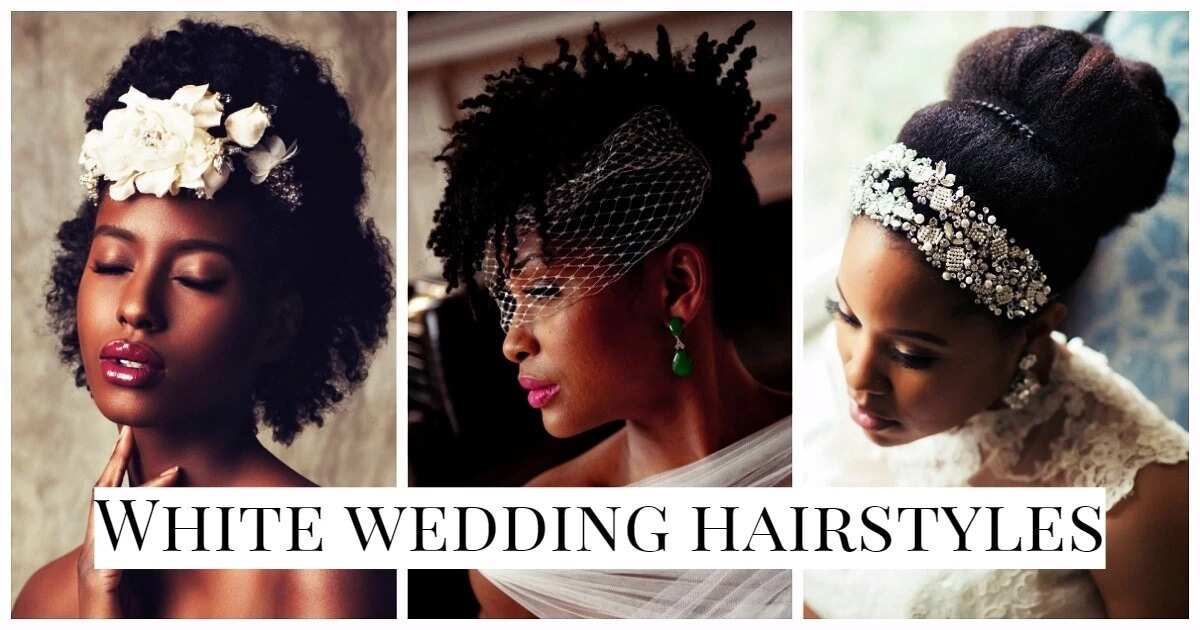 Nigerian bridal hairstyles
Beautiful wedding hairstyle will help you emphasize your face, beautiful makeup and glam up your entire look.
We have gathered the trends in latest hairstyle for wedding for you, so you can choose an ideal option for your special day.
Loose hair
Boho, rustic, classics - any chosen style will emphasize the natural beauty of curled locks. This option is the most popular variant of a wedding hairstyle chosen for many brides for their white wedding not only in Nigeria by the way.
The primary requirement for the curls to be maximally natural, not taut waves. You should refuse big curls and give preference to delicacy and airiness. Almost any dress will suit to such a hairstyle.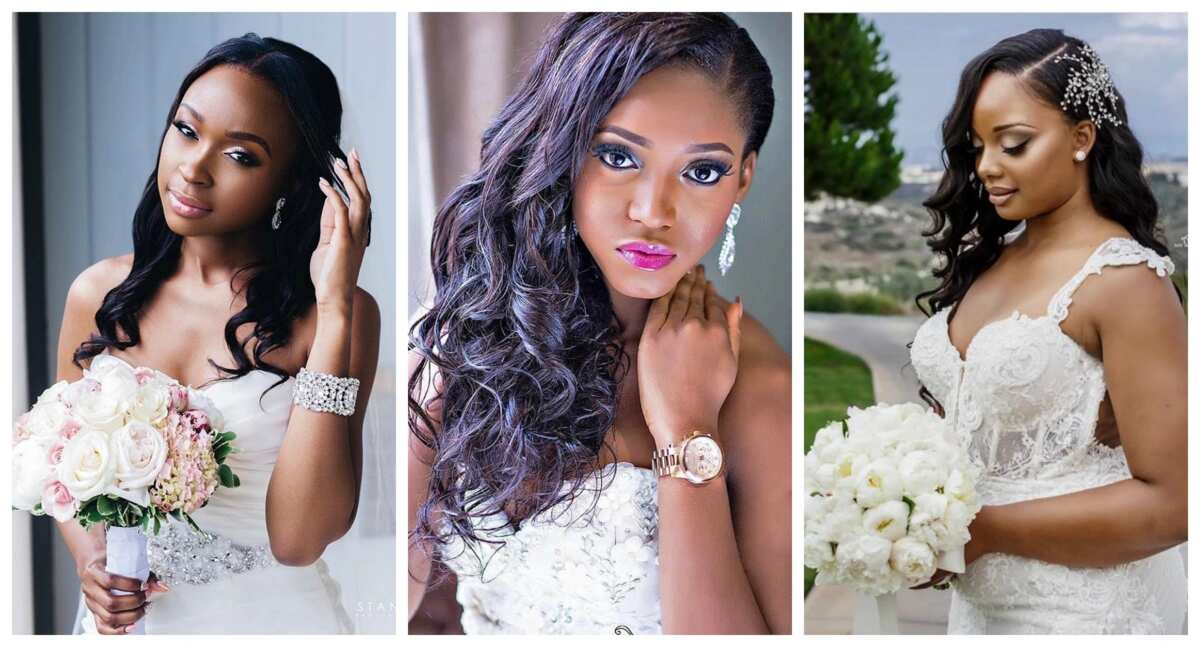 READ ALSO: Nigerian lace styles for wedding in 2018
If loose hair doesn't fit into your notion of the "dream hairstyle", pay attention to a variety of stylish and unique combinations of loose and slightly gathered curls.
Put the hair from your forehead or over your ears and fix them, in this way, you`ll create ideal curls. Emphasize any style with the help of a few pins, invisible hairpin, fresh or artificial flower.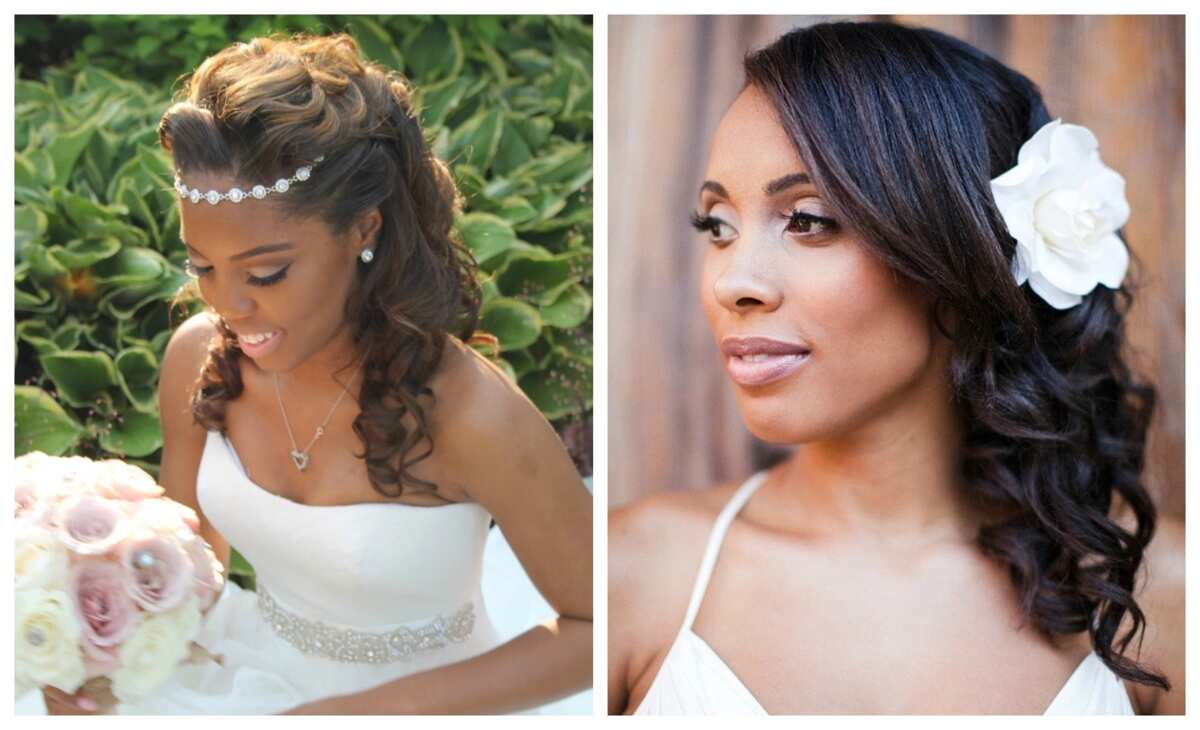 Loose smooth hair
Girls with long hair can pay their attention to the simplest, but at the same time, very elegant hairstyle: loose smooth or slightly curly hair.
It should be noted that here you cannot do without stylish decorations - bridal veils, flowers and hairpins, a natural wreath or flowers, boho- and ethnic-accessories that will play with new colours on the background of brilliant straight streaming hair.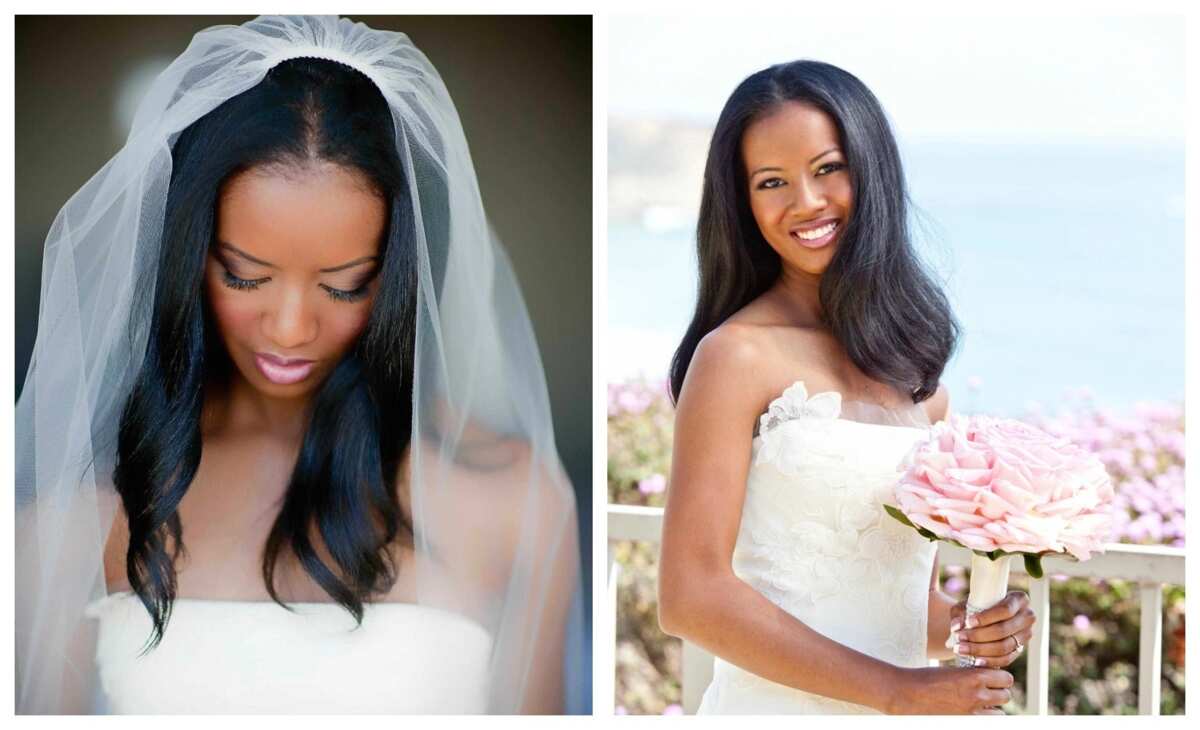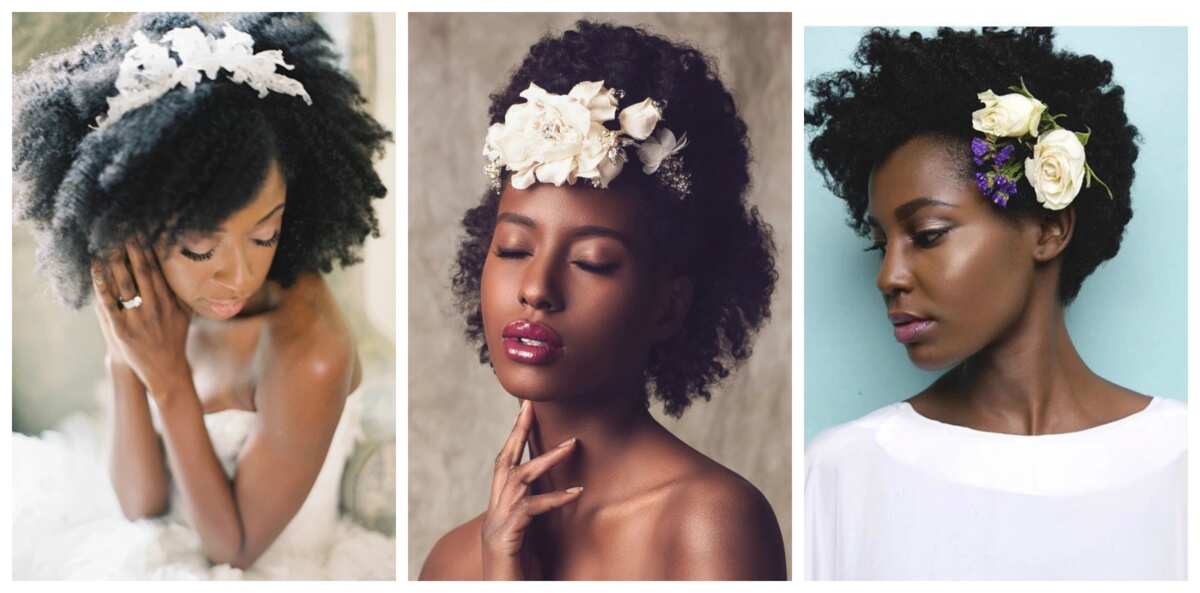 Tufts
Low or tall, tight or curvy tufts perfectly fits not only with the vintage dress but also with the classical canons that brides love so much. Depending on the form and splendor, the knots of hair can be suitable for all types of faces and figures, from an elongated oval to a plump face like a heart.
A pleasant feature of the wedding hair knot, or tuft, is simplicity. If you want to emphasize the simplicity and refinement of the hairstyle with modest accessories, you can choose a small crest or a hair clip, a chain in hair.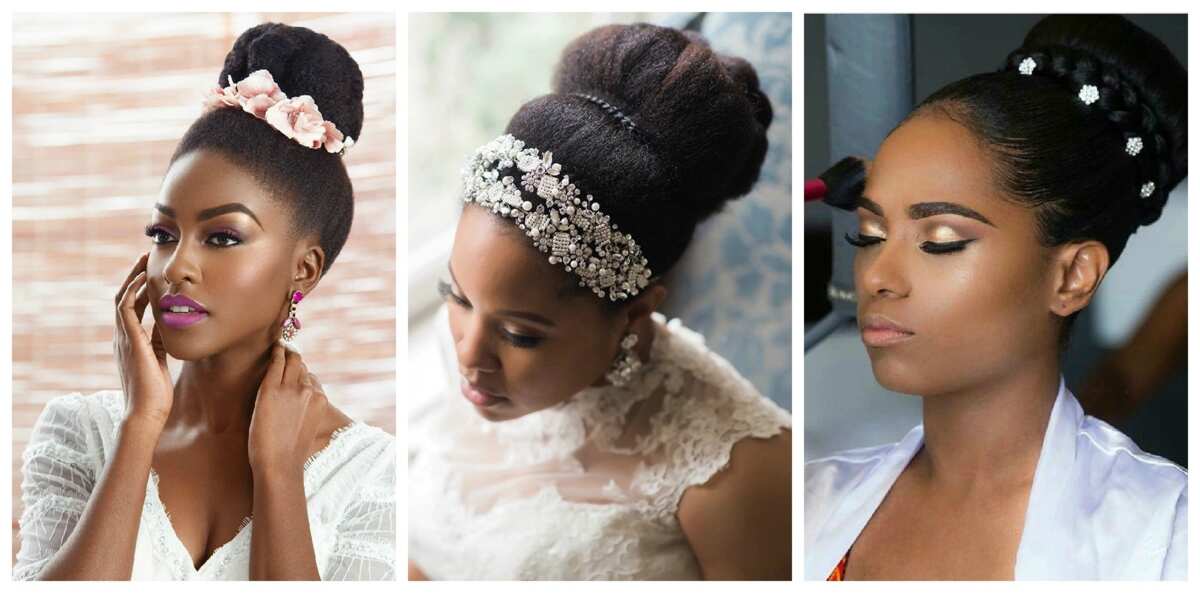 Braids
Having tightly entered into a great variety of wedding hairstyles, braids take different forms and have been transformed due to requests of brides.
There are different types of braids, for example, the fishtail, which is the basis for the hairstyle with curls.
The stylist can create a real masterpiece on your head. Such hairstyles can be decorated with pearls, flowers, chains or be complemented with a veil or silk ribbons.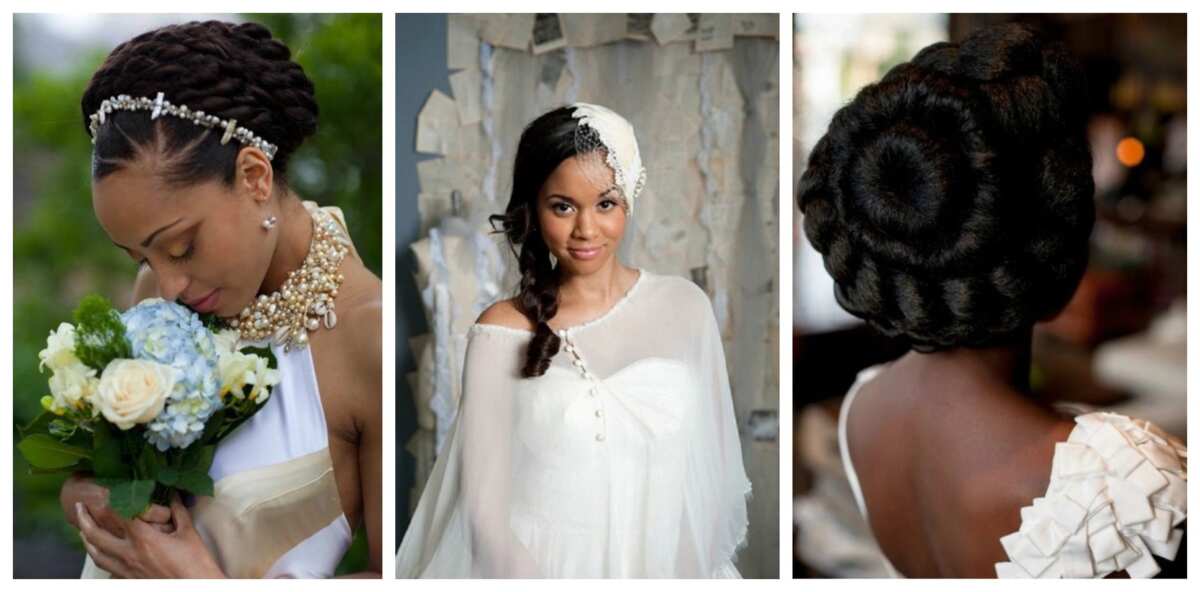 READ ALSO: Latest Nigerian wedding jotter designs
Short natural hairstyles
Owners of short haircuts are also trendy this season. Many stylish and unique bridal images can be created with short hairstyles, for example, short curls or hair to the shoulders can be gathered in a negligence tuft.
Short hair is an excellent opportunity to pay special attention to hair accessories! You can leave your natural hair as it is and just add a beautiful accessory that will do the whole job.
You can choose shiny designer rims, crowns, wreaths from a variety of materials. Hats and veils also will match up perfectly such hairstyles.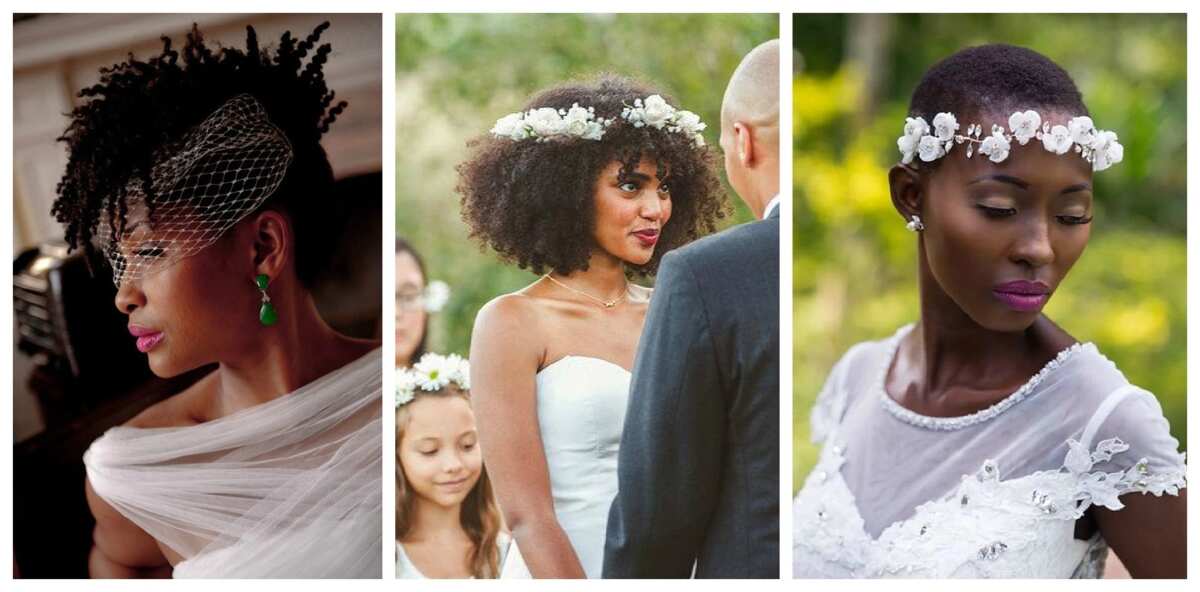 Hairstyles with veil
Over the years, one of the main hits of wedding fashion is the hairstyle with a veil. There are high demands to make hairstyles with a veil. It must be fixed as much as possible to keep the veil.
Professional hairdressers aren't advising to combine the veil with a complex, multilevel hairstyle because it won`t be visible under the lace. When choosing a hairstyle, it`s necessary to take into account the type of fastening of the veil.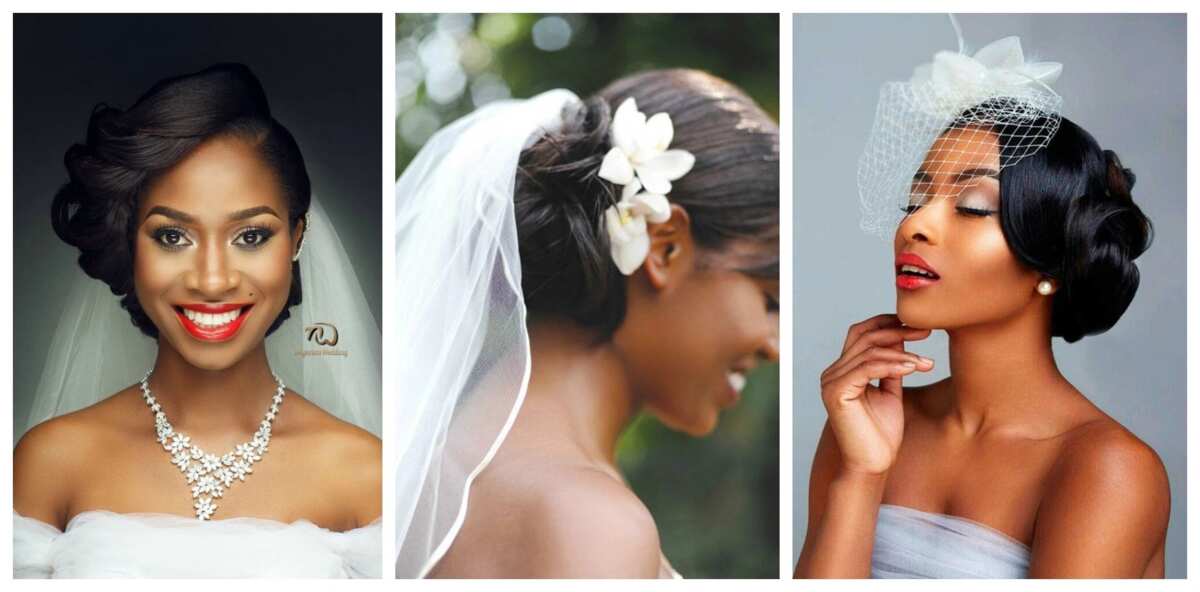 The tiara is a luxurious accessory for any Nigerian white wedding hairstyles that will make the wedding image fairy and charming. The tiara is perfectly combined with long or short hair, with different bangs. In this case, the decoration is located at the place where the bangs begin. It`ll make the bridal hairstyle more harmonious and attractive.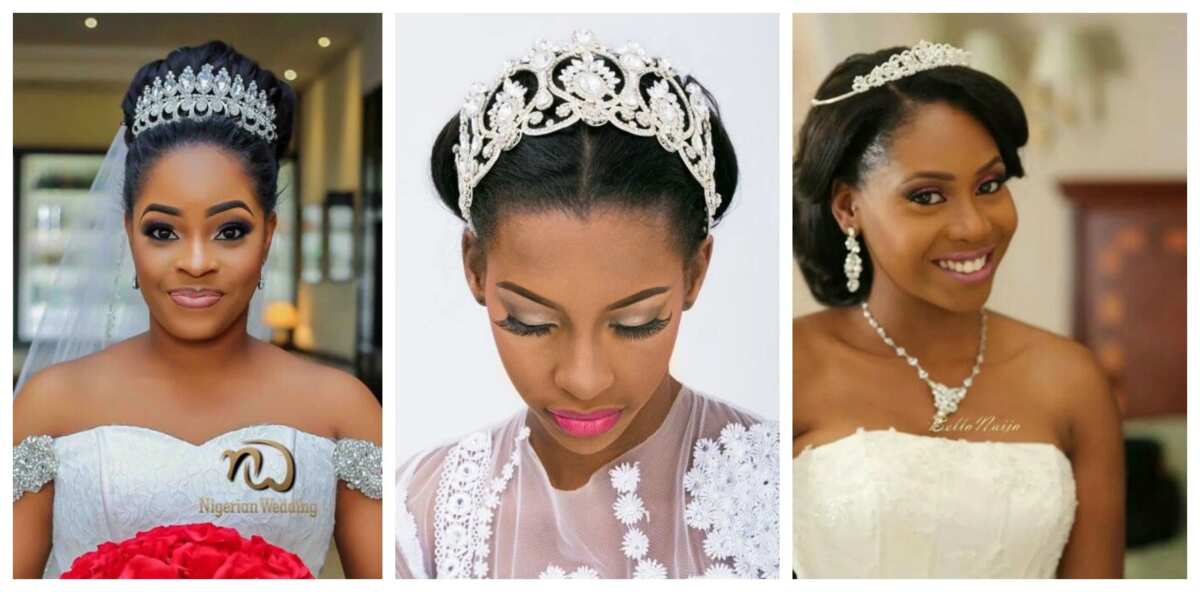 Wedding hairstyles for natural hair
Latest wedding hairstyle for natural hair is far from the traditional braids, although braids may be present.
There are many varieties of hairstyles for the wedding in the Nigerian style. This is ideally smoothly combed hair, taken up in a neat bundle or laid on the right or left side. The hairstyle can be made in the form of thick braids or "shell".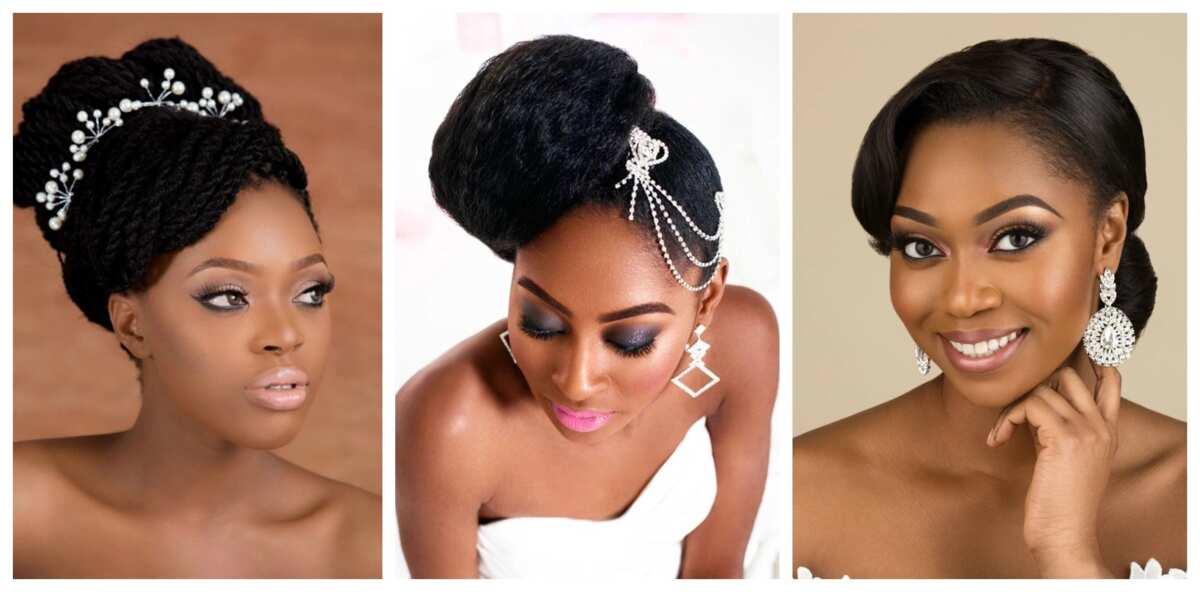 Many brides prefer wavy curls and voluminous styling with flowers. Of course, the most effective look is wedding hairstyles with half-loose curls that gently frame the face of the bride.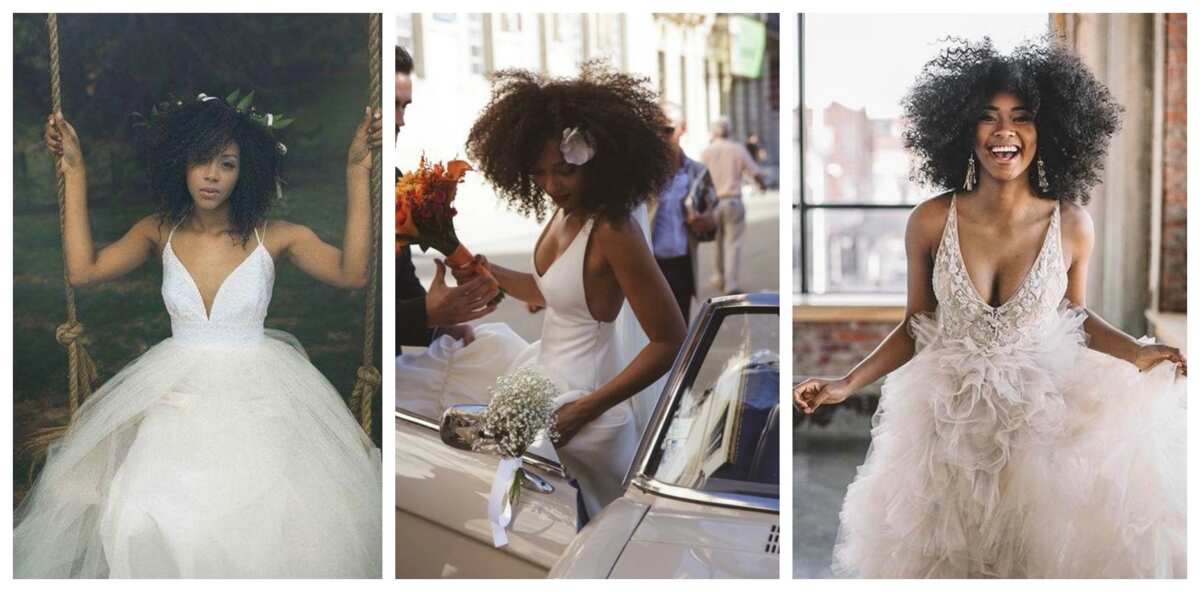 Wedding hairstyles for short natural hair can also look luxurious and elegant! Nigerian brides choose natural curls with volume at the root. They complement the hairdo with floral wreaths, as well as spectacular inlaid hairpins and tiaras.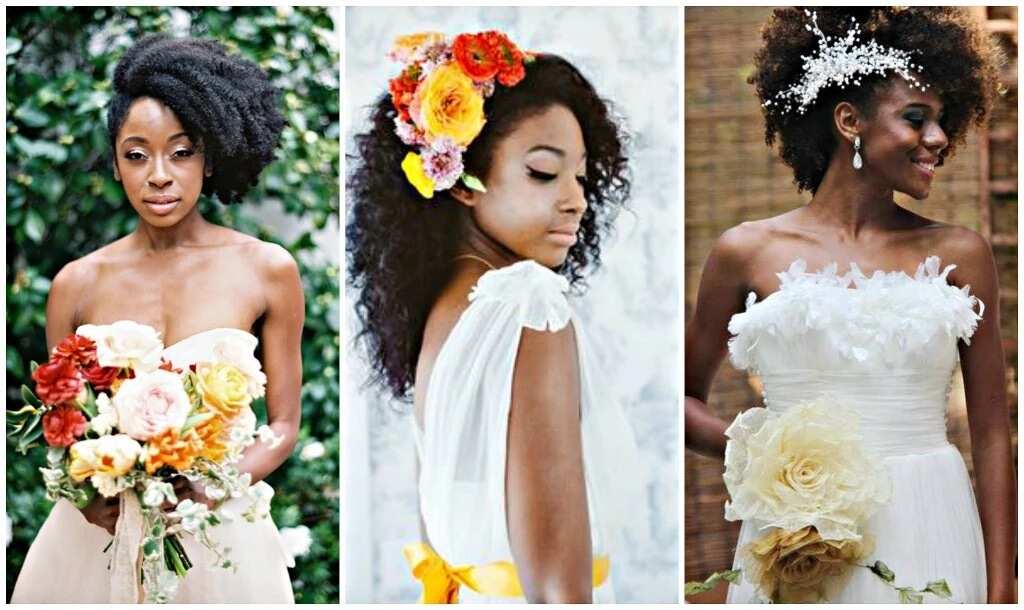 Everything should be perfect in the wedding image, beginning from beautiful jewelry to the dress. And the essential part of a luxurious style for an unforgettable day is elegant wedding hairstyles.
There are high demands to the wedding hairstyle because it should not only help in creating a sophisticated, romantic and fairy-tale image but also to withstand an extended celebration. We hope that our post was useful and you have been inspired to create a marvelous wedding look.
READ ALSO: Simple wedding hall decoration ideas in Nigeria