Security guard's manhood reportedly disappears after taking a bribe from a rich man
When it comes to bizarre happenings around the world, it appears Nigeria takes the lead on that one. Everyday, different stories of happenings that defy all logical explanations continue to pop up on the internet.
Trending on the internet is the strange theft of penises going on in Lagos. Just recently, a disturbing video surfaced showing a man trying to escape after it was reported that he stole a security guard's manhood.
According to the story, the security guard revealed that the politician in the car had given him money and almost immediately, he felt his organ disappear. He alerted the people around who tried to stop the car from driving off,
The caption read: ""A security guard's manhood disappeared, immediately the man (politician) in the jeep gave him money, today at City Hall, Lagos. While people gathered and tried stopping the man, he got away with a barrage of shooting from the car." Shared as received."
READ ALSO: Nigerian prophet predicts winner of Osun state election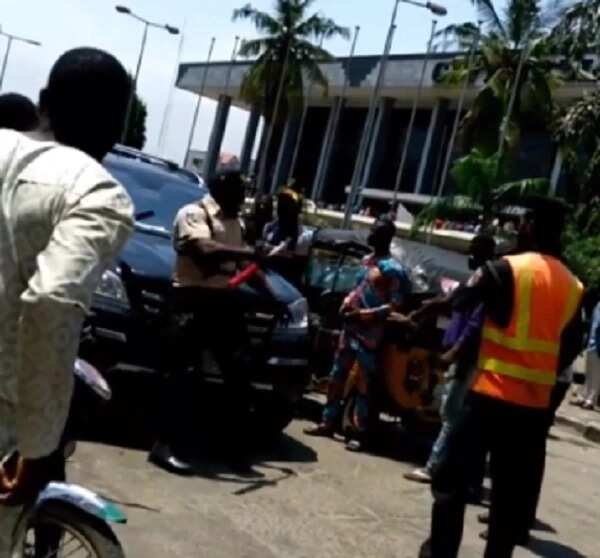 In the video, the driver of the vehicle is seen driving off while several people present at thew scene try to stop him. Unfortunately, he succeeded in escaping the growing angry mob.
The Twitter user also shared another experienced h. He wrote: "Our gateman's manhood disappeared in 2006 or 2007 but he was lucky to catch the man. The guy was arrested and after plenty beating, be returned the manhood. They had to pay someone so he can test the efficiency of the manhood right there in the Police station."
READ ALSO: New details of infamous alleged gay man emerge online, he's HIV positive
The post caused major reactions on social media. While some people expressed doubt, calling the whole thing a new scam likely that only gullible people will fall victim to, others seemed to believe this to be true.
Well, this occurrences are reportedly connected with voodoo practices popularly known as 'juju' in Nigeria. Coupled with the coming elections, many people believe this is the new tactics by some politicians who engage in fetish practices.
PAY ATTENTION: Get the Latest Nigerian News on Legit.ng News App
Get the hottest gist on Africa Love Aid
Nigeria Breaking News: Kogi Flood Sacks Residents from Their Homes | Legit.ng TV
Source: Legit.ng