- A social media user, identified as Judith Trafford, is scared for her life after a customer took her pictures to a shrine in Edo state
- According to her she was robbed and was unable to fulfil her end of a business transaction
- An embittered customer, identified as Blizz Lilly Williams, warned Judith to refund her money or face her wrath
- To solidify her threats, Blizz sent Judith a video which showed her pictures in a shrine as she further warned her to return her money
Social media has taken business to another level by allowing entrepreneurs easily advertise their goods to a wide range of people as well as having access to a large range of customers.
However, there have been several tales of woe by customers who have suffered in the hands of fraudsters who claim to sell goods on social media. This has led to a high level of distrust between people on social media and legitimate business owners. These days, people are usually on their guard when transacting a business online.
Judith Trafford, who happens to be an entrepreneur on social media, has called on the general public to save her from the hands of one of her customers, Blizz Lilly Williams.
It all started when Blizz ordered some goods worth N12,500, but Judith was unable to deliver because according to her she was robbed. She also promised to refund her customers' money.
PAY ATTENTION: Install our latest app for Android and read the best news about Nigeria
However, Blizz seems not to have been refunded early enough, and she sent several threat messages to Judith. She also showed her video proof. In the video, Judith's pictures were seen in what looked like a shrine, and Blizz was heard in the background warning Judith to refund her money.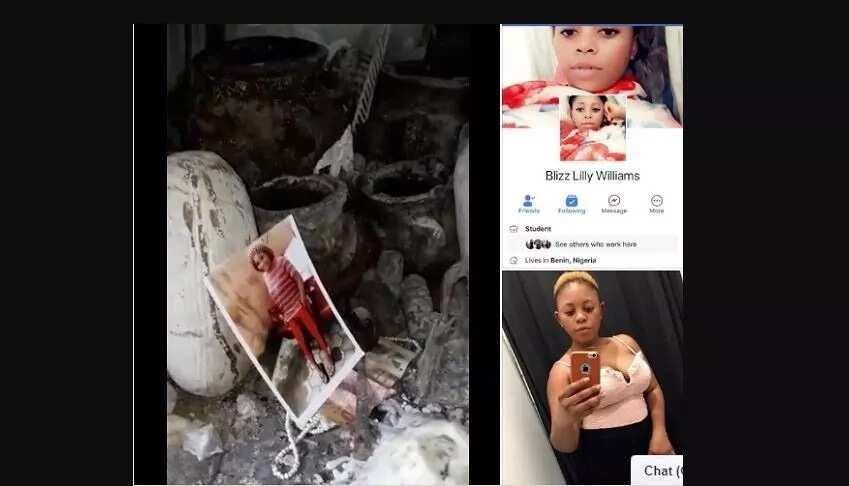 In fear, Judith took to her Facebook page to narrate her side of the story, alert the public to the threats as well as to know who to hold responsible in case anything happens to her.
She wrote:
"I have customers in Nigeria and abroad, have never cheated anyone.they pay me and I deliver their good few month ago I was rubbed they took away all my business money my phone and all most of u were aware.the lady bellow Blizz Lilly Williams ordered goods worth 12,500(twelve thousand five hundred naira before the incident I explained to her that I was rubbed Nd I promised to send her back her money so as god could do it I started back my business last week.
"She messaged me for her money I begged and ask her to have patience that I just started my business back or she should choose wat she needed on my upload so I buy Nd send to her just last week,I went to d market got the goods only for her to send me the video below threatening to kill me.she saved my pictures on fb went to print it out Nd took it to a native doctor.
READ ALSO: Man travels on a bicycle from Morocco to Nigeria to sightsee (photos)
"Her dad also called threatening me have send her money back to her but I just want us all to be careful because with this I now know people saves peoples pix on social media to do evil that her pix below and the video she sent me have sent her money back to her and I guess she has being destroying life with this,I guess am not the first person she has taken her pix to her father shrine please kindly share cox if anything should happen she's responsible."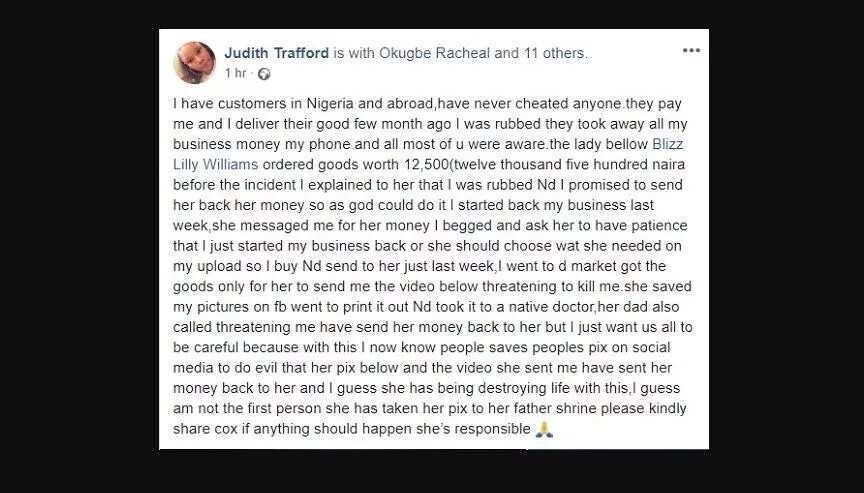 Hopefully, their issue would be settled amicably and without harm being done to any party.
Legit.ng earlier reported that a man took to Twitter to share a picture of a pretty lady who had been declared missing three months ago.
According to ROYALTY (@_Orduen) on social media, he shared Fatima Hassana Bakori's picture adding that she has been missing since June 10. He also added a phone number for anyone who knows her whereabouts.
I have never had to look for a job in my life | Faces of Nigeria | Legit.ng TV