Police snake 'arrests' man who steals mattress in Uganda (photo)
Although there is particularly nothing new under the sun, some events still do not fail to dazzle when heard by people. One of such incidents recently happened in Uganda where a snake arrested a man and exposed him to the wrath of the law.
The said man had only just executed a robbery in Kyenjojo, a district in the western region of Uganda. The individual stole a new mattress in the morning of that day.
But as he set to hasten his pace and avoid being caught, he was attacked by a snake that took the liberty to crawl to its neck and wound itself there neatly.
Befuddled, the man abandoned all sense of escape and cried for help. Several people who heard his cry came to his rescue. However, no one had the boldness to attempt freeing the man who could not help but hang his head in shame of his living burden.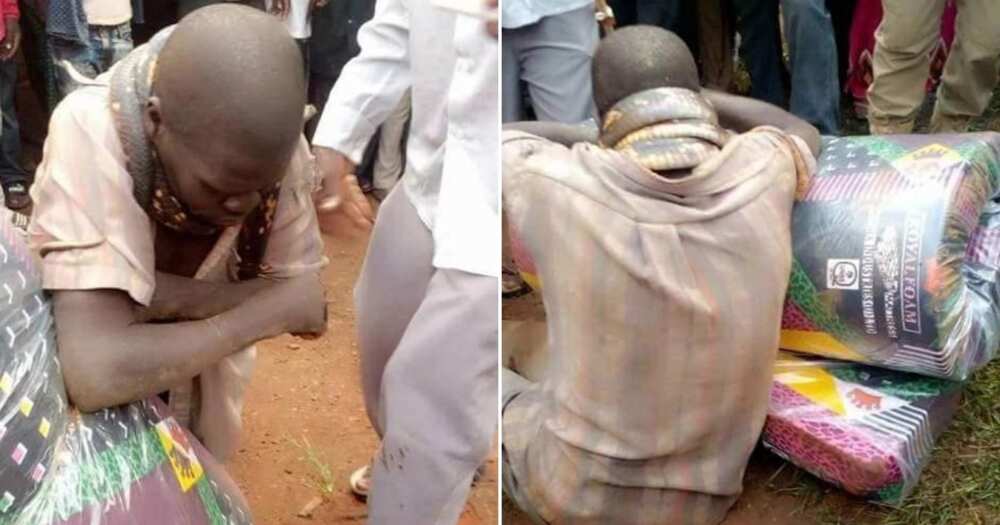 READ ALSO: See how soldiers treated thief after being caught (photo)
In order to prevent the man from dying from the choke, a native herbalist was called who was said to exert all effort to save the man's neck but all to no avail.
The mysterious event was reported and posted by an Ugandan community on Facebook. The post was captioned with these words: "Today morning in Kyenjojo District, a big snake caught a man who stole a mattress it's on his neck rolling."
The post was, however, restricted to public viewership.
PAY ATTENTION: More Nigerian News on Legit.ng News App
Legit.ng is yet to assert the present position of the thief but one thing is certain, karma has a way of taking a ride or a crawl where justice is not readily available.
PAY ATTENTION: Daily relationship gist and gossips on Africa Love Aid
Meanwhile, Legit.ng recently reported the news of a man who was caught while stealing a phone right in front of the owner.
"If you want me to steal, I will steal" man tells government | Legit.ng TV
Source: Legit.ng