It is a usual practice for Twitter users to start a thread by asking questions that they think are relevant to real life situations.
One such thread was started by a tweep identified as Igbo Boy. The man posed a question about a woman being slapped by her mother-in-law. In his own words, he said: "Nah girls on a real, what would you do if your husbands mum slapped you?"
Several responses trailed this question but a particular lady called Shomi Shmurda on Twitter gave a response that has gone viral for being epic.
Shomi had said that it was really not a good idea to imagine being slapped by a mother-in-law in the first place.
READ ALSO: Man shares hilarious conversation between his friend and a girl asking him for money
Then she put forward a rhetorical question to Igbo boy by asking him what he would do if he were the son of the woman that raised a hand to his wife.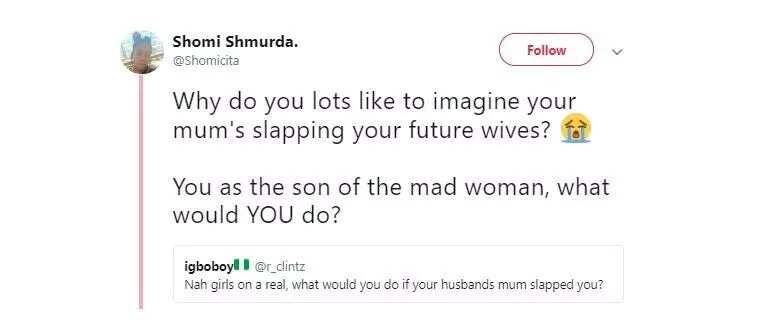 "Why do you lots like to imagine your mum's slapping your future wives? You as the son of the mad woman, what would YOU do?"
PAY ATTENTION: Get more Nigerian News on Legit.ng News App
This response has been deemed very instructive and savage by yet another Twitter user who wondered why people came about these thoughts that might not even exist.

Another lady identified as Khaychhh said she would also slap her husband so that the entire drama would be equally 'enjoyed'.
See more reactions to the question asked by the Nigerian Twitter user:
PAY ATTENTION: Daily relationship gist on Africa Love Aid
STREET GIST: Would you allow your mother in-law live with you as a newly-wed? | Legit.ng TV