A Nigerian lady has taken to social media to thank God for saving her life after the plane she was on, experienced a frightening turbulence that almost led to a crash.
According to the lady identified as Ajah-mong Lilian Chineye, she revealed on her Facebook page how she had boarded a plane from Abuja to Kano which happened to be the worst experience yet.She stated that while on their way, the plane was knocked off course thrice.
Lilian revealed that there was a lot of commotion and panic on the plane as many passengers began to pray and call on God to keep them alive. She stated that the trip which was supposed to be for 40 minutes, lasted an hour and 12 minutes due to the problems they faced.
She wrote on Facebook: "PLEASE HELP ME THANK GOD!!!God of the Air yesterday delivered me & others from a plane crash. On a plane enroute Abuja to Kano that was knocked off course thrice by sand storm, with phones, caps, books falling off from people, heads hitting the plane roof, a child whose mother had unbuckled his belt falling off her hand like it happens in AMERICAN movies,
READ ALSO: I've slept with church pastors and senators - Gay man Kehinde Bademosi says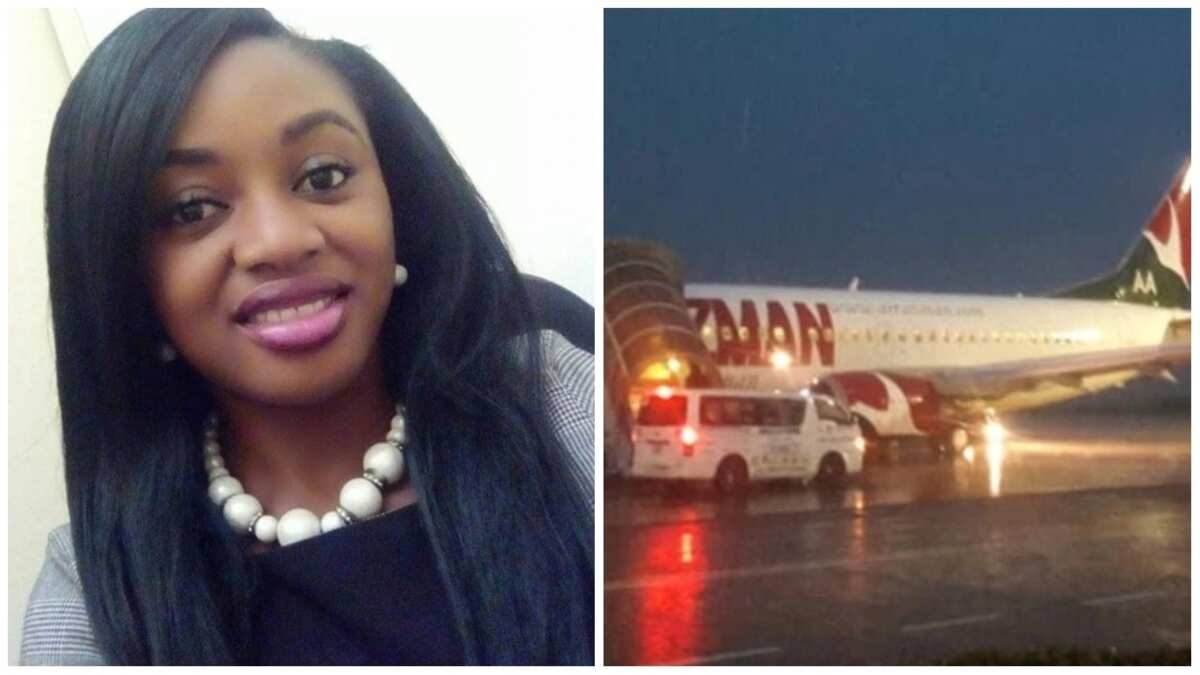 with my toe nail being scratched and wounded by a seat with women and children screaming and shouting, with all Christians speaking in tongues, calling on Jesus and praying and the Muslims screaming Allah uwak ubarrrr. With the plane staying off course for an additional 1 hour 12 minutes for a flight that should have been for 40 minutes only. And I sit there glueing tightly to Jehovah and at intervals rubbing my baby bump, calling on the God of the firmaments, God of the Air, the God who created Sand storms, the God who holds the pillar of my life, Otonmiribetsida, the Ocean divider, the master of the universe to give his angels charge over us so we do not dash to the earth from the air and he ANSWERS.
READ ALSO: Man prays for wife, daughter after finding out he is not the biological father
The Oyinbo captain and his crew ceases communication with us for close to an hour after staying off course the sand storm and we hover on air without knowing where we are until we finally begin to see land beneath us and enjoy this ROUGH landing with people scampering to their feet to de-board even before the plane comes to a stand still. People roll on the floor in the waiting area thanking God... Somebody help me thank JEHOVAH...Am still in shock, I do not know how to thank him. Ever since I've been flying, I have NEVER experienced this near-crash-death occurrence. He's our deliverer indeed...."
Meanwhile, it is all joy and gratitude to God for Nigerian media mogul Linda Ikeji who recently became a proud mother of a healthy baby boy. She took to her social media page to announce his arrival on September 17 in Atlanta, US.
PAY ATTENTION: Get the Latest Nigerian News on Legit.ng News App
Get the hottest gist on Africa Love Aid
Nigeria Breaking News: Kogi Flood Sacks Residents from Their Homes | Legit.ng TV
Source: Legit.ng