Lemon is a sunny fruit which can fill the atmosphere with a unique, fresh citrus aroma. It possesses a lot of useful ingredients and properties, needed for the human body. Lemon oil benefits are widely seen in various spheres of life: in cosmetology, medicine, and even in everyday use. Keep reading to learn more about this wonderful essential oil.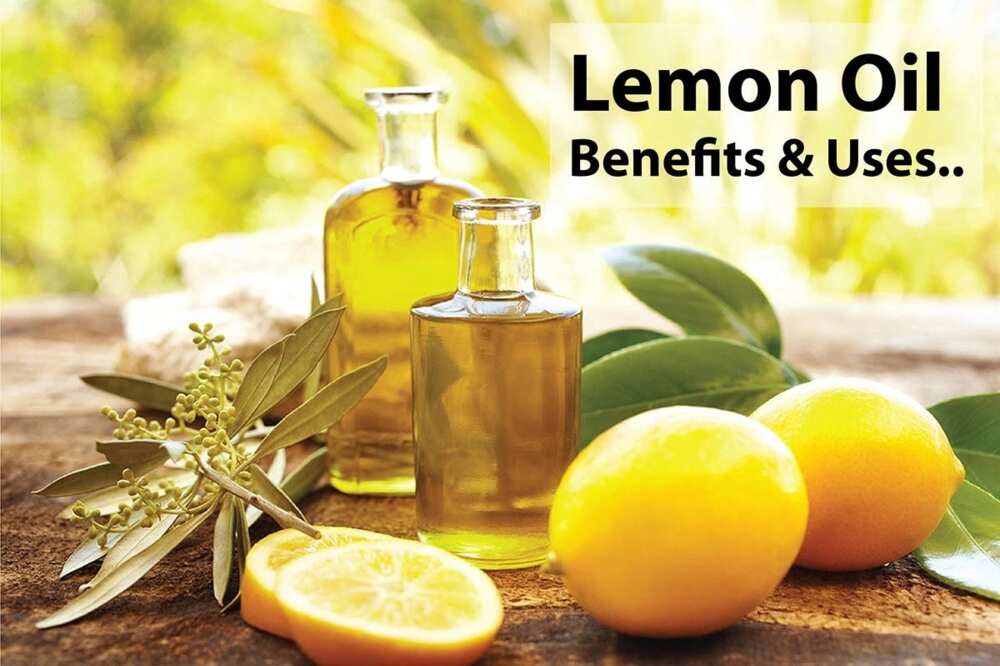 Essential lemon oil consists mostly (almost 90%) of limonene, terpene, linalool, and citral. Lemon oil is also considered to be one of the most popularly sold oils because of its unique healing and beneficial properties.
Organic lemon oil benefits for health
Lemon and lemon oil uses are known to cure influenza, respiratory, and viral diseases. It is especially helpful in treating hepatitis, as well as herpes infections because it is considered to possess great antiviral activity.
The essential lemon oil is thought to fight the tubercle bacilli, streptococci, staphylococci, and meningococci bacteria effectively. It is also a proven method for overcoming stresses, which helps to increase the mental and physical energy level, as well as to prevent psychosomatic diseases.
Lemon oil also acts as a general stimulant for the liver, by weakening the blood flow to it. Moreover, it has a positive effect on the vegetovascular dystonia. It normalises blood pressure, reduces the levels of prothrombin and cholesterol in the blood, and prevents atherosclerosis. That is why it is widely recommended as preventive and curative medicine against cardiovascular diseases.
Therefore, one can use it when:
taking a bath to fight against rheumatism, cellulite, or overweight;
doing a massage to facilitate the muscles pain;
rinsing a mouth to remove a bad breath or also ease a sore throat when being ill;
brushing your teeth to reduce gums bleeding, prevent caries, and whiten your teeth;
doing inhalation to avoid seasoned colds.
But these are not all the benefits of organic lemon oil since it is widely used in cosmetology also.
READ MORE: Palm kernel oil uses for skin and hair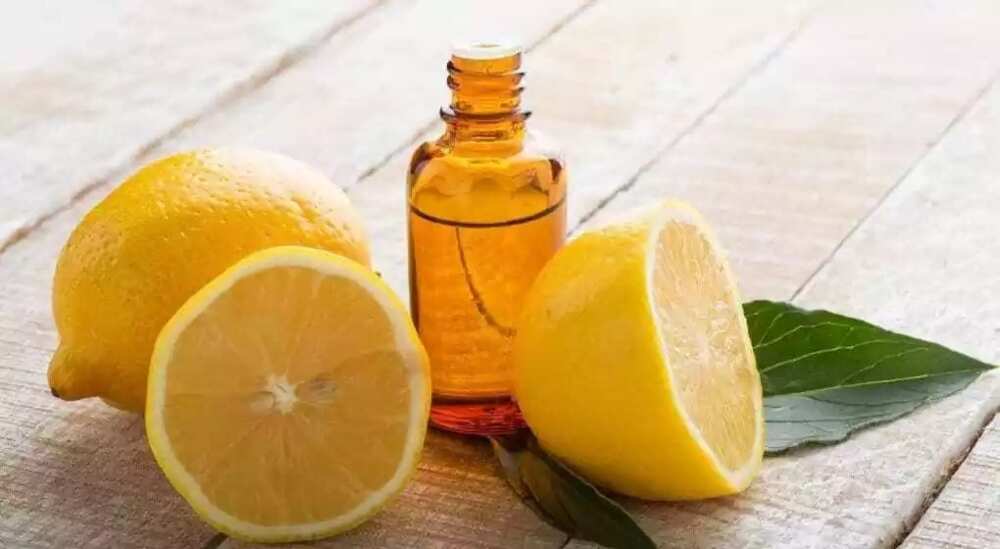 READ MORE: How to use black seed oil on your skin?
Lemon oil benefits in cosmetology
Nowadays essential lemon oil is used in cosmetology providing antiseptic, detoxifying, and whitening benefits. It can heal skin cracks, as well as reduce brittle nails. It is also used with greasy hair to make them shiny and can help to get rid of dandruff.
Lemon oil benefits for skin
moisturise the peeling skin, improve its colour and tone;
protect your skin from early aging and slow down the appearance of wrinkles;
remove black dots, pimples and narrow pores;
Remove pigmentation;
cure lips herpes and whiteheads.
The essential lemon oil promotes the new cells growth, reduces small wrinkles, and removes dead cells. Also, improves skin colour, and reduces the skin flabbiness. It is useful for all the skin types, but in certain proportions with other essentials and herbs.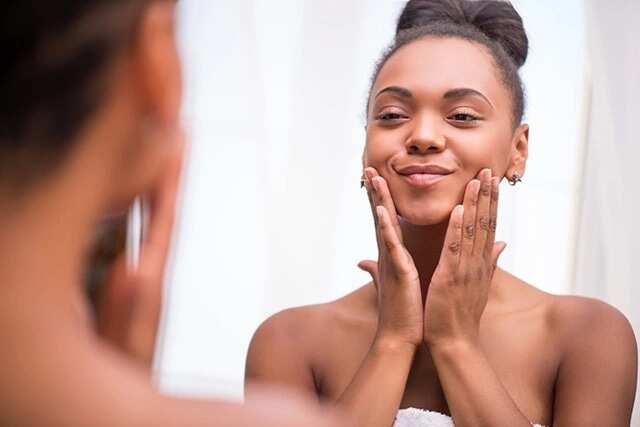 READ MORE: Does coconut oil darken the skin tone?
So, if you want your freckles, pigmentation spots to become less noticeable, then lemon oil will help you significantly! You just need to mix:
3 drops of lemon essential oil
4 drops of chamomile
7 drops of wheat germ oil
and 1/3 teaspoon of salt
Then apply the mixture with a thin applicator on the pigmentation area. And remember to add essential lemon oil to your daily cream to improve complexion, as well as whiten skin. Moreover, lemon oil uses are an effective remedy for wrinkles. All you need is to clean your face twice a week with the lotion to which the essential lemon oil is added.
But remember that essential lemon oil for the face can be used only in undiluted form. It should be diluted in the proportion of 2 drops of lemon to 1 tablespoon of base oil. You also should know that lemon oil does not combine with other citrus oils, except orange.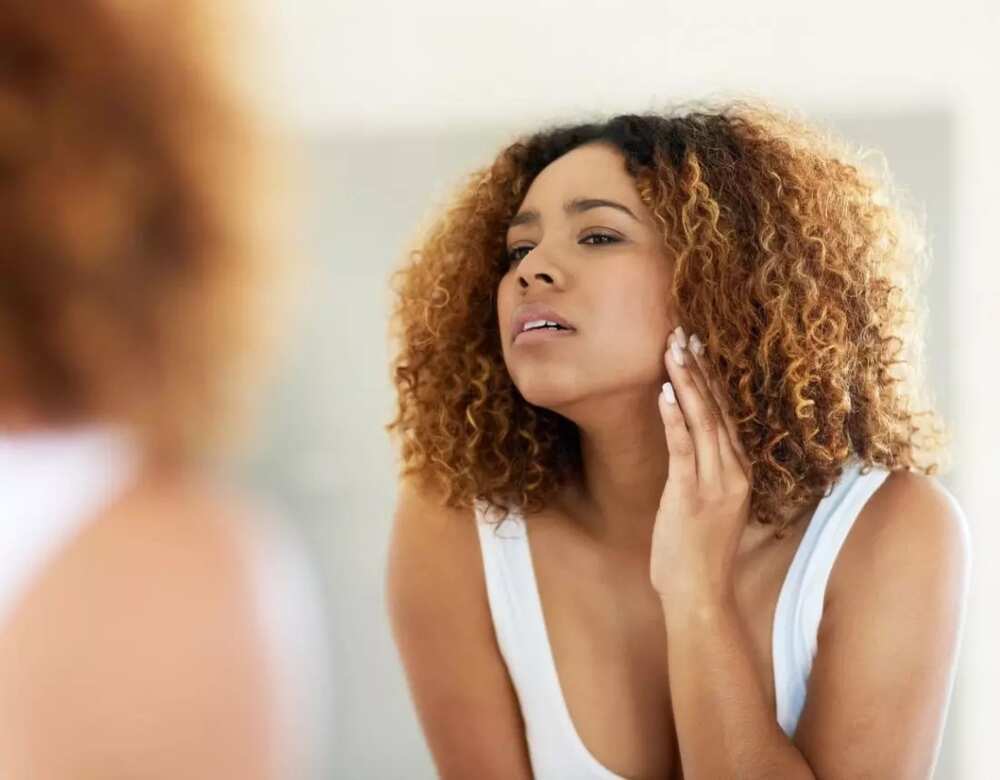 Lemon oil benefits for hair
There are several main benefits of lemon oil for hair:
it strengthens and nourishes hair bulbs;
it stimulates blood supply and is rich in vitamin C, which altogether promotes hair growth;
it is also able to heal microscopic cracks, which can appear after inaccurate combing or hairstyles.
Moreover, if your hair has become dull and lifeless, then lemon oil will revive it and make your hair shiny and smooth. To obtain such result you need to rinse your hair with 2 drops of lemon oil, 3 drops of chamomile oil, and 1 tablespoon of vinegar, added to warm water after washing your hair with shampoo. This is all because the lemon oil softens hard water, and thus making the hair gentle and silky.
The essential lemon oil is one of the most valuable gifts of nature. Its useful qualities and variety of lemon oil uses make it possible to achieve the desired effect easily at home. Thus, having known organic lemon oil benefits for health, as well as lemon oil skin benefits and hair benefits, you can use it to improve your health and appearance in general.
READ MORE: Benefits of argan oil for hair