A Nigerian lady has taken to the social media platform to narrate how she was scammed by a man who pretended to be physically challenged.
While there are a lot of genuine hustles in Nigeria, there are still many devious people out there who would do anything to make money, even if it involves pretending to be physically challenged.
A journalist, Ayomide Owonibi Odekanyin, has taken to social media to reveal how she was scammed by a man in Lagos. According to the post which she shared on her Facebook page, she narrated how she gave money to a man who appeared physically challenge only to discover he was faking it.
She wrote: "I have been scammed.... A whole me... Lagos girl... Chai.... So i dashed into shop rite to get something.... All in all i had 1500...i checked the price of what i wanted to buy, and it was a little above my budget... So i let it go... As i was about stepping out.... A crippled young man walked up to me and said, "aunty please buy something for me."
READ ALSO: Meet 44-year-old mother of 16 kids, she has 10 girls and 6 boys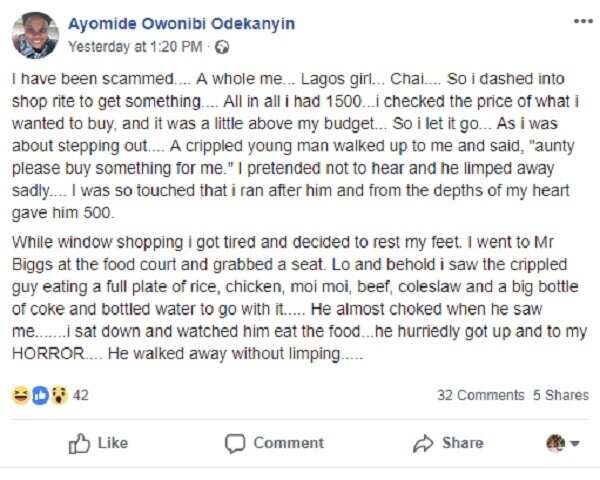 I pretended not to hear and he limped away sadly.... I was so touched that i ran after him and from the depths of my heart gave him 500.
While window shopping i got tired and decided to rest my feet. I went to Mr Biggs at the food court and grabbed a seat. Lo and behold i saw the crippled guy eating a full plate of rice, chicken, moi moi, beef, coleslaw and a big bottle of coke and bottled water to go with it..... He almost choked when he saw me.......i sat down and watched him eat the food...he hurriedly got up and to my HORROR.... He walked away without limping.....
While this is terrible act, this scammer might have just changed the lady's perception about helping the less privilege and that in its own way is sad.
PAY ATTENTION: Get the Latest Nigerian News on Legit.ng News App
Get the hottest gist on Africa Love Aid
Ifeanyi Daniel Akanegbu Story 27-Year-Old Graduate Breaks Even With Small Chops Business Legit.ng TV