Store-bought lace wigs can be expensive, so we want to teach you how to make a lace wig from scratch. In this article, you can find a beginner-friendly wig making tutorial that will allow you to save up quite some money and make a gorgeous custom hair creation that is just right for you. Do not waste time and get in on this goodness!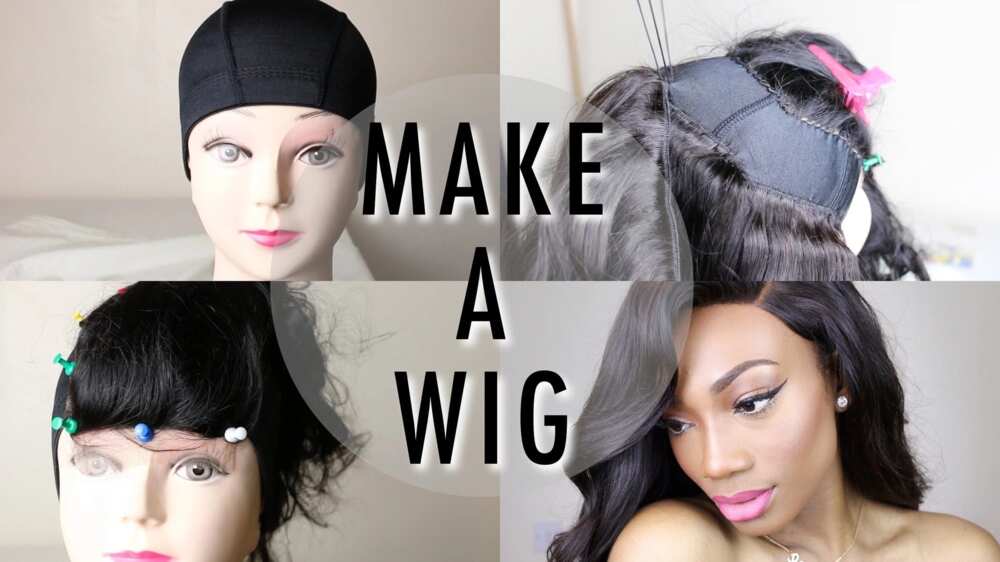 Your guide to wig making
Now, as you know, there are lots of different types of wigs out there, and, unfortunately, a one-fits-all tutorial that will be appropriate for all kinds of wigs does not exist. As making a full lace or a 360 wig would take you ages if you do it on your own, and it would be super complicated for beginner wig makers, we have decided to settle on a simple tutorial that will teach you how to make a lace front/closure wig, depending on what you have on hand.
For this tutorial, you are going to need the following items:
Wig head (you can make a custom one for yourself or just have a mannequin head);
Hair extensions (including your lace frontal/closure);
Wig stand to secure your wig head (you can also secure it with tape);
A curved needle and thread;
Pins;
A wig cap with adjustable dome;
Wig band;
Wig combs;
Scissors.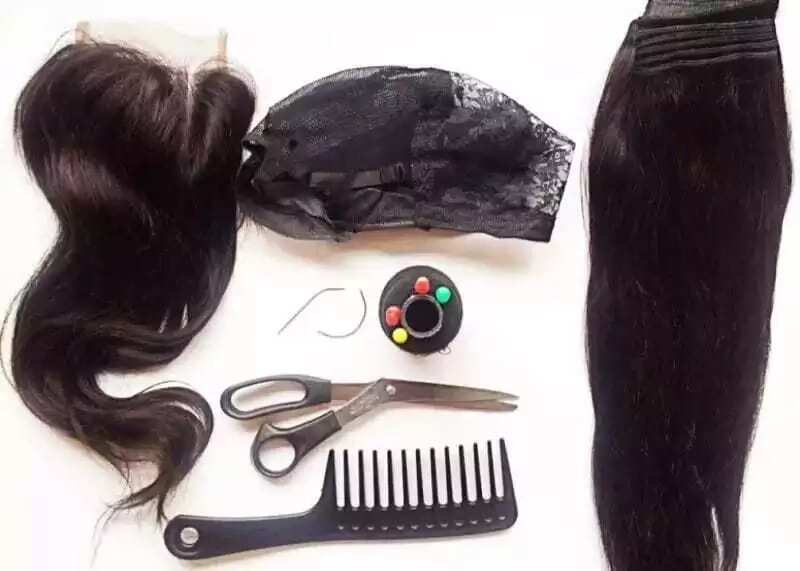 READ ALSO: How to make braided wigs
You can get all of this at a beauty supply store or purchase it online to save some money. However, make sure you buy your hair from trusted sellers, otherwise you might get scammed and receive poor quality hair.
In case you do not know, lace frontal is a long piece of hair on lace that goes from ear to ear and is meant to create a more natural look. A lace closure is similar to the lace frontal, as it is also meant for a more natural look, but it only covers a small part of the head. You can decide which one you want based on what flexibility you expect from your wig. For more styling options, go with the lace frontal; if you do not plan to change the style of your wig, go with the lace closure.
Once you have gotten all you need, it is time to learn how to make a wig!
How to make a lace wig yourself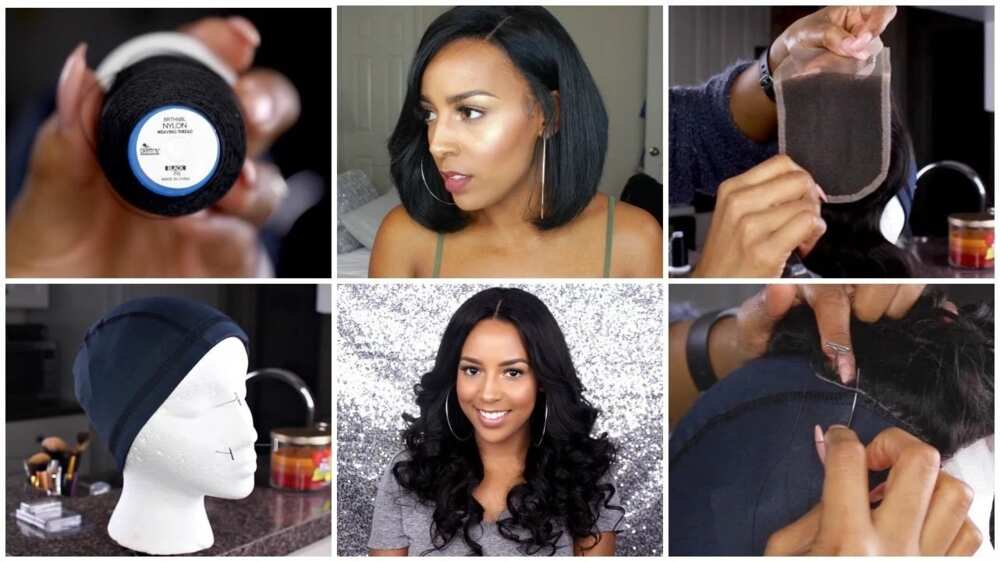 READ ALSO: How to make braid wig cap
Before we get into it, a word of warning: wig making is not for the faint hearted. It requires a steady hand, a good eye, and a whole lot of patience. If you possess these qualities, you may proceed :) If not, well, you can always buy a wig!
On the more serious note, however, do not be discouraged if you do not get an award-winning wig on the first try. That said, you should be able to make a very lovely (and, most importantly, wearable) wig with this tutorial. Just follow these steps:
Secure your wig head on the table with tape or on a wig stand. You need to make sure it is stable before you get to making your wig, so as to make the process easier for you.
Place a wig cap on the wig head. Figure out where the front and back of your future wig are going to be.
Prepare your hair extensions. Before you sew them onto the cap, measure them. You can pin them down to see how many tracks you are going to need to make your wig. If you have one long track, we recommend you not to cut it up if you want to avoid hair shedding.
Start with your lace frontal/closure. Begin by securing it with pins at the front of the wig cap. If it is a lace frontal, position it so that the hair covers the cap and pin it at the sides as well. Then sew it all the way around along the edge. Do not forget to make tight knots, especially at the beginning and the end of your stitching to make sure that the lace front/closure is secure.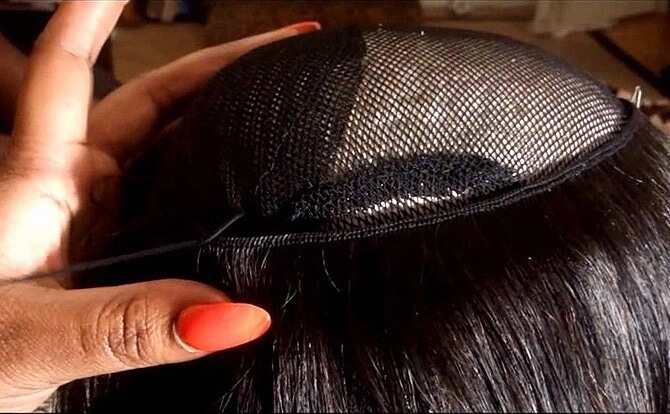 READ ALSO: How can I make wig cap weave
Take your first track and start sewing it to the wig cap from one edge of your lace frontal/closure to the other along the bottom edge of the cap (where the nape of your neck will be). When you get to the edge and you have very little track left, secure it with a knot and cut off the excess track. If it is long enough to go another way around, fold it carefully, press on the fold to avoid bumps and continue sewing in the opposite direction.
Once you have sewn all of your tracks all the way to the lace frontal/closure, sew the last track to the lace frontal/closure. Secure it with a knot and cut off the excess track.
When you are done with the sewing and your wig is starting to look like a wig, take it off the wig head and cut off the excess wig cap that is peeking from under the lace. Make sure you do not cut into the stitching. You can also cut off the excess lace if you want to. Once again, do not cut too close to the hair, or you might ruin the whole thing.
Turn your wig inside out ad sew in your wig band and combs. The wig band should go at the back of the wig, so that it can help you keep your hair on. Depending on how many combs you have, place them on the inside of the cap to add a little extra security to your wig. There should be at least one comb on each side of the head and preferably one at the back.
At this point, your wig is pretty much done. If you are satisfied with the way the hair looks, you can leave it at that. If you are not, style your wig until you get the hairstyle you want. Remember that with closure, there are not that many options for where you can part your hair, while with the lace frontal, you have full control.
Once you are done with styling, try your newly-made wig on and enjoy the results!
By now, you have hopefully learned how to make lace wig. Let us know if this has been helpful to you. If you get confused by the text tutorial, you can consult the video at the end of the article for visual demonstration of how things work. We hope that wig making has been a rather pleasant experience for you.
READ ALSO: How to make a wig look natural?